With the warmer weather arriving and the end of school coming to an end, I wanted to share these Bike Ride Bingo printables with you that you can print and use to encourage outdoor play.
This post is sponsored by Mirum. As always, all thoughts and opinions are my own.
Ready or not, summer is coming. Before long the temperature outside will be almost unbearable and you'll have to be a bit more creative in getting your children to play outside to burn off some energy.
This summer, you can make bike riding a little more interactive and sort of like a scavenger hunt with these Bike Ride Bingo printables.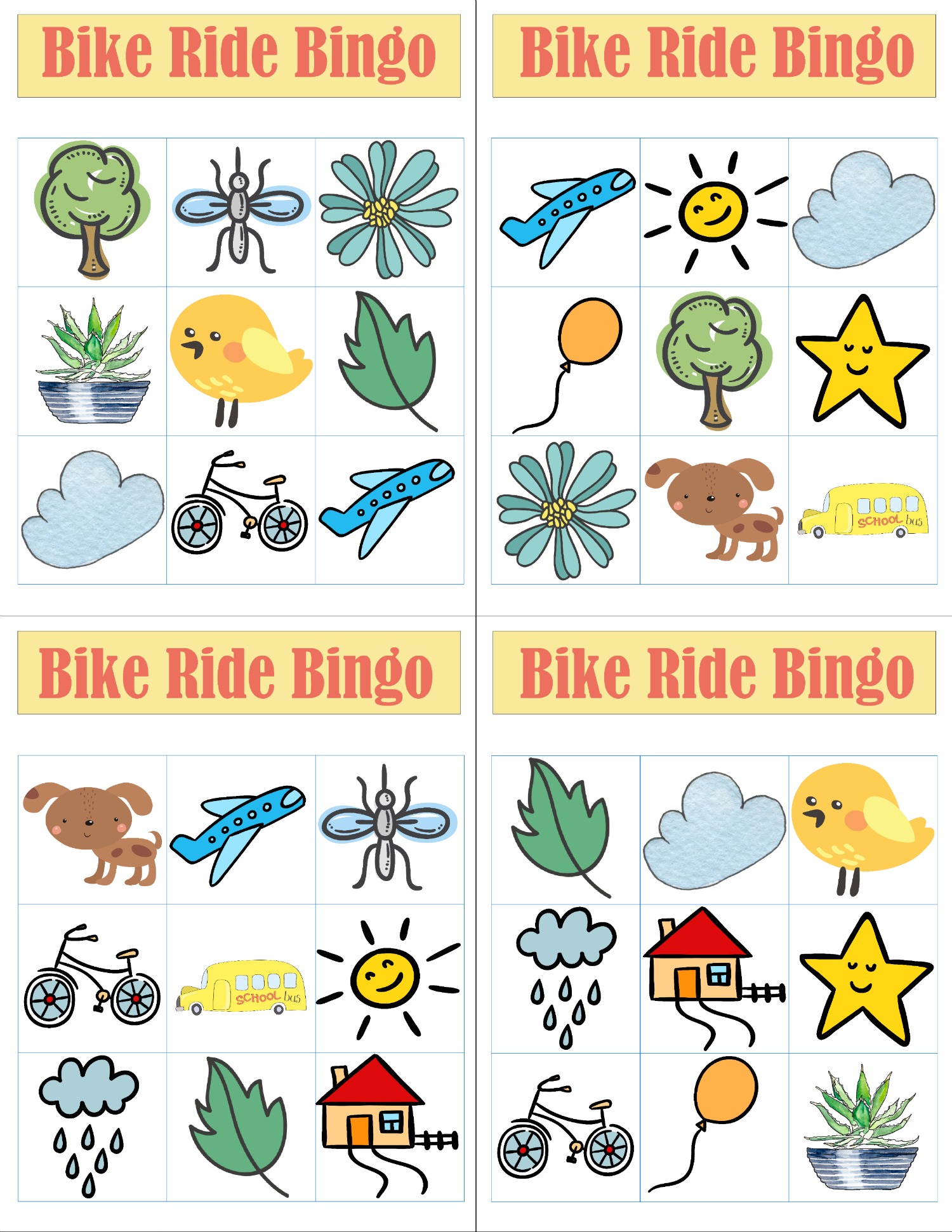 I know this is a long post so scroll down to see my best tips for choosing the right bike for your child, bike safety tips, and how to capture great first ride photos. PLUS, don't miss the opportunity to enter the sweepstakes at the bottom of this post. You could win a brand new Schwinn bike + accessories.
It's super fun to play and you can involve the whole family in playing a game of Bike Ride Bingo.
How to Play Bike Ride Bingo
What You'll Need:
How to Play:
I'm sure you've all played Bingo before. Bike Ride Bingo is super easy and similar to a regular numbered Bingo game. With a Bike Ride Bingo printable in hand, all participants will head out on a bike ride looking for the objects on their bingo cards. When you come across an item you see pictured on your bingo card, mark it off with a pen or pencil. You can choose to fill an entire card, or just a row. It's up to you. The first to complete wins Bike Ride Bingo.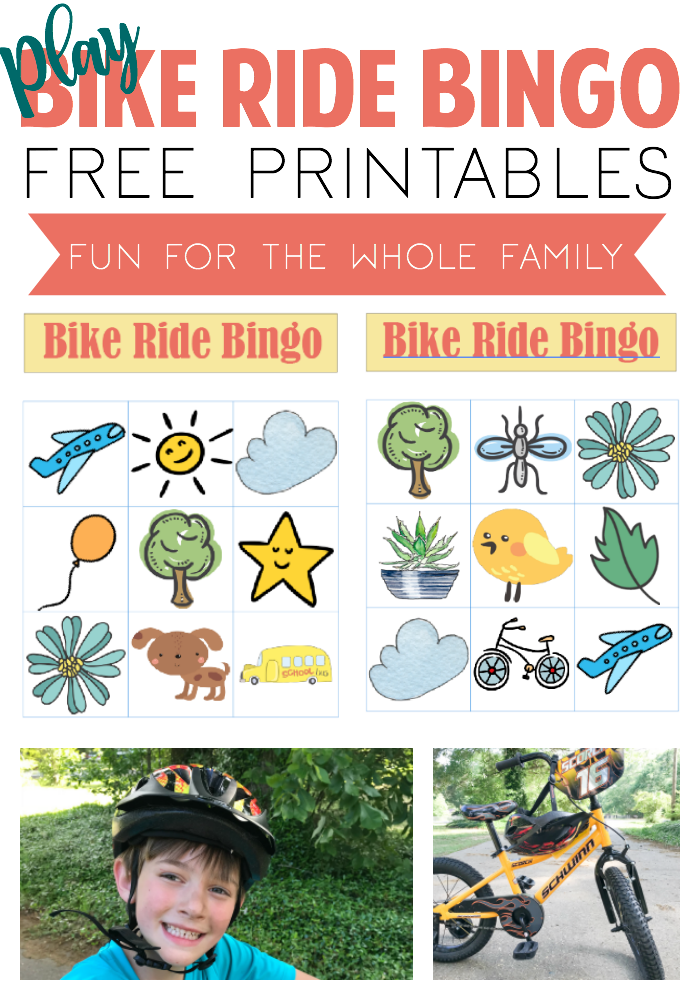 Here's the thing though, bike safety is so important in keeping your family safe while riding. Bike safety starts with the right bike.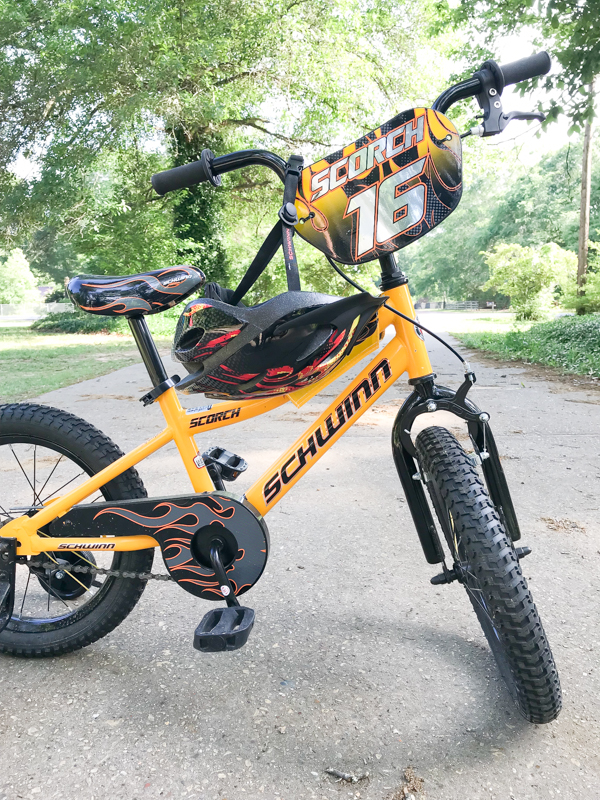 One of the greatest memories a child can have is when they first learn how to ride a bike. As parents we want our kids to have a great experience; learn quickly, be safe, and have fun, all at the same time! Schwinn SmartStart bikes are designed to do all of that. A well-fitted bike makes the child more comfortable; and being comfortable inspires confidence.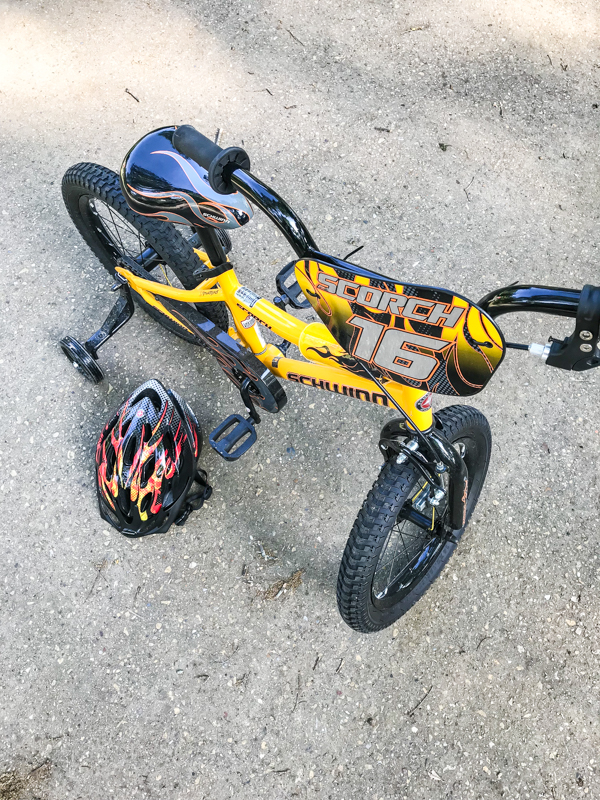 SmartStart bikes are perfect for beginner riders because they're built smaller to make learning to ride a bike as easy as possible. They have a reduced overall weight, making it easier for the child to handle and stay in control. The grips are smaller because children have smaller hands. The seat is smaller and designed to support a child's proportions. The pedals are positioned narrower and forward to match the position of the child's hip width which allows for improved leverage to pedal easier. They come with fast-start gearing that reduces top-speed. This means your child can start quickly, and you can stay next to them once they get going.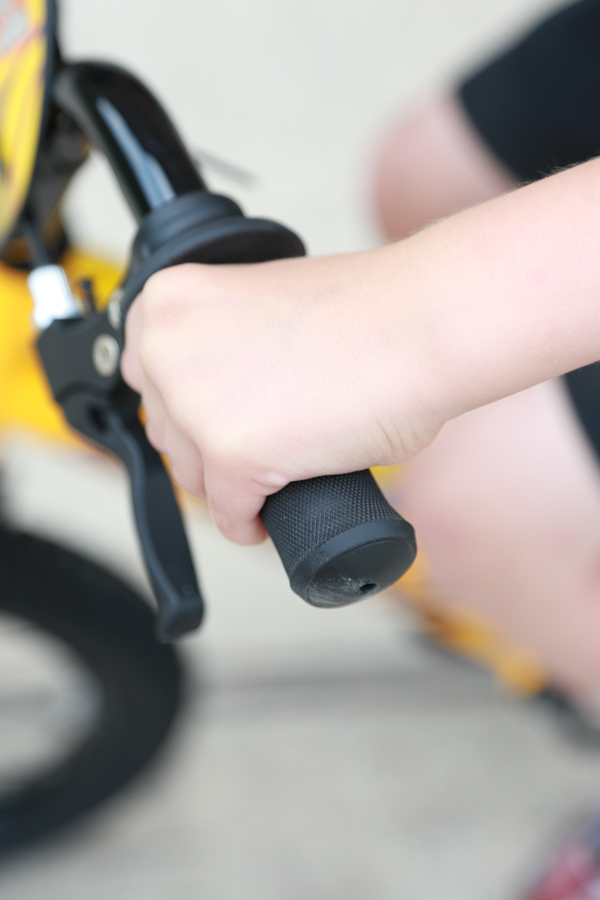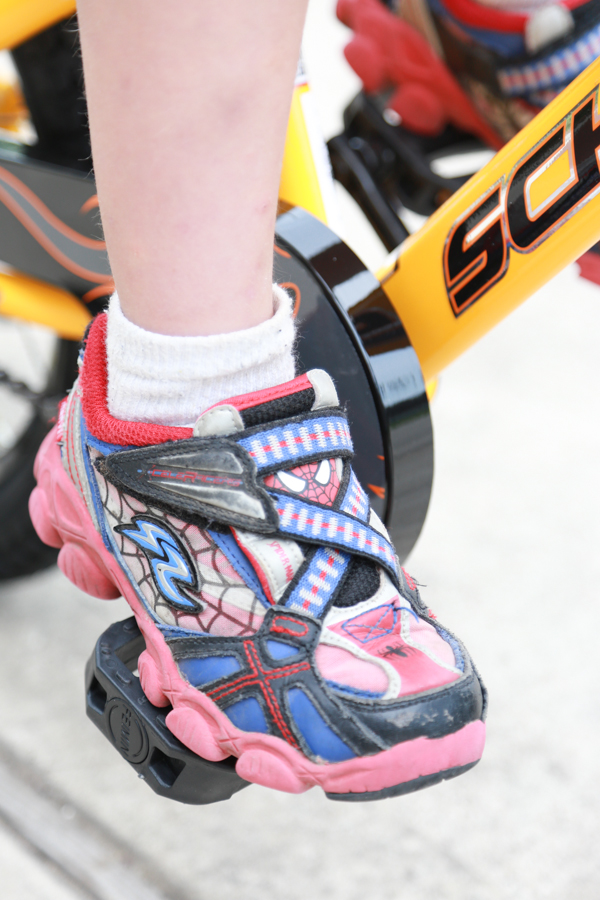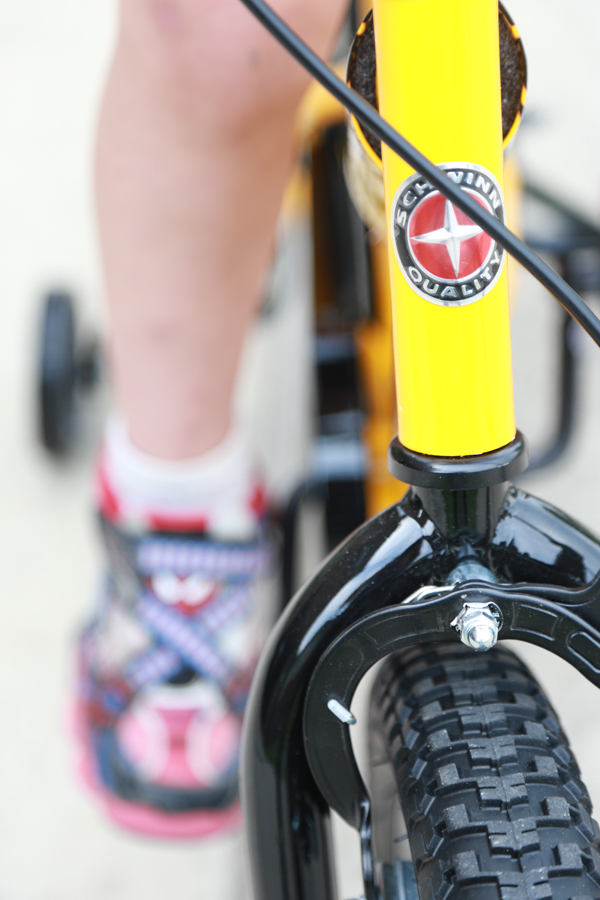 Visit your local Academy to find the perfect fit for your child. They have a selection of Scwhinn SmartStart Bikes and helmets for boys and girls.

How to Perform a Bike Fit Check
As a starting point, use the rider height in the chart below as a guide to determine the correct wheel size. The front wheel size of a child's bicycle directly correlates with the frame size of the bicycle. Wheel size is a good starting point but bicycles vary.
Check that the rider can safely reach the handlebars while still bending the elbows at least 10 degrees. When standing over the bicycle, in front of the seat, straddling the top tube of the bicycle, there should be a minimum of 1-3 inches of clearance. The seat height is determined by the leg position when the foot is on the pedal. The leg should be almost completely straight when the pedals in the down most position with a slight bend in the knee. With beginning riders the seat can be adjusted lower, so their feet have more contact with the ground. As they gain confidence the seat can be raised.
It is important to "fit" your child with a correctly sized bicycle. Riding a bicycle that is not correctly sized to the rider may result in the rider's feet not being able to touch the ground, balance the bicycle, properly reach the handlebar for steering or braking and loss of control when pedaling.
Parents are often concerned that their child will grow out of a bicycle too quickly. Schwinn SmartStart bicycles have a feature that can help. The bike is designed to "grow" with them. When the saddle of a Schwinn SmartStart bicycle is raised the angle as well as the distance from the seat to the handlebars and seat and to the pedals also increases. This means that as your child grows the bike fit them for a longer period of time.
This kid's bike size chart will help you determine the correct sized bike for your child:
Height: 28" to 38"
Height: 38" to 48"
Height: 42" to 52"
Height: 48" to 60"
Height: 56" to 66"
Another important part of bike safety is having a helmet that fits properly. It's important to take measurements with a flexible tape. You'll need to measure about 1″ above the eyebrows, over the hair and right above the ears. This will give you the measurement you need when buying a helmet.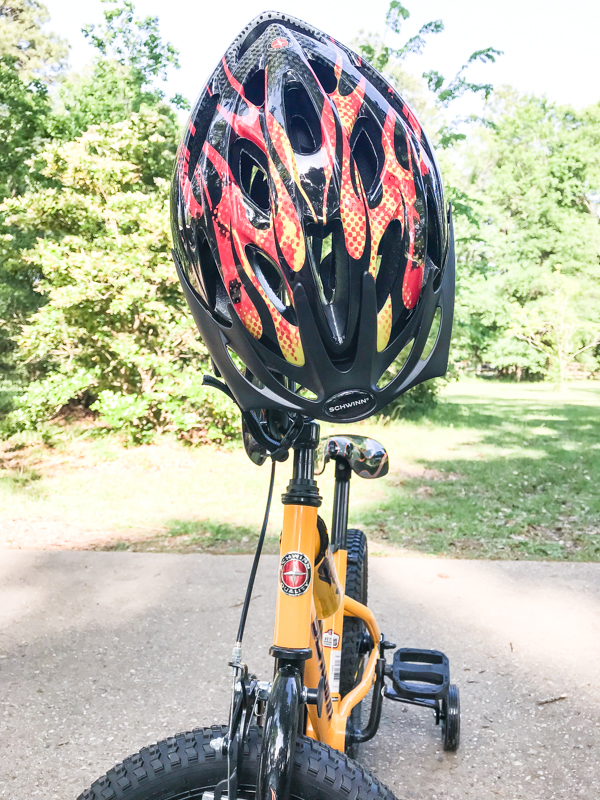 Because learning to ride a bike is an important part of childhood, I know you'll want to capture the best first bike ride photos as possible. This short guide will help you set your iPhone or Android phone to action mode to get the best photos.
How to Get the Best First Bike Ride Photos
How to set phone to Action Mode
iPhone:
Launch the Camera app from your iPhone's Home screen.
Frame the scene you want to take.
Hold down the Shutter button to take a burst of pictures.
Tap on the burst mode stack you want to view.
Tap on Select (at the bottom).
Tap the blue checkmark on each photo you'd like to keep.
Tap on Done when you've checked the ones you'd like to keep.
Tap Keep Everything if you want to keep all the photos in your burst (in case you want to change your mind later) or tap Keep Only [number] Favorites to trash the photos you didn't pick.
The selected photos are now ungrouped and in your photo stream.
Android:
Install your selected "burst" or high-speed camera application from the Google Play store.
Launch the photo app from your Home screen.
Frame the scene you want to take.
Hold down the Shutter button to take a burst of pictures.
All the images will be saved instantly on your phone's storage.
Press the menu button to look at all the burst shoots you performed using the app.
Choose your favorites to share!
I know there are a lot of activities you can do with your children, but I love that biking with your kids provide them with opportunities for healthy family fun and memory-making moments. What do you say? Want to play a game of Bike Ride Bingo?