Know a new mom or someone who is about to give birth? Gift them with a New Mom Gift Basket. Keep on reading for ideas.
This is a sponsored post with Mirum. As always, all thoughts and opinions are my own.
In April, my brother and SIL welcomed two little guys into their family making their family of 3 a family of 5. And that means that I became an aunt again to two identical twin boys who have already stolen my heart.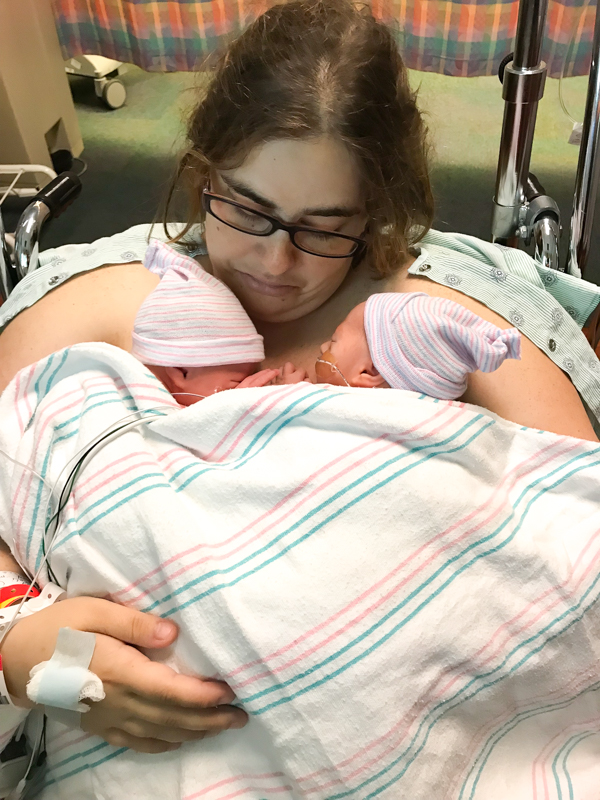 They are completely adorable in every single way and I just love them to pieces. I mean, how could I not? They're so soft and squishy and I can't keep my hands off of them, y'all.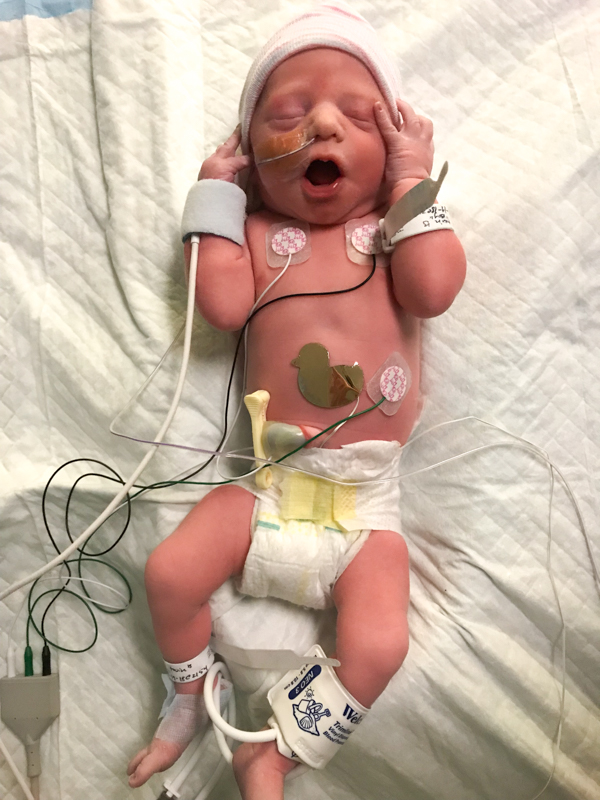 I just can't with that face – he's already hammin' it up.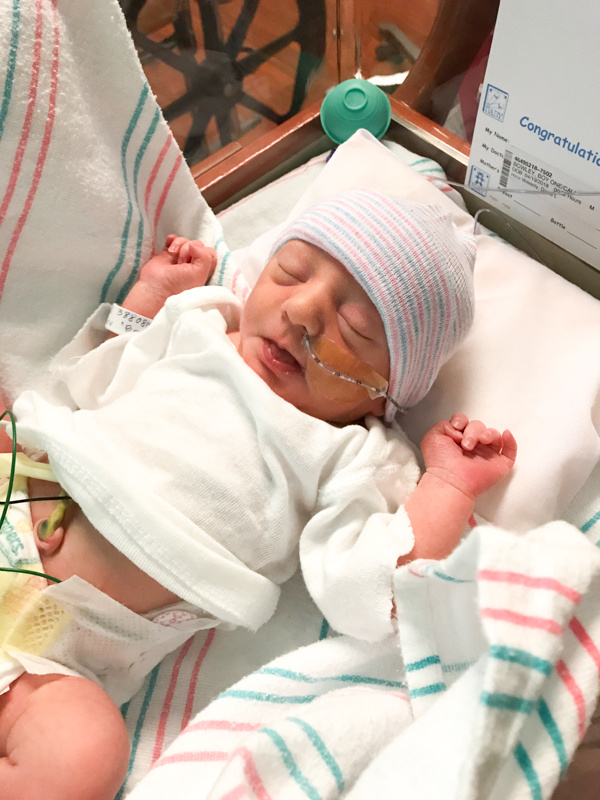 Because Mother's Day is just around the corner and I'm so close to a brand new mom, I had the idea to make a New Mom Gift Basket. As a fellow mom, I know the struggles that accompany the postpartum process and I would have loved to receive a New Mom Gift Basket after giving birth.
I know in my experience after giving birth the mom seems to be forgotten because – hello – brand new squishy baby. I get it. I've been guilty of it. But just think about how you could make a brand new mom feel if you gifted her with something that is just for so that she could pamper herself.
After giving birth moms need some care and pampering, too. They spend so much time attending to the needs of their newborn (and any other children they might have) that they need to spend a little time pampering themselves.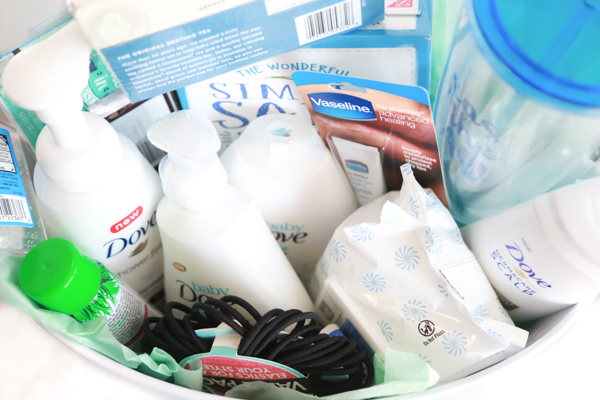 As a busy mom I know that it's so important to put ourselves in time out so that we can be the best mom possible. It's easy to get overwhelmed with all the needs of our family that we forget about our needs.
New Mom Gift Basket
So what is a New Mom Gift Basket? It's basically just a gift for a new mom with things you think she would like and that helps her adjust to life with a newborn.
It really can include anything you think she would like.
The entire point of the New Mom Gift Basket is to make her feel special and to give her items that she can pamper herself with.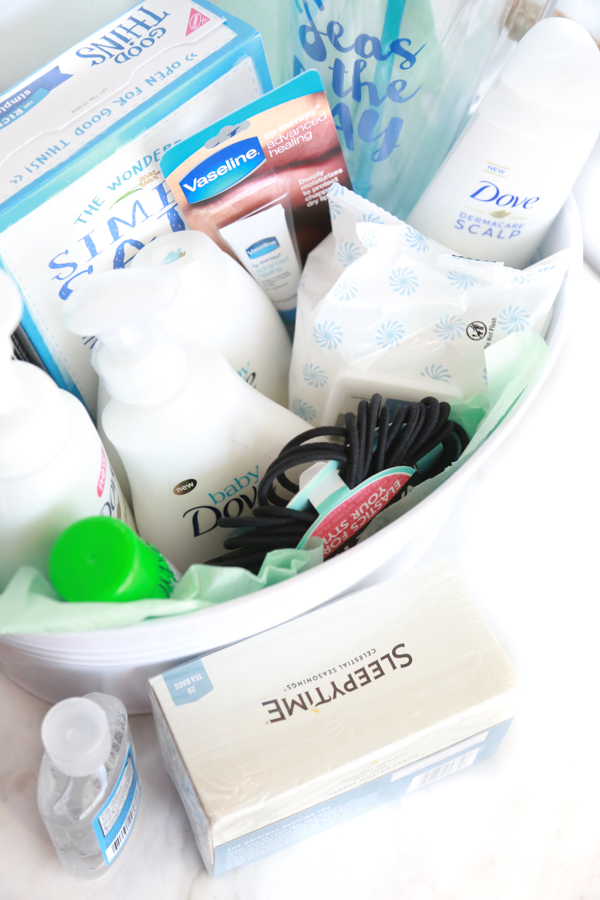 New Mom Gift Basket Filler Ideas
If you're not sure what the new mom likes, don't be afraid to ask her. Here are some New Mom Gift Basket filler ideas to get you started.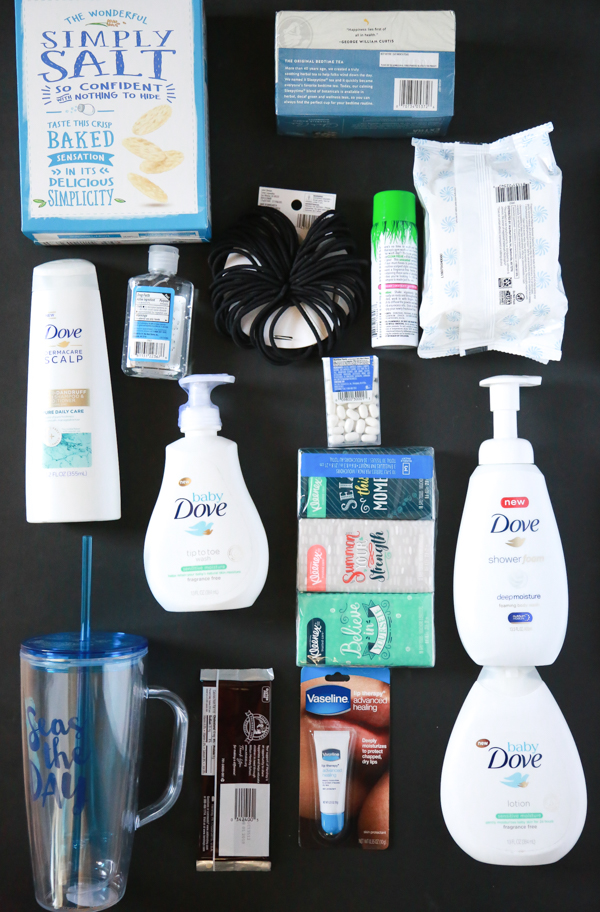 water bottle
chocolate
lip balm
Dove baby
Dove
facial tissue
hand sanitizer
gum
face wipes
dry shampoo
hair ties
healthy snacks
sleepy-time tea
Put Dove in a New Mom Gift Basket & Save
Now is the perfect time to buy and stock up at Rite Aid. When you buy any Dove or Baby Dove product, get a second at 50% off (only valid 5/6/18 – 5/12/18 and 5/20/18 – 5/26/18). Also, when you spend $12 on Dove or Baby Dove products, earn $4.00 Wellness+ Bonus Cash (only valid 4/29/18 – 6/2/18).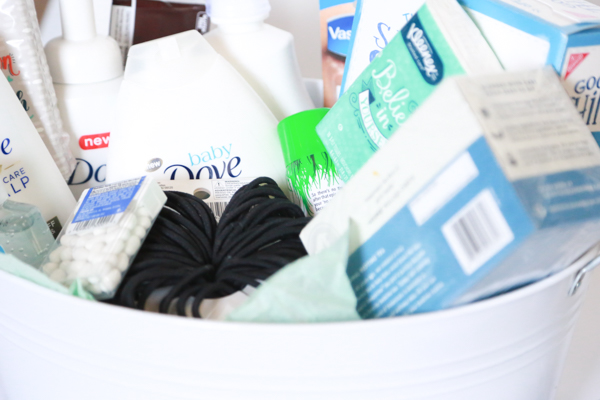 I love buying Dove because of the way they value women and encourage women to see themselves through a lens of positivity rather than negativity. Commercials don't usually get my eyes to water, but Dove commercials sometimes do. They so intimately know the struggles that women face and they are diligently fighting for us to see the real us, and not the shell of the person we see in the mirror looking back at us.
Get in to Rite Aid during this promotion so that you can stock up on your Dove and Dove baby needs and save while you're at it.
Don't forget to pin this post to one your boards on Pinterest so that you don't lose it. And if we're not friends on Pinterest already, I'd love connect. You can follow me here.