This shop has been compensated by Collective Bias, Inc. and its advertiser. All opinions are mine alone. #PowerToThePen #MyGo2Pen #CollectiveBias
I haven't always been a DIY kind of girl, but I absolutely love being able to take something I see in a magazine, store or even an idea I have in my own head and create it in a way that fits my home and style. That's what I did with this DIY Gold Pen Holder. Not only was this a super cheap project for my home office, I just adore the way it turned out.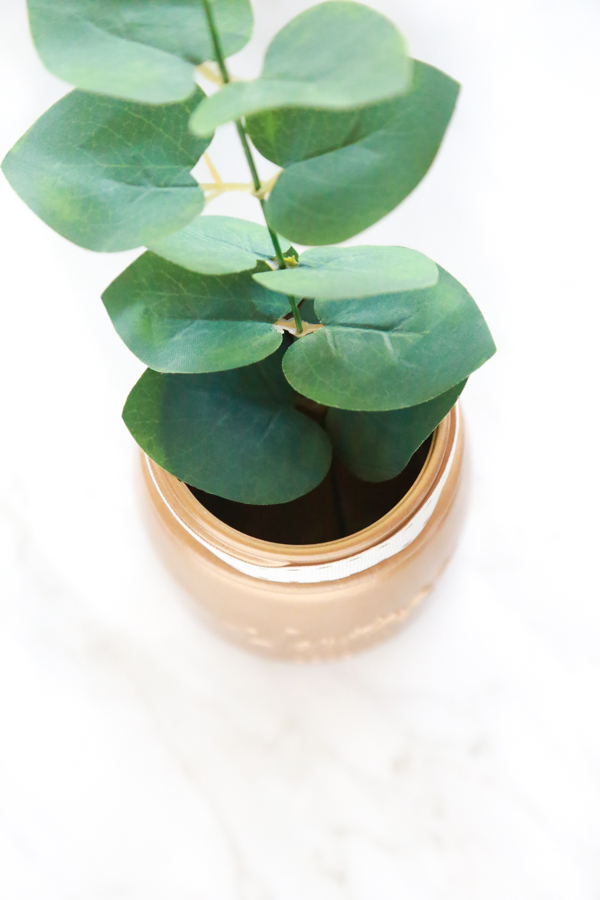 Since my style seems to change with the seasons, I don't like to spend a lot of money on decor and accessories in my home. I feel like I'm always changing things up and it seems kind of silly to spend money on things that I don't keep around for long.
That's where being a DIY kind of girl really comes in handy. You can be trendy without breaking the bank.

And, like most trends, gold is back, y'all — and I never thought I'd love it as much as I do.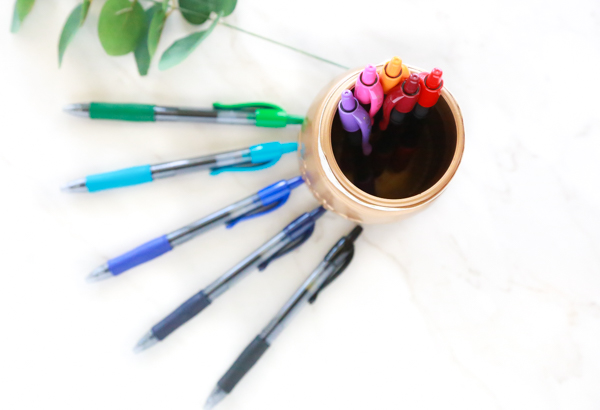 I'm slowly adding gold touches in my home, and my heart is happy. It really is.
So as much as I'm loving on gold right now, I'm still loving on the mason jar trend, too. I truly enjoy being able to take a raw material like a simple glass jar and turning it into something beautiful and functional.
I think this DIY Gold Pen Holder is both beautiful and functional.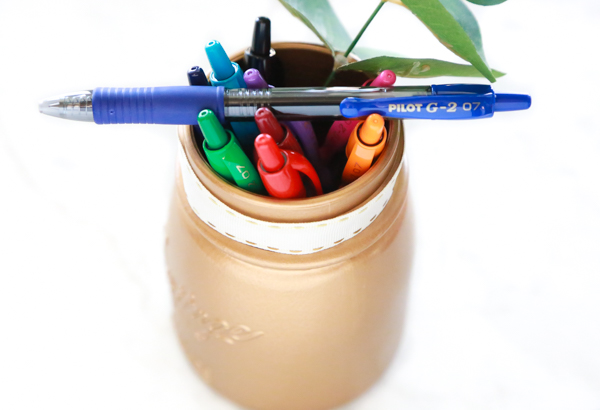 And the best part, it's so easy to make. Like, really simple. It took me all of 30 minutes or so to make this DIY Gold Pen Holder. I could have easily walked into a store and purchased something similar, but it would have cost me a lot more to buy it than it did to make it.
I'm raising three kids y'all – I need to save all the money I can.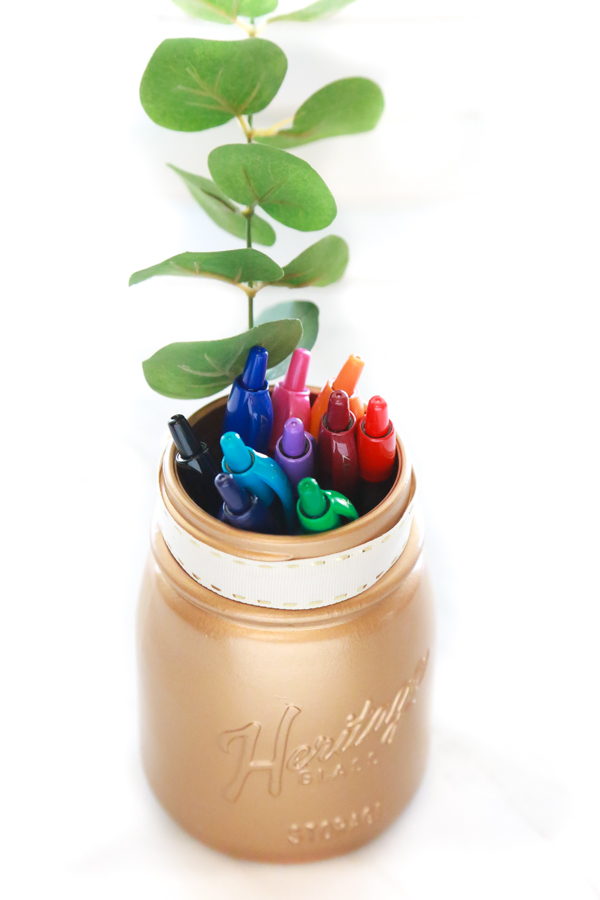 How to Make a DIY Gold Pen Holder
DIY Gold Pen Holder Supplies
glass jar
gold spray paint
coordinating ribbon
hot glue gun & sticks
piece of cardboard
DIY Gold Pen Holder Directions
Lay a piece of cardboard on an outdoor surface where you'll be painting your glass jar. (Please note that you should not paint while indoors.) Place the jar on the cardboard and prepare your paint can by shaking according to the directions on the can.
Paint the jar following the directions on the can. With most spray paints, it's best to apply several thin coats rather than one heavy coat to get the best coverage. Make sure you read the directions though because every brand's directions can be different. Allow the paint to fully dry.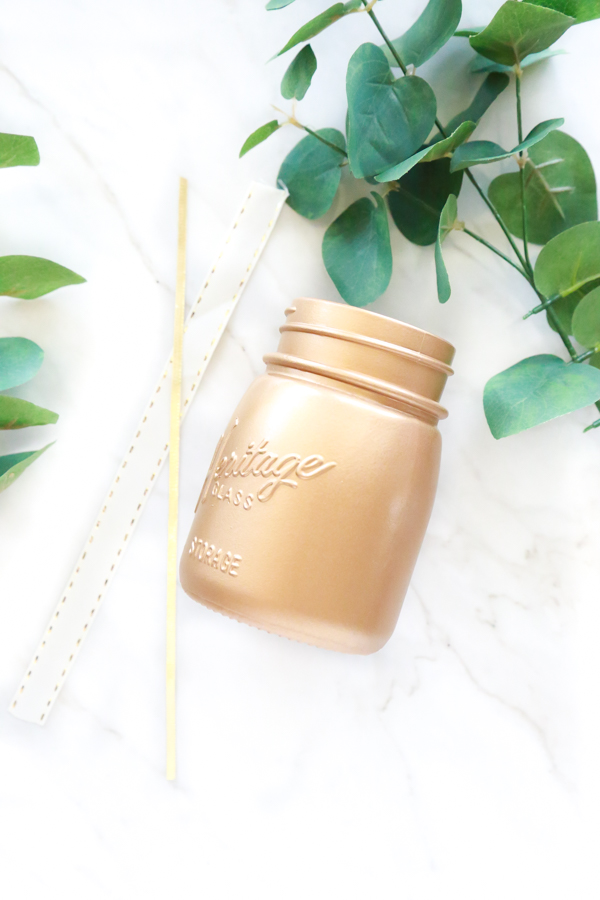 Cut ribbon to fit around the neck of the jar. Using a hot glue gun, glue the ends together. Once you've done all that — you're done. Now you can enjoy your DIY Gold Pen Holder.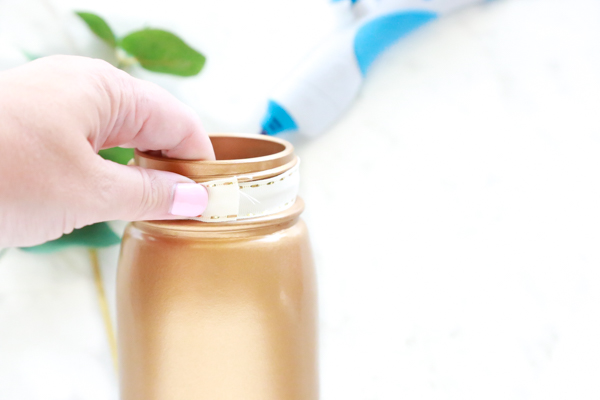 I'm incredibly pleased with how this project turned out. This DIY Gold Pen Holder allows me to always have a pen handy in a functional, yet beautiful accessory on my desk.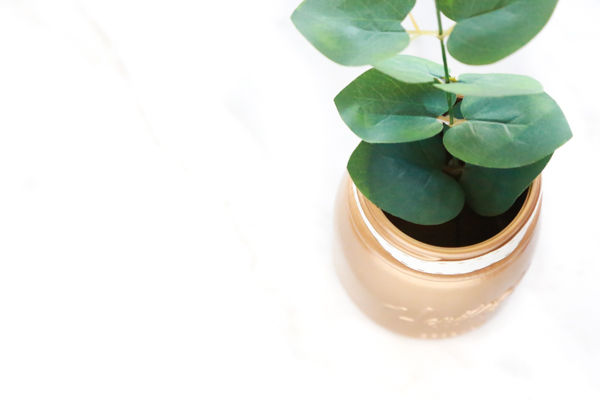 Now that you have this adorable pen holder, my favorite pens are always in arms reach.
Although I'm a blogger and most of my work is done digitally and online, I still use pen and paper more than you might realize. From signing contracts to brainstorming new ideas for my home business, I use a pen on a daily basis. But not just any pen.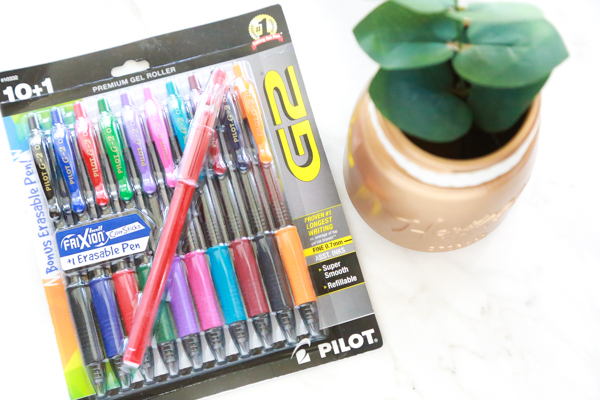 Since I need a smooth writing gel ink, I use G2® Pens by Pilot Pen. They write smoothly, comfortably, and have been proven to last longer than competitive gel ink brands. It's really no wonder G2 is the #1 selling pen in America (NPD, 2017). The G2 is the ultimate pen for the everyday Overachiever and Pen Snob.
Next time you're at Walmart, make sure you pick up a package of G2® Pens by Pilot Pen. They truly will change the way you feel about writing. Don't forget to print your coupon.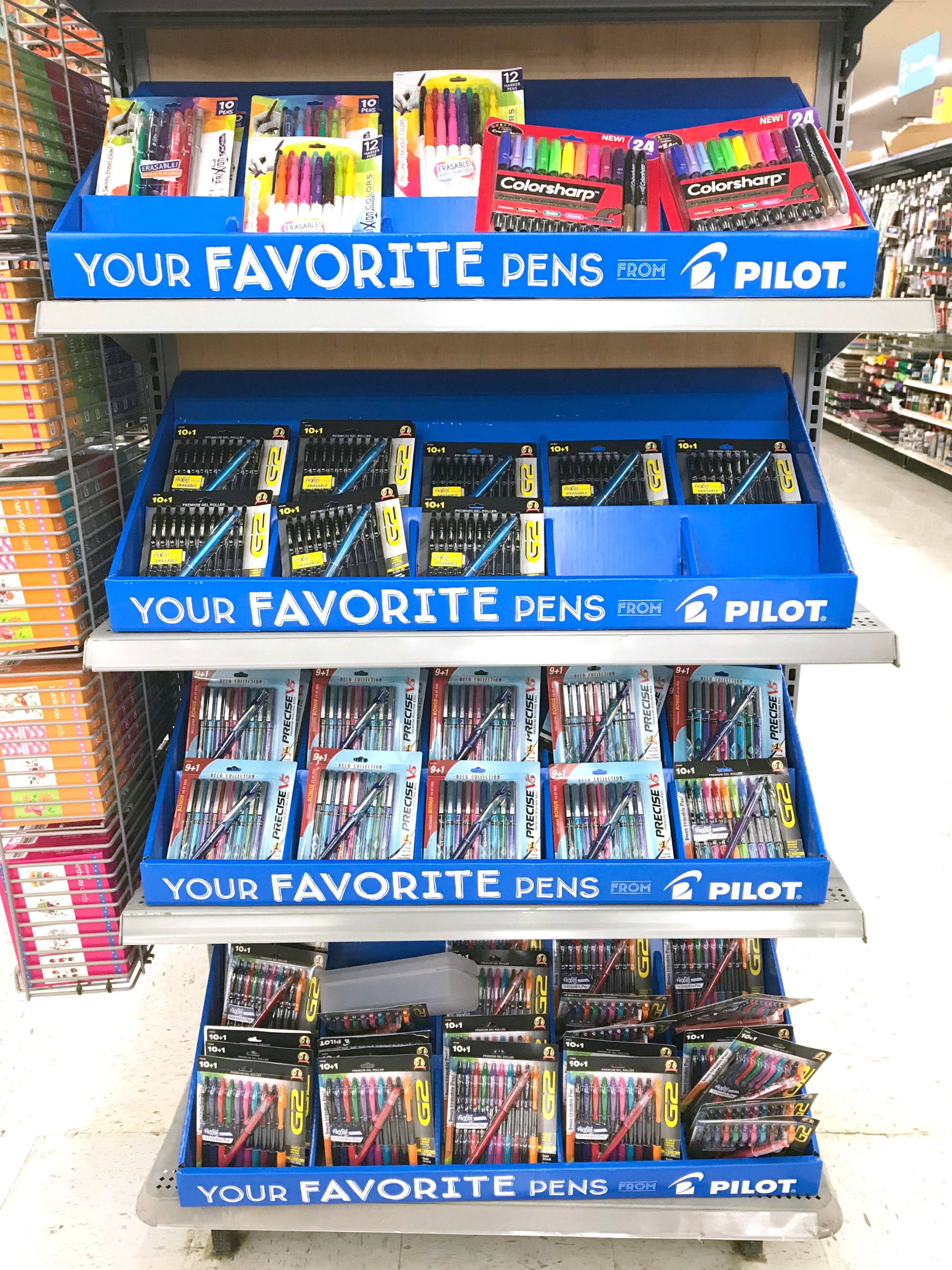 Don't forget to pin this DIY Gold Pen Holder to one of your favorite Pinterest boards. I've even made a pretty little collage to make it easy for you 🙂