Not everyone is cut out for carpooling. But if you happen to have what it takes, here are 6 must haves for carpooling parents.
We have partnered with BubbleBum to bring you this post.
The life of a carpooling parent usually isn't very glamorous. There are lots of messes to clean up, lots of smells to eliminate, and lots and lots of waiting around. It's hard, y'all.
But there are some things you can have on hand to make it easier on you and your little car riders.
6 Must Haves for Carpooling Parents
Booster seats. Big, bulky car seats are no fun for the parent or the child. Transferring one from car to car can be time consuming and hard on the back. That's why I love BubbleBum, an inflatable, portable booster seat for children ages 4 – 11 weighing 40 – 100 pounds. It's been given the Best Bet Booster award from the Insurance Institute for Highway Safety, the Seal of Approval from The National Parenting Center, and has a 5-star rating from parent reviews.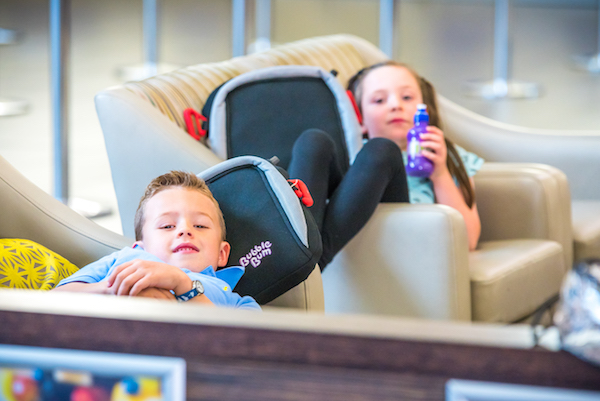 And because it's so compact, you can fit 3 across the backseat. And even if you aren't carpooling for the week, your child can carry a BubbleBum in his/her backpack in case the designated parent doing school or sport pick ups and drop offs doesn't have a booster seat. It weighs in at less than one pound making it simple to throw in a backpack or large purse.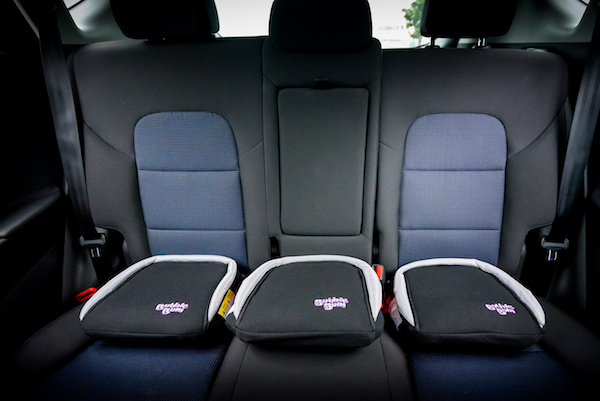 Barf bags. The last thing I want to have to do is clean up puke, from my child or anyone else's child. For some reason my stomach just can't handle it. The moment I see puke my gag reflex takes over and I'm joining in the party, y'all. That's why barf bags are one of the must haves for carpooling parents. Keep them in the back of the seats so that they are easily accessible at all times. I'd much rather have to deal with just the stench of puke for a short while than have to clean it off the seats and floor of my vehicle.
Floor mats. If your vehicle didn't come with floor mats, buy some. And even if your vehicle did, buy a cheap set to use when you know you'll be carpooling. The rubber ones work really well to contain spills. Kids can be messy so even the littlest precautions can make a huge difference in the amount of time or money you will need to spend to clean up.

Snacks. I really don't like eating in the vehicle, but kids seem to be hungry all the time. Having snacks on hand can help diffuse boredom and potential meltdowns. Things like Goldfish, fruit snacks, and jerky seem to be good options with minimal cleanup.
Wipes. Whether you need them to wipe off dirty hands, clean runny noses or wipe off smudges on the windows, wipes come in really handy when you're carpooling. I like to keep a small pack of them behind each of the seats so that they're easily accessible to the kids, too.

First Aid Kit. It's inevitable that someone is going to get hurt somehow. I like to keep a small first aid kit in the glove box of my vehicle for any such instances. You can buy these premade or you can make your own. If you make your own be sure to include alcohol wipes, antibacterial ointment and band aids.
Carpooling definitely isn't for the weak. It takes lots of love, lots of patience, and lots to time. But I think it's a great alternative to other methods of transportation. Having a carpooling group that you trust is really an invaluable resource while your kids are growing up.
What else would you add to my list of must haves for carpooling parents?