This post was sponsored by Playtex® Simply Gentle Glide™. All thoughts and opinions are my own.
That time of the month really isn't pleasant for anyone. But you can make it special. Gift that special girl friend in your life with a DIY Period Kit during that time of the month.
There are plenty of things to love about being a woman, but for me, that time of the month isn't one of them.  From the bloating and cramps, to the cravings and frustrations, when the monthly visitor comes around, I'm never quite ready for her wrath.
No matter how much I prepare, she still takes me by surprise each and every time. Ugh.

That's why I love this DIY Period Kit. It's perfect for any woman who wants to make that time of month a little less bothersome. Make one for yourself or make one for your girl friends. They're a great way to show your friends that you're thinking about them.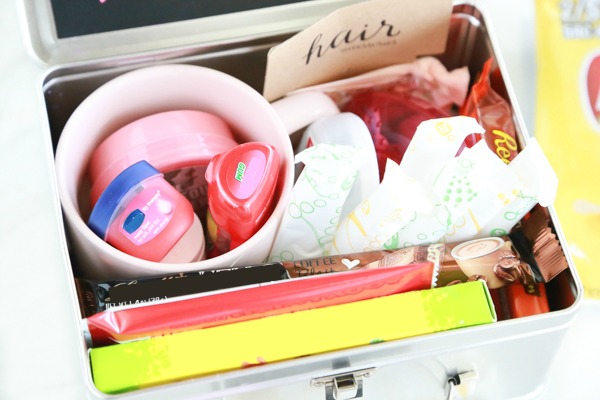 DIY Period Kit
A DIY Period Kit can include pretty much anything you want. It's totally dependent on your budget, likes/dislikes, and what's available in your area. For this DIY Period Kit, I included things that my daughter likes. I'll show you everything that I included in this one and also give you some ideas for other items you can include in yours.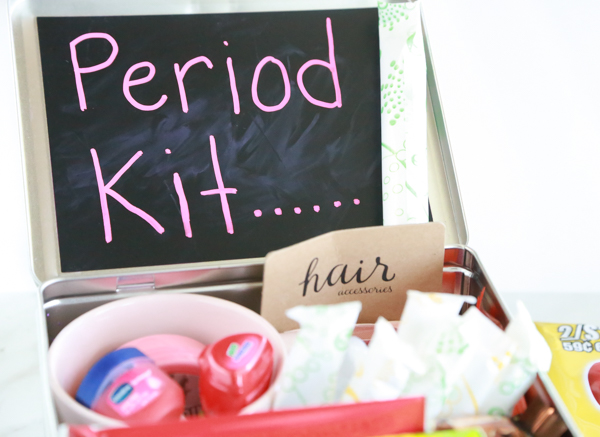 The goal/purpose of a DIY Period Kit is just to help alleviate some of the frustrations of that time of the month. It's nice to know someone cares about what you're going through and one of these kits says, "I care, I'm thinking about you, and here's something special just for you."
DIY Period Kit Suggestions
Each time I make a DIY Period Kit I make it a little different from the time before. It all depends on who I'm giving it to and what they like and dislike. Don't go in to making one of these thinking it has to look just like this one. It doesn't. I'm just giving you some ideas and suggestions on what you can include in yours.
Things you can include in a DIY Period Kit:
Tampons – I suggest Playtex

®

Simply Gentle Glide

™

Tampons
Pads
Panty liners
Flushable Wipes
Shave Lotion
Razor
Hair Ties
Magazines
Books
Fuzzy Socks
Pain Reliever
Heat Wrap
Lip Balm
Body Lotion
Hand Sanitizer
Coffee Mug
Specialty Tea Bags
Instant Coffee
Hot Chocolate Packets
Chips
Chocolate
Candy
Gum
Mints
Gift Card
Like I mentioned earlier, don't let this list define your DIY Period Kit. If you have some other cool ideas, I'd love for you to leave some suggestions down below.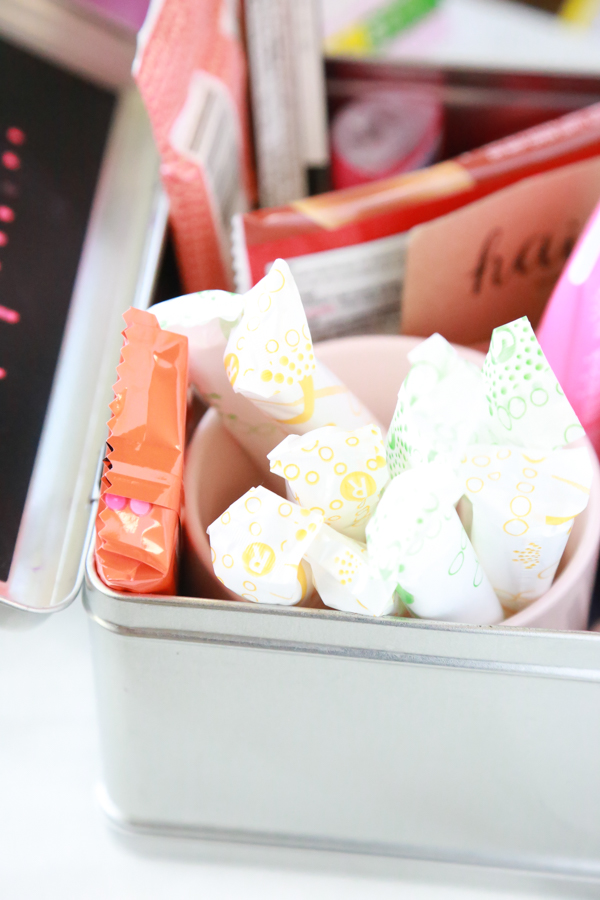 Tip: Look for clearance boxes, baskets, and bags throughout the year to use for a DIY Period Kit. For this one I used a plain, metal lunchbox that I got for basically nothing. I can't remember where I got it though.
Another Tip: For this DIY Period Kit, I purchased a sheet of chalkboard paper and applied to the inside of the box. I then used a chalk marker and wrote Period Kit on it. You could personalize it any way you want to. I think it just gives it a little extra – special!
On the subject of extra, there are lots of things where I want all the extras. Like my vehicle for example; I want ALL the bells and whistles. But when it comes to my tampons, I don't need any of those "extras." All I want is a product that gives me the things I need, like comfort and protection. I can live without all those "extra" ingredients in my most delicate area. Yikes!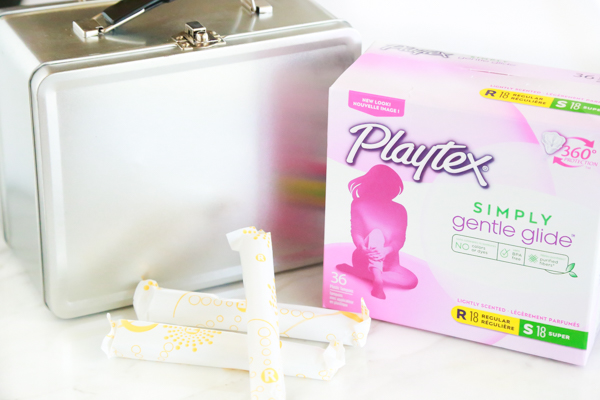 So, in an effort to live a more simple lifestyle, I'm slowly taking out the things with the extras my body doesn't need and replacing them with simple, gentle products.
That's why I like Playtex® Simply Gentle Glide™ Tampons. They're made with purified fiber, and free of colors, dyes and BPA. I want to feel good about the products I use and the products I gift to my favorite people. With Playtex® Simply Gentle Glide™ you get the best of both worlds – simple ingredients and a great value! Every ingredient used in Playtex® Simply Gentle Glide™ is rigorously evaluated to provide reliable protection that you can trust to be gentle and safe for your body.**
**When used as directed.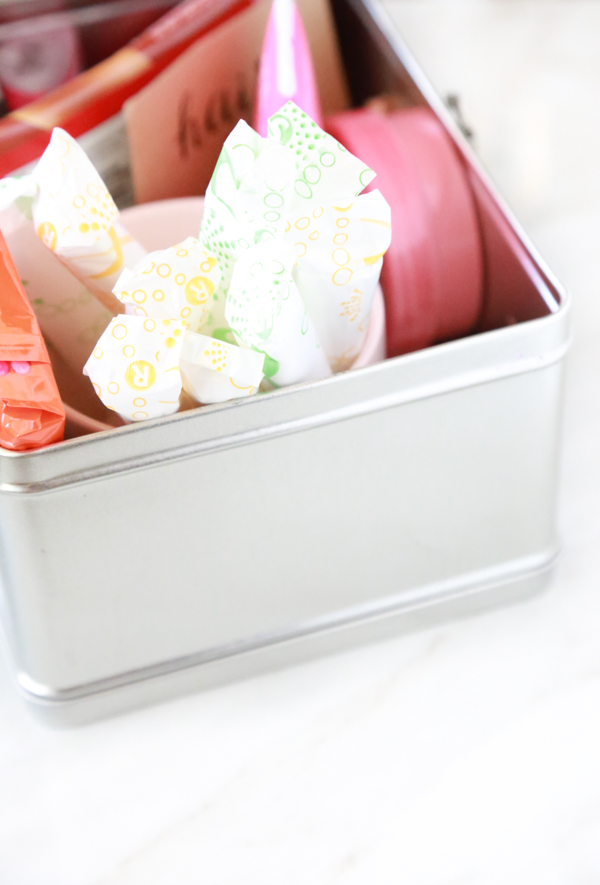 And because I know that protection is so important during that time of the month, the purified fibers are washed up to five times and then weaved together to form an absorbent core. The 360° Protection™ shapes to your body for a protective barrier against leaks.
Hello again, white pants!
So while you're contemplating where you need all those extras or not, check out this hilarious video. I promise you, it's worth the 60 seconds it takes to watch it. And when you're done, head to your nearest Kroger store and pick up a package of Playtex® Simply Gentle Glide™ Tampons. Print this coupon to save $2 on Playtex® Simply Gentle Glide™ Tampons at Kroger.
Don't forget to pin this DIY Period Kit to your favorite board on Pinterest so that you don't lose it. That would be bad, you know. Because then you wouldn't be able to find it when you NEED to make a DIY Period Kit. So just go ahead and save it now. Save yourself the hassle.