With the holiday season right around the corner, I wanted to tell you all about Botley, a coding toy for children. Find out why Botley makes a perfect gift for children this holiday season.
This post is sponsored by Mirum. Opinions are 100% my own.
As a mom I know that it's important that I choose toys that are educational and fun, but also worth every single penny spent. I work hard for the money I earn and I don't want to make frivolous purchases on toys that do not offer my children a learning experience while also being fun for them to play with.
I recently picked up Botley from Learning Resources while shopping at Walmart. Good news for you is that now there is an AWESOME Ibotta offer for $15 cash back when you shop at Walmart. Pick up this toy now and put it up for Christmas!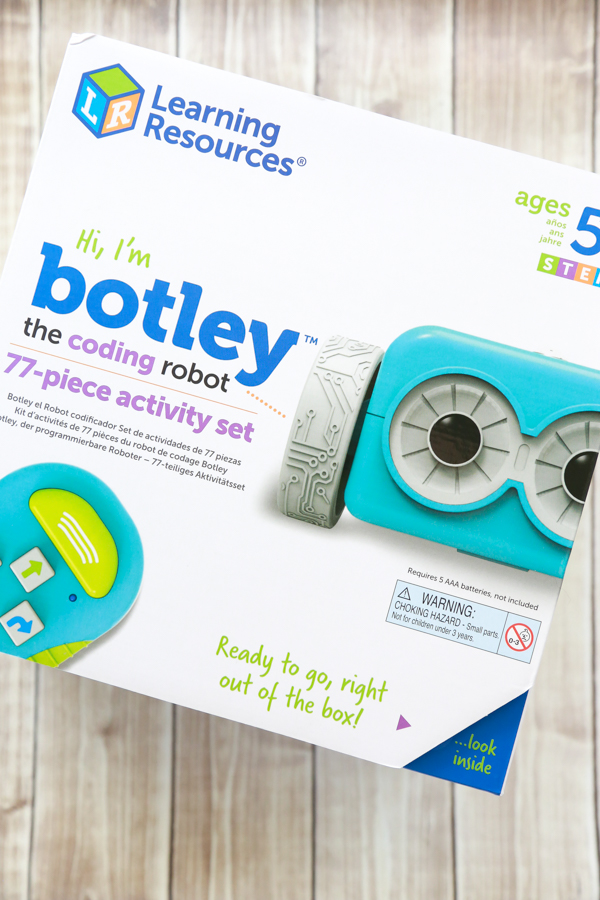 Botley the Coding Robot Activity Set 77-piece set retails for $69.00, but when you pair it with the $15 Ibotta offer, it makes an affordable educational toy.
What is Botley?
Botley is a coding toy for children as young as 5-years old. It provides hours of educational play as children learn to play and code. While Botley is a toy, it provides educational value and learning possibilities for young children.
We all know that coding can be very intimidating. Botley introduces children to coding in an easy, friendly way. As your child is playing with the coding toy, they will be learning critical thinking and problem-solving skills along the way.
Playing and learning – I call that a win!
4 Reasons Botley Makes a Perfect Gift for Kids
Easy to Use Right Out of the Box – Since many 5 year olds haven't had any experience with coding, I love that it is ready to use right out of the box. Your kids will literally be coding within minutes of opening the box. While Botley can be introduced to children as young as 5, he'll also grow right along with them for many years of fun together.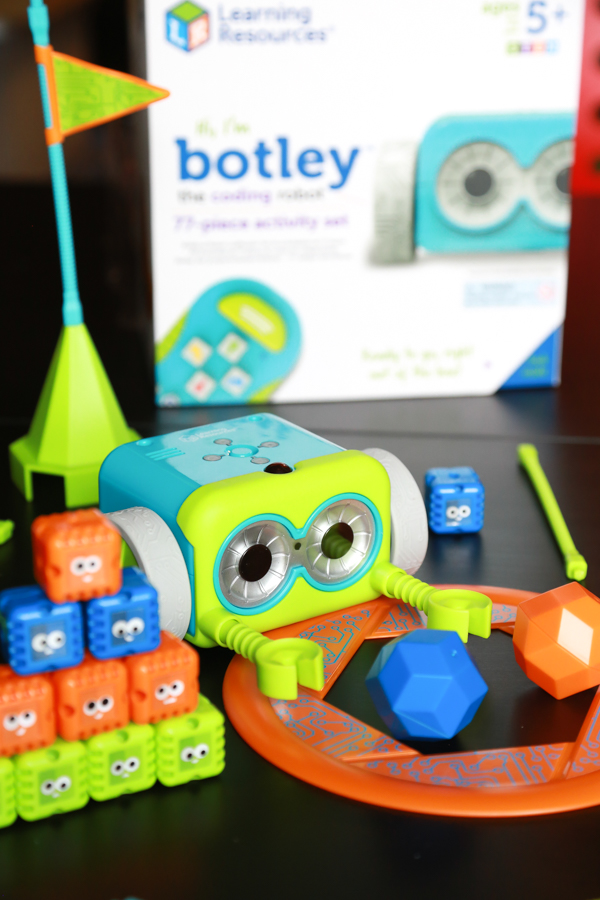 100% Screen Free – Not much is done screen-free these days, but Botley is completely screen-free. That's right, you can learn to code and do it completely screen free – no phone or tablet required. It comes with an easy to use remote programmer, which transmits your commands and tells him where to go based on which buttons you've pushed on the remote.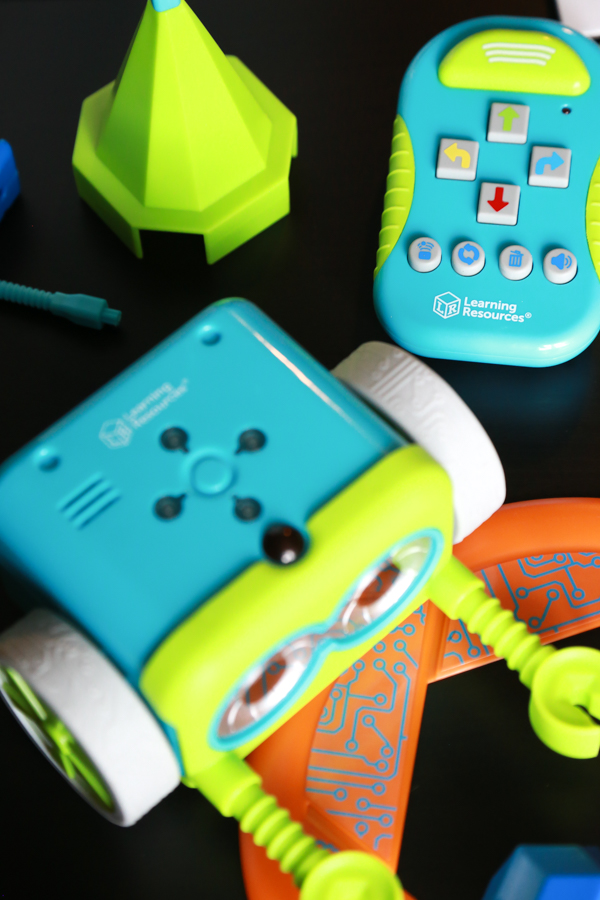 Learn Coding Skills – With advanced features it grows along with your kids' coding skills. He can be coded for up to 120 steps, including loops, if/then logic, and obstacle detection. Turn on the black-line follow mode and watch him travel the path you've set up for him. And that's not all – there are even hidden features to unlock as you play and learn!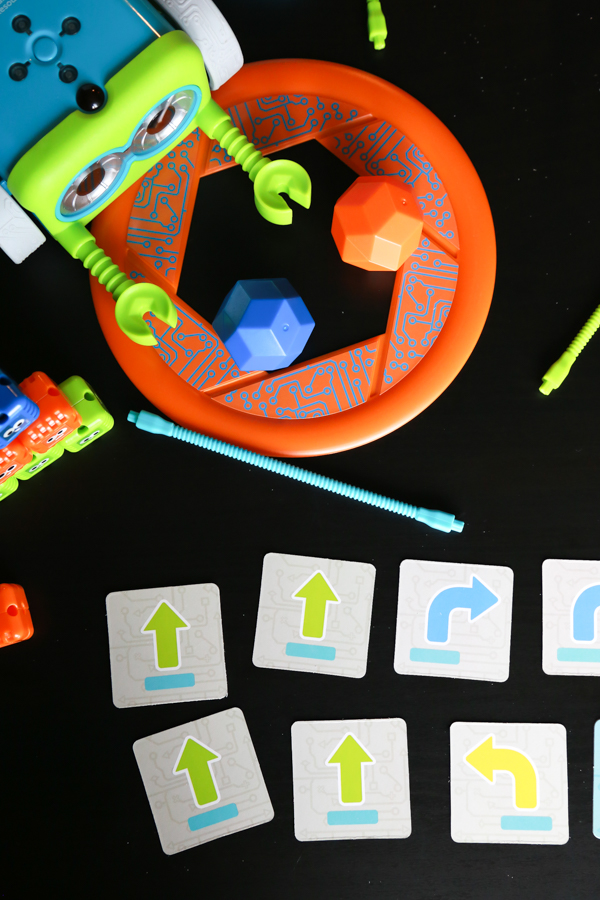 77-Piece Activity Set – Coding cards, detachable arms, interactive obstacles, coding games and more – with 77-pieces included in this set, there are endless hours of fun to be had. Botley is always up for the challenge – so test him and find out what he can do.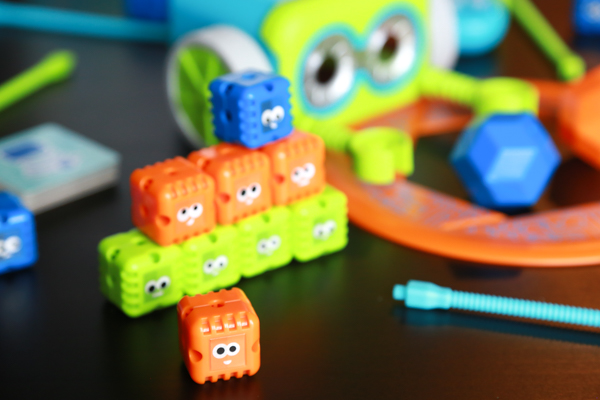 What Can Botley Do?
Since Botley is a small coding toy for kids, it can be programmed to do a variety of tasks. With a very simple remote kids can program Botley's movements with simple back and forth movements, but also more complicated movements such as loops and if/then logic. With a sensor between its eyes, it can also see objects in its path and go around them with if/then logic.
With the included cards you can also get Botley to follow a black line. You can use the cards that are included or you can draw your own path using white paper and a black marker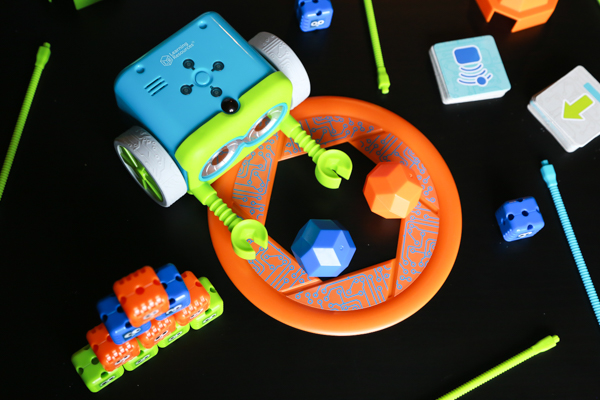 Since I know that many parents want their children to play beyond the screen, I love that Botley offers just that. With all the different kinds of screens pulling our children's attention, it's nice to be able to offer them an alternative that's actually fun. An added bonus is that it's pretty easy to learn, too.
And it seems I'm not the only one who thinks so. Botley has won multiple awards, including Family Choice 2018 and the 2018 Parent's Choice Award, which recognizes products that entertain and teach with flair, stimulate imagination, and inspire creativity.
If you want a toy that inspires and teaches during play time, make sure you pick up Botley at Walmart and take advantage of this incredible Ibotta offer to earn $15 cash back.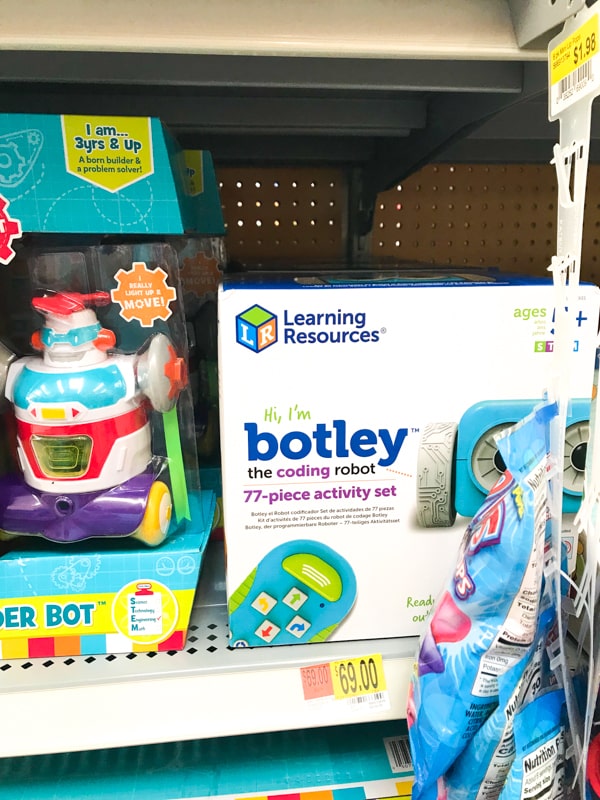 After you've brought Botley home, check out these fun activities you can get him to do. The section is titled classroom activities, but even if it's just you and your children, these activities are pretty cool. And if you homeschool like we do, it's a great way to add some coding activities to your curriculum.