If you're looking for a pet stain and odor remover, try Simple Green!
I've been using the Simple Green Naturals cleaners for a couple of months now and I still absolutely love them! When I found out that Simple Green also carried products for those pesky pet stains and odors, I knew I needed to give it a try.
I have an eight year old little male dachshund that has some territorial issues and he likes to "mark" things, most common one of the two carpeted areas in our house. One of those areas happens to be in my bedroom!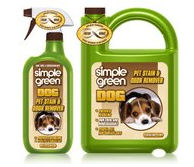 We recently received a bottle of Simple Green Pet Stain and Odor Remover to review and I immediately put it to work.
Here is some information from the website:
Introducing NEW Simple Green Pet Stain & Odor Remover… with Fresh Bond™ Odor Eliminating Technology. Non-toxic and biodegradable, Simple Green Pet Stain & Odor Remover is People, Pet & Surface safe! Its supreme formulation outperforms other leading brands and Fresh Bond Technology eliminates odors permanently – no re-soiling or remarking. It's perfect for use on those places where stinky pet odors build up and on the "accidents" they have. It can be used as a spot treatment (spray directly on soiled/stained spot) and then used in extraction machines (pour directly into reservoir) for cleaning larger carpeted areas. Simple Green Pet Stain & Odor Remover has a wonderful scent that will leave your home smelling clean and fresh, and best of all… it will help you love your pet again, while your home maintains its fresh, clean appearance!
We have tried many, many products but none have completely eliminated the stains or odors because he continually goes back to the same areas over and over again. We've used heavy duty carpet cleaners, carpet foam, etc. You name it and I'm sure we've used it.
I'm embarrassed to say but my little doggie likes peeing on things. It doesn't matter what it is. He will hike his leg and let it flow. I took the Simple Green Pet Stain and Odor Remover to one of his spots and saturated the soiled area. I let it sit for just a couple of seconds and started scrubbing with a white washcloth. I am totally impressed! Simple Green Pet Stain and Odor Remover did an incredible job at getting rid of the pee stain on my carpet.
If you've read my blog long enough, then you know how I am about scent and fragrance. I actually like the fragrance of Simple Green Pet Stain and Odor Remover because it doesn't smell chemically therefore not resulting in a headache!
As I was sitting on the carpet with my Simple Green Pet Stain and Odor Remover, scrubbing at the pee stain, I had a vision you could say. Wouldn't it be great if you could use it with a carpet cleaner? I would even use it on stains that weren't from my sweet little doggie.
You can use Simple Green Pet Stain and Odor Remover on almost any surface, just stay away from silk, velvet, leather or suede. We have carpet, laminate and tile in our house and we can use it each on each of those surfaces. If you are using it on laminate flooring, be sure not to saturate the area. Just a small amount will do.
The views and opinions expressed on this blog are purely that of the blog owners. Any product claim, statistic, quote or other representation about a product or service should be verified with the manufacturer or provider. I have been given a product free of charge, but that does not impact my views or opinions.