Pizza comes in all shapes and forms, and these Fried Pizza Bites are a perfect example of that. So good, y'all!
While I was browsing the internet the other day looking for some inspiration, I stumbled across these Fried Mozzarella Bites and I knew I had to make them. My recent homemade pizza was a big hit and I immediately thought these would be a big hit as well. Only instead of just cheese, I added some pepperoni and made mini pizza bites.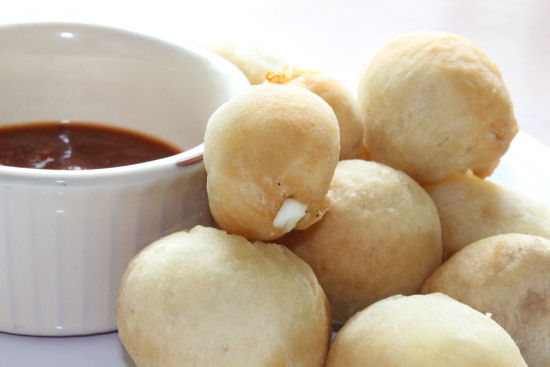 And, they were ah-mazing! And because we liked them so much, I wanted to share the recipe with y'all! In keeping with the simple recipes with simple ingredients idea, I kept the ingredients as simple as possible — starting with mozzarella string cheese. You could use a block of mozzarella, but I think it is easier to just cut up some string cheese. Place the cut up string cheese in the freezer for about 30 minutes.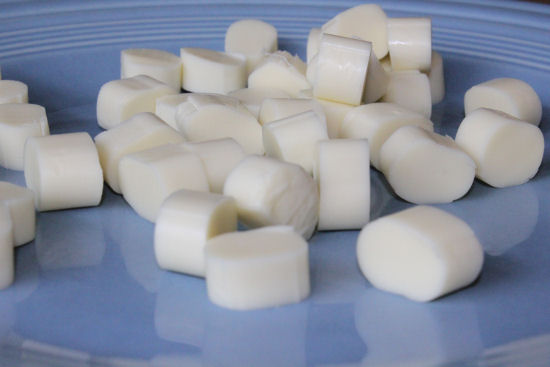 While the cheese is in the freezer, you can use this time to cut up the pepperoni into smaller pieces. Once the cheese has been in the freezer for 30 minutes, take it out and use store bought refrigerated pizza dough, cut up pepperoni and chilled cheese to start making little pizza bites. I started by getting a piece of cheese, adding a few pieces of the small cut up pepperoni and using a small piece of refrigerated pizza dough to wrap it all up.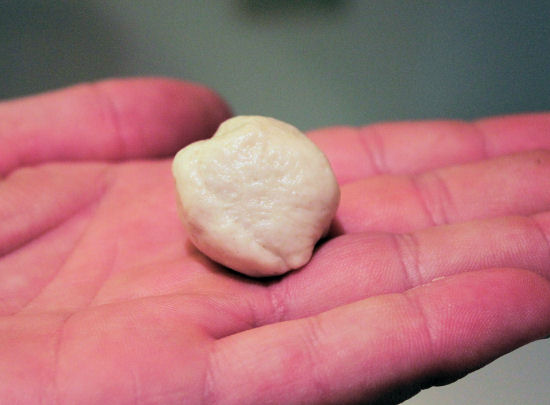 To keep the little balls from getting stuck to each other, roll them in flour while the oil is heating. The size of your pan will decide how many will fit in a batch. I wouldn't put too many at one time because they could stick if there is too many in the pan. While the fried pizza bites are cooking, use a slotted spoon to keep the bites moving around in the oil. They can get dark really quick, so keep 'em movin' to keep them from burning!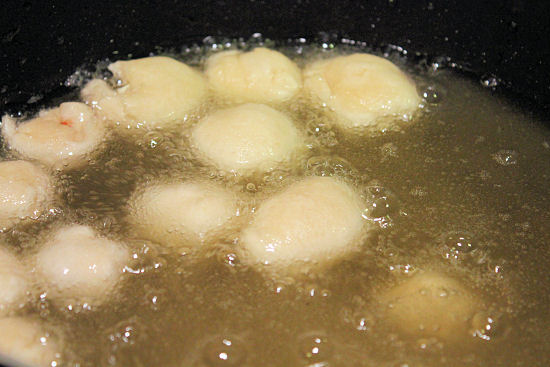 I had a hard time finding the perfect temperature for the oil. The first batch didn't turn out well because the outside got too dark before the inside was finished cooking. I found that having the dial right between 4 and 5 on my stove worked best. When the pizza bites get a nice golden brown color, they are ready!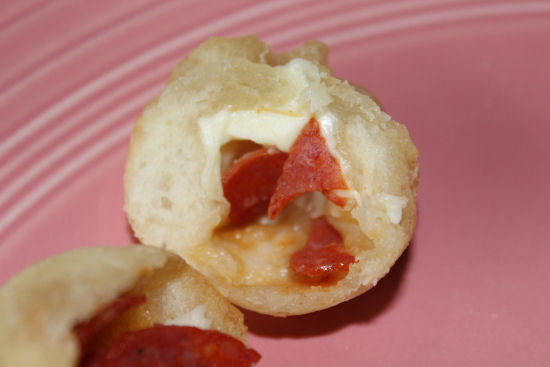 Oh my goodness, these bad boys were incredibly yummy! I served them with a small bowl of pizza sauce but you could also serve them with a marinara.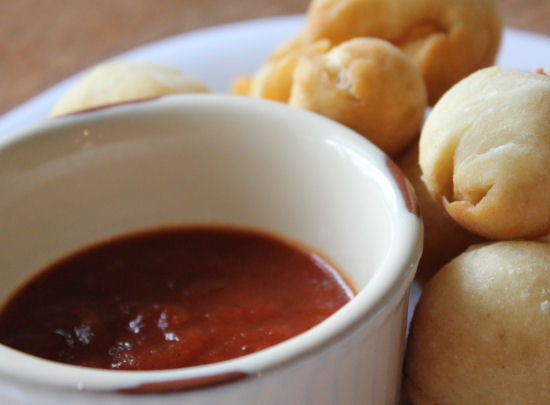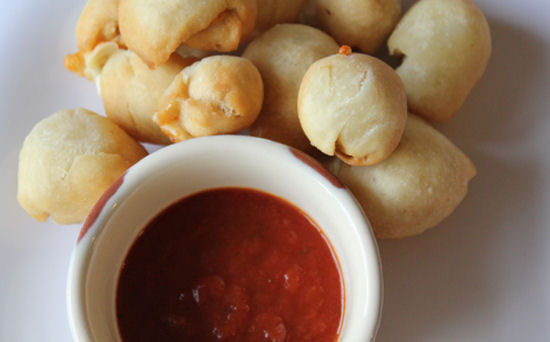 Fried Pizza Bites Recipe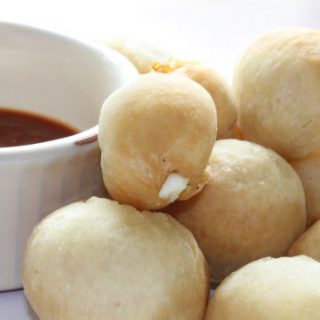 Fried Pizza Bites Recipe
It's easy to make these Fried Pizza Bites with refrigerated pizza dough, mozzarella and a little bit of pepperoni.
Ingredients
4 mozzarella string cheese
1 package of refrigerated pizza dough
1 package turkey pepperoni (there will be leftovers)
vegetable oil (depends on size of pan)
pizza sauce or marinara, for dipping
Instructions
Cut string cheese into small pieces. I got 10 pieces from each string cheese. Place cut string cheese into the freezer for 30 minutes. Cut pepperoni into small triangles. I got 6 small triangles from each pepperoni. Set aside. Heat oil to medium.
Take a piece of cheese, several pieces of turkey pepperoni and small piece of refrigerated pizza dough and create a ball. I found it easier to tear a small piece of dough, place a couple pieces of pepperoni, add cheese on top of the pepperoni and put a couple more pieces of pepperoni and roll the dough over the cheese and pepperoni. Roll in flour. Repeat with remaining ingredients.
When the oil is ready, begin gently placing your pizza balls into the pan. Don't overcrowd the pan. Use a slotted spoon to keep them moving to prevent sticking and overcooking. When they get a nice golden brown color, they're ready.
Remove from oil and cool on paper towel for a couple of minutes before serving with pizza sauce or marinara.
Nutrition Information:
Yield:

4
Serving Size:

1
Amount Per Serving:
Calories:

159
Total Fat:

11g
Saturated Fat:

4g
Trans Fat:

0g
Unsaturated Fat:

6g
Cholesterol:

24mg
Sodium:

411mg
Carbohydrates:

8g
Fiber:

1g
Sugar:

3g
Protein:

8g