The month of love is here and this is only the beginning of my heart-shaped recipes. I don't always get to post all of them since it takes an enormous amount of time to take and edit photos, but I did want to share these Heart Shaped Rice Krispies Pops because they're just too cute not to.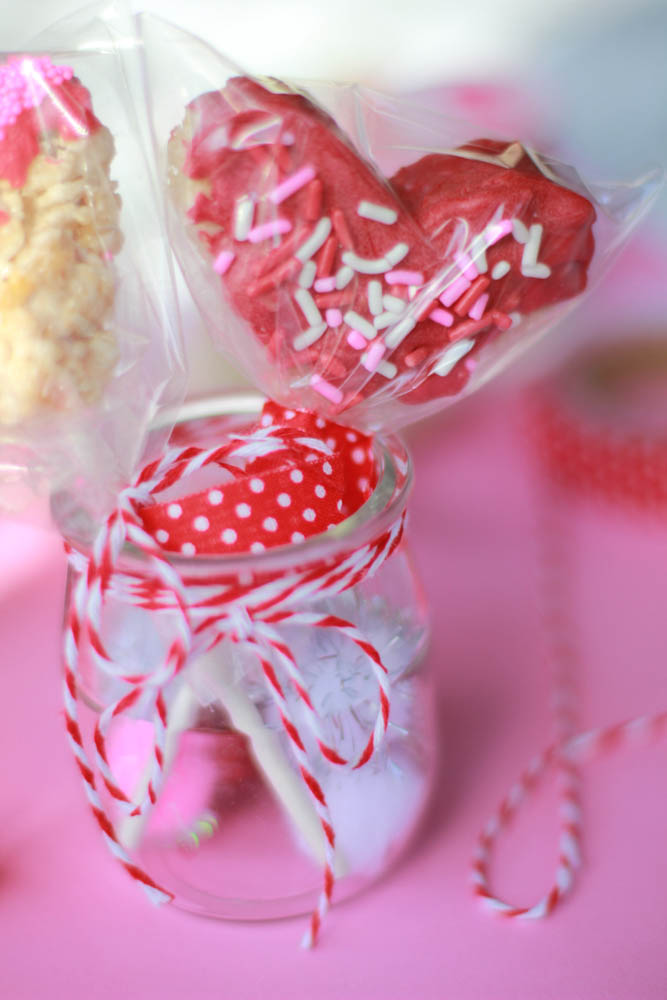 I absolutely love making traditional Rice Krispies Treats for the kiddos, but I get excited when I have the opportunity to get a little creative and give them something a bit different than the norm. And what a fun way to show them I love them with these Heart Shaped Rice Krispies Pops!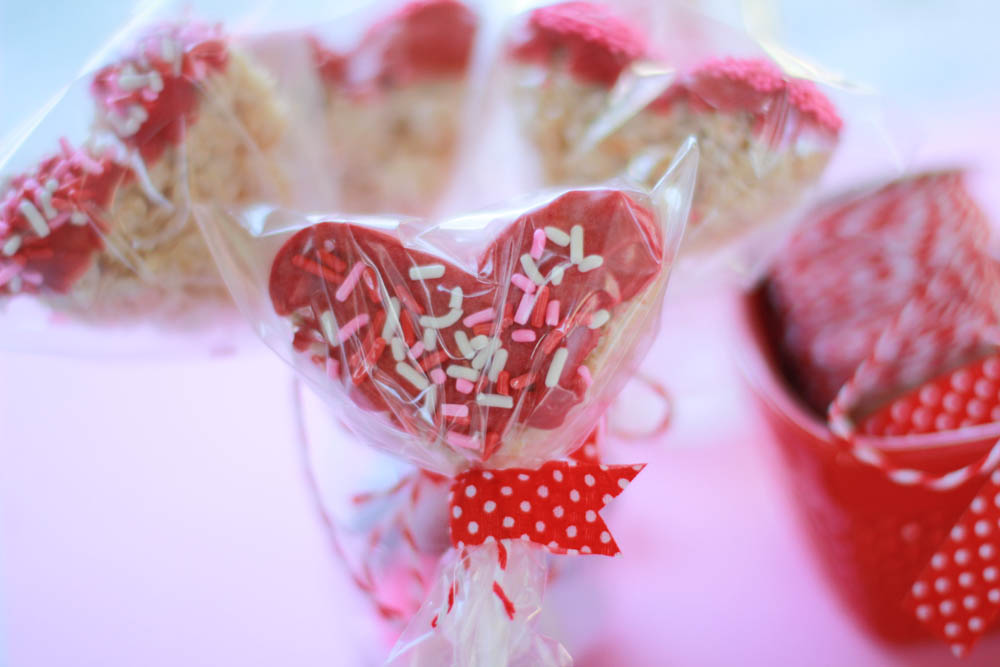 Lately I've been all about putting things on sticks, so I decided to do that with these too! I absolutely love the way they turned out. When my kiddos got home from school they were so excited to see these waiting for them.
If your child's school still allows homemade treats, these would be perfect for class parties next week! If you don't have any sticks on hand, Valentine's Day Heart Rice Krispies Treats are still adorable.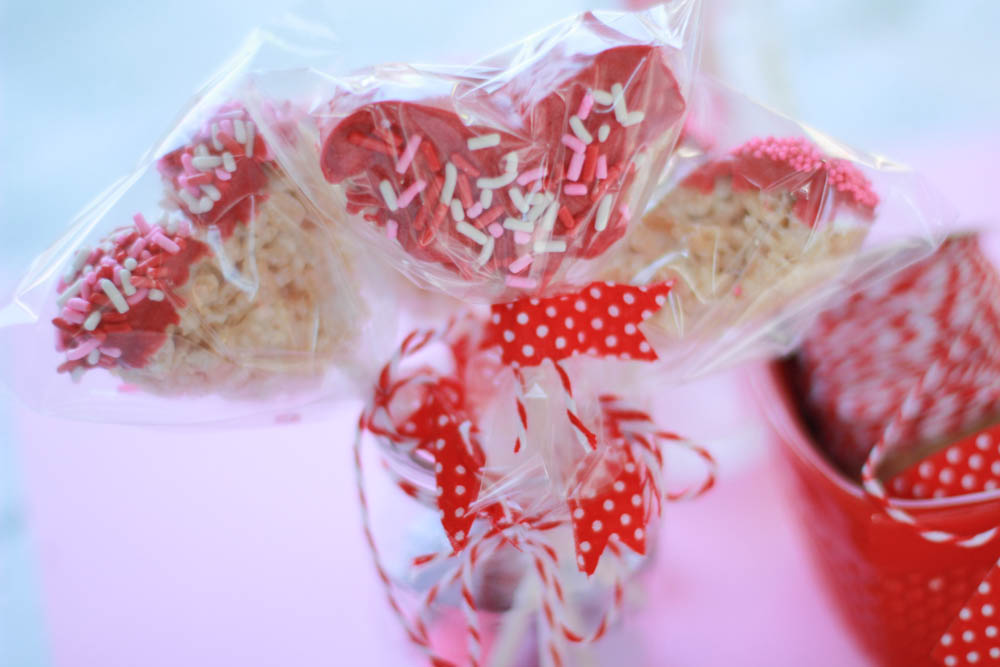 I love how easy these are to make and just how adorable they are once they're finished.
Heart Shaped Rice Krispies Pops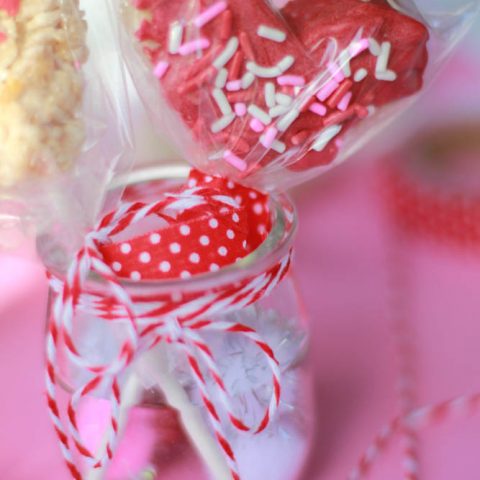 Heart Shaped Rice Krispies Pops
Take your traditional Rice Krispies Treat, put it on a stick, and call it a Rice Krispies Pop 🙂
Ingredients
3 tbsp butter or margarine
4 cups miniature marshmallows
6 cups Kellogg's Rice Krispies cereal
2" heart cookie cutter
White chocolate morsels
multi-colored sprinkles
clear treat bags (at least 4" x 4")
Instructions
In a large saucepan melt butter over low heat. Once melted, add marshmallows and stir until completely melted. Remove from heat and add Kellogg's Rice Krispies cereal to melted marshmallow mixture. Stir until Rice Krispies are completely coated with sticky marshmallow.
Spray a 9x13 baking pan with non-stick cooking spray and pour Rice Krispies mixture into the pan. Take a sheet of wax paper or parchment paper and place on top of the mixture and evenly press down into pan.
Allow to cool for a few minutes, just until you can handle it without it crumbling apart. Take your heart cookie cutter and cut out 20 hearts. Place each one on a sheet of wax paper as you go. Once you have all 20 hearts cut out, gently insert a stick into the bottom. Make sure the stick goes in evenly so that it doesn't poke out the front or the back. Continue to let them cool so that the marshmallow adheres to the sticks.
Melt chocolate or candy melts, according to the directions, and decorate to your little hearts desire. I did red candy melts and used festive Valentine's Day sprinkles for decorating. For some I coated the whole heart, some I just dipped the top. It's totally up to you on how you want to decorate. Once dipped and decorated, return to wax or parchment paper to harden.
Once the chocolate or candy melt has hardened, you can place in treat bag and tie with washi tape and/or baking twine.
Nutrition Information:
Yield:

20
Serving Size:

1
Amount Per Serving:
Calories:

129
Total Fat:

4g
Saturated Fat:

2g
Trans Fat:

0g
Unsaturated Fat:

2g
Cholesterol:

5mg
Sodium:

86mg
Carbohydrates:

22g
Fiber:

0g
Sugar:

11g
Protein:

1g
Are you making anything special for Valentine's Day?
I am a Kellogg's Champions of Great Starts Blogger and I am compensated for my participation in this partnership. However, this post was not a required part of our partnership. I just really love Kellogg's Rice Krispies and wanted to share how simple these are to make!