These Peeps Bunny Cupcakes are easy to make. And let's not look over the fact that they're so darn cute!
Y'all, how is it already March? This is year is flying by so quickly and there doesn't seem to be much chance of slowing it down. Kids are on Spring Break, baseball season is about to kick off and then, before I know it, the school year will be over.
Lets say it all together…SLOW DOWN already!
When I'm feeling stressed and pulled in different directions, it helps me to plan ahead. I'm big on writing out lists and being able to cross things off of said lists. When I have everything written down, it helps to clear my head and allows me to focus on what needs to be done right then.
Peeps Cupcakes
I've had a huge box of Peeps sitting in my office for a couple weeks now and I finally had some time to get in the kitchen and get creative. That's how these Peeps Bunny Cupcakes came to life.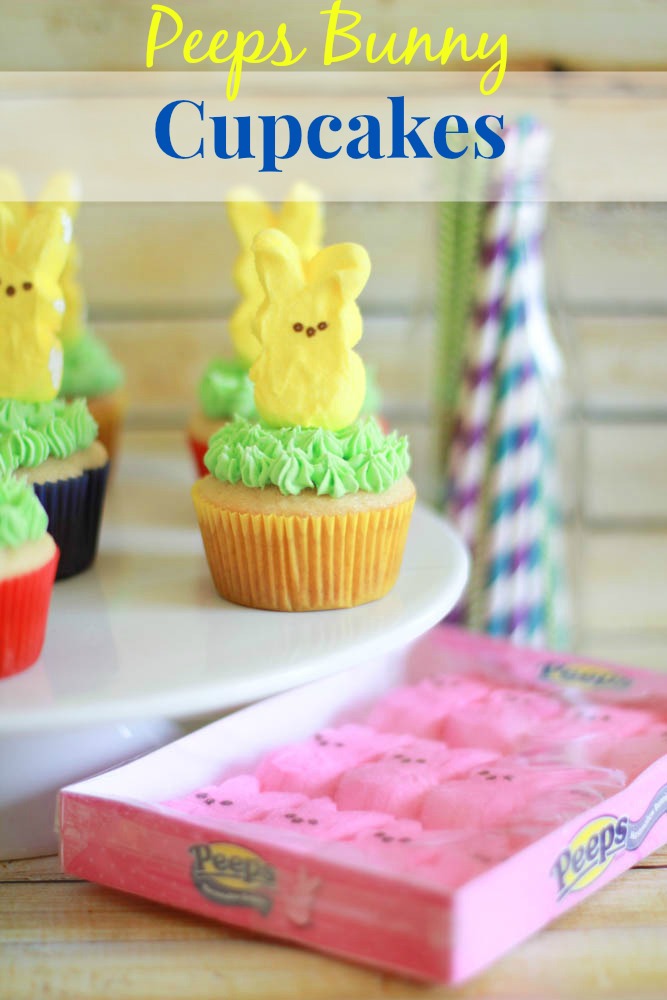 I know it's only March, but April is just around the corner and Easter will be here shortly. It's never too early to start your planning, y'all. My life runs much more smoothly when everything is planned out.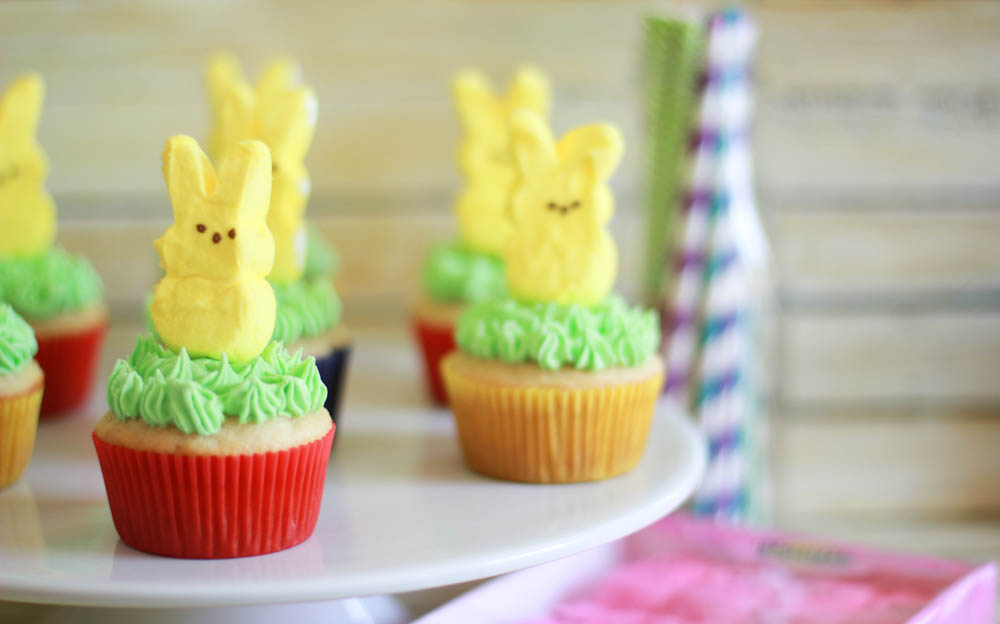 These Peeps Bunny Cupcakes were easy to make and decorate.
Bunny Cupcake Tips
Once your cupcakes are out of the oven and are completely cool, you can get to work with the decorating. The decorating doesn't take long at all, and if you work in an assembly line of sorts, you'll be done before you know it.
I lined all my cupcakes up on my counter top before preparing the icing. I read that Royal Icing dries fairly quickly, so I wanted to be able to get them all done before it dried. I also thinned the icing out a bit so that it would be easy to push through the decorating bag.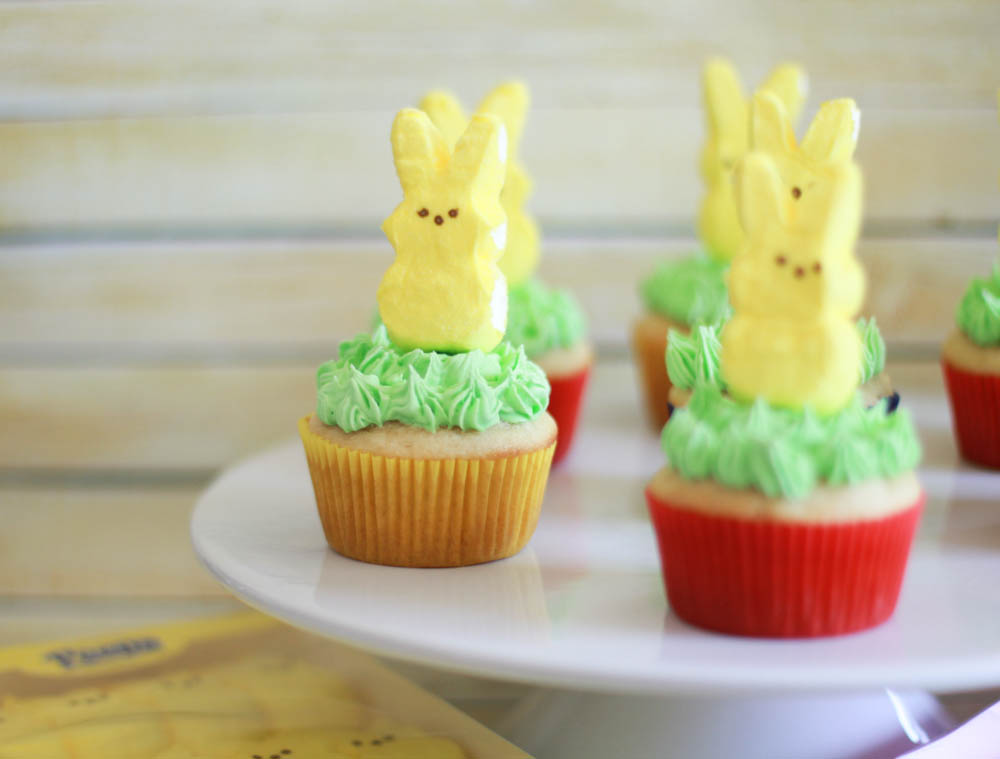 I didn't have the proper Wilton tip for grass, so I made it work with the star tip 22. I worked quickly in an up and down motion to create little puffs that kind of resemble grass. I started out by going in a circle around the cupcake, and then finished by filling in the circle.
Once I had iced all the cupcakes, I assembled the bunny pick so that I could securely attach them to the cupcakes. I'm sure there are many ways to do this, but I used what I had on hand, and that was toothpicks. I placed a toothpick through the bottom half of each bunny while I let the icing harden a bit. Once each bunny was ready, I simply placed it in the middle of the cupcake using the rest of the toothpick.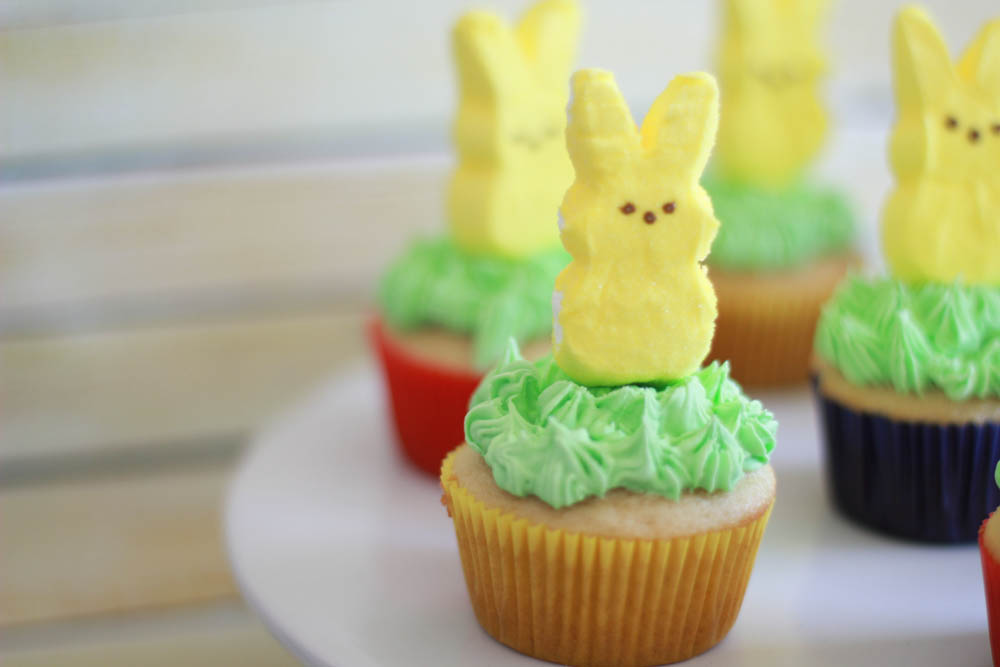 See, I told you it was easy!
There is so much you can do with Peeps. I've got some fun things I'll be sharing up until Easter, but you can search the #PeepsTreats hashtag on Twitter and Pinterest for instant gratification.
Want more Easter inspiration? Check out these posts:
Peeps Bunny Cupcake Recipe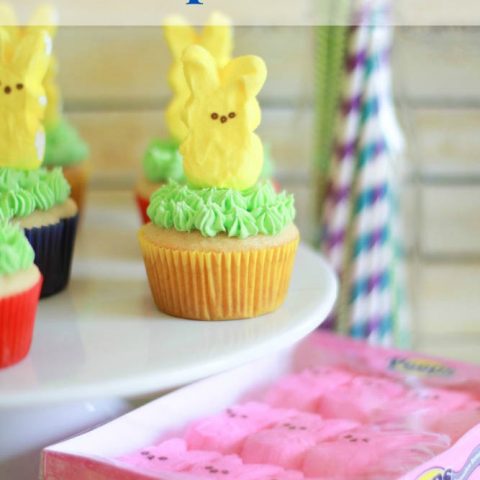 Peeps Bunny Cupcakes
Yield: 30 cupcakes

Prep Time: 20 minutes

Cook Time: 12 minutes

Total Time: 32 minutes

A fun Easter treat featuring Peeps marshmallows
Ingredients
2 1/2 cups cake flour
1 teaspoon baking soda
2 1/2 teaspoons baking powder
1/2 teaspoon salt
4 large eggs
1 1/2 cup sugar
2 1/2 teaspoons vanilla extract
1 cup extra virgin olive oil
1 cup buttermilk
Instructions
Preheat oven to 350 degrees and line cupcake pan with liners.
Whisk together cake flour, baking soda, baking powder and salt in a medium bowl; set aside.
Beat eggs on medium speed for about 15 seconds. Add sugar and continue beating for another 30-45 seconds. Add in vanilla and oil. Continue to beat until well combined.
You will begin adding the flour and buttermilk, but you will need to alternate back and forth. Reduce the speed to low and add half of the flour mixture. Slowly add in half of the buttermilk. Scape down the sides and add in the other half of the flour mixture, followed by the other half of the buttermilk. Scrape down the sides again, if needed. Do not overwork the batter. Stop beating when the batter has reached a smooth consistency.
Fill each cupcake liner about half way. This will give you a cupcake that rises just over the top of the liner. Bake for 12 minutes. Let cook in the pan for 2 minutes and then remove. Once cupcakes are cooled, you can begin to assemble the Peeps Bunny Cupcakes.
Notes
Other items needed:
toothpicks
Peeps Marshmallow Bunnies
Royal Icing
Leaf Green Icing Dye
Decorating Bag
Star Tip 22

Don't forget to pin these Easter cupcakes to your Easter Pinterest boards.