These Rice Krispies Hidden Surprise Easter Egg Treats are a fun way to celebrate Easter!
I'm sitting here on my couch wondering how in the world did it get to be April already. It seems just like yesterday we were celebrating a new year and now, in just a few days, we will be celebrating Easter and eating yummy Easter egg treats!

This Easter, I've partnered with Kellogg's and they sent me some of the supplies to make Rice Krispies Hidden Surprise Easter Egg Treats! This was a fun project and one the whole family gladly participated in!
What makes these Easter egg treats special is that inside each and every Rice Krispies Egg, there are M&M's waiting inside. So not only do you get to experience the delectable goodness of the Rice Krispies Eggs, you get a nice chocolately surprise inside, too.
---
Glovies Multipurpose latex-free Disposable Gloves for Kids (100 Count)
Here's a tip, y'all – To make this project go a little bit smoother, especially when making these Rice Krispies Hidden Surprise Easter Egg Treats with your children, I highly recommend food-safe gloves for keeping little hands clean. As I'm sure you already know, the melted marshmallow is incredibly sticky and for us, it's just easier to throw away the gloves rather than constantly having to stop and wash hands. The gloves are powder free making them a good choice in food preparation. Make sure you have lots of non-stick cooking spray or butter on hand too! It'll come in handy.
---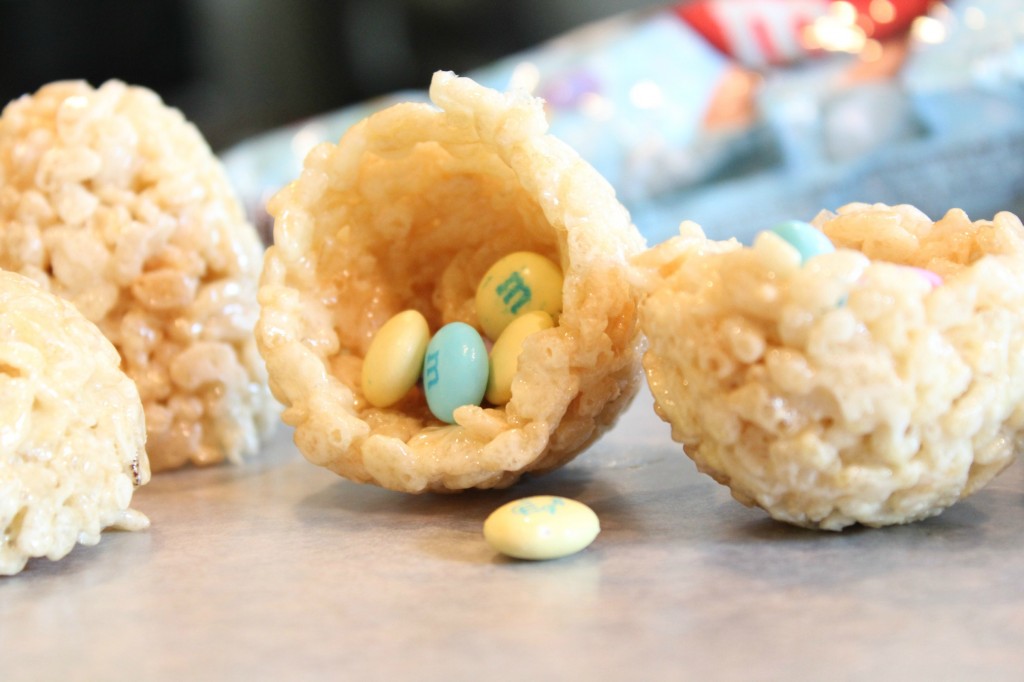 This project took a while to complete and there was some trial and error along the way. Although this isn't what I call an easy recipe, it is worth all the time and effort involved.
Rice Krispies Hidden Surprise Easter Egg Treats
Rice Krispies Hidden Surprise Easter Egg Treats + Giveaway
Total Time:
1 hour
5 minutes
These Rice Krispies treat contain a hidden surprise inside.
Ingredients
3 tablespoons Butter or Margarine
1 package (10 oz., about 40) regular Marshmallows OR 4 cups of miniature Marshmallows
6 cups Kellogg's Rice Krispies Cereal
1/2 cup M&M's Brand Chocolate Candies (plus some for snacking)
Canned frosting or decorating gel (optional)
12 plastic snap-apart 3x2-inch Easter eggs
Instructions
Thoroughly clean Easter eggs then coat inside of plastic eggs with cooking spray. Set aside
In large saucepan, melt butter or margarine over low heat. Add marshmallows and stir until completely melted. Remove from heat.
If your saucepan is large enough, add Kellogg's Rice Krispies cereal and stir until well coated. If your saucepan is not big enough, add Kellogg's Rice Krispies cereal to a large bowl and pour marshmallow mixture on top, stirring until well coated.
Using greased hands, firmly press 1/4 cup of cereal mixture into each plastic egg half. Use fingers to make hollow center in each half. (TIP: Use a rounded tablespoon measuring spoon and press firmly in the center of each egg. This will make hollowing out the center much easier.) I used a mini muffin pan to hold the egg halves upright while I was finishing the whole batch.
Once the eggs have set, remove from molds and place on wax paper.
Place about six M&M's in each egg half. Gently press two halves of each egg together until they stick. You will have to have patience and keep pressing and molding around the seam.
Let cool completely and decorate with frosting and M&M's, if desired. I used melted semi-sweet chocolate and sprinkles for ours.
Nutrition Information:
Yield:

12
Serving Size:

1
Amount Per Serving:
Calories:

207
Total Fat:

6g
Saturated Fat:

3g
Trans Fat:

0g
Unsaturated Fat:

2g
Cholesterol:

24mg
Sodium:

139mg
Carbohydrates:

36g
Fiber:

1g
Sugar:

19g
Protein:

3g
I won't lie and say there weren't any times when I wanted to scream, ditch the project and go cry on my bed…but, the finished product and the family time was worth all the frustration. I'm sure most of my problems were caused from the 90 degree weather here in Texas, so hopefully, if you try this, you won't have the trouble we did.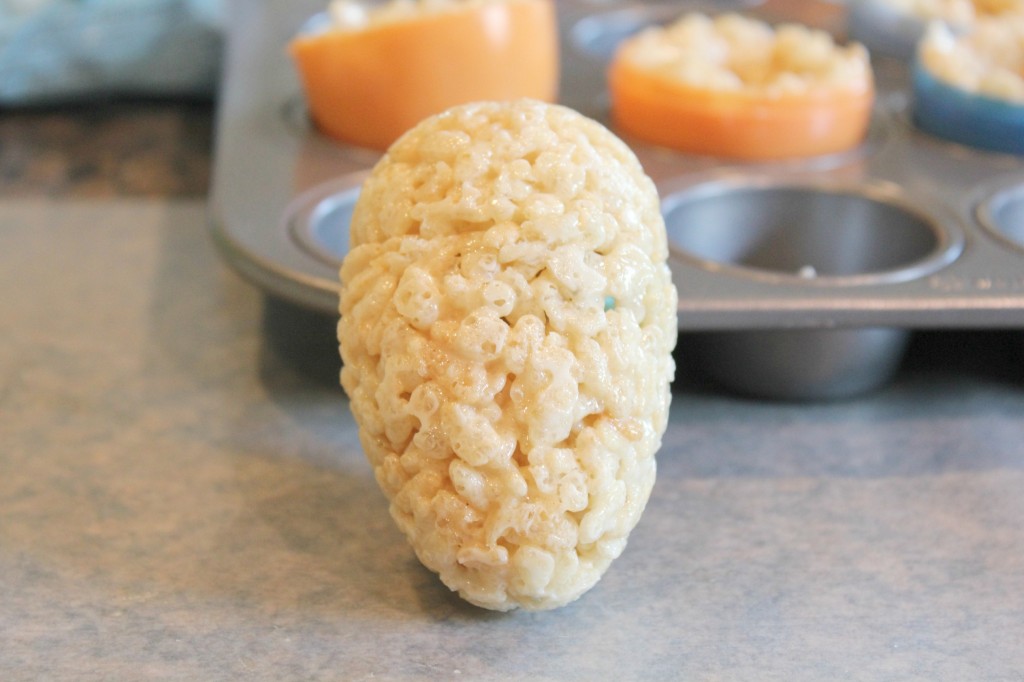 I think the Rice Krispies Hidden Surprise Easter Egg Treats look adorable just they way they are, but a little color and a little chocolate is always a good thing.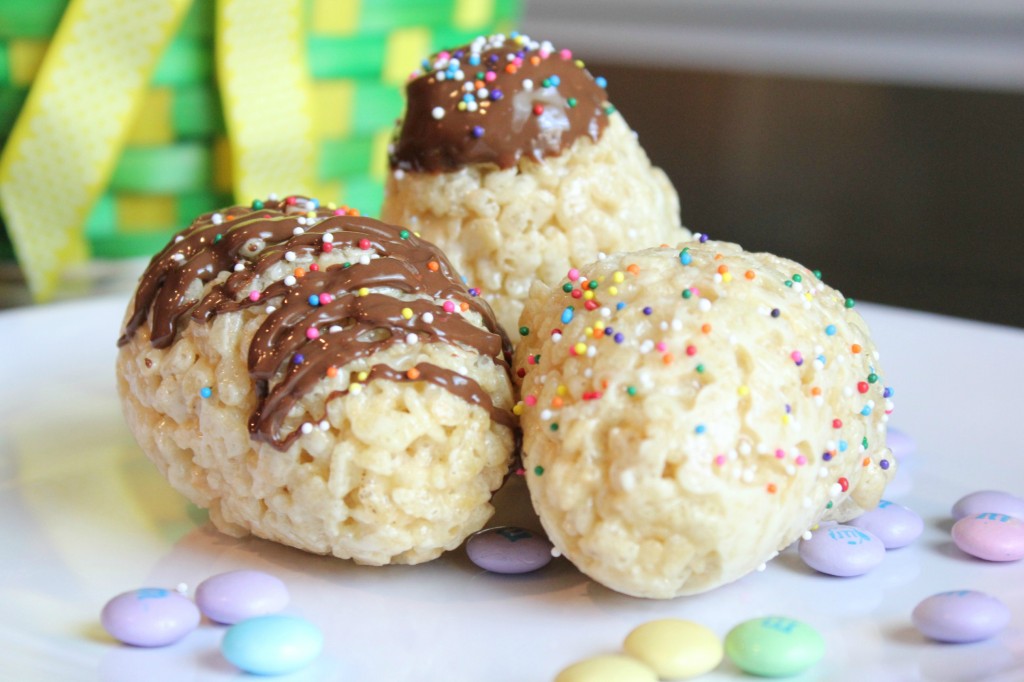 Have you tried making these Rice Krispies Hidden Surprise Easter Egg Treats before?
More recipes from my kitchen can be found on the blog. Need more inspiration for Easter? Here are a few more posts:
Hoppy Easter Treat Bag Toppers