If you're searching for how to cook the PERFECT grilled Porterhouse pork chop, you've landed on the right page. Keep reading for easy to follow instructions for making a Porterhouse pork chop you'll love.
This is a partnered post. As always, all thoughts and opinions are my own.
When it comes to cooking with the grill on our back porch, I leave that to the capable hands of my husband. He can take whatever I give him and cook it to absolute perfection.
I mentioned last week that I was working with the National Pork Board to create a recipe using the grill and a Porterhouse Pork Chop. As I was preparing and jotting down ideas for my recipe, I decided to head to my local Kroger to see the cut of pork I was dealing with. I eat pork, but Porterhouse Pork Chop was a new term for me. But, after talking to the helpful gal behind the meat counter after not seeing any in the meat coolers, she let me know that it's just a new, fancy name for the Bone-In Loin Pork Chop. There were several cuts of pork that were recently changed to match the names for cuts of beef for easier identification and preparation.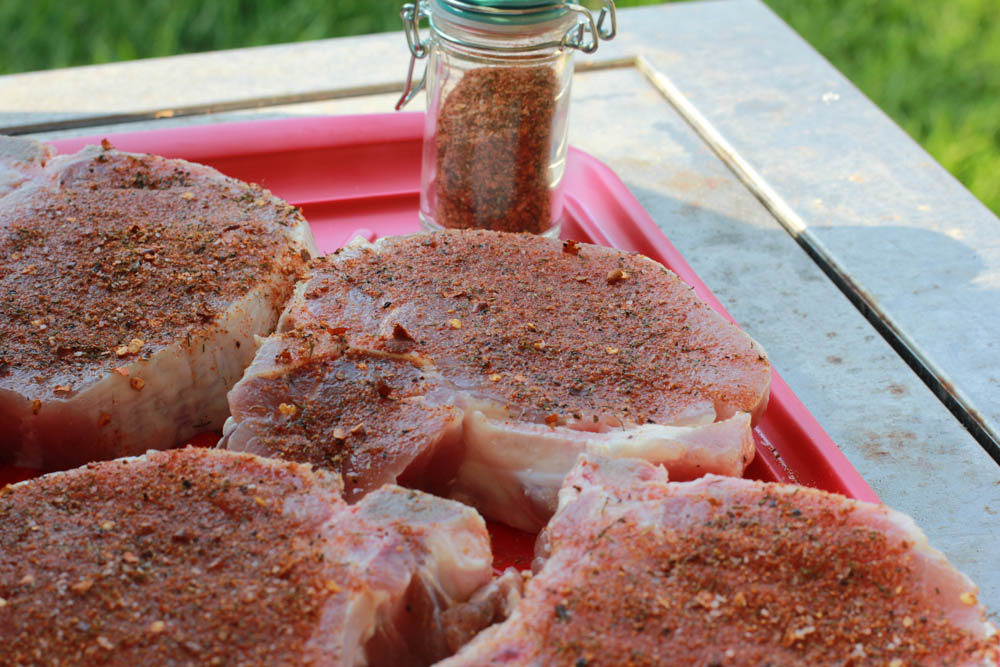 When I'm working with a nice cut of meat, I like to keep things simple and let the meat stand on its own. And that is exactly what I did with these Porterhouse Pork Chops. I let them brine for a few hours and then covered them in a tasty homemade steak rub. We then cooked them just like we would have cooked a steak on the grill.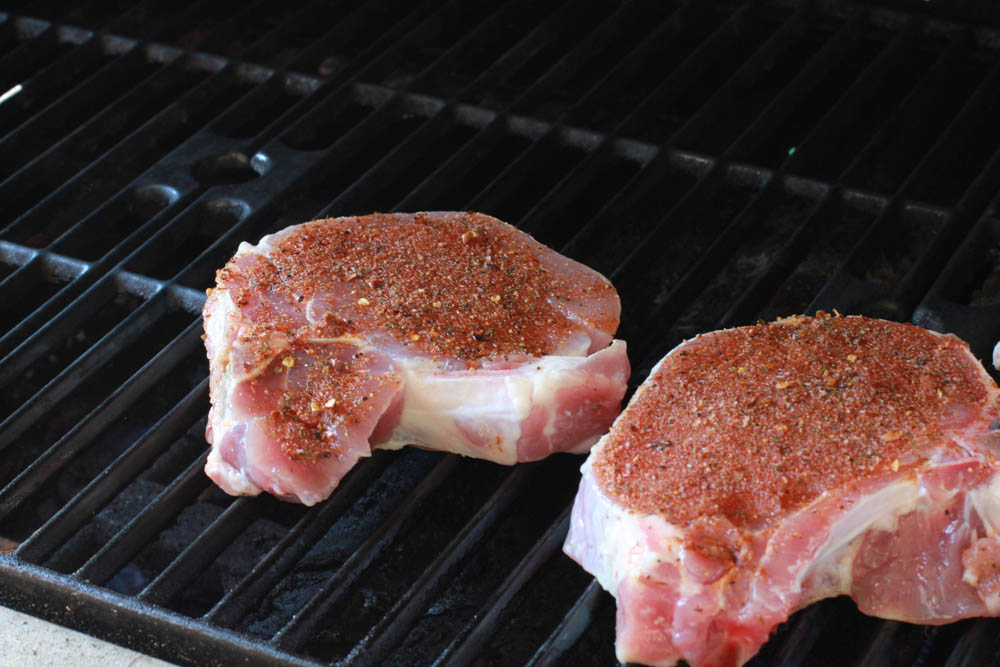 Thankfully my husband got home from work just in time to place them on the grill and work his magic. I worked on the rest of dinner, green beans and roasted red potatoes, and occasionally popped my head outside to see how it was going. What I realized was that working the grill is easy work, y'all. Every time I walked out the back door he was sitting down in a chair on his phone.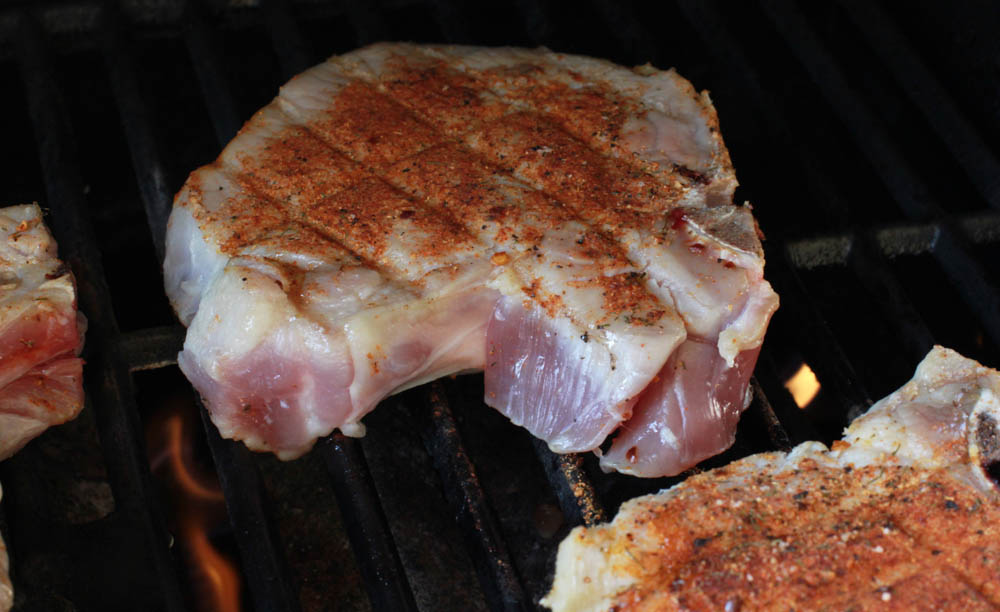 How to Cook the Perfect Grilled Porterhouse Pork Chop
I think it goes something like this:
Put meat on grill. Close lid. Sit down in chair and play Clash of Clans. After 8 minutes, get up out of chair. Open grill. Admire your handy work. Flip meat over. Close grill. Sit down in chair and play Clash of Clans. After 6-8 more minutes, get up out of chair. Open grill. Get tongs, remove a chop from heat and insert meat thermometer into center of meat. Wait for reading. Not quite 145 degrees so return chop to grill. Close grill. Let cook for another 2 minutes while you check on the garden. Come back and open the grill.  Get tongs, remove a chop from heat and insert meat thermometer into center of meat. 145 degrees. Remove all chops from grill, turn off grill and gas. Done!
I think I've been letting him off easy, folks!
Four Grilled Porterhouse Pork Chops was more than enough for my family of five. In fact, we had a whole chop left over that I ate the next day for lunch. I think the key to stretching is to serve in slices. Plus, it's just easier to eat that way, too.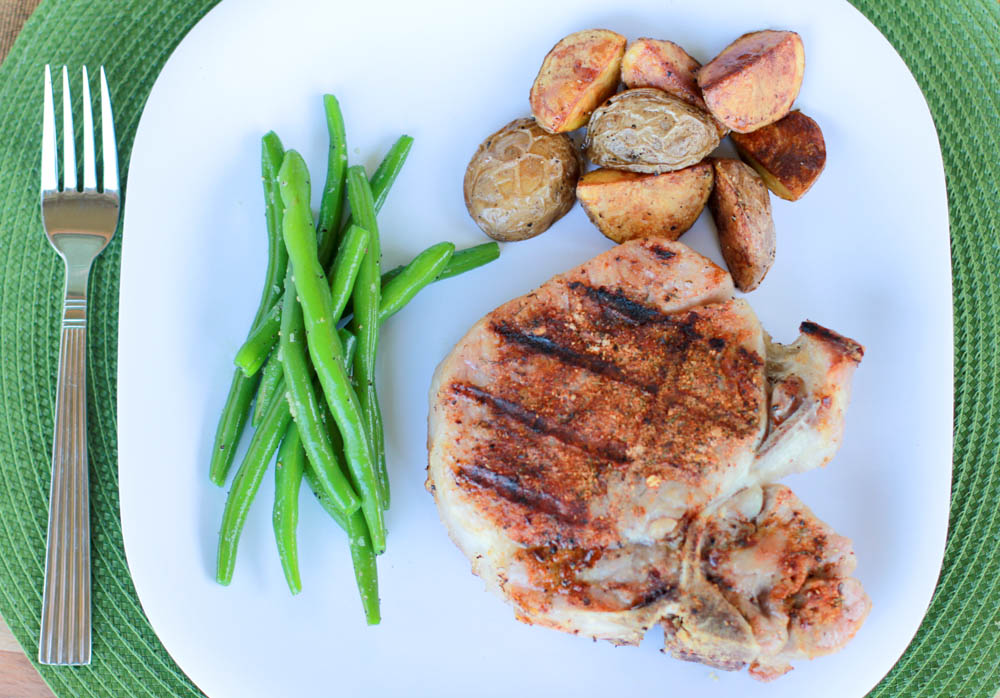 This is the Perfect Grilled Porterhouse Pork Chop recipe because it is out-of-this-world delicious. It's tender, it's juicy and the homemade Steak Rub is just the icing on the cake. I'm pretty sure this is the best grilled pork I've ever eaten.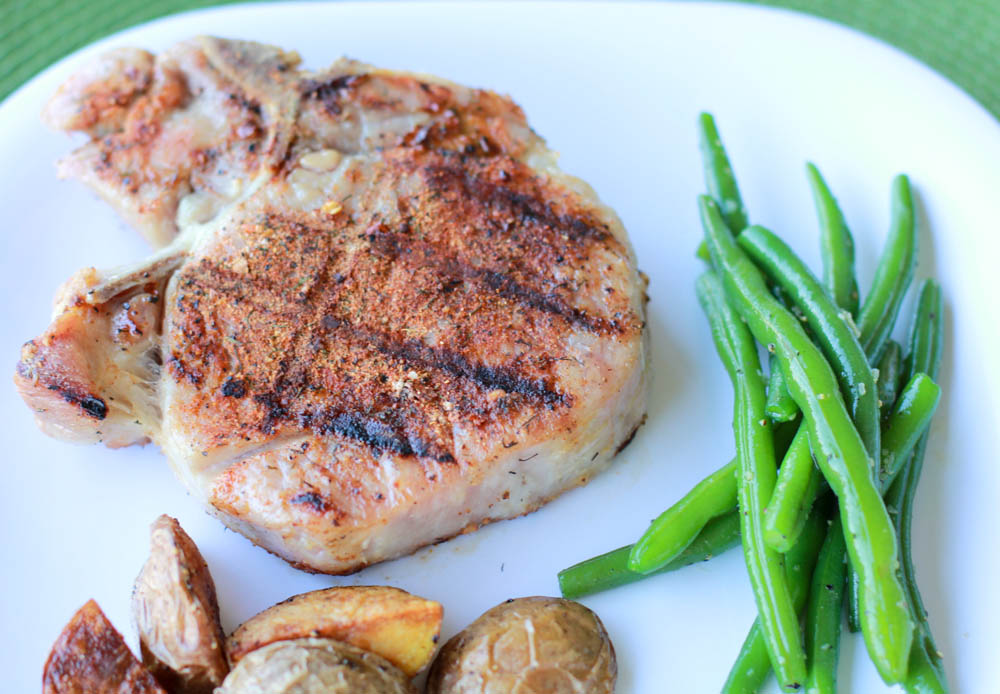 And I'm not saying that just because it's mine. It's just really that good! But don't take my word for it y'all. Try it yourself.
Remember, let the meat rest once you've taken it from the grill. This will keep all the juices inside resulting in a juicy Grilled Porterhouse Pork Chop.
Grilled Porterhouse Pork Chop Recipe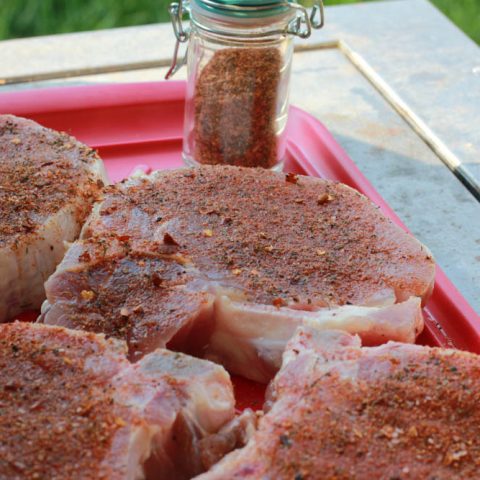 The Perfect Grilled Porterhouse Pork Chop
Yield: 4-6

Prep Time: 4 hours

Cook Time: 20 minutes

Total Time: 4 hours 20 minutes

The Perfect Grilled Porterhouse Pork Chop is easier than you think! With just a few ingredients, you can make the Perfect Grilled Porterhouse Pork Chops!
Ingredients
2 quarts cold water
1/3 cup coarse salt
1/4 cup sugar
4 (1 1/2" inch thick) Porterhouse Pork Chops (formerly known as Bone-In Loin Chop)
Instructions
In a large bowl, add water, salt and sugar and whisk together until dissolved. Place Porterhouse Pork Chops into the bowl, cover and refrigerate for 2-4 hours.
Remove bowl from refrigerator and remove pork chops from brine. With paper towels, pat pork chops dry and season heavily with Homemade Steak Rub or Montreal Steak Seasoning.
Heat grill to medium and grill chops 6-8 minutes per side. This will vary based on the temperature of your grill and the thickness of your chops. Remove from grill once the chops have reached an internal temperature of 145 degrees.
Remove chops from grill. Create a tent with a piece of foil and place on top of the chops and let rest for about 5 minutes. Slice into quarter inch slices for children and/or serve whole for adults.


 
Don't forget to save this Grilled Porterhouse Pork Chop recipe to one of your favorite boards so that you don't lose it.