Mother's Day sneak up on you this year? Check out these last minute Mother's Day crafts.
I'm counting down the days left until Mother's Day…and only partially because I am looking forward to having breakfast in bed. I need to make something for my own mother, and I'm running out of time — fast! That's why these last minute Mother's Day crafts are going to come in really handy this year.
My mom has always appreciated a handmade gift.  In fact, she used the yarn-rimmed pencil cup my sister made for her over a decade.  So each year I like to include a crafty gift as part of my celebration and expression of gratitude to her.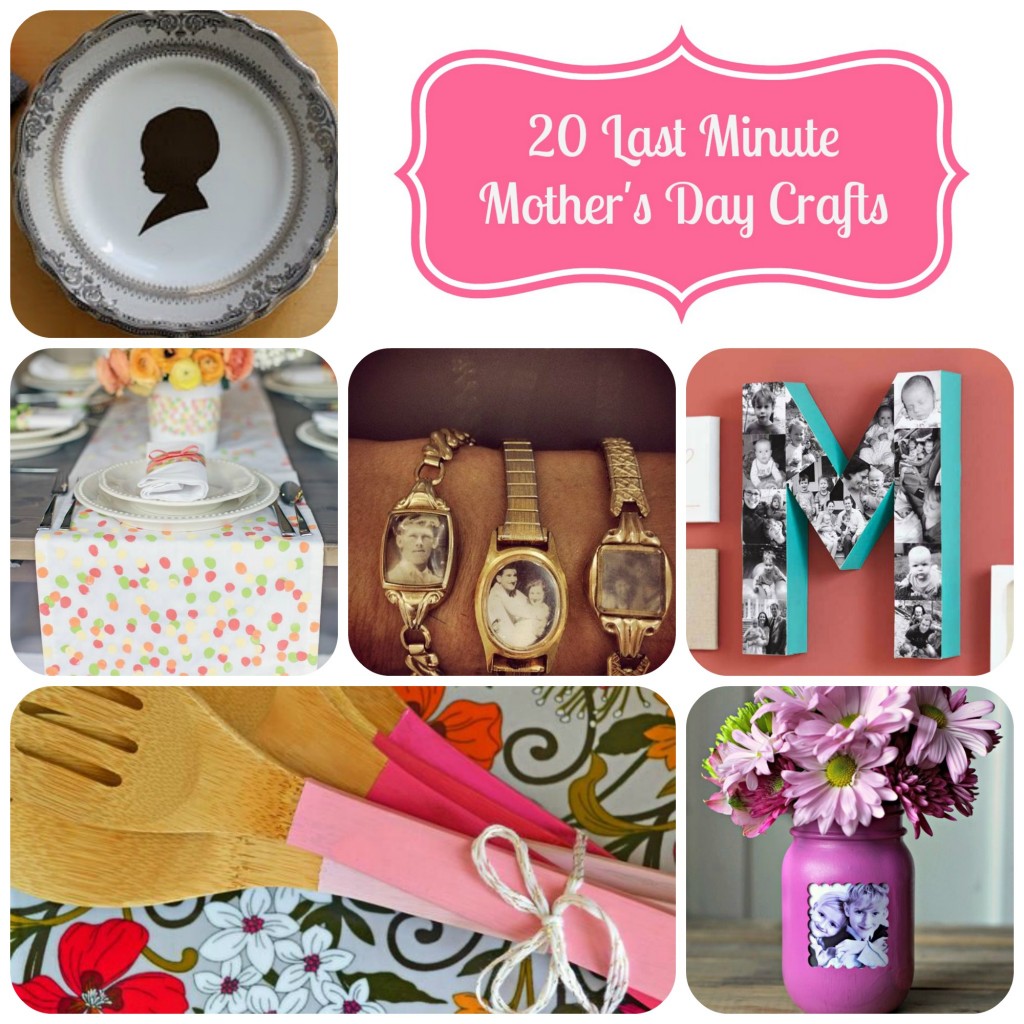 Last Minute Mother's Day Crafts

Colorful Dipped Utensils  // Some wooden spoons and paint add a pop of color to the kitchen.
Vintage Watch with Photos  // Okay, so the link leads to a site not in English, but it's great inspiration.  Got an old watch lying around?  Turn it into a locket featuring a favorite family photo.
Mason Jar Frame & Vase  // Buying Mom flowers?  She'll love to display them in this vase featuring your photos.
Photo Monogram  // Print out photos on your printer and Modge Podge them to a cardboard letter.  A simple idea with a big (& adorable) impact.
Blooming Monogram  // I love monograms, but Moms are so special you can spell out her whole name in flowers.
Magnetic Tray  // Shopping lists have never had such an adorable display as on a thrifted magnetic tray.
Thumbprint Table Runner  // Get the littles involved in this simple DIY with only two materials.
Photo Wreath  // Bunting made of your photos make this shabby wreath wonderfully chic.
Embellished Hand Towels  // Save time by adding details to items you can pick up.
Wood Sign w/Printable  // Is Mom your BFF?  Let her know with this wood sign featuring a free printable and 2 photos.
Lavender & Lemon Soap  // Soap that looks almost good enough to eat.
Mason Jar Succulents  // Distressed paint mason jars with adorable mini succulents.
Vintage Teacup Candle  // A lone teacup gets new life  in this sweet project.
Fabric Covered Flower Pots  // A little Modge Podge makes a simple terra cotta pot more fabulous.
Terrarium  // Bring the garden indoors with a terrarium.  Add a little pizzazz by etching the glass first.
Reclaimed Wood Frames  // Is Mom a fan of reclaimed palette art?  She'll love these picture displays.
Mother's Day Printables   // Download and print one of these cute messages.
Anthropologie Knock-Off Apron // I might be able to get this project done by Mother's Day 2015, but someone who could actually sew could whip up this amazing apron Mom will want to wear everywhere.
Photo Blocks  // Display photos of grandkids or even pets.
Picture Frame Wreath  // Another take on a picture wreath, but this one features mini frames you can pick up at the dollar store.
My mom deserves the moon for putting up with me as a teenager. With three little ones there isn't as much time to DIY as much as I'd like, but I'll be carving out some time this week to let my mom know how much I appreciate her with one of these last minute Mother's Day crafts. I hope you're inspired to get out your glue gun and make something darling for your mama, too!
What are you getting (or making for) your mom for Mother's Day?
Need more Mother's Day gift ideas? Missy shares these 5 unique Mother's Day gift ideas!