This post is sponsored by Lunchbox. As always, all opinions are my own.
It's summertime and for us that means lots and lots of cooking on the grill on our back porch. There is just something special about watching the children and the dog play in the backyard, and helping my husband prepare dinner on the grill. I mostly just watch, because I'm not confident in my skills on the grill, but spending time together is really the most important part. Good food is just a perk.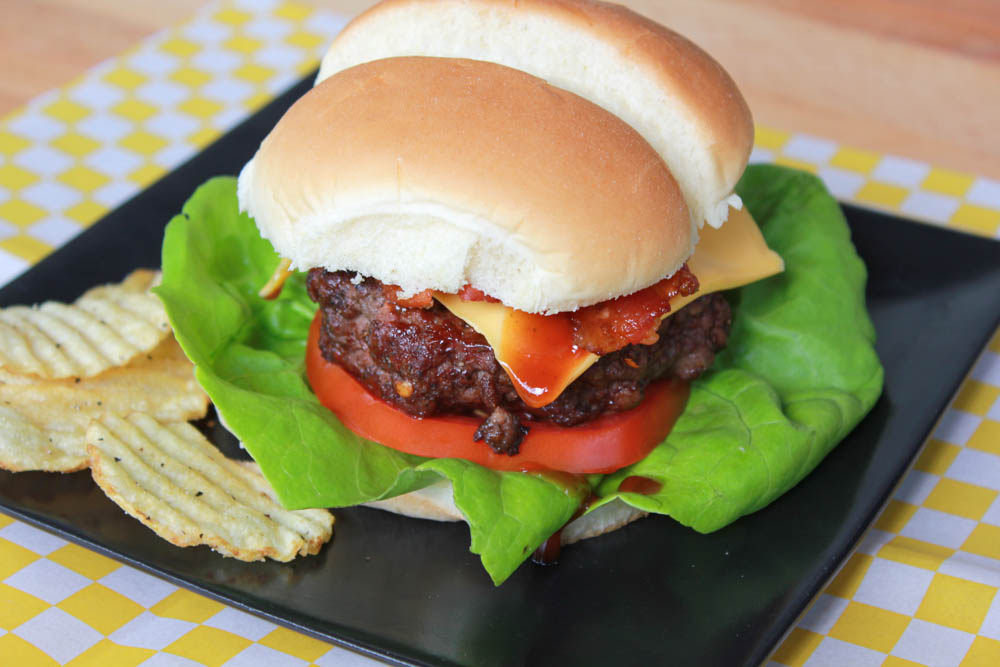 This week we enjoyed the All-American BBQ-Bacon Cheeseburger I found on the Kraft website. Because I clearly have issues with following the recipe and because I wanted to cook using the grill, I changed things up just a bit and added some spices to the meat.
All-American BBQ-Bacon Cheeseburger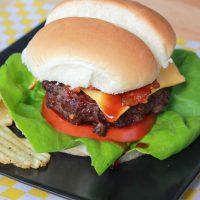 All-American Grilled BBQ-Bacon Cheeseburgers
Just a good 'ole cheeseburger with BBQ sauce and bacon. You can't go wrong with the All-American Grilled BBQ-Bacon Cheeseburger.
Ingredients
1 lb ground beef
pinch of salt
freshly ground black pepper, to taste
1/2 cup Kraft Original Barbeque Sauce, divided
4 hamburger buns or kaiser rolls
4 Kraft Singles
4 lettuce leaves (I used butter lettuce)
1 tomato, cut into slices
4 slices bacon, cooked and broken in half.
Instructions
Light the grill on high heat, and prepare it for your patties. While grill is heating, prepare your meat and make patties.
In a large bowl, add the ground meat, homemade steak rub, salt and black pepper. Gently combine all the ingredients being careful not to overwork the meat. Don't squeeze the meat, but handle lightly. Divide into equal portions, and shape into a ball. Again, don't squeeze and press the meat firmly, you just want the basic shape of a ball. Once you have four equal balls, gently flatten each one to make the patties.
Place patties on a hot grill and allow a crust to form on the outside, to help seal the juices on the inside. Allow to cook for about 5-6 minutes on the first side, and flip.
Take half of the barbeque sauce and brush it over the cooked side of the patties. Allow to cook until the internal temperature reaches at least 160 degrees. Any temperature less than 160 is unsafe and not recommended. Once the patties are finished cooking, remove from heat, top with cheese and allow to rest for about 5 minutes.
Assemble your burger with lettuce, tomato, reserved barbeque sauce and bacon, and enjoy!
There are so many burger recipes on the Great American Cheeseburger website, that if you wanted, you could be eating cheeseburgers for weeks. But start with this All-American Grilled BBQ-Bacon Cheeseburger, you won't regret it.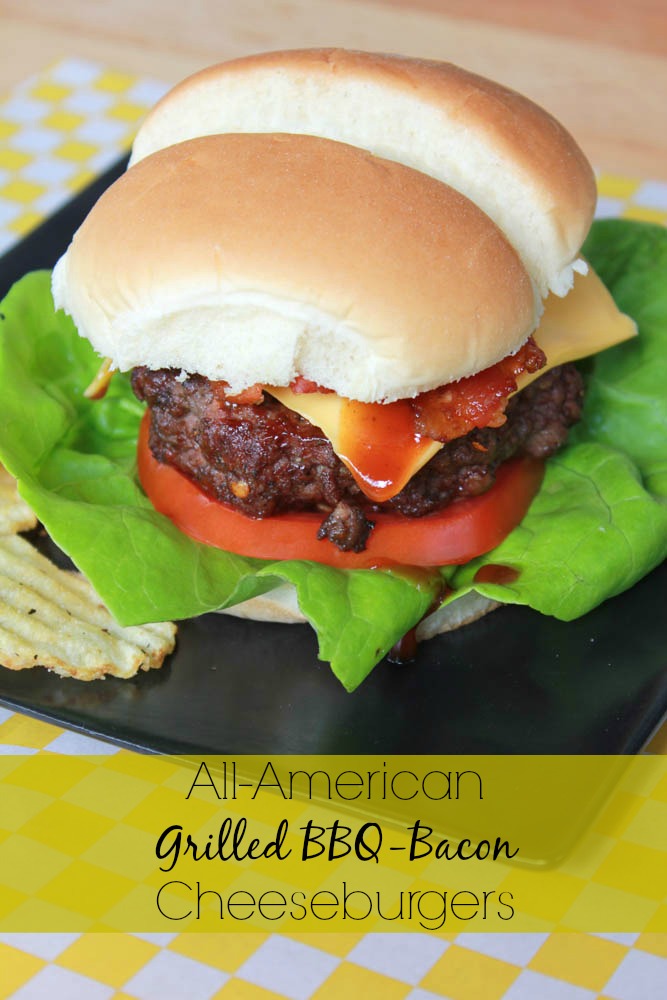 We're talking bacon AND barbeque, y'all.
Don't you just want to take a bite out of that Bacon-BBQ Cheeseburger? YUM! What's your favorite kind of cheeseburger?