This is a partnered post with the National Pork Board and Costco. As always, all thoughts and opinions are my own.
While the end of the month is quickly approaching, there is still so much the month of October has to offer. Not only do we celebrate Halloween during October, but it's also National Pork Month. And to celebrate National Pork Month, Costco is celebrating Porktober with discounted cuts of pork throughout the month.
I don't currently have a Costco close to me (they are building one now — yay!) but I did make the tedious trek to the other side of town to take advantage of some of the current promotions and pick up a freezer full of pork. While I was there I picked up Boneless Pork Sirloin Tip Roast and a Whole Boneless Pork Loin. I made Slow Cooker Pork Sirloin Tip Roast with Red Potatoes with the Boneless Pork Sirloin Tip Roast, and I cut down the Whole Boneless Pork Loin and made these Balsamic Glazed Pork Loin Chops!
To be totally honest with you, the Whole Boneless Pork Loin kind of intimidated me at first. It's a huge hunk of meat and I couldn't figure out what I was supposed to do with it. It was too hard to cook in its current state and would have been more than my family of five could have eaten, so I decided to cut it down and cook it that way. Each Whole Boneless Pork Loin consists of a Boneless Pork Rib Roast, Loin Chops and Boneless Sirloin Roast.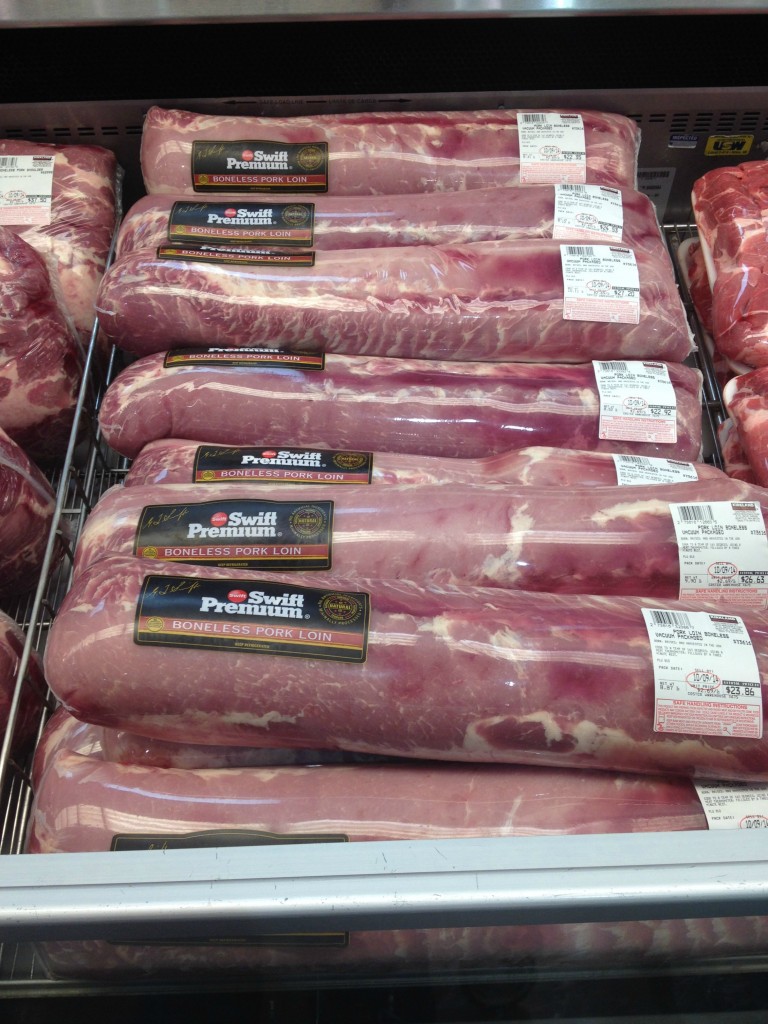 This Whole Boneless Pork Loin provided four meals for my family of five, plus leftovers that provided me lunch for a few days. Buying in bulk and cutting the meat down yourself can save big bucks at checkout. It's a little extra work once you get home, but I think the savings is worth it. I was able to get two dinners from the loin chops, one from the sirloin roast and one from the rib roast.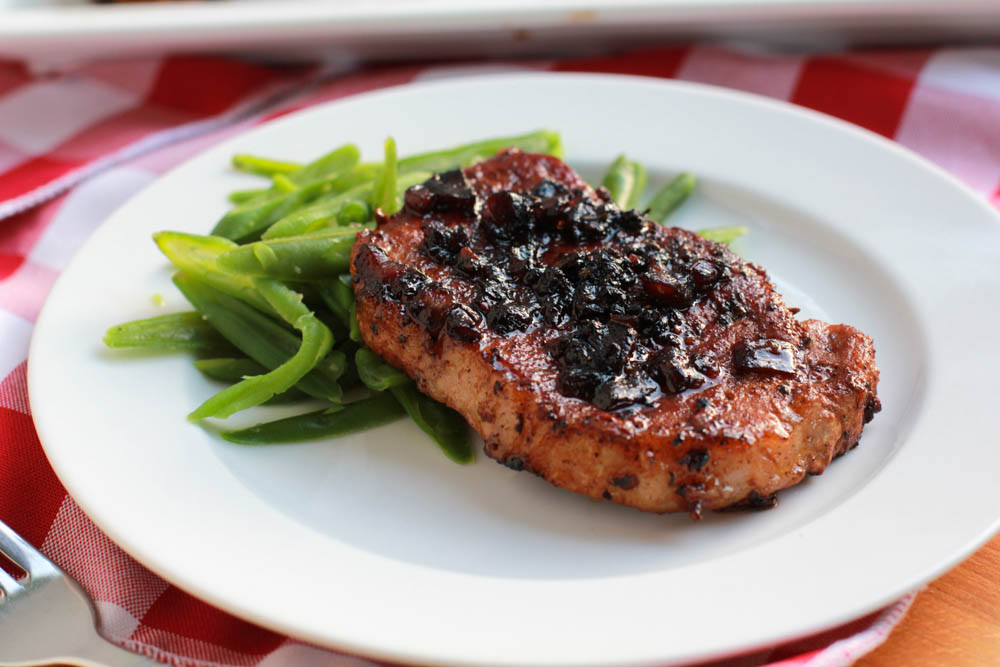 I thought about doing another slow cooker recipe but since I had just did one, I decided for a traditional stove top recipe that my family loves. It's one of my favorite pork chop recipes.
Balsamic Glazed Pork Loin Chops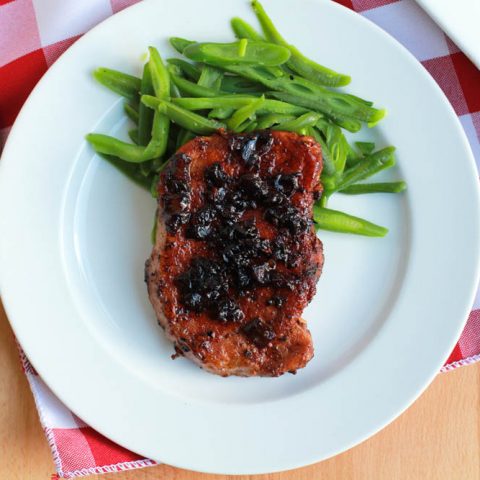 Balsamic Glazed Pork Loin Chops
Ingredients
6 boneless pork loin chops
1 teaspoon salt
1 teaspoon black pepper
2.5 tablespoons butter, divided
1/2 cup diced onions
3/4 cup balsamic vinegar
1 tablespoon brown sugar
1/2 teaspoon dried thyme
Instructions
Pat pork chops dry with a paper towel and sprinkle evenly with salt and pepper; flip and sprinkle the other side with salt and pepper.
In a large skillet, melt 1.5 tablespoons of butter and brown pork chops; remove from skillet and keep warm. In the same skillet, melt 1 tablespoon butter and saute onions until tender. Stir in vinegar, brown sugar and thyme. Bring to a boil and cook until liquid is reduced to half.
Add the pork chops back to the skillet and cook for an additional 3-4 minutes, flipping once halfway through. Once the internal temperature has reached 145 degrees, remove from skillet and allow to stand for about five minutes before serving. Top with leftover onion and balsamic glaze left in the skillet.
This is one of those meals that doesn't require much effort at all but gives you a dish that tastes like it took hours to cook. Serve it with a vegetable of your choice and call it a meal.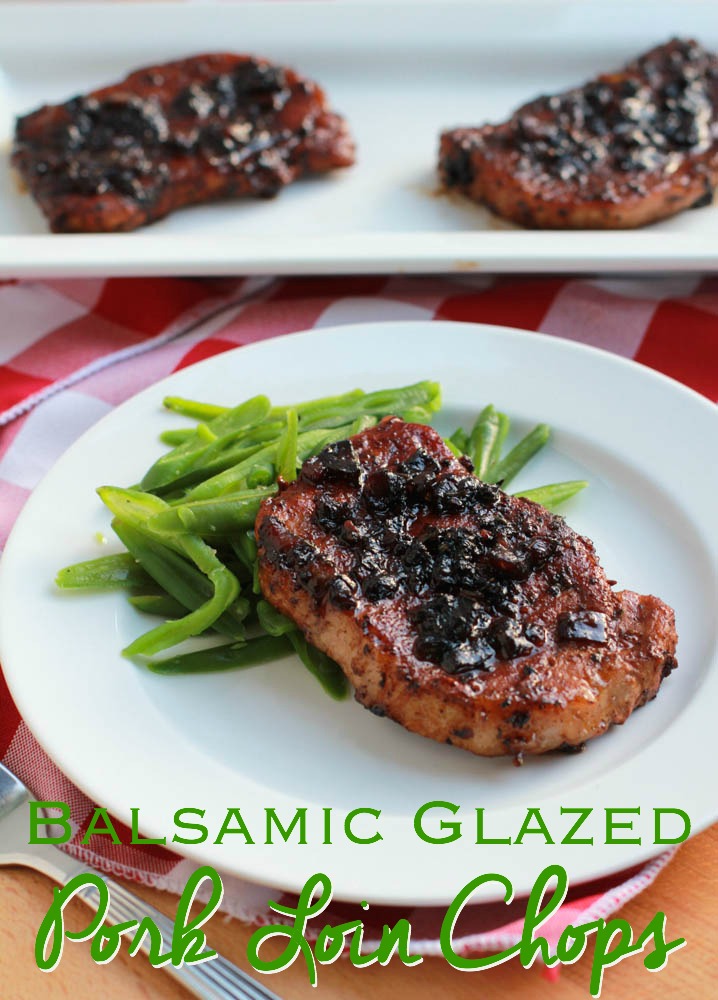 When I can get dinner on the table in 30 minutes and have everyone smiling with full bellies at the end of dinner, I call it a success!
This week at Costco you can purchase a Whole Boneless Pork Loin at a discounted price during Porktober. Since we got four meals out of the one we purchased, it breaks down to about $5-$6 per meal for the protein. For us as a family of five, that's an exceptional value.
For more pork recipes, please vist PorkBeInspired.com.
What is your favorite way to cook pork chops?