This is a partnered post with the National Pork Board and Costco. As always, all thoughts and opinions are my own.
More times than not, it's three o'clock in the afternoon and I still don't have a clue what I'm cooking for dinner. The kids arrive home from school and we start homework, but by the time I realize it's time to feed their hungry bellies, the stove and oven are empty and I still don't have any idea what to cook for dinner.
That's where a meal plan would really come in handy, you know, if I was actually organized enough to have a meal plan. I'm still working on that, though.
I have full intentions and keep on telling myself I need to use the slow cooker more, but I always find myself forgetting about the Kitchenaid slow cooker sitting in the cabinet. On the days I do remember to use the slow cooker, it's such a relief not to worry about dinner!
Last week while I was planning and packing for our vacation and stressing about getting everything done before we left, I actually remembered to use the slow cooker and we had a such a nice dinner without all the worry and stress that usually comes with the dinner time rush.
Slow Cooker Pork Sirloin Tip Roast with Red Potatoes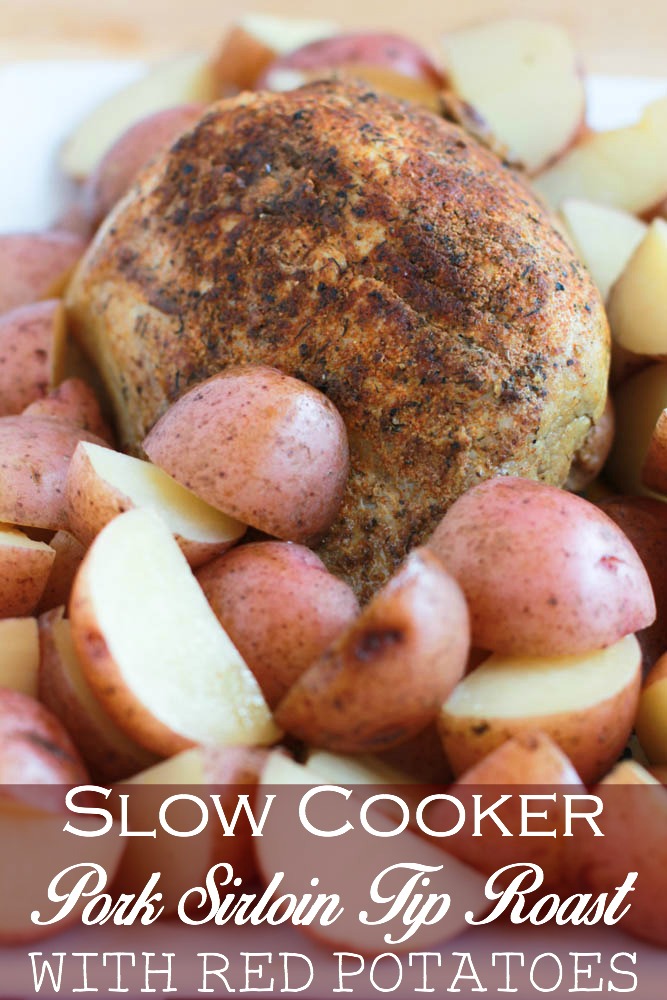 Slow Cooker Pork Sirloin Tip Roast with Red Potatoes
Author:
Crystal @ Simply Being Mommy
Ingredients
2-3 lb pork sirloin tip roast
3 tsp Homemade Steak Rub (I keep this on hand all the time. It is such a versatile rub.)
1 tablespoon olive oil
10-15 red potatoes, cut in half
3-4 cups vegetable stock (depending on size of slow cooker)
Instructions
Remove pork sirloin tip roast from package and trim away any visible fat. Sprinkle homemade steak rub over entire roast and with both hands rub evenly over whole roast.
In a large frying pan, heat oil over medium-high heat and brown all sides of the roast. While roast is browning, add red potatoes to slow cooker. Once evenly browned on all sides, transfer roast to slow cooker, on top of the potatoes.
Add vegetable broth to frying pan, scraping any bits that were left behind during the browning process; pour over meat. Turn slow cooker on low and cook for 6 hours.
Remove from slow cooker and place in middle of a serving platter, surrounded by potatoes.
Notes
I used a 6 qt slow cooker. If you are using a smaller slow cooker, you'll need less broth.
The amount of vegetable broth you'll need depends on the size of your slow cooker. I used a 6 qt slow cooker and I needed about four cups of vegetable broth. You'll need just enough broth to make sure that most of the potatoes are covered with broth.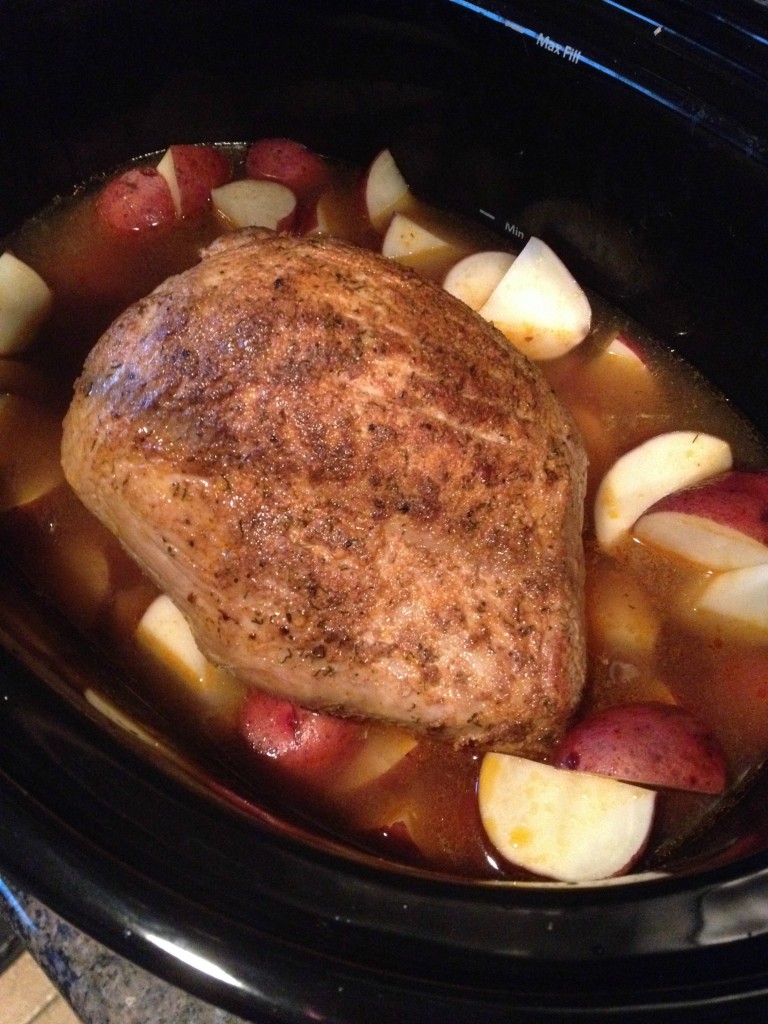 I'm working with the National Pork Board this month to celebrate "Porktober" at Costco. During the month of October, Costco is discounting certain cuts of pork. This week, it's the Boneless Pork Sirloin Tip Roast. When you buy in bulk, it's easier on your checkbook, and it also saves time from multiple trips to the store.
With a whole month dedicated to pork, we've been exploring different ways to enjoy the versatile cuts of pork I've been a little hesitant in trying in the past. I get a little nervous in using cuts I'm unfamiliar with, but in my recipe development this month, I've become familiar with several new cuts of pork that will be regulars in my freezer. Thankfully my children and husband are all on board and they've enjoyed the fruits of my labor in the kitchen.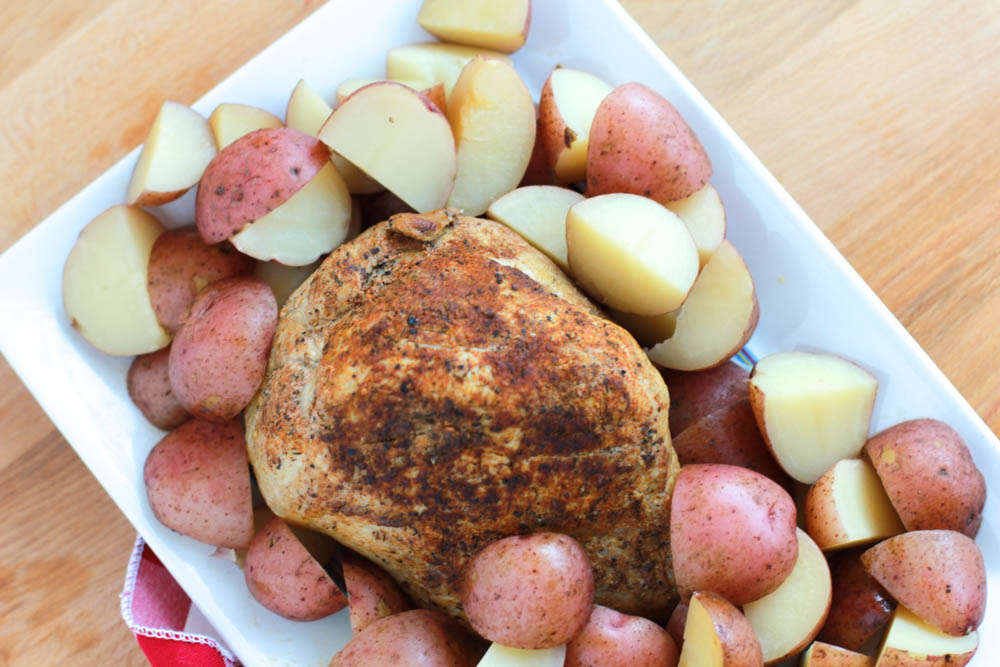 The aroma that filled my house most of the day made me anxious for dinner. Being able to use my slow cooker and prepare dinner in a time efficient way helps me to focus on the things that matter most — my children and husband.
This Slow Cooker Pork Sirloin Tip Roast with Red Potatoes recipe is definitely delicious, but if you're looking for other pork recipes, I have you covered!
Slow Cooker Buffalo Pulled Pork Sandwiches
Balsamic Glazed Pork Loin Chops
The Perfect Grilled Porterhouse Pork Chop
Slow Cooker Tender Pork in Red Sauce
For more comfort food recipes and inspiration, visit PorkBeInspired.com.