During all my research for the different household uses for baking soda, I would be lying if I said I was not completely impressed by the humble white powder that comes in the bright orange box. From what I've seen and read, it can be used in just about any room in your house.
I've used baking soda before in an unusual way when I did the no-poo experiment, but after seeing all the uses for baking soda in the kitchen, laundry room, and bathroom, I'm sold on it's effectiveness around the house!
Household Uses for Baking Soda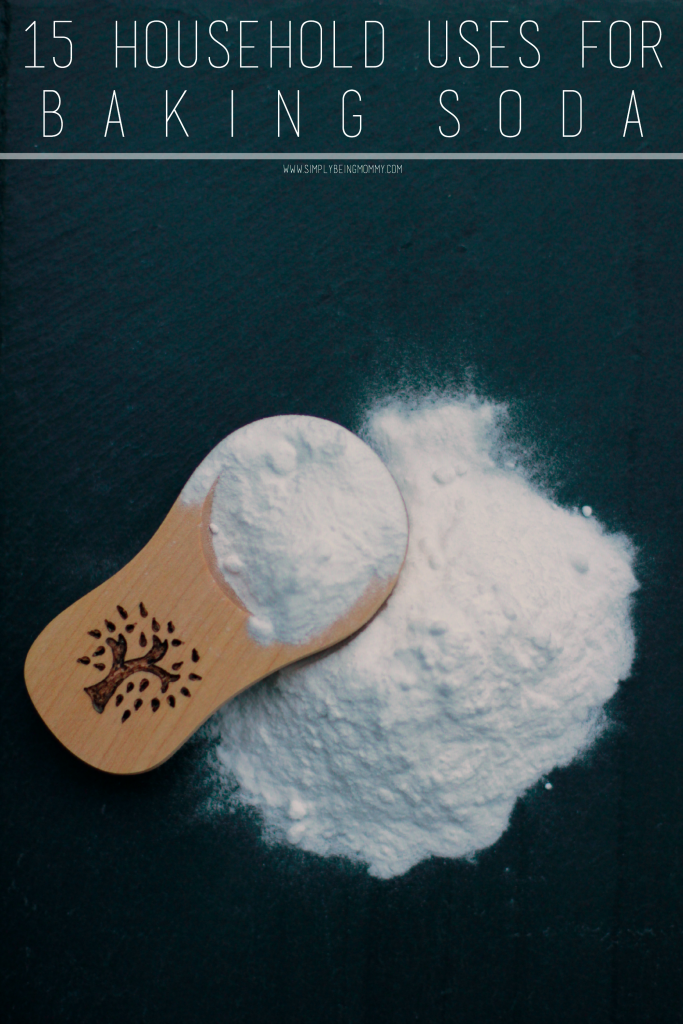 Beauty
Homemade Toothpaste: With just three ingredients, you can make your own homemade toothpaste using baking soda. And it's much cheaper than the tubes you can buy at the store.
Homemade Facial Scrub: Turns out baking soda is a gentle exfoliant and can help correct the pH imbalance of the skin that contributes to acne formation. Together with coconut oil and tea tree oil you have an acne fighting homemade facial scrub.
Fight Blackheads: Seriously, I hate blackheads. But I recently learned you could fight those little devils with baking soda. Add a little water with some apple cider vinegar and it's battle time.
Homemade Exfoliating Mask: Gently rub onto your face in a circular motion and let sit for 5 to 10 minutes. Gently rinse and slather on your favorite moisturizer. Super simple!
Detox Bath: In under thirty minutes you can remove some of the toxins from your body to boost your health and overall well being.
Cleaning
Fresh Smelling Towels: Throw about 1/4th of the box of baking soda in with your towels, and during the rinse cycle add in some vinegar. An all-natural method to washing your towels!
Air Freshener: With baking soda and essential oils of your choice, you can make your own air freshener.
Sparkling Bathtub: The bathtub is awkward to clean, especially when you have to scrub and scrub and scrub. Save your knees, back and arms by using this DIY bathtub cleaner.
Garbage Disposal Tablets: After you've made these tablets for your garbage disposal, don't forget to grab your box of baking soda before throwing one down the sink. The baking soda and vinegar will react giving you a frizzy clean.
Unclog Drains: The combination of baking soda and vinegar can unclog those drains without any harsh chemicals.
Grout Cleaner: Two ingredients is all you need to get your grout looking new again.
Get Crafty
Handprint Keepsakes: If you have baking soda, cornstarch and water in your house, you have all you need to make these cute handprint keepsakes.
Make your own snow: Since we live in Texas, we never see snow. But with just a couple ingredients we can make and play with our own.
Play Dough: With ingredients you probably have in your home right this second, you can make your own homemade play dough.
Ornaments: I know it's not Christmas, but you could make all kinds of ornaments. I'm thinking a small Valentine's tree in the entry, or a cute Easter tree on the hall table. The possibilities are endless.
I'm seriously impressed by all the uses for baking soda. For about a $1 a box, it's probably one of the cheapest items at the store, but yet it can do so much around the house. I see many little orange boxes coming home with me to help me around the house.
Do you use baking soda in any unique ways around your house?