Does your little girl want a Cinderella Party for her birthday? I've included some really great ideas for how to throw a Cinderella Party below.
When I heard that Disney was making a new live action Cinderella movie, I guess you could say I was like a child waiting for Christmas. Growing up, I loved Cinderella (who am I kidding – I still do). Even as a teen, my summers were filled with Disney films. And Cinderella always topped the list.
There is just something about the 'happily ever after' that gets me every single time.
There are so many great ideas for how to throw a Cinderella Party across the web that I wanted to put together what I thought were the BEST ideas so that you didn't have to do any of the research.
How to Throw a Cinderella Party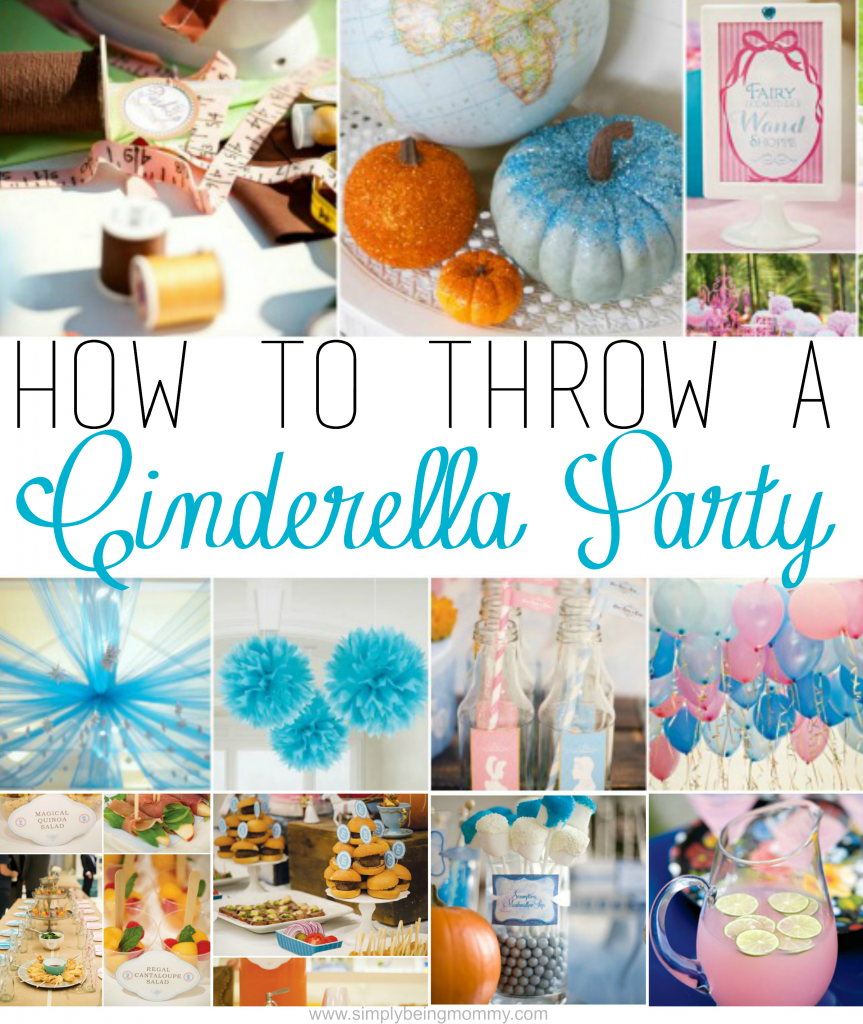 Decorations

A Royal Ceiling: With light blue tulle, or any other color of your choice, create a royal feel and a little bit of magic to the room. Hang sparkling little stars from the ceiling for a little extra magic.
Tissue Pom Poms: These are so super simple to make. Buy tissue paper in the color that you want and create your own. You can hang these, or place them on candle stands on the dessert table, or as centerpieces. Either way it's an affordable DIY Cinderella Party decoration!
Drink Bottles: I'm totally in love with these little bottles. It's just a basic bottle that you can find at Michaels, Hobby Lobby or other craft store! Or better yet, use leftover Starbucks Refrigerated Coffee bottles! Create a coordinating printable for each bottle, purchase striped straws and you're good to go. Just perfect for a Cinderella Party!
Balloons: And a party just isn't a party without tons of balloons! Get an assortment of pink, blue, silver and white balloons and fill the room with as many as you can! With balloons, I always say the more the merrier.
Food & Drink

Dessert: Of course, right? You can't throw a party without the desserts! For parties, I prefer cupcakes over cakes. I feel they are less work and they are just easy to grab and eat. A simple cupcake, with a coordinating wrapper, topped with a simple white icing would be perfect! You could also serve dipped marshmallows on a stick. Super easy and so cute. Tip: Add edible glitter. It just adds a little bit of magic.
Drinks: I don't think a Cinderella Party is complete without tea from a pretty tea cup. But since you probably don't want to have broken tea cups, pink lemonade is perfectly fine served in the cup of choice. For finer palettes, a bottle of sparkling water will probably suffice.
Starters: There are some wonderful ideas on Hostess with the Mostess. Since you'll more than likely have both big people and little people at your Cinderella Party, you'll need to think about the taste buds of both. A fruit salad individually portioned into small, plastic, clear cups, and little chicken strips on skewers should please both.
Mains: If you are actually serving something that resembles a full meal, you'll need to think outside the starter box, but still keep it simple for your party goers. Again, I think Hostess with the Mostess hit the nail on the head with the idea of serving sliders. Have a veggie option available for vegetarians, and serve with lettuce, tomatoes, pickles, mustard and mayo in a pretty serving dish.
Games & Activities

Cinderella's Lost Slipper: Pick up a pair of cheap high heels from a local thrift store, paint them sparkling silver or color of your choice. Or, just pick up a pair of kids-sized Cinderella slippers. Before your guests arrive, hide one of the high heels. When it's time to play the game, show them the one high heel that isn't hidden, so they'll know what they're looking for. The one who finds it gets to keep the high heels.
Set Up a Sewing Station: There are some darling little sewing machines perfect for little hands (and bigger ones too). Set up a table with fabric scraps and allow party goers to create their own the stepsister's dress. This looks especially fun and will allow everyone to create something they can take home. You'll probably need some big hands around to help the little hands on this one.
Make Glittered Pumpkins: If it isn't fall, it may be hard to find real pumpkins. If you can't find real pumpkins, plastic pumpkins will do. You'll probably want to do this activity outside, as things can get a little messy.
Fairy Godmother's Wand Station: Let everyone make their very own magical wand. I've seen packages of silver plastic wands with stars on top at my local dollar store. Pick up a few packages of these, purchase several spools of ribbon in different colors and patterns (all coordinating of course) and cut into strips and cut sparkling tulle into small strips. You can also get beads and small gems to sew onto the ribbon or tulle, or glue onto the wand. Let their imaginations go wild.
Reusable Gift Bags
Mini Cinderella Slippers
Sequin Star Wands
Princess Party Tiaras
Cinderella Themed Straws
I don't know any little girl out there who wouldn't love to have their family throw a Cinderella Party, just because. Who cares about birthdays, or special occasions. Sometimes it's fun just to throw a party because you want to throw a party!
Don't forget to pin this post to your favorite Pinterest board so you don't lose it. You never know when you'll need to know how to throw a Cinderella Party!