In an effort to use products in my home that are safer for my family and safer for the environment, I've researched and learned so much about baking soda and white vinegar. Last month I shared 15 household uses for baking soda, so this month I want to focus on uses for white vinegar around the house. Much like baking soda it's very inexpensive to buy and can be used in so many ways around the house.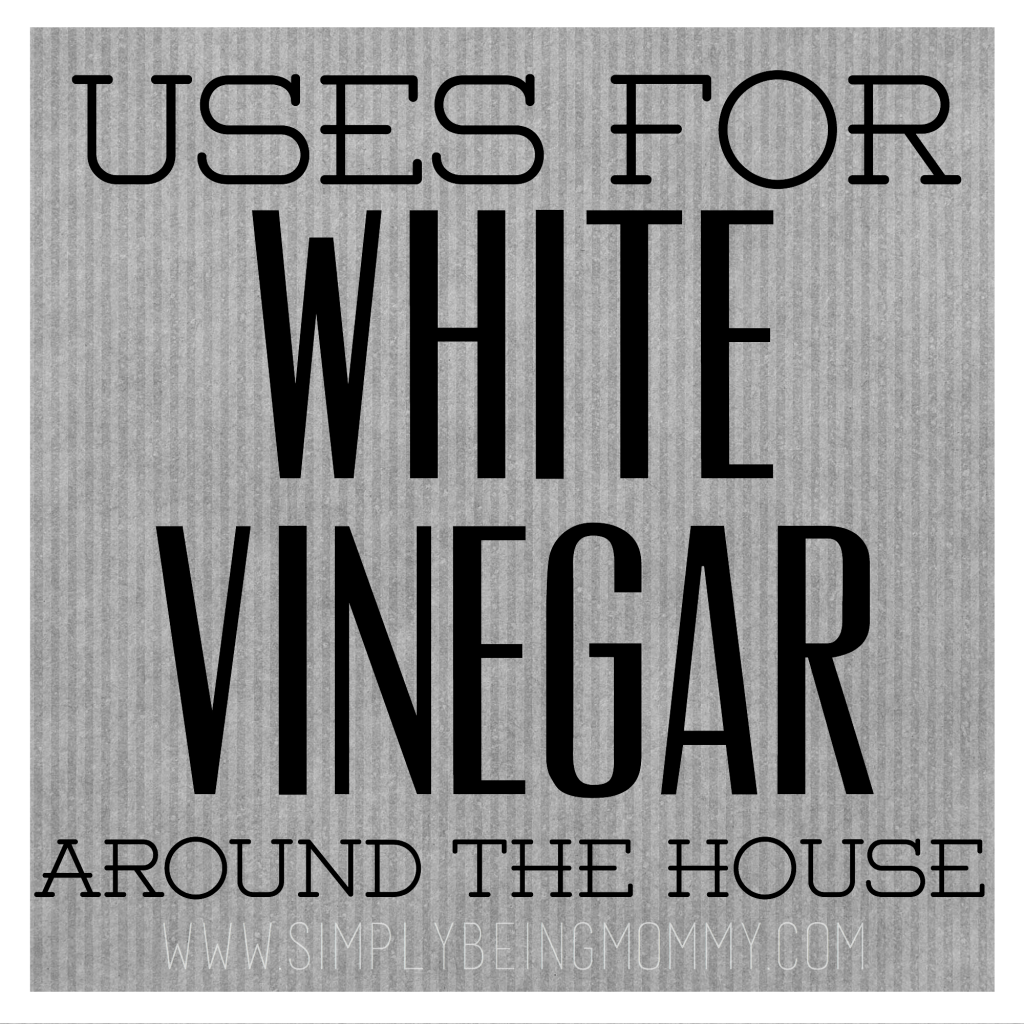 In the Kitchen
Clean & Deodorize the Microwave: Mix 1/2 cup water with 1/2 cup white vinegar in a microwave-safe bowl and carefully bring to a boil in the microwave. Carefully remove the bowl from the microwave and gently scrub the inside of the microwave with a damp cloth. The dried on food should be soft and should wipe away easily with the cloth.
Clean Dishwasher: Fill a small bowl with 1/2 cup of white vinegar and place in the top rack of an empty dishwasher. Run a normal cycle once a month for a clean dishwasher. You can also use white vinegar as a homemade rinse aid. However, don't use it in the rinse aid compartment of your dishwasher. Place a small amount in a cup in the top rack and run the dishwasher like normal.
Clean & Deodorize the Refrigerator: In a spray bottle, combine one cup of water with one cup of white vinegar. Spray onto a clean cloth, and carefully clean the interior shelves from any food or debris.
Clean Stainless Steel Sink: In a small bowl, combine baking soda and white vinegar to form a paste. Apply to sink and allow to sit for an hour. Rinse clean with a clean cloth.
Clean Counter Tops: In a spray bottle, combine one cup of water with one cup of white vinegar. Spray onto counter tops, and wipe clean with a clean cloth.
Unclog Drains: Pour 1/2 cup of baking soda followed by 1/2 cup of white vinegar into the drain. Allow the mixture to work (the combination of the two ingredients will fizz) for 10 minutes. Finish by pouring boiling water down the drain.
Deodorize Plastic Containers: If your plastic kitchen containers have developed an unpleasant odor, dampen a clean cloth with a splash of white vinegar and wipe the container. Allow to dry completely before returning to the cupboards.
Clean Vinyl & Linoleum Floors: In a bucket of warm water, add one cup of white vinegar. Mop as usual.
Natural Produce Cleaner: In a bowl, combine ½ cup white vinegar, 1 tablespoon baking soda, 1 tablespoon lemon juice and 1 cup filtered water. Carefully pour into a recycled, clean spray bottle and gently shake before using. Spray on your fruits and veggies and allow to sit for five to 10 minutes. Rinse with cold water.
In the Bathroom
Clean the Shower Head: Mix 1/2 cup of warm water with 1/2 cup of white vinegar in a small bowl and carefully pour it into a plastic sandwich bag. Carefully tie the bag around the shower head, secure with a rubber band and leave for 1 to 2 hours before removing. Rinse with clean water.
General Bathroom & Shower Cleaner: To create an all-purpose bathroom cleaner, mix 1 cup of water, 1 cup of white vinegar and 1 cup of dish soap in a recycled spray bottle. You can use it for the bathtubs, sinks, and showers! Spray onto surface and then wipe with a damp cloth. If you have a stubborn spot, mix baking soda with a little vinegar and then scrub the affected area.
Stubborn Shower Gunk: To get rid of gunk in and around the shower door or tracks, apply a liberal amount of white vinegar to the affected area and let sit for an hour. Scrub the area with a small brush or old toothbrush to remove and then rinse clean.
Prevent Shower Build Up: Keep a spray bottle filled with white vinegar in the shower. After each shower spray the walls and door. No need to rinse clean.
Toilets: If the toilet is clean, but just doesn't smell fresh, pour in a couple cups of white vinegar, leave for an hour and then flush. To give your toilet a quick clean, pour in a cup or two of vinegar at night before you go to bed, and scrub the next morning.
Clean the Mirror: Create a solution of one part water with one part white vinegar. Lightly spray mixture onto mirror and wipe clean with a wadded up piece of newspaper.
In the Laundry Room
Towels: Want to give more life to your towels? Wash them with just a cup of white vinegar!
Clean the Iron: To give your iron a refresh, create a mixture of one tablespoon baking soda and a little white vinegar and apply to the iron plate. Scrub and carefully rinse clean.
Natural Fabric Softener: In place of commercial fabric softeners, add one to two cups of white vinegar in during the rinse cycle. If you use essential oils, feel free to create your own scented natural fabric softener by adding in 15-20 drops of your favorite essential oil for each gallon of vinegar.
Beauty
Clean Makeup Brushes: Create a mixture of one part white vinegar to one part water and three to four drops of baby shampoo. Swirl the brushes through the solution, then rinse with warm water. Reshape bristles and allow the brushes to air dry.
Hair Rinse: After washing your hair with shampoo, rinse your hair with one cup of vinegar and warm water.
Outside
Clean the Grill: If your grill is looking less than stellar, give it new life by applying white vinegar onto a foil ball. Scrub the grill until the grime begins to fall away. Wipe clean with a clean cloth.
Kill Weeds: Spray unwanted weeds liberally with white vinegar.
General
Sanitize Door Knobs: Lightly spray door knobs with white vinegar and wipe dry with a clean cloth.
Natural Air Freshener: Create a mixture of one part white vinegar to one part water in a spray bottle. Spritz the air for a natural air freshener.
Clean Sticky Scissors: If your scissor blades are sticky, scrub the blades with a clean cloth that has been dipped in white vinegar.
Remove Stickers or Decals: If you have unwanted stickers or decals on your doors or windows, apply white vinegar to the affected areas and allow to set for a few minutes. With a suitable tool, gently scrape and peel away. Wipe clean with a dry, clean cloth.
Homemade Bug Repellant: If you are noticing bugs you can spray white vinegar in and around the area to eliminate the problem.
Freshen Cut Flowers: Give new life to your cut flowers by adding two tablespoons of white vinegar and one tablespoon of sugar for every quart of fresh water.
Remove Stains from Carpet: Create a paste of two tablespoons white vinegar and ¼ cup baking soda. Rub into the stain and allow to dry. Vacuum the next day. Tip: Always test an inconspicuous area of the carpet first.
Refresh Used Paint Brushes: Place brushes in an old pot with white vinegar. Soak brushes for an hour. After soaking, turn on the stove and bring the vinegar to a simmer. Drain and rinse brushes clean.
There are so many uses for white vinegar around the house! How do you use it around your house?