Experiences and travel provided by Disneynature & Disney Parks. As always, all opinions stated in Sanaa | The Art of African Cooking with Indian Flavors are all my own.
I like food. All types and kinds of food. But it hasn't always been like that. Growing up I was a very picky eater, but as I've gotten older matured my palate has changed and I like foods I hated when I was younger. But at home, I kind of live in a little bubble and don't venture out of my comfort spots very often. So that means I visit the same grocery store for groceries, the same stores for clothes, and even the same restaurants when we eat out. And since my husband's palate hasn't matured all the way yet, our choices are pretty slim. So when I was in Florida a couple weeks ago for the Monkey Kingdom Event, I got out of my comfort zone and had the opportunity to try Indian flavors at Sanaa in Kidani Village at Disney's Animal Kingdom.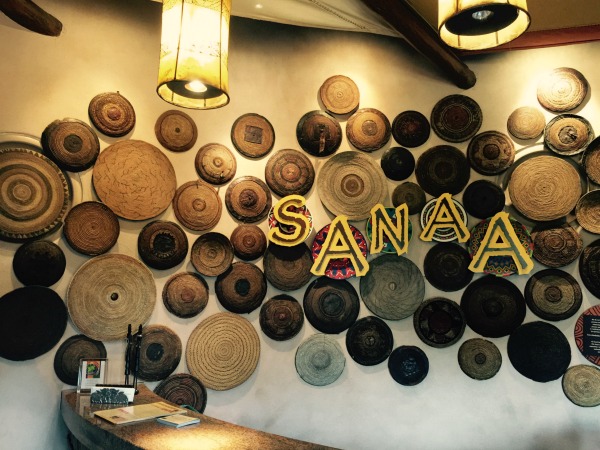 The restaurant is situated in the middle of the savanna with an extraordinary view of the animals. It is beautifully decorated with handcrafted wares, reminiscent of a traditional spice market. The servers were all exquisitely dressed and I felt like I'd walked into an eatery in East Africa.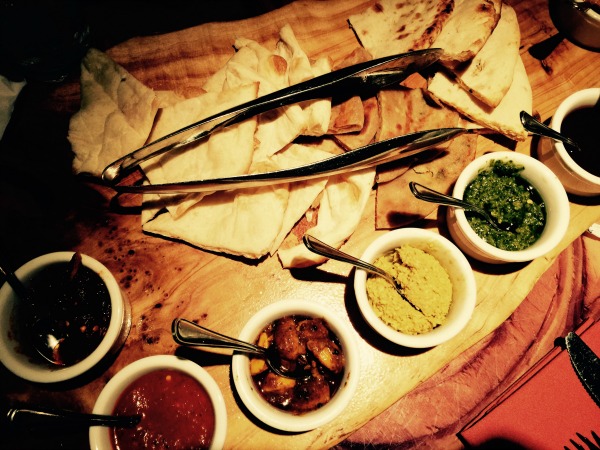 During my meal at Sanaa I did not have the opportunity to browse the menu because I was with a large group and they had a predetermined menu lined up for us. We started with a bread service that included three different kinds of breads along with an assortment of accompaniments. I could have made a meal of the bread service alone. The different accompaniments ranged from sweet to get-me-a-fire-extinguisher hot, but I enjoyed each of them. My favorite was the Roasted Red Bell Pepper Hummus.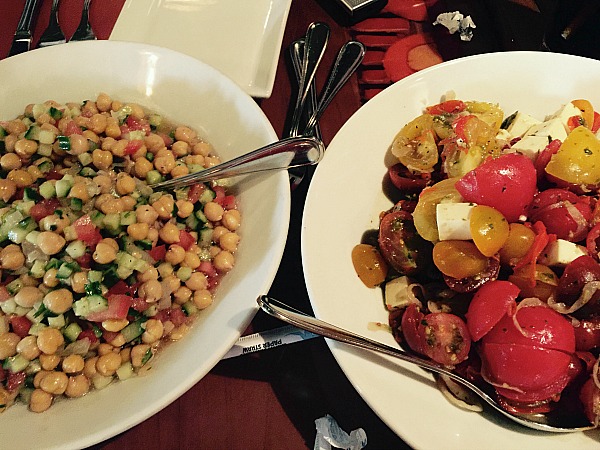 After the bread service we were served a trio of fresh salads including Chickpeas with Cucumber and Tomato; Watermelon, Cucumber and Fennel; and what looked like a Caprese Salad, although I don't see it mentioned online. I had a healthy serving of each salad and liked the flavors of each one. My favorite was the Chickpeas with Cucumber and Tomato.
While we were eating at Sanaa, we were also talking with Greg Peccie about the Dine with an Animal Specialist dining experience, and Dr. Sanjayan about Monkey Kingdom, so during our conversations I forgot to take a photo of the main dish. But, I do know we had the Basmati Rice served with Butter Chicken and Goan Seafood Curry. I was a fan of the Butter Chicken and the Basmati Rice, but the Goan Seafood Curry was different from anything I've eaten before. I did eat a few bites, but it wasn't my favorite.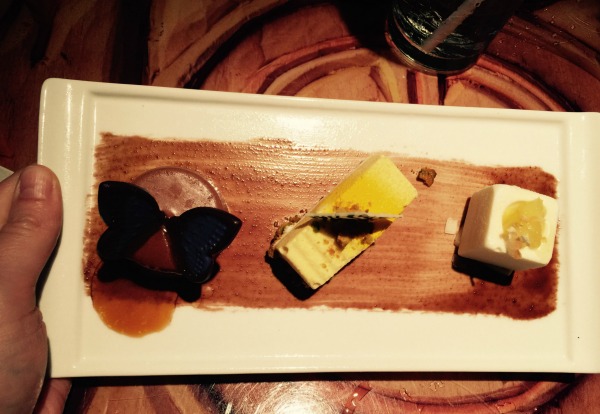 After the entrees were eaten and plates removed, a trio of desserts arrived at the table. And although I was ridiculously stuffed at this point, I still ate them (or at least took a bite of each one). The Dessert Trio includes Tanzanian Chocolate Mousse (with a chocolate butterfly on top), Coconut Cheesecake, and African-inspired ice cream that I can remember the name of. Surprisingly, although to me chocolate is its own food group and what keeps my soul happy, my favorite was the ice cream.
Eating at Sanaa provides a fun, themed dining experience for the whole family. Reservations are strongly encouraged and can be made up to 180 days in advance. The restaurant is open for both lunch and dinner.
If you haven't already seen Monkey Kingdom, go see it! It's such a good movie and will give you an up-close look into the life of a monkey. And you just might fall in love with Maya and Kip.