Can you believe it's almost the 4th of July? Celebrate with us with these Patriotic Pretzels.

Y'all, how is this even possible? The summer is flying by way too fast and I'm not the least bit excited about it. Before I know it I'll be sending the younger two back off to school, and honestly, that is the last thing I want to do right now. I love having all three of my children home with me during the day. And I miss them terribly when they're at school for 8+ hours a day.
So what do I do when I get sad?
I cook. And I eat. And I crave chocolate. And caffeine.
Patriotic Pretzel Treats
So the other day when I was sulking because the kids were perfectly fine entertaining themselves, I got in the kitchen and started planning for the 4th of July. I found some festive sprinkles the other day and I wanted to use them to make festive treats for the holiday, like these Patriotic Pretzels.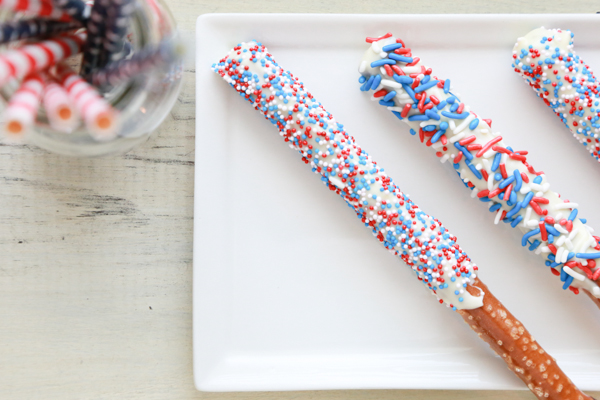 I had some pretzel rods on hand, and white chocolate (remember the chocolate craving), so I decided to whip up a batch of these Patriotic Pretzels. Seriously, one of the easiest treats you can make. And it doesn't hurt that they're incredibly delicious.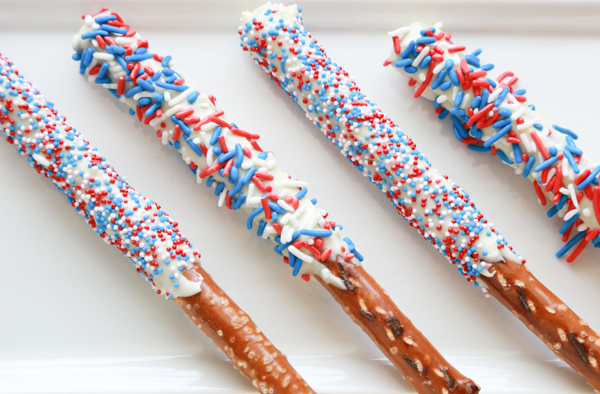 If you want to get your kids in the kitchen to help, this is the perfect recipe (is this even considered a recipe because it's so easy) for that. Plus, kids love sprinkles.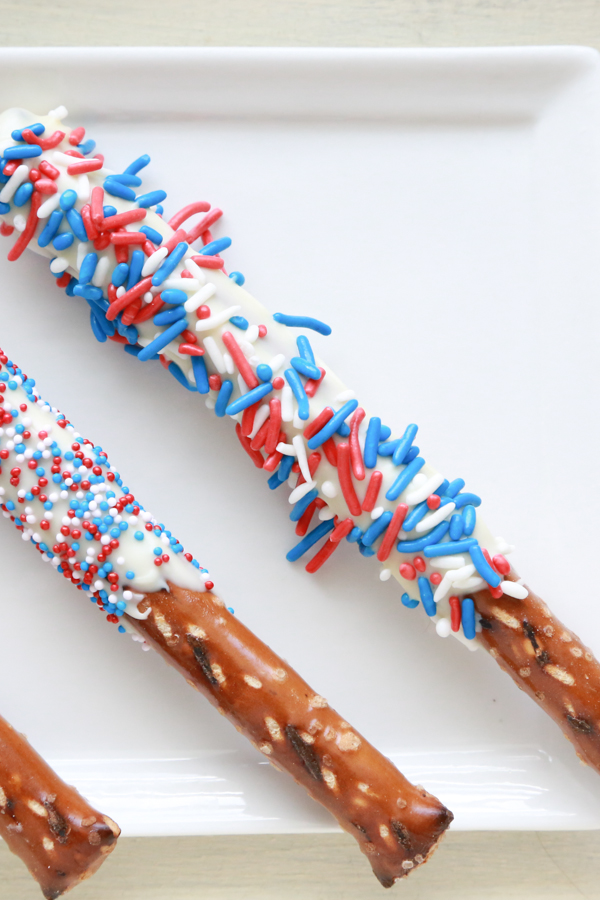 Don't they look so festive and tasty?
See. I told you these Patriotic Pretzels were so easy to make.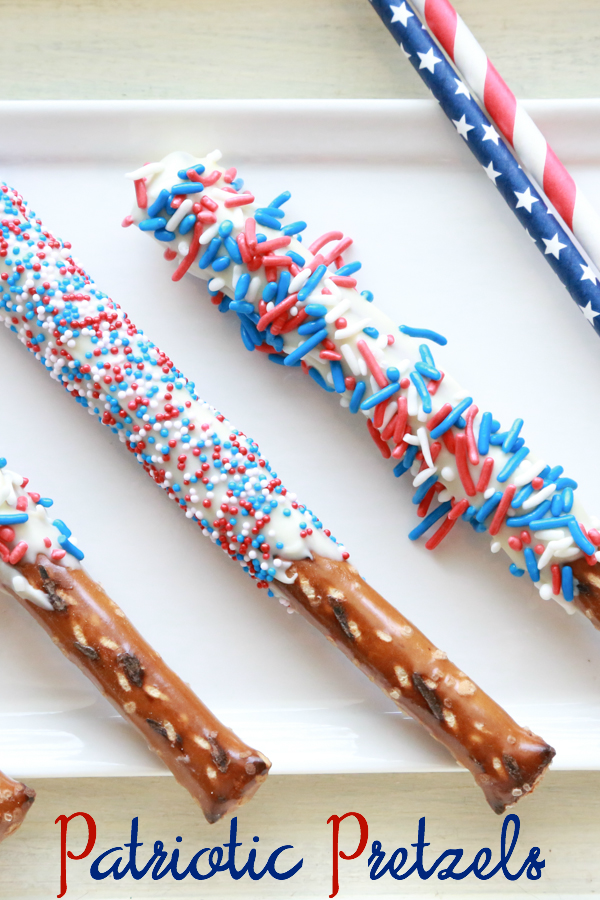 When Melanie submitted her post on how to host a 4th of July parade, I couldn't help but think that these would be perfect for her festivities! Make sure you're following me on Twitter or have liked me on Facebook so you don't miss that post. She has so many fun and festive ideas for a neighborhood 4th of July parade.
However you decide to celebrate the 4th of July, I hope you spend time with those closest to you with good fun and belly-aching laughs.

Patriotic Pretzels Recipe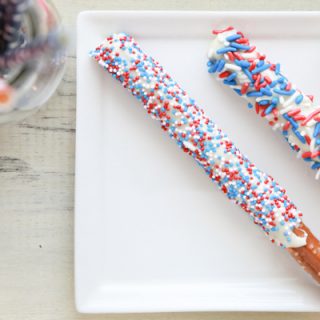 Patriotic Pretzels
Get your red, white and blue on with these fun and easy to make Patriotic Pretzels. With only 3 ingredients, this might be the easiest recipe you'll ever make.
Ingredients
4 oz white baking chocolate (I used Baker's Premium White Chocolate)
8 pretzel rods
Optional
Instructions
In a microwave safe bowl, melt chocolate on high for 30 seconds; stir. Microwave for another 30 seconds; stir. If the chocolate is not completely melted, continue heating and stirring in 10 second increments until completely melted.
Cover 2/3 of the pretzel rod with chocolate. To make it easier I used a spoon to get the chocolate on the pretzel rod, and used the backside of the spoon to smooth it. Allow the excess to drip off back into the chocolate.
Sprinkle with festive sprinkles or candies and place on wax or parchment paper to cool. Serve once the chocolate has hardened.
Nutrition Information:
Yield:

8
Serving Size:

1
Amount Per Serving:
Calories:

135
Total Fat:

8g
Saturated Fat:

5g
Trans Fat:

0g
Unsaturated Fat:

3g
Cholesterol:

0mg
Sodium:

128mg
Carbohydrates:

13g
Fiber:

3g
Sugar:

1g
Protein:

3g