Hasselback Potatoes, one of my favorite ways to eat potatoes. Usually I serve Hasselback Potatoes as a side with a nice steak, but since I wanted these to stand on their own as a dish, I topped them with bacon and cheese to make these Bacon & Cheese Hasselback Potatoes!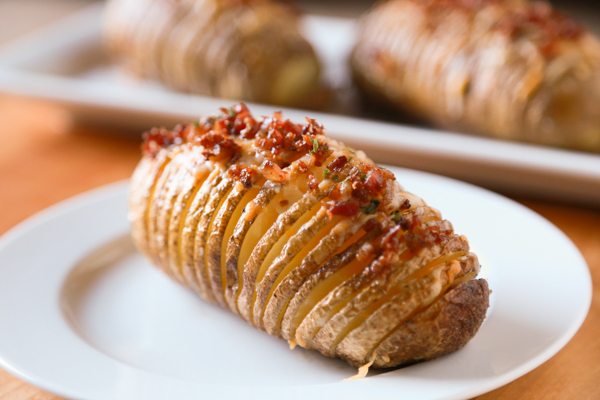 I'm telling y'all, these Bacon & Cheese Hasselback Potatoes are something special because even my 7-year old ate one. No complaints. No stalling. Just eatin'. That's a big deal around here!
I first started making Hasselback Potatoes about 10 years ago after seeing them on a cooking show and I've been making them ever since. What's really great about Hasselback Potatoes is you can add different toppings to create a different experience each and every time you make them.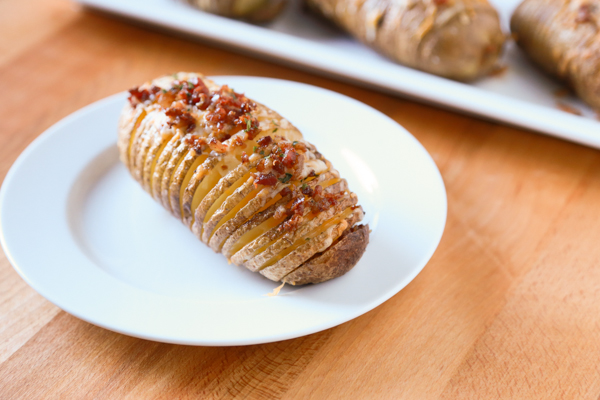 When I first started making them I would carefully cut the potato so that I wouldn't accidentally cut all the way through. And more times than not, I would make the dreaded cut that just went a little too far. But over the years I've learned a couple of tricks to make it easier and faster. And it's simpler than you might think — chopsticks or the handles of wooden spoons.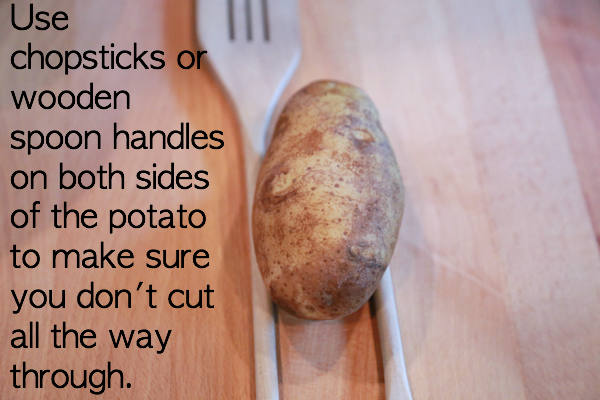 It's super simple. Lay either chopsticks or wooden spoons on both sides of the potato. With a sharp knife, slice straight down into the potato and stop once the knife hits the handles. Your slices can be as thick or as thin as you want them, but I find it's easiest to cut them anywhere between 1/8″ to 1/4″ thick. If you don't have chopsticks or wooden spoons, just make sure you don't cut all the way through. It will take longer, but it will be so worth it.
Bacon & Cheese Hasselback Potatoes
Bacon & Cheese Hasselback Potatoes
Bacon and Cheese meet the Hasselback Potato. These Bacon & Cheese Hasselback Potatoes are to die for.
Author:
Crystal @ Simply Being Mommy
Ingredients
5 Russet potatoes
5 tablespoons melted butter or olive oil, halved
Kosher Salt
Freshly grated black pepper
1 cup shredded cheddar cheese
½ cup real bacon bits
dried parsley
Instructions
Wash, scrub, and dry potatoes.
Reposition oven rack one or two notches from the bottom. You want the rack halfway between the middle and bottom of the oven. Preheat oven to 425 degrees.
Carefully slice potatoes in ⅛" - ¼" slices, keeping the bottom intact. This can be done easily using chopsticks or wooden spoon handles as a stopping point.
Brush potatoes with melted butter or olive oil. Make sure to cover the whole potato, even the bottoms. Arrange potatoes in a baking dish and sprinkle with salt and pepper. Place baking dish into the preheated oven. Bake for 40 minutes.
Carefully remove from oven and brush potatoes with the left over melted butter or olive oil making sure some gets between the slices. You should notice that the slices are separating. If some are sticking together, feel free to separate them.
Return to oven and bake for 30 minutes.
Carefully remove baking dish from oven and sprinkle cheese throughout the slices and then over the top of each potato. Sprinkle bacon bits evenly over the top of each potato and return to oven and bake for 10 more minutes.
Once cheese is melted and gooey, remove from oven and top with dried parsley. Serve immediately.
The crispy edges, the melted cheese, and smoky bacon are seriously delicious! If you've never tried Bacon & Cheese Hasselback Potatoes, you must.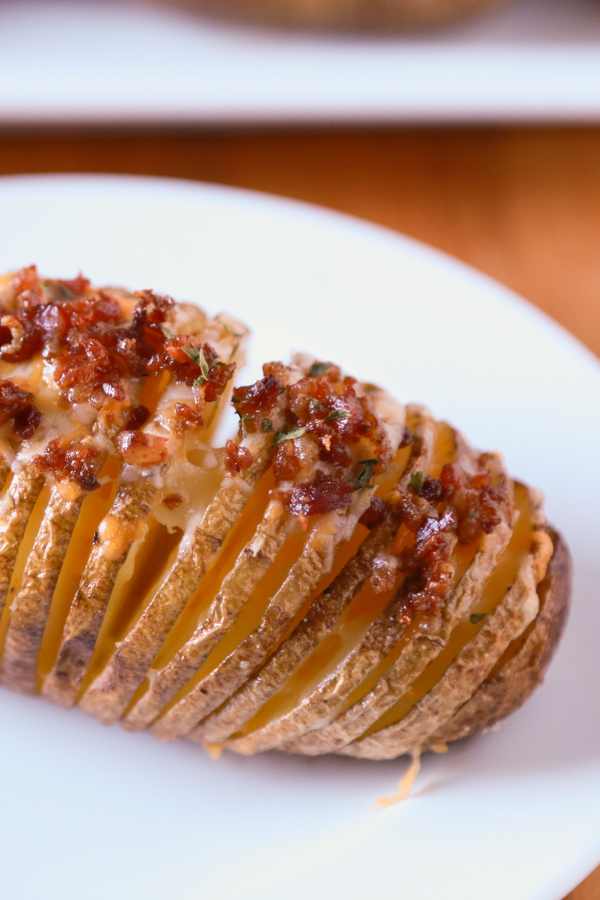 Serve with a salad and you're good to go. What a hearty, delicious meal any day of the year.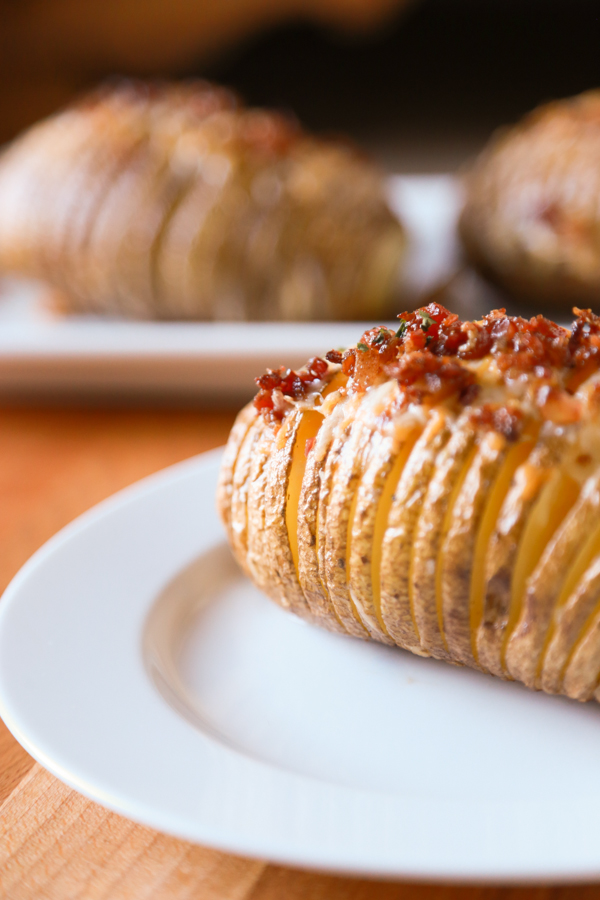 The possibilities are endless when it comes to making Hasselback Potatoes. While these Bacon & Cheese Hasselback Potatoes are ah-mazing, I urge you to get creative in the kitchen and come up with something equally ah-mazing. And when you do, don't forget to share with me!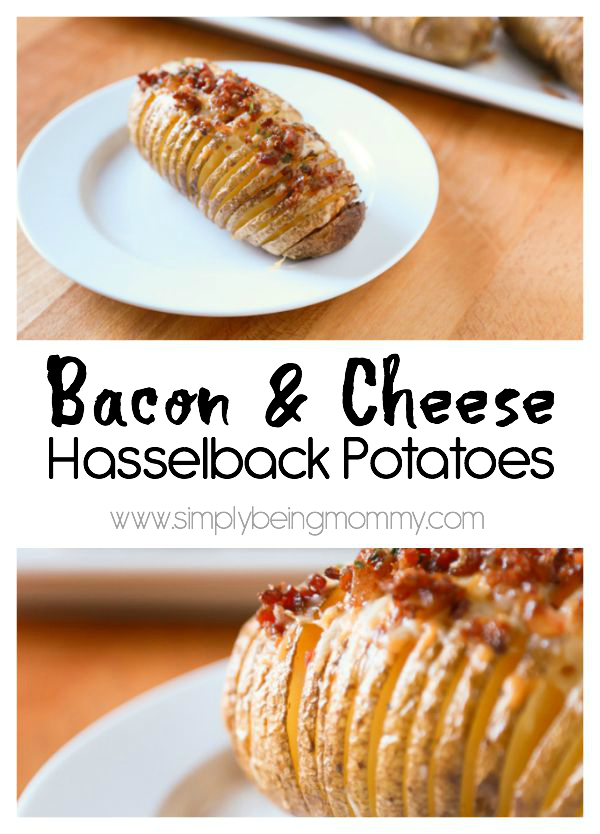 For more easy recipes or to see what's happening in my neck of the woods, you can easily subscribe to receive email updates free of charge. To make sure you get all my recipes, make sure you're following on Twitter, Facebook, Pinterest & Instagram.
Have you had Hasselback Potatoes before?