When my kids were younger anything spooky was completely out of the question. Now that they're older, just a little bit of spooky is totally okay. Last year we made Halloween Mummy Treats, and this year we went a little more spooky with these Spooky Halloween Ghost Pretzels.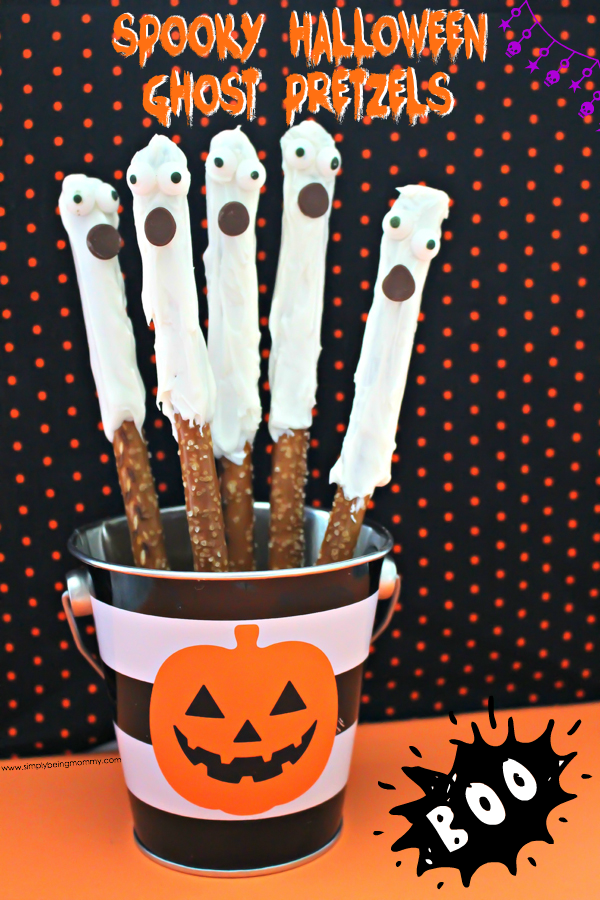 There's just enough spook in these Spooky Halloween Ghost Pretzels!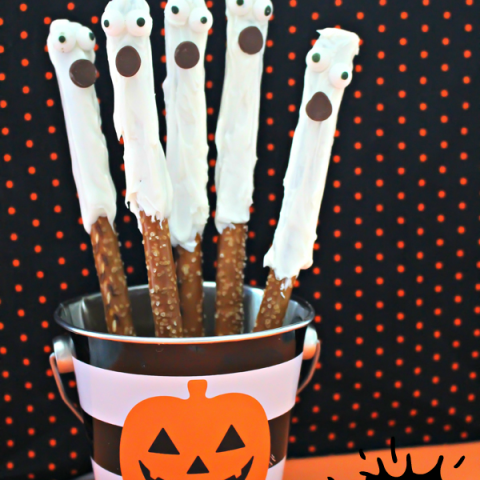 Spooky Halloween Ghost Pretzels
Total Time:
1 hour
5 minutes
These Spooky Halloween Ghost Pretzels come together quickly with just a few ingredients.
Ingredients
6 chocolate chips - regular size
Instructions
Line a baking sheet with wax or parchment paper.
Microwave 1/4 cup white chocolate melts for 30 seconds. Stir until melted. If not completely melted, melt in 5-second intervals until completely melted.
Spoon the melted white chocolate over each pretzel rod covering half the pretzel. Gently lay on the baking sheet to harden for at least one hour.
Apply a small dab of the icing tube to the back of the candy eyes and carefully attach two eyes to each pretzel rod.
Apply another small dab of the icing tube to the back of a chocolate chip and attach to each pretzel rod to resemble the mouth.
This would be a great time to get the kids in the kitchen and have them help make these Spooky Halloween Ghost Treats. They may make a bigger mess than you would have, but it's such a fun way to get them acquainted with the kitchen and hopefully foster a life-long love of cooking and creating.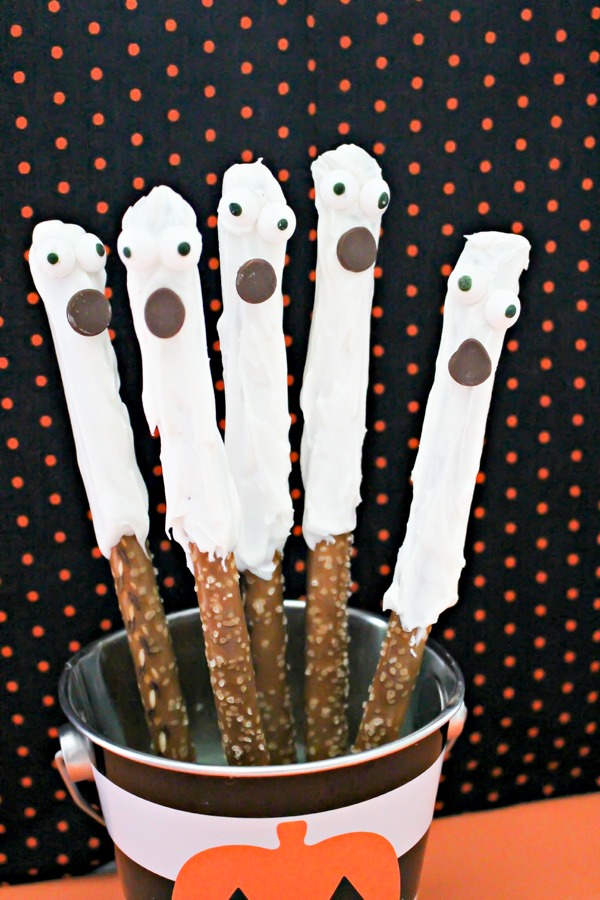 While this recipe only makes six Spooky Halloween Ghost Pretzels, it can easily be doubled, tripled, quadrupled, etc.
If your child's school still allows homemade treats, these Spooky Halloween Ghost Pretzels would be a great option because they are easy to make and are pretty inexpensive to make.
I know we are excited to enjoy all the Halloween treats this year! What is your favorite Halloween treat?