For a spooky, yet tasty Halloween treat, make these frightening sweet Halloween Mummy Treats. They're perfect for all your Halloween celebrations.
Y'all, how is it October already? I mean, how in the heck has 10 months flown by so quickly? It feels like just a couple days ago we were celebrating the new year and now it's already October?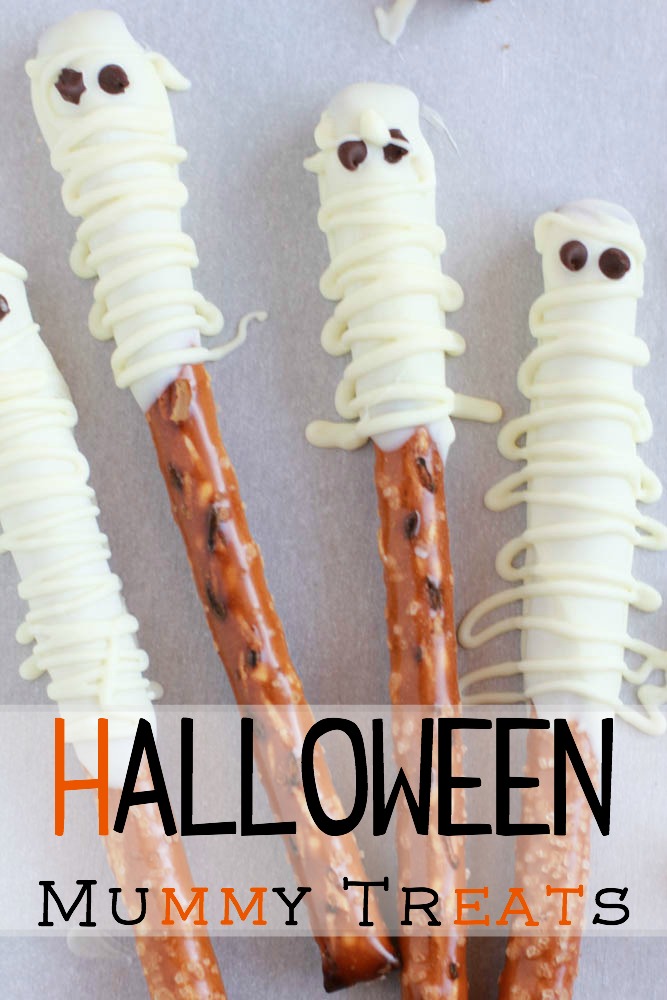 But since it's such a fun month filled with tasty Halloween treats and wickedly cool costumes, I guess I'll just go with the flow and stuff my face with every last morsel of sugar I can find. While the kids are sleeping, of course.
Mummy Treats for Halloween
The other day while the kiddos were at school, I whipped up a batch of these Halloween Mummy Treats. The only ingredients I used were quality white chocolate, mini chocolate chip morsels and pretzel rods. They are super easy to make, but the hard part is waiting on the white chocolate to cool and harden.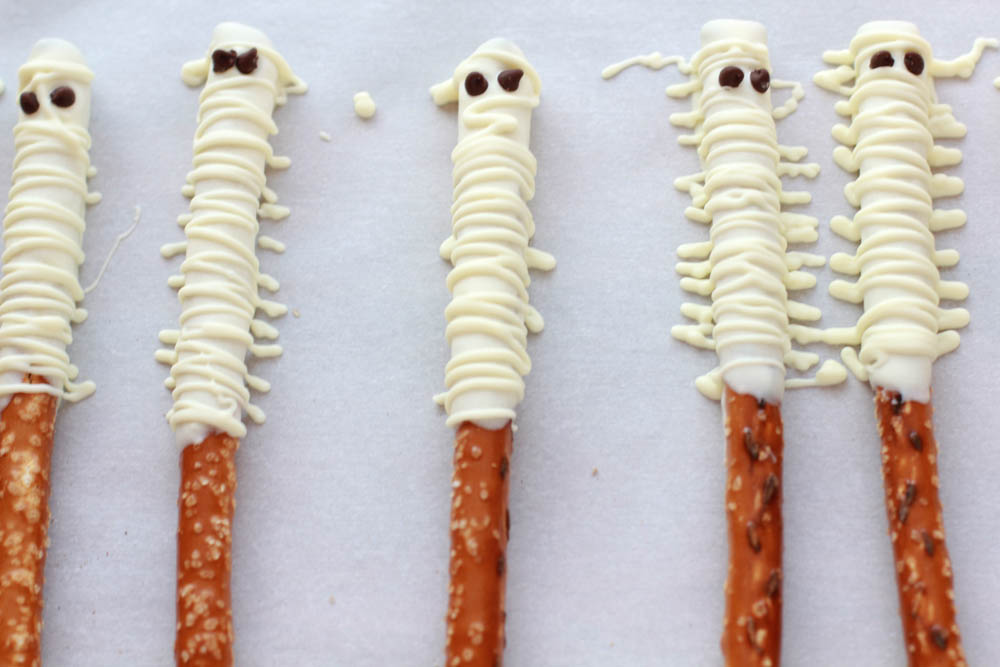 But really, that's not a bad problem to have, right? Just a little waiting and a lot of enjoying. Just sayin'!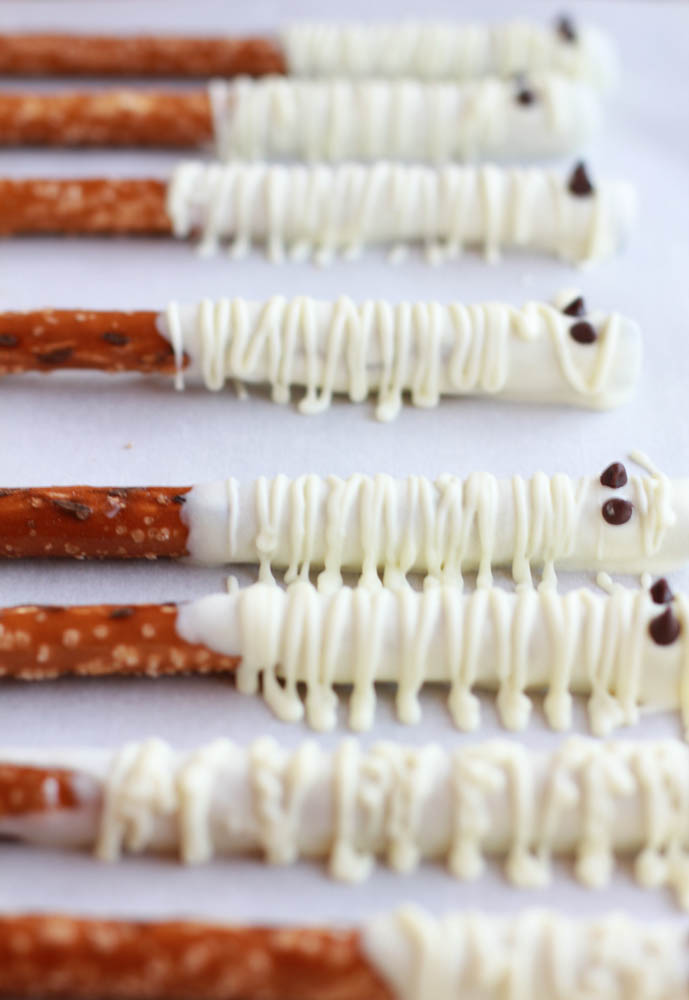 Don't those adorable little Mummy Halloween Treats look frightfully delicious? It's actually a little scary how quick they disappeared. My kids know that they only get one treat a day, but somehow all but three are gone. I've either got some sneaky little kids, or a sneaky little husband. I'm putting my money on a sneaky little husband.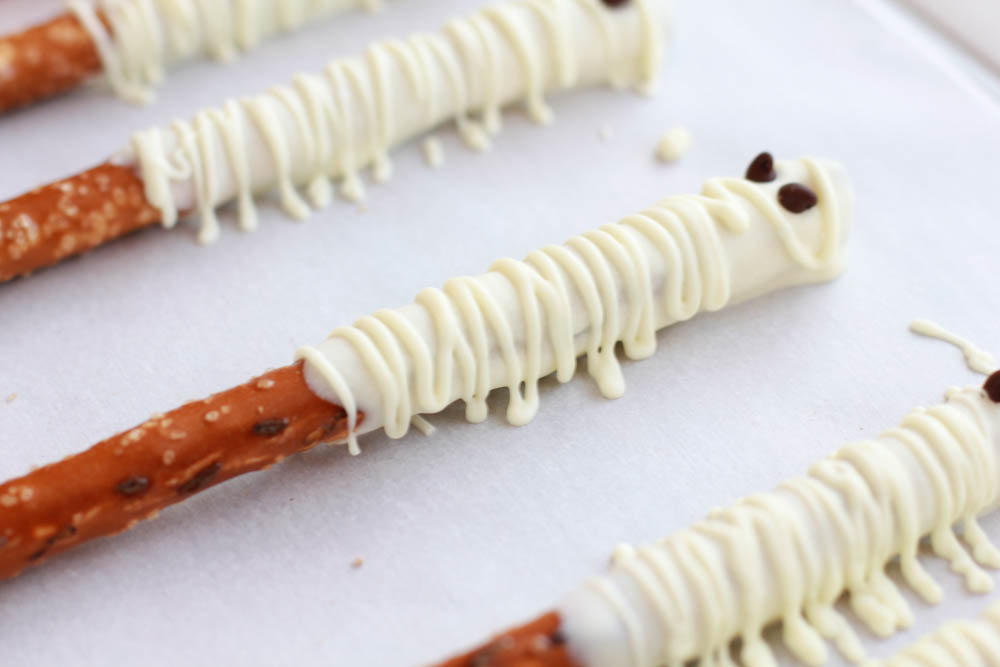 If your child's school still allows homemade treats for Halloween, how much fun would these be on Halloween party day? My kids keep asking me to put one in their lunchboxes so they can show their friends, but since I care about their teachers, I save the sugar rush for after school hours.
The good thing about this Halloween treat is if the kids are home to help, it's the perfect recipe for little hands. Nothing about this recipe is complicated and it could make for some perfect hands-on time in the kitchen for the children.
How to Make Halloween Mummy Treats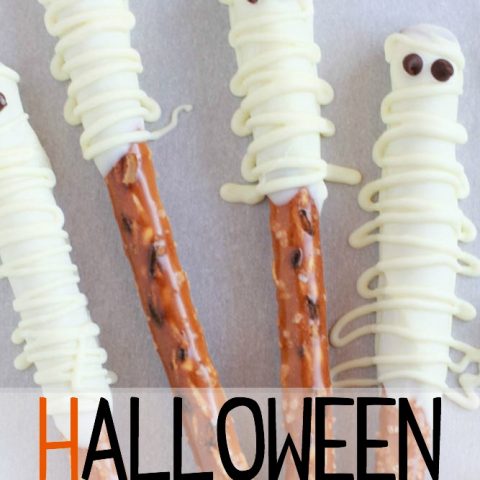 Halloween Mummy Treats
Yield: 16

Prep Time: 10 minutes

Cook Time: 2 minutes

Total Time: 12 minutes

Have fun with these frightfully delicious Halloween Mummy Treats. Using white chocolate, mini chocolate morsels and pretzels, create a Halloween treat that will delight the taste buds.
Ingredients
16 pretzel rods
32 mini chocolate chips
Instructions
Lay a sheet of parchment paper down on a large, flat surface.
In a bowl, melt white chocolate according to directions on the package. I like to melt mine at 50% power, at 30 second intervals, stirring in between each interval, until it's fully melted.
Dip the top portion of each pretzel rod into the white chocolate and lay on parchment paper to cool. Once all the pretzel rods are dipped, add two mini chocolate chips to each one. These will serve as the mummy's eyes.
Add the remaining white chocolate to a plastic sandwich bag and snip off one corner with a pair of scissors. You may need to put it back in the microwave to melt some if it hardens while you're working on the dipping process. Carefully pipe the chocolate onto the dipped portion of the pretzels rods in a back and forth motion.
Allow to cool and harden before serving.


Don't forget to pin these Halloween Mummy Treats to one of your Halloween boards on Pinterest.

If you are looking for other fun Halloween treats, check out this scrumptious Halloween Muddy Buddies Mix, these frightening Salty Bones, and these sweet Funny Bones. But I'm warning you, they're addicting. For more Halloween fun, check out these Halloween toilet paper roll crafts and this DIY Halloween String Art!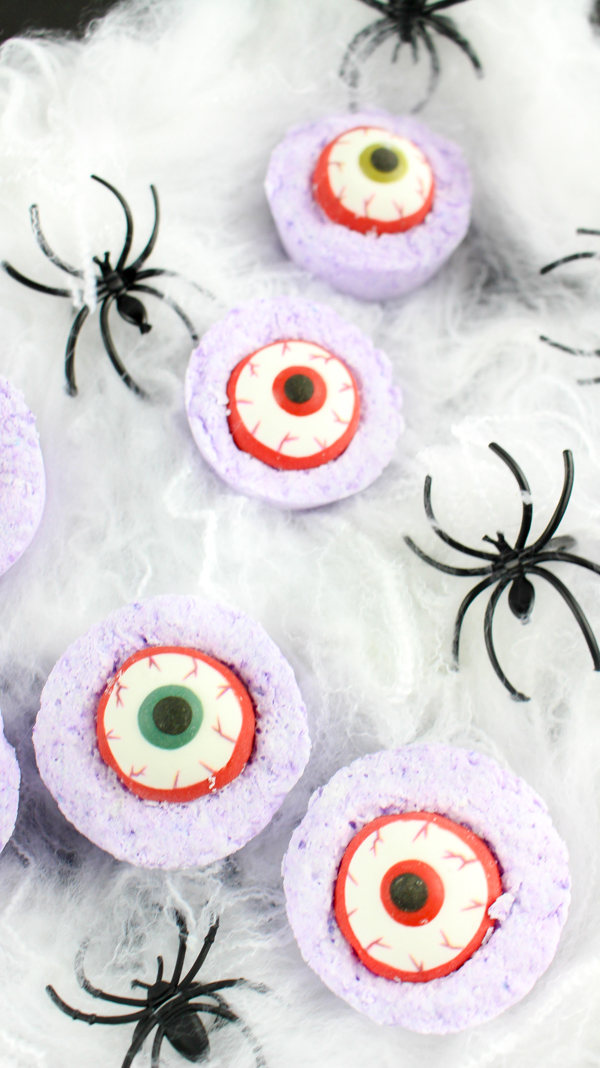 Halloween Tic Tac Toe Printable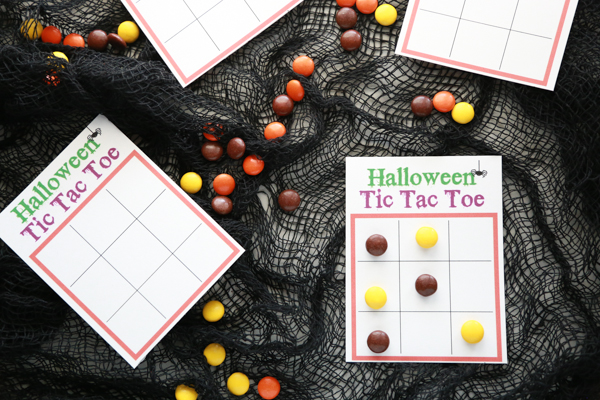 What's your favorite part of Halloween?