Yesterday I shared my Easy Rustic Cranberry Apple Pie recipe with you and today I'm sharing another easy recipe perfect for the upcoming holidays! How does a Lightened Up Cran-Apple Kuchen sound?
While this recipe does feature Truvia, you are more than welcome to use real sugar if you'd like. Check out the conversion chart to see how much real sugar the recipe will require since it's not recommended that you substitute in equal amounts. But for a dessert with less calories — Truvia is the way to go!
Lightened Up Cran-Apple Kuchen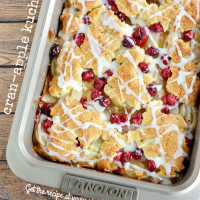 Lightened Up Cran-Apple Kuchen
Total Time:
1 hour
12 minutes
Lightened Up Cran-Apple Kuchen = All the flavors you love and enjoy without all the calories!
Ingredients
1/2 cup butter, softened
1/2 cup vegetable shortening
2/3 cup Truvia Baking Blend
1-1/2 teaspoons baking powder
1/2 teaspoon salt
3 eggs
1 teaspoon vanilla extract
3 cups all-purpose flour
1 can (21 oz.) apple pie filling
1/2 cup fresh cranberries
Instructions
Preheat oven to 350 degrees F. In a large mixing bowl whisk butter and shortening with an electric mixer on medium speed for 30 seconds. Add Truvia Baking Blend, baking powder, and salt. Whisk until combined, scraping sides of bowl occasionally.
Beat in eggs, one at a time and vanilla until combined.
Continue whisking on medium speed, adding 1/2 cup of flour at a time until all 3 cups are incorporated into the mixture.
Set aside about 1-1/2 cups of the dough. Spread remaining dough in the bottom of an ungreased 15x10x1-inch baking pan. Bake for 12 minutes.
Remove from oven and spread pie filling over crust in pan. Spread cranberries evenly over the top of the pie filling. Spoon reserved dough into small mounds carefully on top of pie filling.
Bake about 30-35 minutes more or until top is light brown. Cool completely and cut into bars to serve.
Notes
Adapted from http://www.bhg.com/recipe/bars/cherry-kuchen-bars/
While this Lightened Up Cran-Apple Kuchen recipe isn't as easy as yesterday's Easy Rustic Cranberry Apple Pie, it's still pretty darn easy!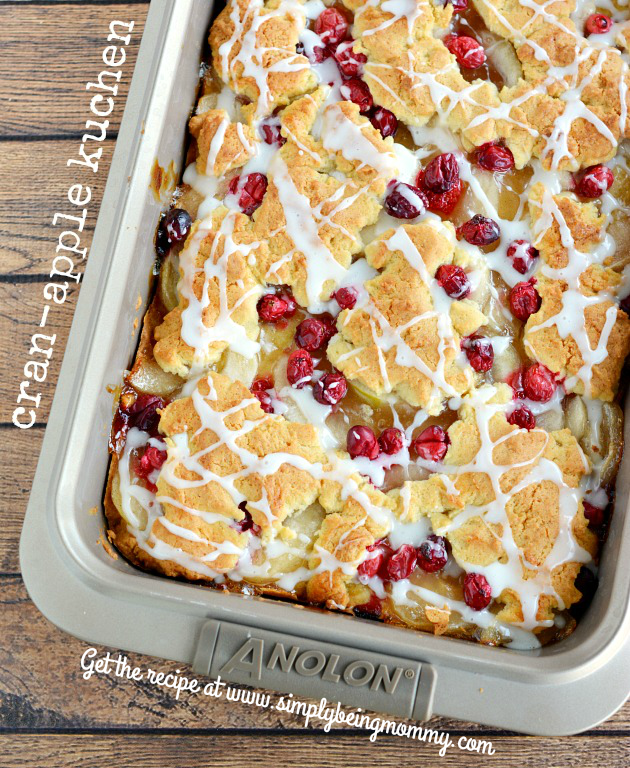 Doesn't that Lightened Up Cran-Apple Kuchen look so tasty?
It's such an easy recipe and absolutely perfect for your holiday get-togethers! What's your favorite holiday dessert?