Do you know what I love about spring and summer, well besides the warm weather — all the colorful, fresh fruit and vegetables I can purchase at the local farmers market. I love seeing the rows of freshly picked produce ready for me to take home.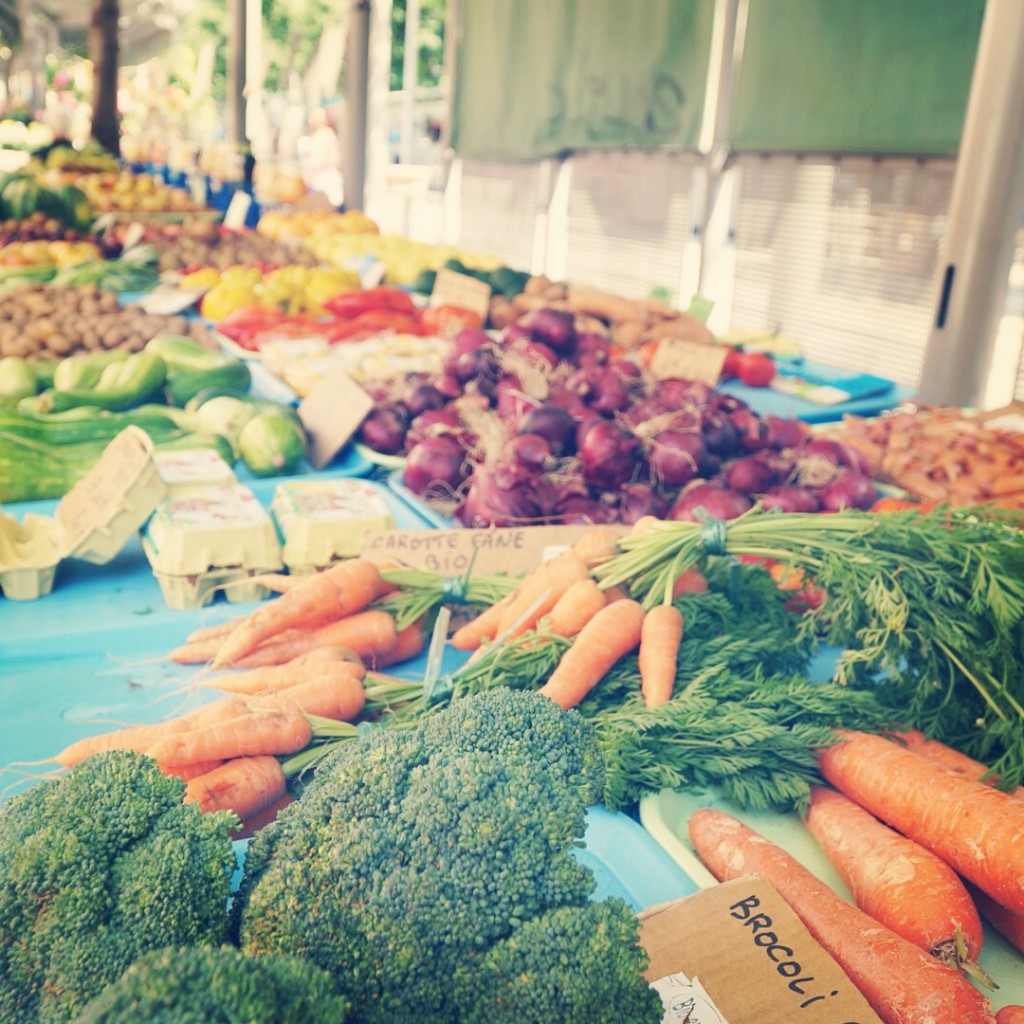 There's something about all the bright colors that gets me all excited to get in the kitchen and whip up something special. While I know that pears are more of a late summer or fall harvest, it didn't stop me from sharing this latest recipe for Mini Pear Tarts from one of my contributors. Just think of all the other tart possibilities from all the other fruits coming into season.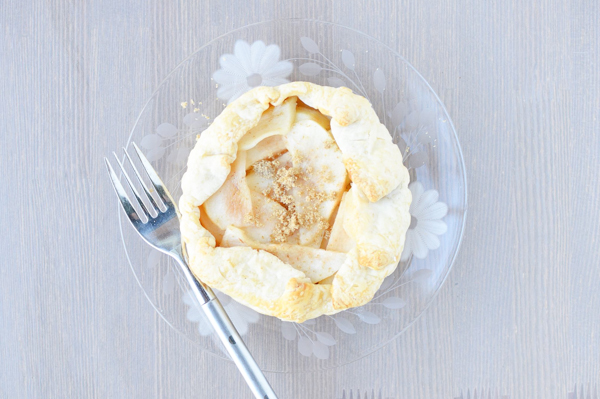 Mini Pear Tarts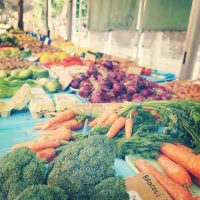 Mini Pear Tarts
Yield: 4

Prep Time: 15 minutes

Cook Time: 15 minutes

Total Time: 30 minutes
Ingredients
2 ripe pears (it is important that they be slightly soft to the touch)
1 sheet of pie crust, set out before using so it's workable
2 tablespoons raw honey
sprinkle of brown sugar and/or maple sugar, optional
Instructions
Preheat oven to 375 degrees Fahrenheit.
Allow the pie crust to come to a warm enough temperature that it is workable and then gently roll out just enough that you will be able to comfortably cut out four pieces to fit your mini tart pans, with enough to go up the sides and fold over the top a little bit.
Press the pie crust into your tart pans. If the pans are nonstick, you do not need to grease them.
Wash, peel and remove the core of the pears. Carefully cut the pears into very thin slices that are no more then ¼ inch thick.
Lay the pears into the crust to almost fill the space then spread a little bit of honey across the top of the fruit.
Fold the extra pie crust over the edges and pinch flat were needed.
Bake for about 15 minutes or until the pears are slightly bubbling and the crust is golden brown. Allow to cool for about 15 minutes before removing from the pans, this will help ensure they hold their shape longer.


Y'all, homemade mini pear tarts in 30 minutes! I love it. So simple and just perfect in every way.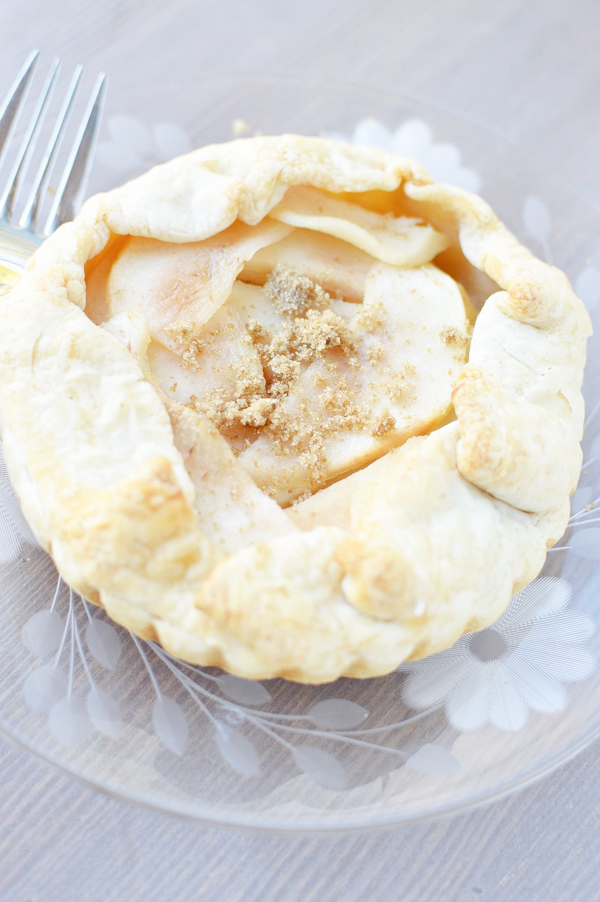 The crust is light and flaky. The pears are soft and sweet. And it's portion control without even trying.
Just perfect.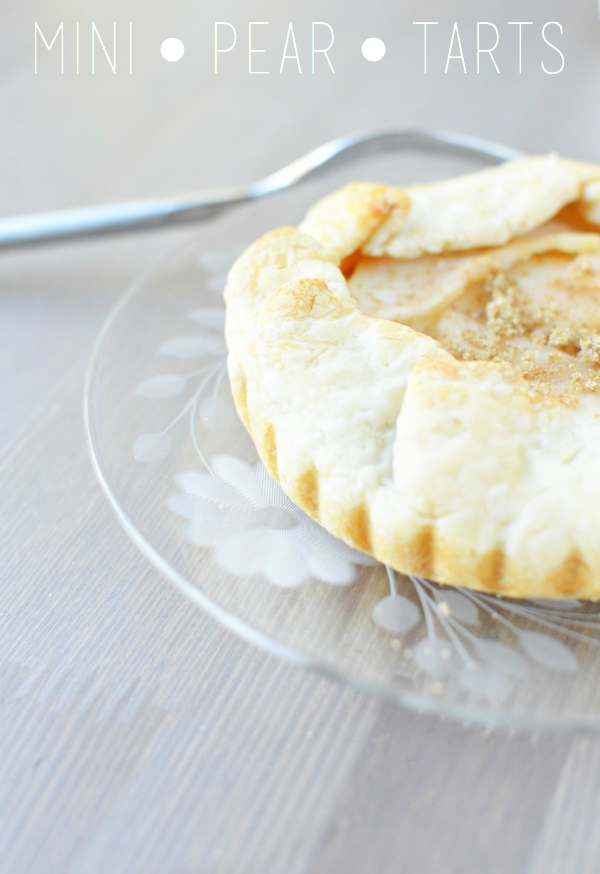 There isn't a huge ingredient list. There isn't a long list of instructions. It really is super easy, y'all. This Mini Pear Tarts recipe is even great for getting the kids into the kitchen with you to help. Make it a family event and then enjoy the fruits of your labor together when they're finished baking.
The kids will thank you, I'm sure.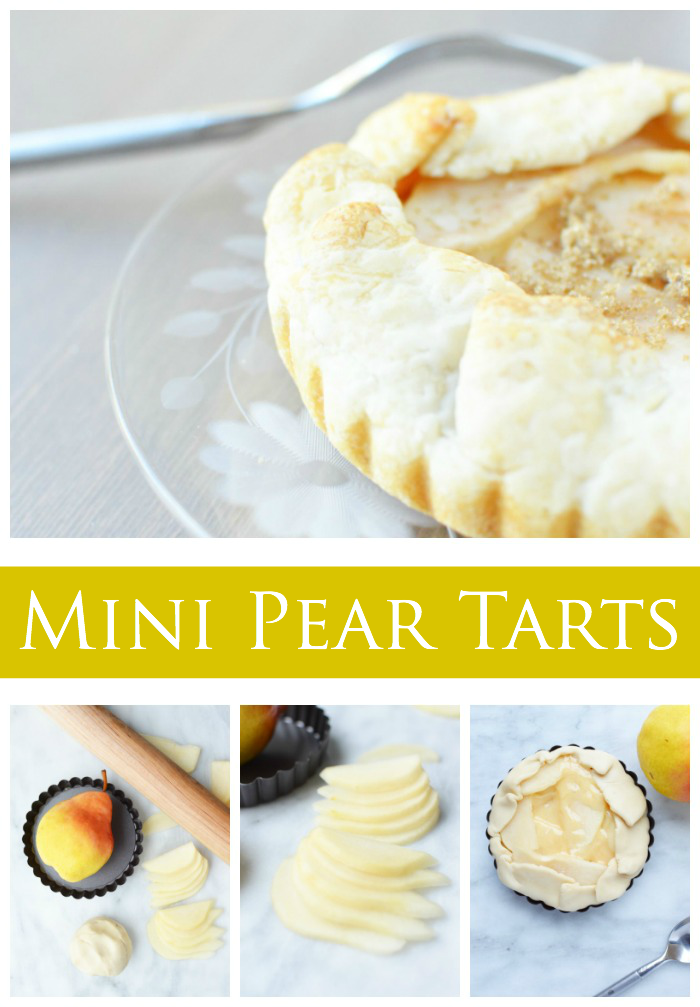 Have you tried making tarts before?
Here are some more ways to get the kids involved at home: