This Mickey Mouse Candy Bark is such a simple, yet fun treat the whole family can make together.
So, just in case you missed the announcement yesterday…we're going to Disney World. The kids don't know it yet, but in a couple short weeks we will be boarding a plane to sunny Orlando, Florida. I'm so excited I just can't stand it.
Since the kids don't know that we're going, I've been busy in the background packing and planning like a mad woman. And when I have time, I've been whipping up some Mickey-inspired treats in the kitchen. Yesterday I shared the Mickey Mouse Oreo Pops, and today I'm sharing this cute and simple Mickey Mouse Candy Bark.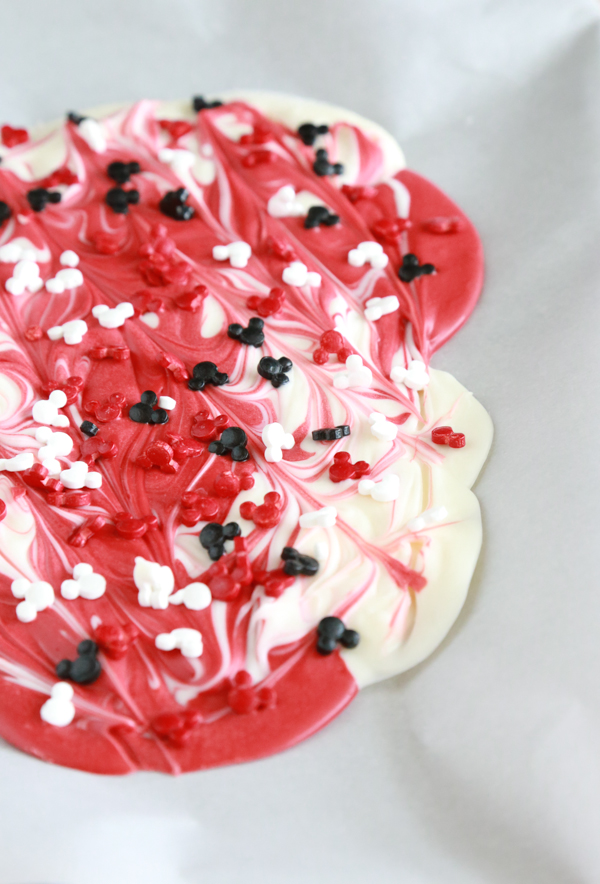 If you already have some ingredients leftover from making Mickey Mouse Oreo Pops, you probably won't even need to head to the store, unless you want to grab some of these Mickey Mouse sprinkles. And really, you should. Because they're the star of the show. But if you don't want to head to Michael's (wear I bought mine), you can take advantage of free 2-day shipping with Amazon Prime and have them delivered right to your door.
Here's all you'll need:
Once you have all the ingredients you need, you can have this Mickey Mouse Candy Bark made in no time.
Mickey Mouse Candy Bark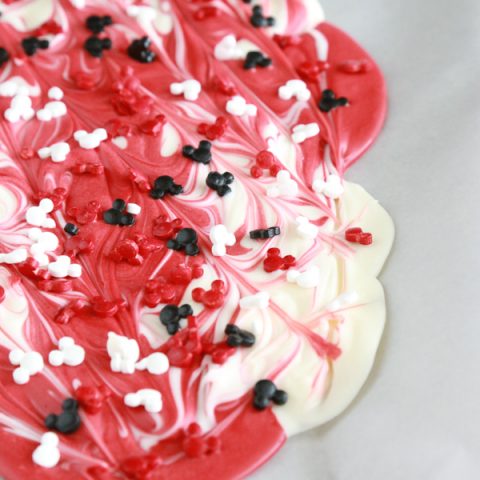 Mickey Mouse Candy Bark
Just a few ingredients is all it takes to make this deliciously, awesome Mickey Mouse Candy Bark.
Ingredients
Instructions
Line a baking sheet with parchment paper; set aside.
Melt candy melts in separate bowls according to the directions on the package.
Spoon equal amounts of red and white candy melt onto the prepared baking sheet alternating colors. Once you've used all the candy melt, gently tap the baking sheet onto a hard surface to make sure the candy melt is even throughout. Using a toothpick, mix the colors by dragging your toothpick through the candy melts. There is no wrong or right way to do this. Sprinkle the Mickey Mouse sprinkles on top.
You can leave it on the counter to harden or you can place in the refrigerator to quicken the hardening process.
Store in an airtight container at room temperature for up to two week.
It doesn't get much easier than that, y'all. And the best part…the kids will love it. Even with all the Mickey Mouse treats and piles of clothes in my room, the kids still haven't caught on that we're going to Disney World. But that's okay, because even if they figured it out, I wouldn't tell them. I can't wait to see the look on their faces when we board the Magical Express once we land in Orlando.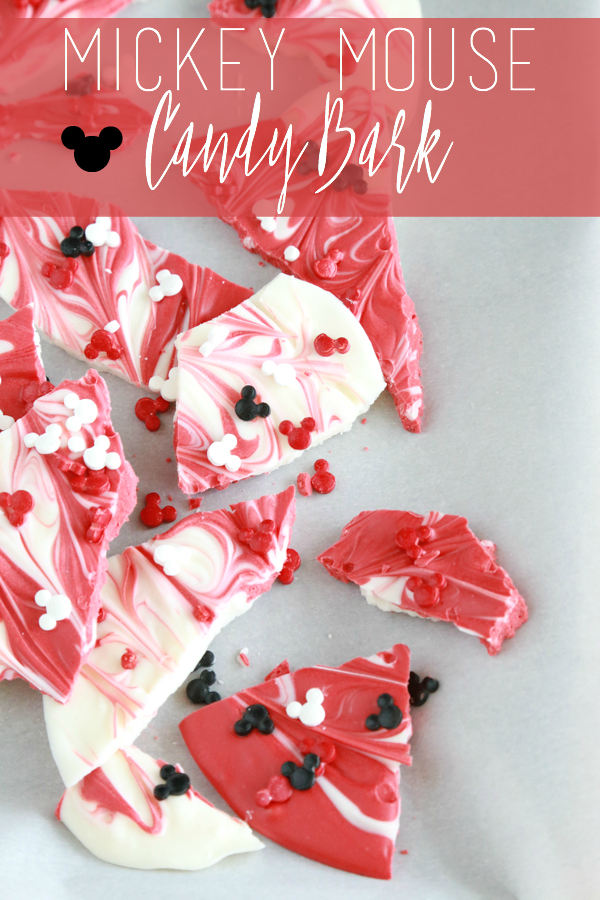 Don't forget about these Mickey Mouse Oreo Pops. They're a little more involved, but they're so darn cute! I just can't stand it.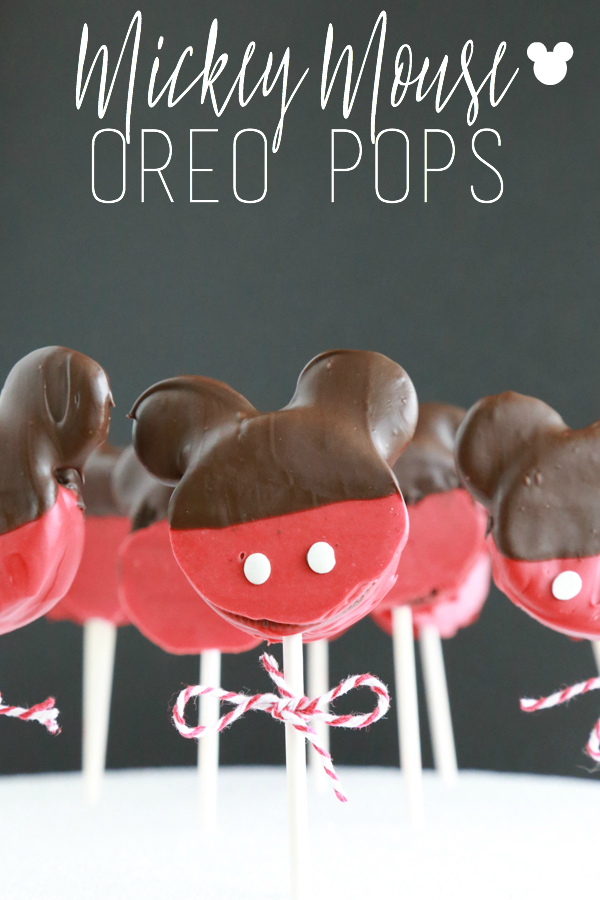 Oh, and if you want to surprise your children about an upcoming trip to Disney World, feel free to use this We're Going to Disney World printable puzzle that my contributor made for her kids last year.