This is a sponsored post written for ZzzQuil. I was compensated for this post Vicks as part of the Vicks Ambassador Network but all opinions are my own.
In case you haven't figured it out by now, I'm kind of obsessed with sleep. Like, I really adore it. It's just one of those things that make me happy. Probably a lot more than it should.
Whether I'm at home, or whether I'm traveling, my sleeping essentials are pretty much the same. Last year I shared how I get a good night's sleep while traveling, and this year I'm sharing my 7 must-haves for a good night's sleep.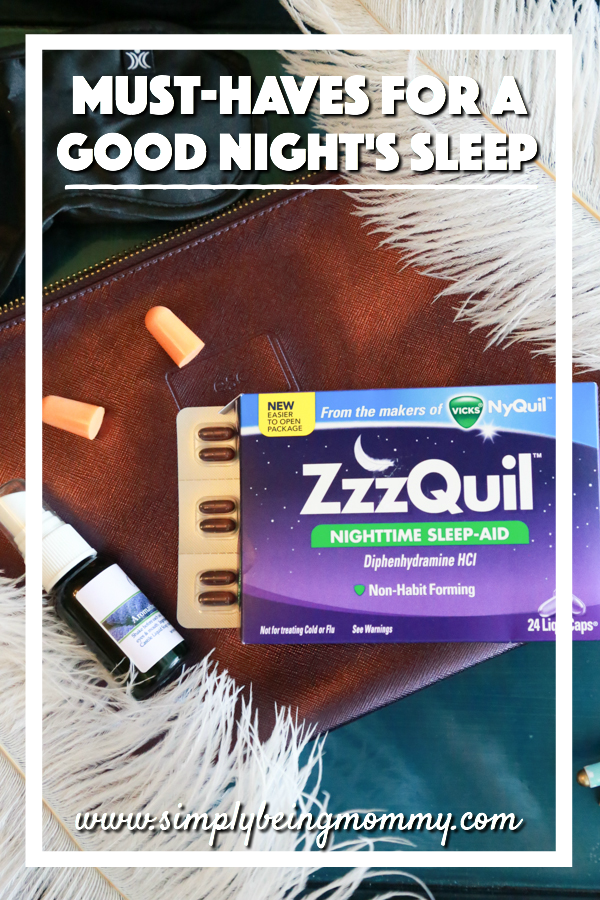 Must-Haves for a Good Night's Sleep
Lavender spray – I swear by this stuff. I love spraying it onto my pillow and sheets before turning in for the night. I also usually have a few drops of lavender oil going in the diffuser around bedtime. It really seems to help relax all of us and get us ready for a good night's sleep.
Eye mask – If you have black out curtains this one probably isn't a must-have. Or even if you do and you like it REALLY dark, invest in an eye mask. They even have eye masks with lavender leaves in them. Those are pretty heavenly.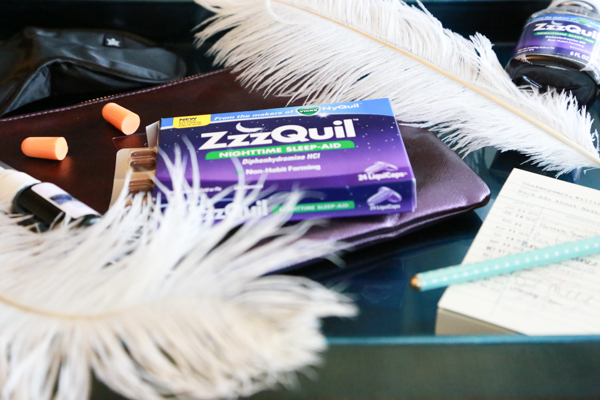 Ear plugs – Kids are loud. The dog barks. The husband snores. A set of ear plugs can help keep things a little more quiet, at least for the person wearing them. It sometimes takes a little bit of getting used to (having something in your ear) but it can pay off big time if you get a good night's sleep.
Notepad & pen – My mind likes to go crazy once I lay my head down on my pillow. Having a notepad and pen on the side table helps me to be able to get those things off my mind and on to paper so I don't forget about them the next morning. Being able to write stuff down allows me the reassurance that I won't forget it once I drift off to sleep.
White noise – I don't always use a white noise app, but when I'm staying at a busy hotel in a busy location (like Times Square), I find that it comes in handy. It helps to drown out the city noise and provides a more constant noise that blocks outside distractions. If you use ear plugs, you could get away with one or the other. You really shouldn't need both.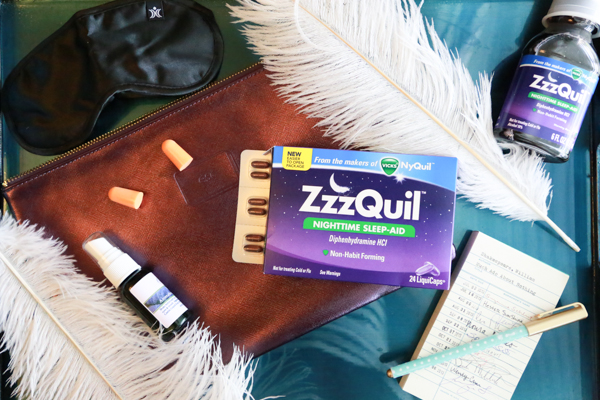 Good pillow – As I've aged, I've really come to appreciate a good pillow. My needs in a pillow has changed over the years. If you find you aren't sleeping as soundly and not sure why, try a different pillow.
ZzzQuil – And when everything else just isn't cutting it, I rely on ZzzQuil. Since ZzzQuil is a non-habit forming sleep aid, I feel comfortable using it when I need it, especially since it's just for sleep. For me, getting enough sleep is essential each and every day since it makes me feel more productive and excited for a busy day ahead.
Not getting the sleep you need can make for a very difficult day. And if you're anything like me, you don't want to deal with those difficult days, right? These must-haves for a good night's sleep have helped me numerous times to be able to drift off to sleep so that I can wake feeling refreshed and ready for the day.
Do you have any other must-haves for a good night's sleep? Share your #TravelTipZzz below.
Get social with ZzzQuil on Twitter and Instagram.
Click here for a coupon to try ZzzQuil on your next vacation!
Check out these posts from other bloggers with their tips for a better night's sleep.