This is a partnered post with Cascade. As always, all thoughts and opinions are my own.
One of the top five posts on my blog is my recipe for Easy Tater Tot Casserole. With good reason too, because it's absolutely delicious and so easy to make. It's one of those recipes you rely on when time is short and you just want a warm, hearty meal but don't want to exert a lot of effort. Since it has been such a huge hit with everyone, I wanted to share another Tater Tot recipe because, choices y'all. Meet the Sloppy Joe Tater Tot Casserole!

If you love tater tot casserole, I'm pretty confident you'll love this Sloppy Joe Tater Tot Casserole. I mean, what's not to love?
---
All-Clad Stainless Steel Tri-Ply Bonded Skillet with Lid
Here's a tip, y'all: For the longest I used skillets that came in those cheap cookware sets you can buy on discount around Christmas. It wasn't until I spent a little extra cash on a quality skillet that I noticed the difference in how good it cooked. Woah! It's totally different. Not only does a quality skillet provide an even cook throughout, the highly polished cooking surface on this All-Clad option offers stick resistance and easy maintenance. It's also oven and broiler-safe up to 600 degrees F and compatible with induction ovens – making it a staple piece in your kitchen. This option has a limited lifetime warranty and it's made in good 'ole USA. Plus, I can't find one cheaper than Amazon!
---
If you're running short on time and need something that you can throw together quickly, this Sloppy Joe Tater Tot Casserole is a fantastic option.
Sloppy Joe Tater Tot Casserole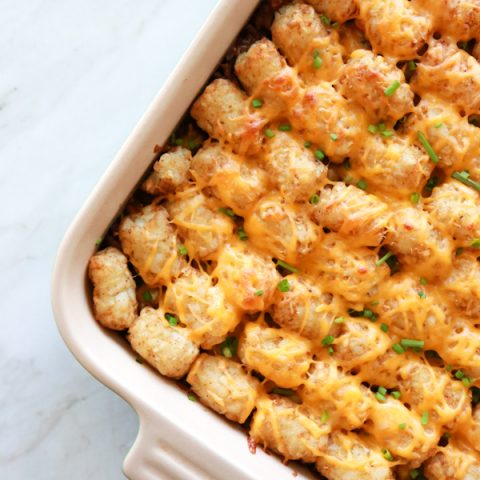 Sloppy Joe Tater Tot Casserole
When you combine two family favorites, you get this delicious Sloppy Joe Tater Tot Casserole.
Ingredients
1 lb ground beef
1 sweet onion, diced
1 teaspoon minced garlic (about 2 cloves)
1 green bell pepper, diced
3/4 cup ketchup
1 tablespoon brown sugar
1 tablespoon chili powder
1/2 teaspoon ground mustard
1 cup water
1 tablespoon tomato paste
1 teaspoon Worcestershire sauce
salt and pepper, to taste
2 cups mild shredded cheddar cheese, divided
1 bag (32 oz.) frozen tater tots
green onion or chives, for garnishing
Instructions
In a large skillet, brown ground beef over medium high heat until cooked through. Drain fat, remove from skillet, and set aside.
In the same skillet, saute onions and garlic until translucent. Add bell pepper and cook for a few minutes, or until it begins to get soft.
Add ketchup, brown sugar, chili powder, ground mustard, and water. Stir to combine and simmer for about few minutes. Add in tomato paste and Worcestershire sauce and stir to combine. Add salt and pepper to taste. Continue to simmer for about 10 minutes or until most of the water is gone.
In the meantime, preheat oven to 450 degrees F. Spray 9 x 13 baking dish with cooking spray.
Once the meat is ready, spread evenly in the prepared baking dish. Top with 1 cup of cheese layered over the top. Arrange tater tots over the top.
Place in oven and cook for about 10 minutes. Carefully remove from oven and sprinkle the remaining cup of shredded cheese over the top. Return to oven and cook for another 10 minutes, or until the tater tots are crispy and golden.
Remove from oven and garnish with green onions or chives before serving.
Nutrition Information:
Yield:

6
Serving Size:

1
Amount Per Serving:
Calories:

430
Total Fat:

26g
Saturated Fat:

12g
Trans Fat:

1g
Unsaturated Fat:

11g
Cholesterol:

105mg
Sodium:

699mg
Carbohydrates:

19g
Fiber:

2g
Sugar:

12g
Protein:

30g
If you've got 45 minutes, you have just enough time to create this delicious Sloppy Joe Tater Tot Casserole for dinner tonight!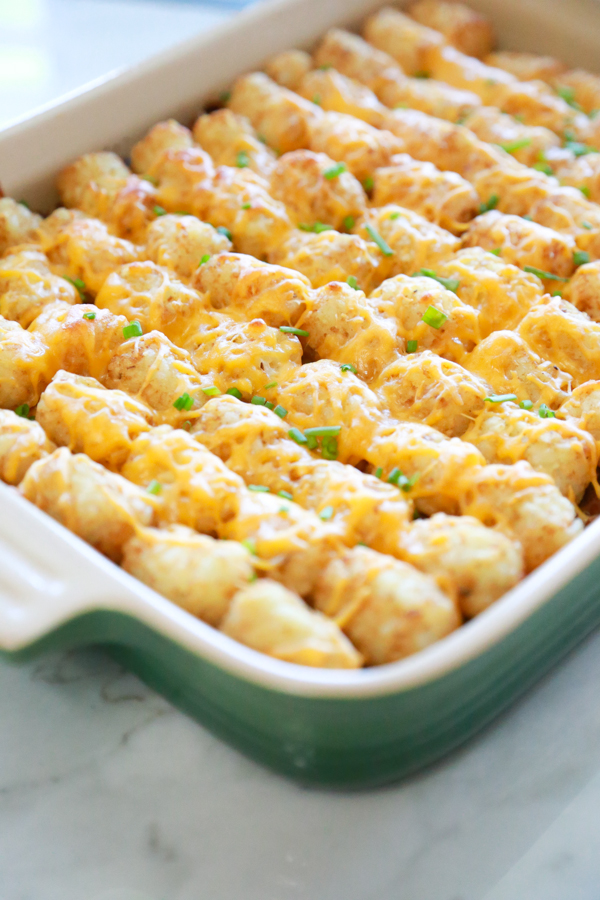 And if you don't want to make your own sloppy joe sauce, you could always buy a premade canned version. But, the homemade version is super easy to make and it tastes so much better.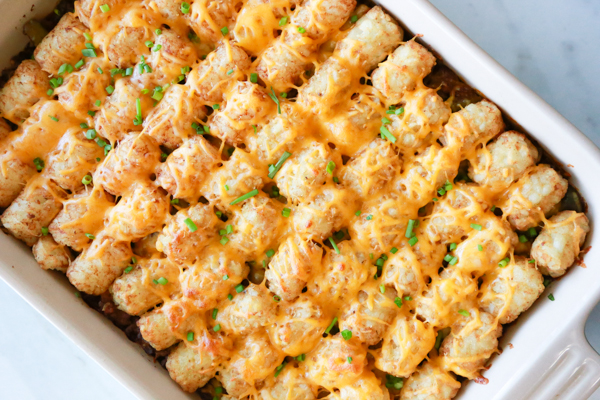 I like to load mine up with onions and bell peppers but if you're not a fan, feel free to add in less or none at all. That's the beauty of recipes like this one. It's really easy to make them unique to what you like or don't like.
And like most casseroles, this Sloppy Joe Tater Tot Casserole leaves behind a baked on mess on your casserole dish. But you don't have to fret about clean up.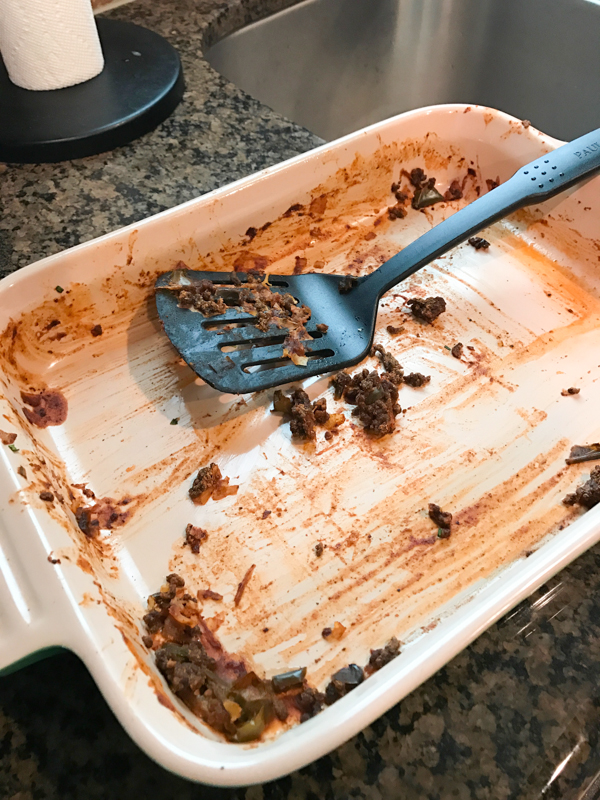 I left this dish out for two days just to make sure it was a stuck-on mess. After putting it through the pots and pans cycle with Cascade Platinum ActionPac, it came out completely clean. No evidence of the mess I started with.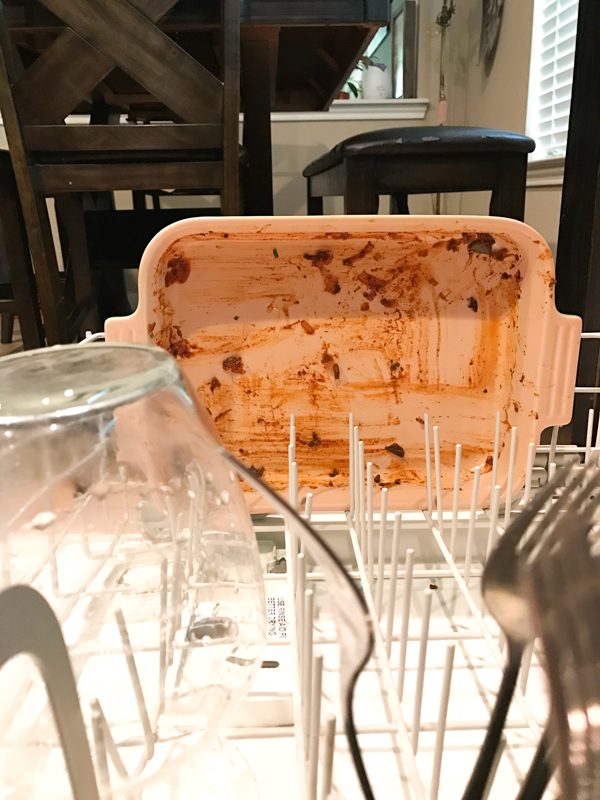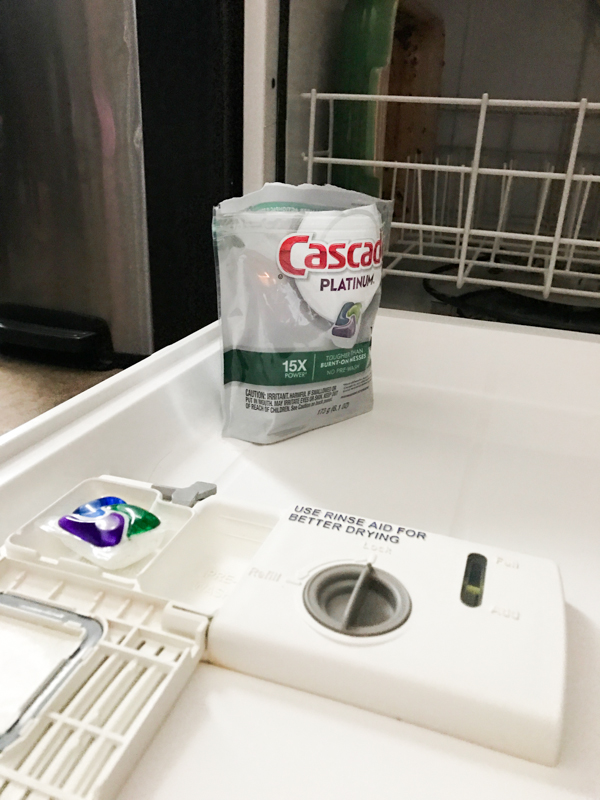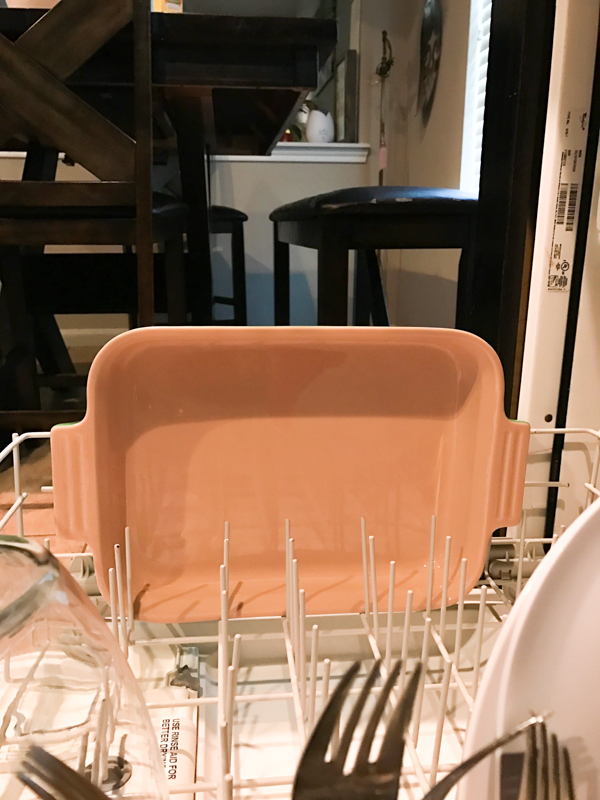 With Cascade Platinum ActionPacs I love that I don't have to pre-rinse my dishes before putting them into the dishwasher. Like the pictures show, it cleans off stuck-on food in just one wash, with no pre-rinse needed. They are so easy to use because there is no pouring or measuring required. Just place one pac in your dishwasher's soap compartment, close the door and start the cycle.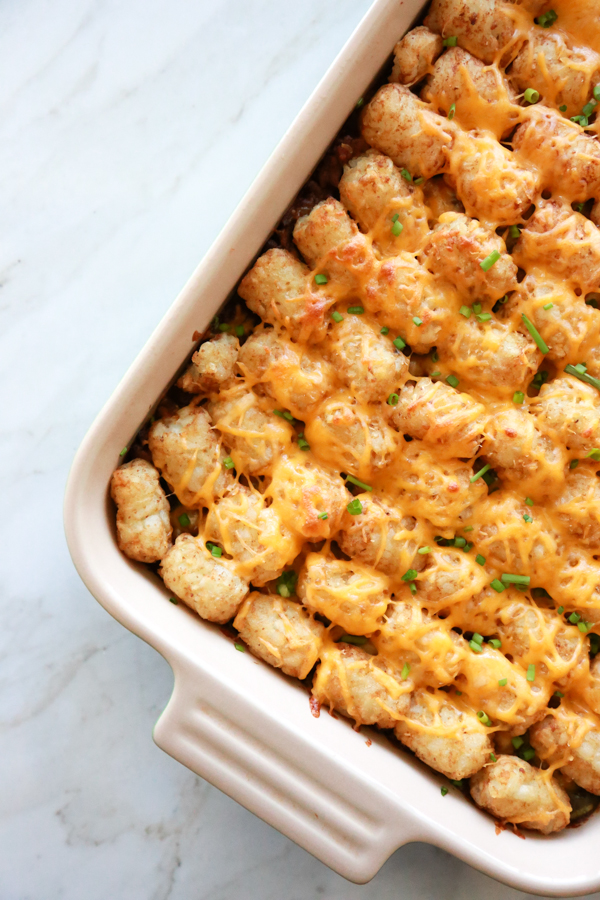 Not only is dinner time easy with this Sloppy Joe Tater Tot Casserole, clean up is too!
Want another tater tot recipe? Check out this one: