Need an easy tater tot casserole recipe for dinner tonight? Try this Easy Tater Tot Casserole for an easy, delicious meal the whole family will absolutely love and want time and time again.
You know we've all been there — those nights where we have no idea where the day went and there are multiple sets of big eyes staring up with that famished look on their faces. On nights like that, I often go for a tried and true, quick and easy recipe like this one.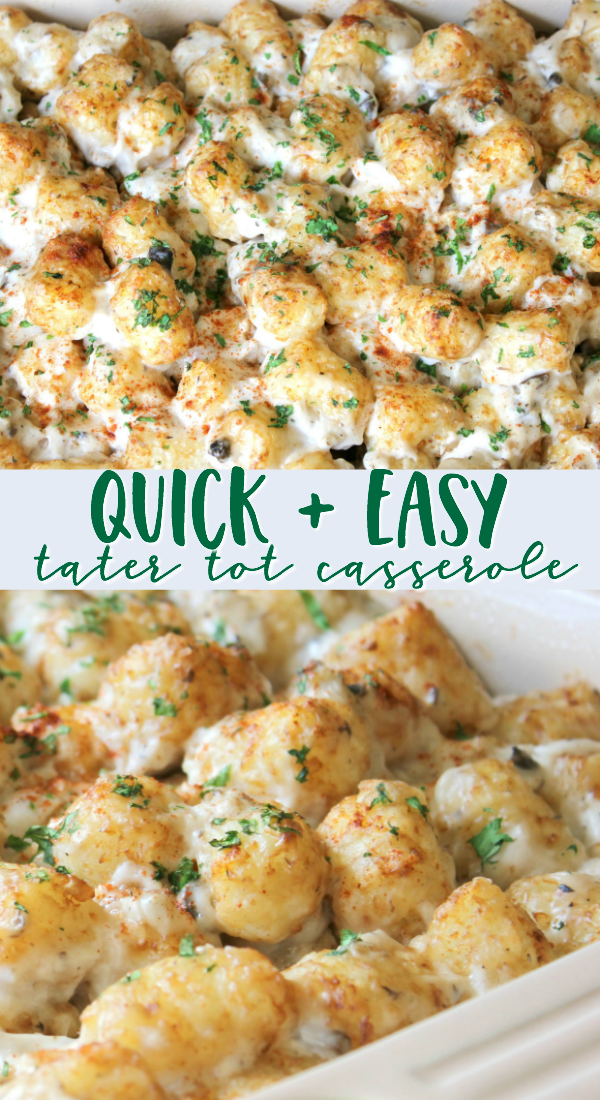 Easy Tater Tot Recipe
I like recipes like this Easy Tater Tot Casserole, because I always have the ingredients on hand and I can make a meal the whole family will love without much effort and time. It doesn't hurt that this recipe is one of those cozy, comforting meals either. You know, those meals that warm you up from the inside — YUM!
I just love those meals that are super indulgent, or at least feels that way, because you leave the table feeling all full and content. This recipe will make you one of those types of meals.
This Easy Tater Tot Casserole doesn't take much effort at all, just a bit of patience as you wait for the oven to work its magic.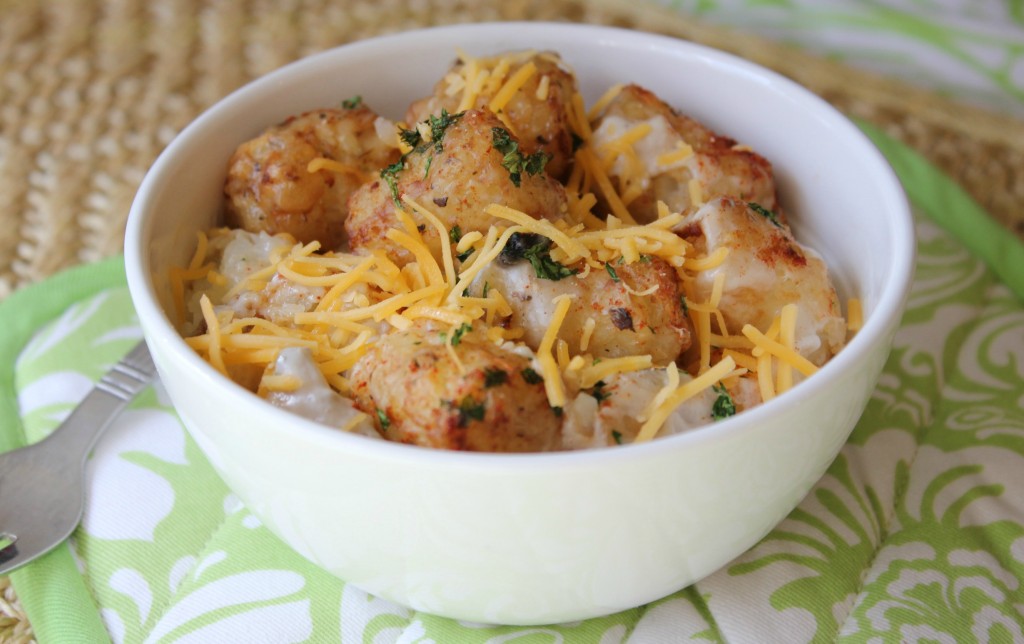 What Ingredients are in Tater Tot Casserole?
What I really love about this family favorite recipe is you can pretty much do whatever you want with it. Add different spices, use beef, add green beans — the possibilities are endless with this one.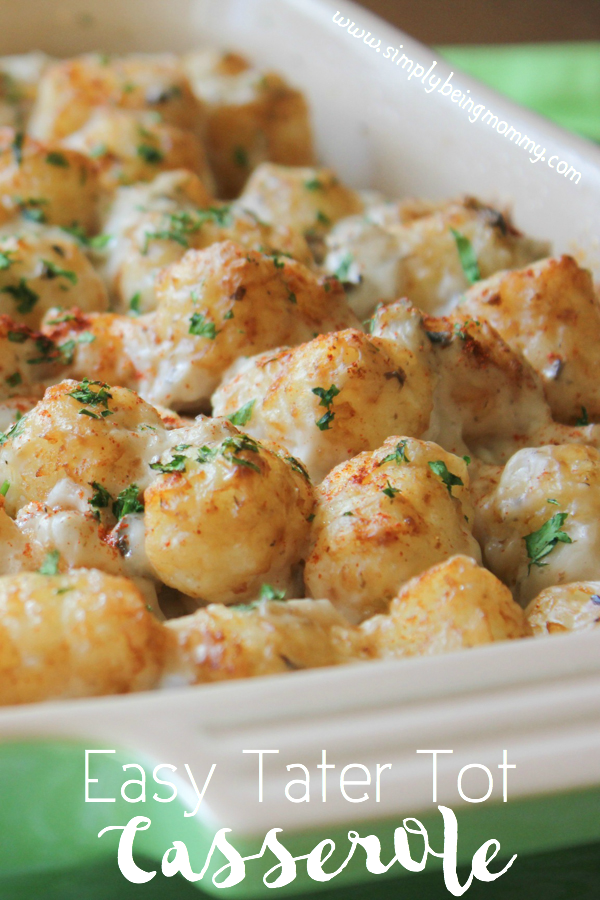 Although I use ground turkey in this recipe, using ground beef, ground chicken, or even ground pork can be used instead. Just use whatever you like or whatever you have on hand.
Other great additions include various vegetables, like green beans, peas, corn or carrots. You could also include different varieties of cream of soups. It really just depends on the flavors your family loves.
Learning how to make Tater Tot Casserole your family will love is really just a preference of flavor. Feel free to add the flavors you like to make it your own Tater Tot Casserole.
Easy Casserole Recipes
There are so many different tater tot casserole recipes online and there's good reason why. Tater tots are so versatile and so dang good, y'all. You can also try this Chicken Pot Pie Tater Tot Casserole or this Sloppy Joe Tater Tot Casserole. All of them are absolutely delicious and deserve to be on the dinner rotation.
What Do I Need to Make Tater Tot Casserole?
You probably already have everything you need to make this delicious casserole using tater tots. Here is a list of tools you need to make this easy dinner recipe.
large baking dish: I love my Le Creuset stoneware dish, but don't feel like you need an expensive dish to make this delicious recipe. I only have this one because I didn't buy it but received it as a gift. Any 9″ x 12″ baking dish that is at least 2″ deep should work. Because of all the different layers you need to make sure your baking dish is deep enough.
non-stick cooking spray: Because I love easy clean up after dinner, I'm pretty diligent about using non-stick cooking spray in almost all my casserole recipes. If you love easy clean up, make sure you spray your baking dish before you start adding all your ingredients.
pepper grinder: Since I really like freshly ground black pepper, a pepper grinder is a necessity for me. I just love the flavor of black pepper when it's freshly ground compared to a can of black pepper that was ground however long ago.
Canola Oil Cooking SprayGet it now!
Large Serving SpoonGet it now!
Le Creuset StonewareDishGet it now!
OXO Pepper GrinderGet it now!
Want more dinner recipes? Check out these:
–> Don't forget to pin this to your favorite dinner board on Pinterest so next time you need a quick dinner you'll be able to find this recipe for tater tot casserole. <–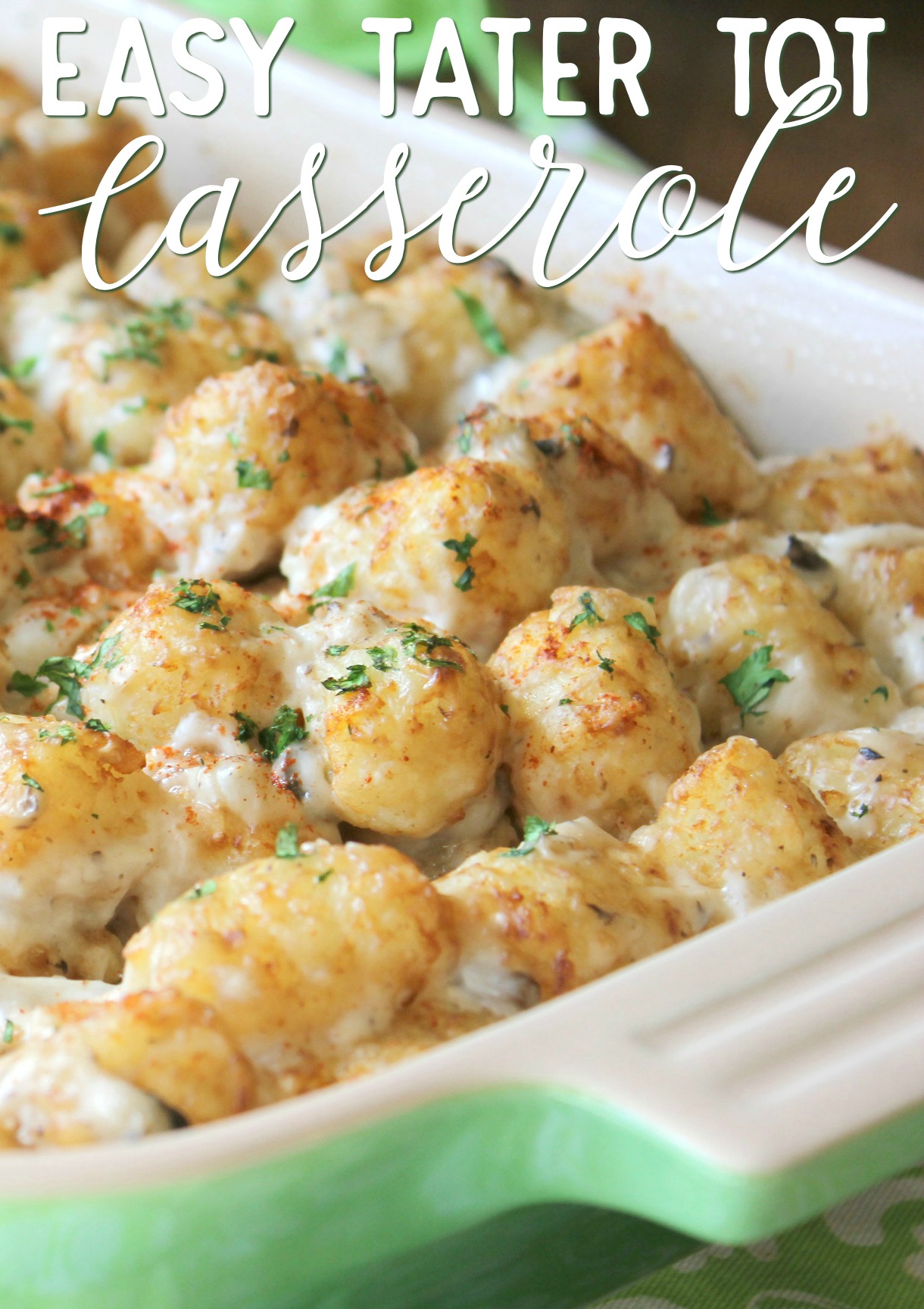 Easy Turkey Tater Tot Casserole Recipe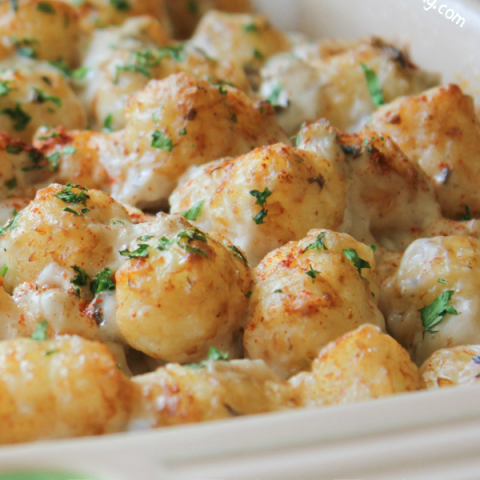 Easy Turkey Tater Tot Casserole
This easy to make Tater Tot Casserole will quickly become a family favorite.
Ingredients
1 lb ground turkey
1 cup diced onion (I use frozen to make it easier.)
1 pkg (32 oz) tater tots
1 can (10 oz) cream of mushroom soup
1 can (10 oz) cream of chicken soup
2 cups grated cheddar cheese
1/2 tsp garlic salt
fresh ground black pepper, to taste
paprika, to sprinkle on top
1/4 cup flat leaf parsley
Instructions
Preheat oven to 350°F. While oven is preheating, brown ground turkey and onion; drain.
Grease a 9x13 inch-baking dish. Transfer turkey and onion mixture to baking dish.
In a large bowl, combine cream soups (undiluted), cheese, garlic salt and black pepper. Once thoroughly combined, toss in tater tots and coat evenly.
Transfer coated tater tots to the baking dish and place on top of turkey and onion mixture.
Bake for about 45 minutes or until the top begins to brown slightly.
Sprinkle with paprika and parsley; then serve.
Nutrition Information:
Yield:

6
Serving Size:

1
Amount Per Serving:
Calories:

480
Total Fat:

33g
Saturated Fat:

12g
Trans Fat:

1g
Unsaturated Fat:

17g
Cholesterol:

121mg
Sodium:

1218mg
Carbohydrates:

17g
Fiber:

1g
Sugar:

3g
Protein:

30g