There's something about the humble pop-tart that takes me back to my younger days at home. I vividly remember those summer days where I could sleep as late as I wanted, stumble my way down the stairs, and tear open that silver sleeve to reveal my frosted breakfast. My favorite flavor was (and still is) the Brown Sugar Cinnamon. In honor of the popular breakfast pastry, almost named the Fruit Scone, here are 20 homemade pop-tart recipes you have to try!
Homemade Pop-Tart Recipes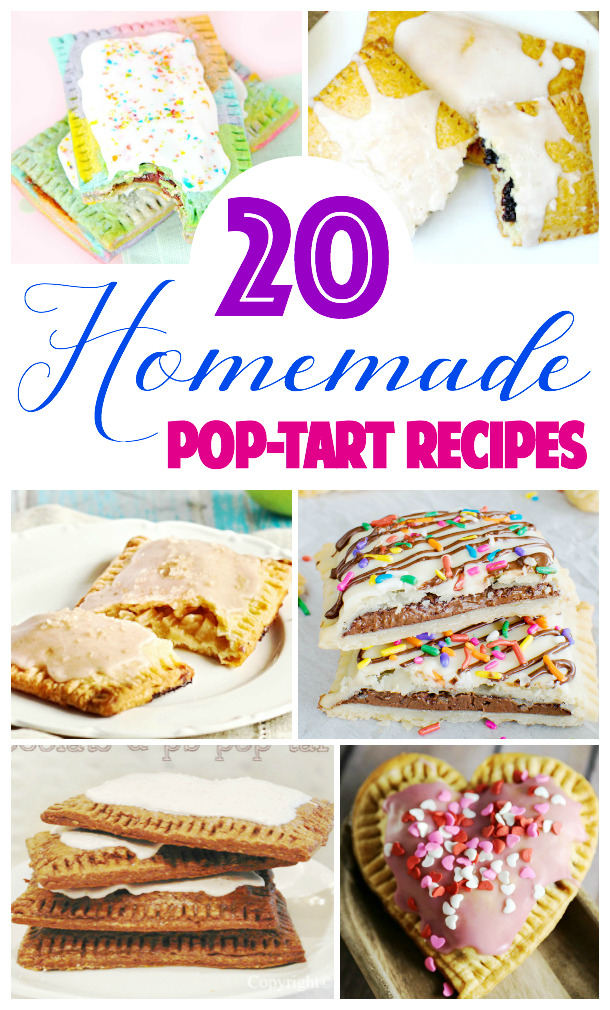 >>I just can't with these Rainbow Marbled Pop-Tarts from Aww Sam. The colors alone make me want to dig in to this delectable treat. How gorgeous are those pop-tarts?
>>Two of my favorite flavors all packed in to these Chocolate and Peanut Butter Pop-Tarts from Salt Tree. This homemade pop-tart recipe looks so good I've got to try it.
>>If you're a fan of Churros like I am, these Chocolate Chip Churro Cheesecake Pop-Tarts from Gringalicious are guaranteed to be a hit. Are you drooling yet? I mean, look at these, y'all.
>>If these Nutella Pop-Tarts from Inside Bru Crew Life are wrong, then by golly, I don't want to be right. I'll take a dozen (or more) please!
>>Where are all my Pumpkin Pie lovers at? These Pumpkin Pie Pop-Tarts from Smashed Peas and Carrots look amazing. That glaze, y'all. Can I just have a cup of that?
>>I can't wait to get my hands on these Frosted Brown Sugar Cinnamon Pop-Tarts from Sally's Baking Addiction. My favorite pop-tart flavor in a homemade variety. YUM!
>>Oh my goodness. These Apple and Maple Butter Pop-Tarts from The First Year are perfect for fall. I love that she embellished the top pastry. It gives them so much fall flair.
>>You can eat more of these Mini Almond Joy Pop-Tarts from Cookies and Cups…because they're mini-sized y'all. Why eat one when you can eat three?
>>Savory and sweet. It's a perfect match. These Smoked Cheddar andd Cherry Jam Pop-Tarts from How Sweet Eats satisfies all the cravings.
>>Nothing screams summer as much as S'mores. These S'mores Pop-Tarts from Frugal Antics Recipes are perfect for summer parties.
>>When you need a cherry fix, try these Sophisticated Cherry Pop-Tarts from The Little Epicurean.
>>There is not a wrong time to try these Cookies and Cream Chocolate Pop-Tarts from Gringalicious. Oreos and pop-tarts? I don't think there is a better combination.
>>Hosting game night at your house? Serve these. I love how The Soccer Mom Blog turned these pop-tarts into Queen of Hearts Strawberry Pop-Tarts.
>>To recreate these Grape Pop-Tarts from Jenn's Blahblah Blog, you might be surprised that grape jelly is one of the star ingredients.
>>Aww Sam has done it again with these Breakfast Cereal Pop-Tarts. What a great way to have two breakfasts in one. You can have cereal and pop-tarts at the same time.
>>You already know about my fascination with peanut butter and jelly if you read these 20 ways to enjoy a PB&J. Add another to the list with these Peanut Butter and Jelly Pop-Tarts from Cleverly Simple.
>>Love Samoas Girl Scout Cookies? Mom Loves Baking made these Samoas Pop-Tarts and they look so good. The caramel, coconut, and chocolate flavors are sure to be a hit.
>>These Blueberry and Lemon Curd Pop-Tarts from Broma Bakery look way to pretty to eat. These pop-tarts truly look like a work of art. GORGEOUS!
>>For the healthier crowd looking to indulge in a pop-tart, Feasting on Fruit has created these vegan and gluten free Strawberry and Banana Pop-Tarts.
>>If sweet and savory is your choice of the day, try these Goat Cheese and Cherry Peach Chutney Pop-Tarts from How Sweet Eats. And talk about quick because, puff pastry, y'all.
These homemade pop-tart recipes are the perfect excuse for a little indulgence. Whether you make your own pastry or use a puff pastry, try some of these homemade pop-tart recipes. I've already got some recipes printed and ready to make.
Which one of these homemade pop-tart recipes do you think you would try first?