Theme parks are fun, but they can be expensive. Thankfully there are ways to lighten the burden a little, like All Day Dining at SeaWorld. Here's what you need to know before you head to the park.
My kids are no strangers to theme parks. We've been visiting theme parks since the kids have been old enough to walk. From the thrills, to the characters, to the yummy food, we love all things theme parks!
Well, except for the crowds and long lines.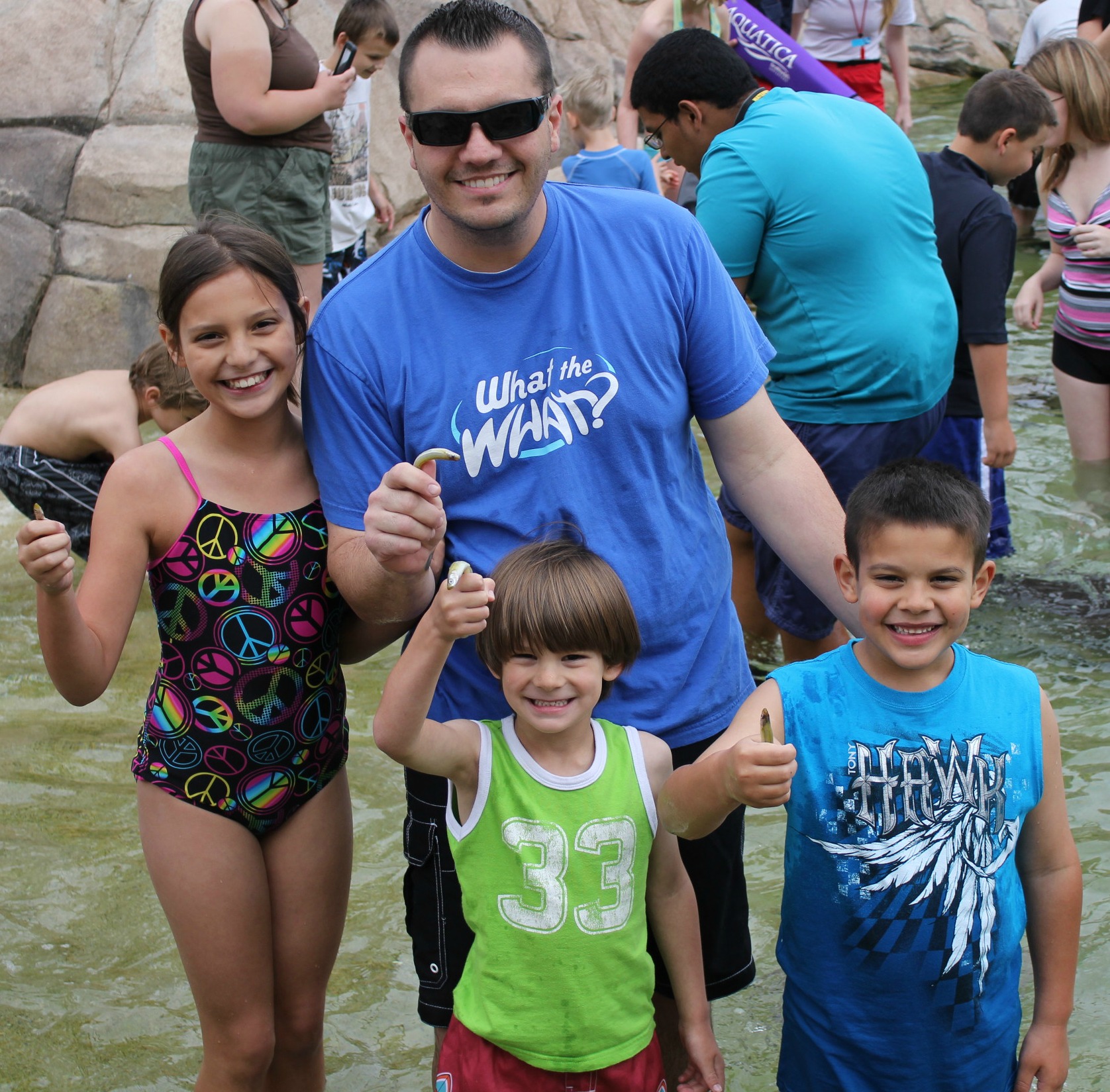 On a recent trip to SeaWorld we purchased the All Day Dining Deal for our day at the park. Since we were at the park from opening to around dinner time, I decided to purchase the dining plan to see if it was worth it.

All Day Dining SeaWorld
The All Day Dining Deal lets you enjoy hassle-free dining at SeaWorld and Aquatica San Antonio. You pay one price and eat (and drink) all day long, without bringing out your wallet again. Sea World All Day Dining includes an entrée, a side item or dessert, and a non-alcoholic beverage as often as once every hour.
Like most other theme parks we've visited, any child over the age of 9 is considered an adult. This is done on an honor system since they don't ask for any age documentation. The bands are different colors for adults and children, so anyone with a child band will only be allowed to get a child's meal in the restaurants. With that said, if your 9 year old eats an adult meal most of the time, you might consider buying them an adult band. Or if your 14 year old has a smaller appetite, a child band might be better for them.
SeaWorld All Day Dining Reviews
The prices for All Day Dining SeaWorld at time of publishing are:
Adults (10+) $31.99
Children (3-9)$18.99
Children under 3 are allowed to share with an adult
Over the years All Day Dining has changed and one of the more noticeable differences is that you can only use your band once per hour. Before this change you could use your band as often as you wanted. I'm assuming that people abused the system and that's why this change had to be implemented.
I don't mind that the new system keeps people more honest, but there is a flaw in the system in that even if you just get a drink, instead of getting a full meal or just a snack, you can't use your band again for an hour.
I would like to see SeaWorld implement a way that you could use the band more than once per hour if you haven't redeemed a full meal (entree, side, and drink) that hour. My family goes through bottles of water like crazy and having a beverage only cart would be beneficial to those who don't want a full meal.
Using All Day Dining
I would love to tell you that All Day Dining can be used anywhere in the park but, that's just not the case. You can only use the dining plan in participating restaurants.
Shamu's Smokehouse
Rio Grille
Harbor Market
Pizza and More (limited menu)
Rosita's Cafe
Waterstone Grill
Mango Market (limited menu)
You can not use your wristband at cart locations, stadium vending, or any other specialty dining experience.
Is All Day Dining at SeaWorld Worth It?
Well, that depends. If you plan on being at SeaWorld all day long and eating at least two full meals, then yes, I think it's worth it.
Most meals at the restaurants average in the $9 – $11 range, with some, like the all-you-can-eat pizza buffet, being higher. Add in a side item (some options are pickle slices or cups of fruit) or dessert (some options are chocolate pudding or cookies) and that's $3 – $5 more, depending on what you get. You could easily spend about $18 per adult meal. Add in bottles of water and additional sides or desserts throughout the day and it's definitely worth it.
If you don't plan on eating at least two meals or taking advantage of a bottle of water every hour to stay hydrated in this Texas heat, then it may not be worth it to you.
It's also important to note that not all menu items are available with All Day Dining at some restaurant locations. You can easily see which items are available with All Day Dining by the color coded dots beside available menu items.
For my family, All Day Dining saved us money and we were happy with our purchase.

Looking for an encounter with sea life while at SeaWorld? Check out more about the Stingray Encounter at SeaWorld.