This is a sponsored post written by me on behalf of Skinner® pasta. As always, all thoughts and opinions are my own.
My husband is Italian and would eat pasta at every meal if I made it. One of his favorite pasta dishes is spaghetti. We love making our own spaghetti sauce and letting it simmer on the stove for hours, but when I don't have that much time to devote to dinner, I like making this Beefy Cheesy Baked Spaghetti instead.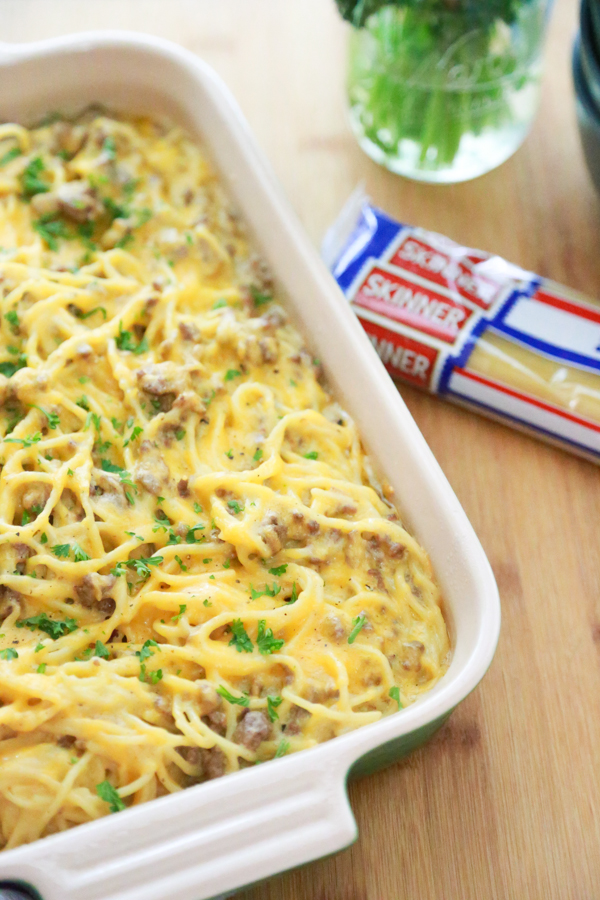 Unlike a traditional tomato based spaghetti, this Beefy Cheesy Baked Spaghetti has a cheesy base that's oh so cheesy! Much like my Cheesy Texas Mac and Cheese, it's the perfect amount of cheesiness!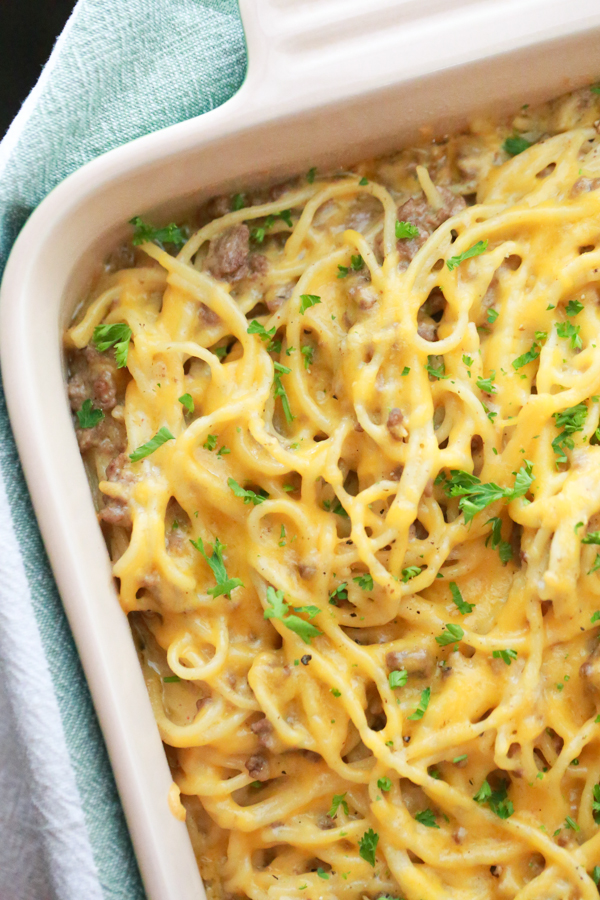 Beefy Cheesy Baked Spaghetti

Beefy Cheesy Baked Spaghetti
Ingredients
kosher salt
1 lb Skinner® spaghetti
1 tablespoon extra virgin olive oil
1/2 onion, chopped
1 lb ground beef (I used 80/20)
freshly ground black pepper
1/2 teaspoon chili powder
3 tablespoons butter
3 tablespoons all-purpose flour
2 cups whole milk
1 cup beef broth
2 cups shredded cheddar cheese, divided
2 tablespoons chopped fresh parsley
Instructions
Preheat oven to 350 degrees F. In a large pot of salted boiling water, cook spaghetti until al dente.
In a large skillet over medium heat, heat oil. Add onion and cook until tender, about 4 minutes.
Add beef and cook until done. Season with salt, pepper, and chili powder. Drain fat and set aside.
In the same skillet, melt better. Whisk in flour and cook for about 1 minute. Add milk and beef broth and cook until thickened, about 3 minutes.
Stir in spaghetti, beef, and 1.5 cups cheese. Transfer to a baking dish sprayed with non-stick cooking spray and top with remaining cheese. Bake until bubbly, about 45 minutes.
Garnish with chopped parsley and serve with crusty bread.
To round out the meal, you could serve this Beefy Cheesy Baked Spaghetti with a fresh green salad, and fresh baked crusty bread! That's how I serve it and I've yet to get any push back from the littles. I call that success any day!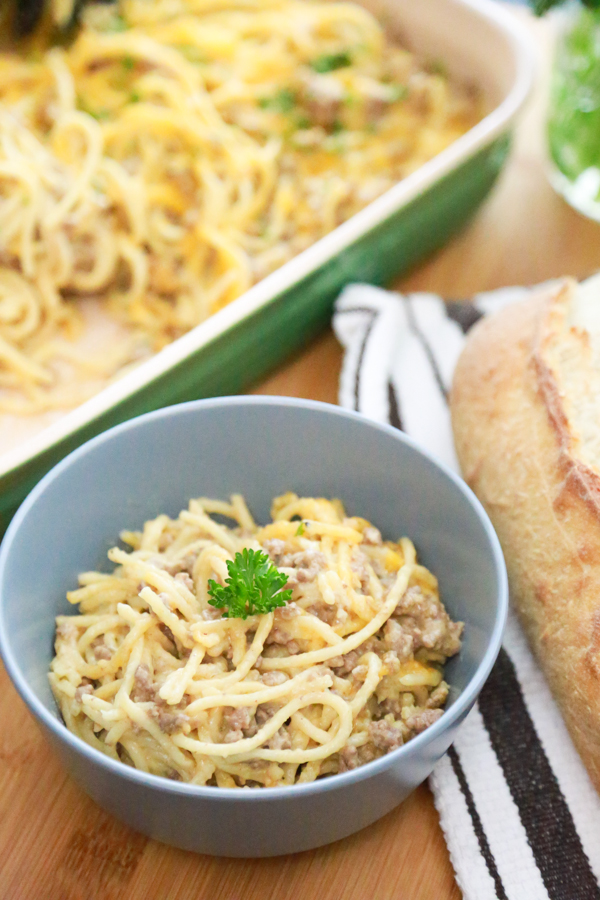 I like using Skinner pasta in my pasta dishes because it tastes great and it is so easy to cook with. It has also earned Non-GMO Project Verification on its most popular pasta products. With Skinner pasta being friendly on the wallet, it's no surprise it is the #1 selling pasta in Texas. What can I say, Texans love Skinner!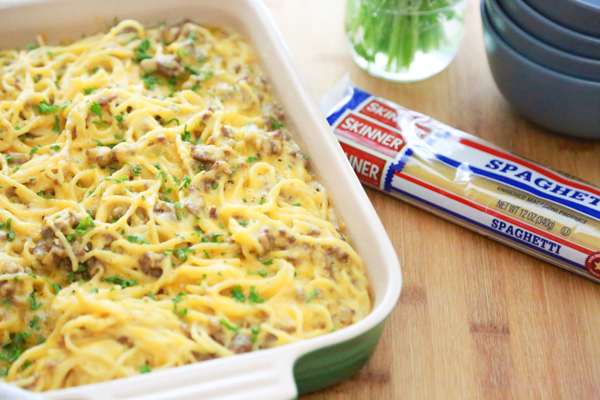 The variety of pasta products available makes Skinner perfect for weeknight meals or even those special occasion dishes. Because everyone is deserving of great tasting pasta, Skinner is inclusive of everyone because it's so budget friendly. When I'm cooking for a crowd, I almost always opt for a pasta dish because I can make my budget stretch so much further.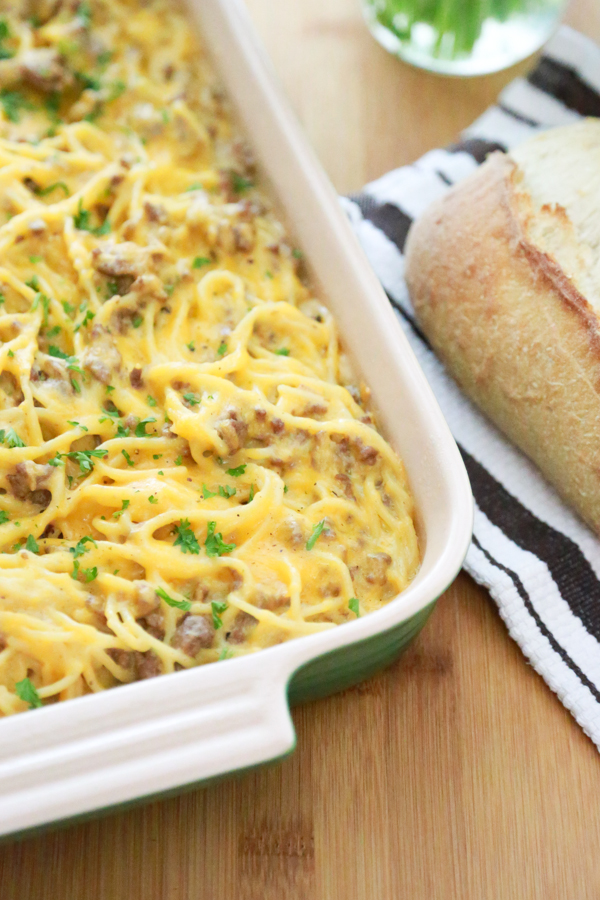 Instacart Free Grocery Delivery
In honor of National Friendship Day, Skinner is partnering with Instacart to provide free grocery delivery for customers in Houston, Austin, San Antonio and Dallas. Just buy one (1) package of Skinner pasta and get free grocery delivery. Customers who don't qualify for free delivery (e.g. Instacart Express Customers or first time customers) will receive $5 off their order. Delivery must be $35 or more to quality for free delivery or $5 off.
I used Instacart for the first time this week and I'm hooked. I loved being able to grocery shop while at my desk working. I had everything I needed to make this recipe delivered right to my door by such a friendly and personable employee. We talked for a good five minutes when she delivered my groceries. It's nice to have adult conversation during the day when you work from home!
If you haven't tried Instacart yet, try it now!

#HowdySkinnerSweepstakes
Got a Bestie that you love to travel with? Y'all could win in a Texas-sized getaway! Because Skinner is all about friendship, you can visit HowdySkinner.com to enter for your chance to win a three-night stay for you and a friend at the Marriott Marquis Houston including airfare and $500 spending money to enjoy the city's sites, restaurants and attractions. Other prizes include a membership to Care.com and $500 to give you more "me" time by covering your dog walking, babysitting, and housekeeping services, or free pasta for a year for you and a friend. Sweepstakes kicks off on National Friendship Day (8/6/17) at 12:01 a.m. CDT; ends 9/6/17 at 11:59:59 p.m. CDT. Visit HowdySkinner.com to enter and see official rules.

Visit skinnerpasta.com for a variety of Skinner pasta products and recipe ideas.
This is a sponsored post written by me on behalf of Skinner® pasta. As always, all thoughts and opinions are my own.