There was a time in my life where everyday was a constant struggle of either working myself ragged, or screaming like a complete lunatic because everything in my life was disorganized. It took an hour or so in front of the computer creating this Get a Clean Home in 4 Weeks printable that changed my life completely.

I was the mom that tried to do everything all on her own. I stayed at home during the day, although I did work from home, and it seemed like all the household responsibility was on my shoulders.
While it wasn't the complete picture of my reality – it felt like it was.
As my kids got older, I become increasingly aware that I was raising children who didn't know how to do basic chores around the house. I was creating more of a problem for myself and I had to do something to stop it.
Clean Home in 4 Weeks Printable
My life revolves around to-do lists and checklists, so I decided to get my home life on track with just that – a checklist. This Clean Home in 4 Weeks printable helps me, my husband, and my children stay on top of the household duties so that all the responsibility doesn't fall to one person.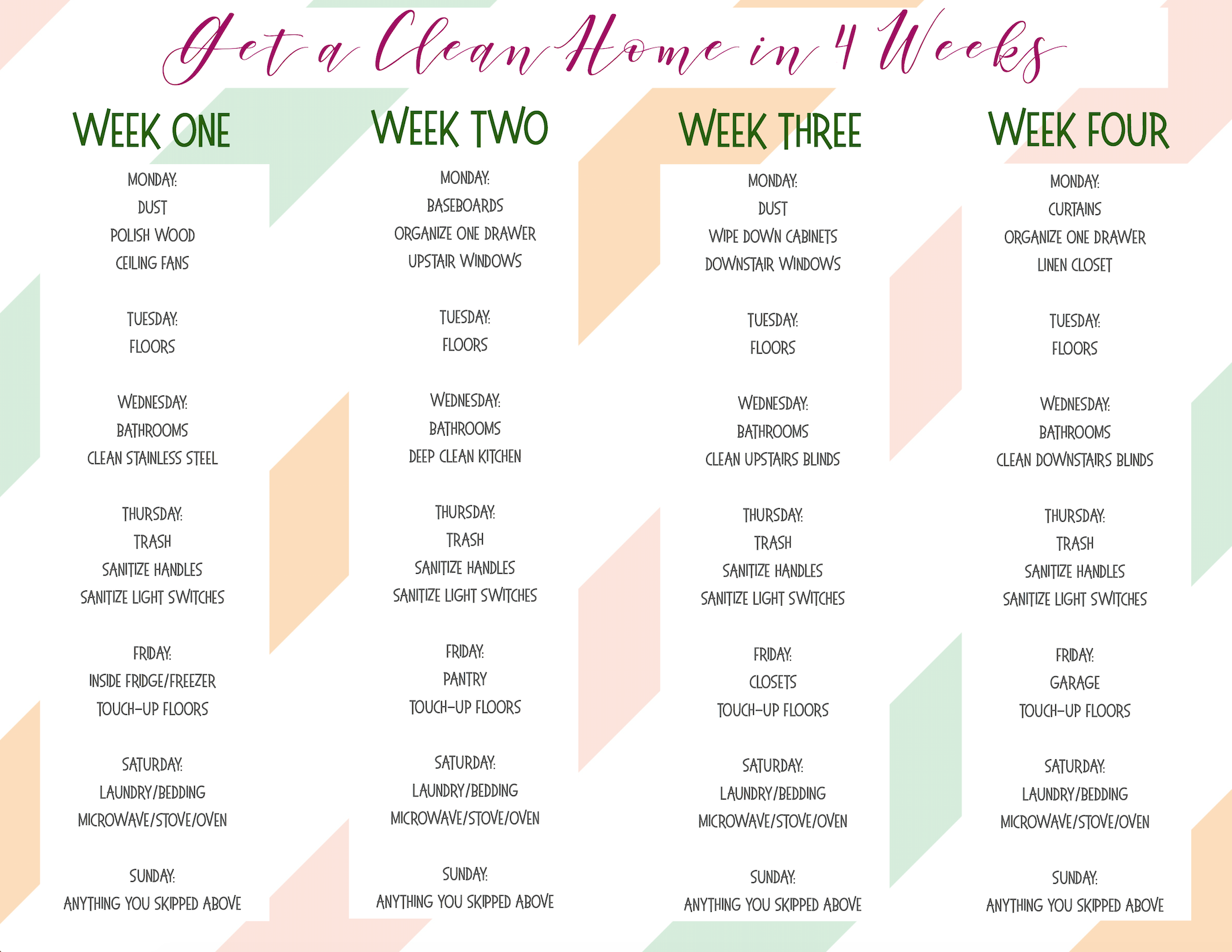 Is it perfect? No.
Does it help? Yes.
Do I change it periodically? Yes.
Am I more relaxed in my own home now? Yes.
Has it solved all my problems? No.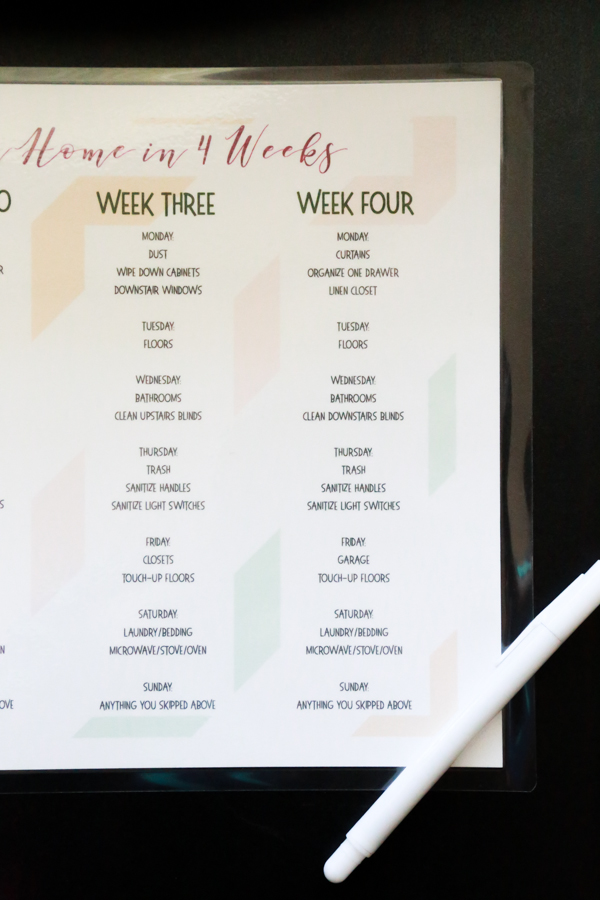 Just by looking at the Clean Home in 4 Weeks printable, each of us knows exactly what needs to be done that day and we can work together to accomplish it.
With the implementation of the Clean Home in 4 Weeks printable, we also decided to assign the children certain jobs. I was doing them no favors by doing everything for them.
Right now, my daughter is in charge of sweeping, my middle son is in charge of mopping, and my youngest son is in charge of vacuuming on floor day.
On trash day, my youngest son collects all the bags from all the trash cans and puts them in the big can outside before he sets it on the road for pick-up.
My middle son is in charge of all the dishes. He loads and unloads the dishwasher. He hand washes everything that doesn't go in the dishwasher. He puts the dishes away.
I have help around here now and it feels really good.
I'm a much calmer person now!
While our home isn't always clean, we do strive to work together so that we aren't spending all day Saturday and Sunday cleaning. It has opened up our weekends to spend time as a family at the lake on our boat. It has given us the freedom to do other things.
And I must admit – I love this kind of freedom!
If your personality is anything like mine, order is pretty important to your mood and attitude. I'm much more lovable when things are in order and when everything is in its proper place. I get very grumpy and frustrated when things are awry. The Clean Home in 4 Weeks printable has truly changed my life, and the lives of my family members, for the better.
To make the Clean Home in 4 Weeks printable last longer, I print it on cardstock and them laminate it. We use a dry-erase marker to cross off things each day once it's completed.  You can use the Clean Home in 4 Weeks printable month after month to ensure your house is always clean.
These are the products I use in my home to laminate my printables. I personally use these products and feel comfortable about recommending them. Don't forget – if you haven't tried Amazon Prime yet – do it! With the 30 day free trial, you really have nothing to lose, and so much to gain. I take advantage of the FREE 2-day shipping weekly.
Fellowes Laminator Saturn3i 95Get it now!
Fellowes Thermal Laminating PouchesGet it now!
For an older version of my printable, check out my earlier post, Four Weeks to a Clean Home. That is the first version of the Four Weeks to a Clean Home printable that I created and what started the journey to a better me.