It never occurred to me until a few weeks ago to put ice cream in hot chocolate. I know it seems kind of silly, but y'all, you have to try it. A Hot Chocolate Float is an extraordinary way to have the best of both worlds.

I don't know why it didn't occur to me until recently because I love everything in this Hot Chocolate Float. I mean, what's not to love about chocolate sauce, vanilla ice cream, and hot chocolate?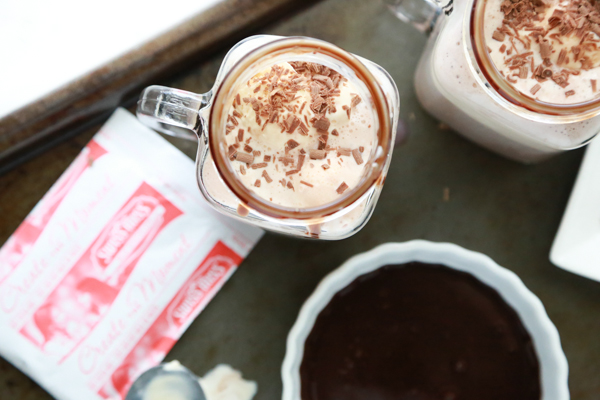 And talk about an easy recipe, y'all. You could probably make a Hot Chocolate Float with your eyes closed. Seriously though, so easy.
Hot Chocolate Float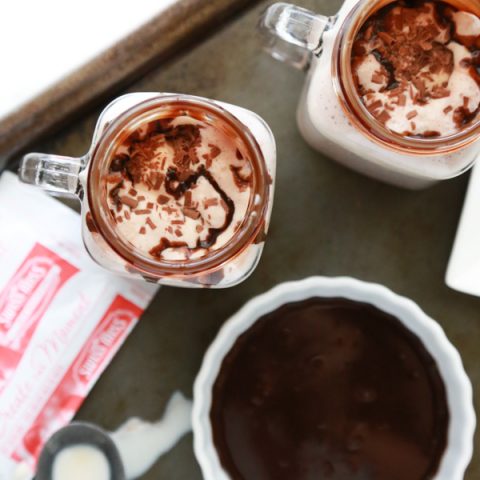 Hot Chocolate Float
Yield: 2 large servings

Prep Time: 4 minutes

Cook Time: 4 minutes

Total Time: 8 minutes
Ingredients
3 cups milk
4 packs Hot Chocolate Mix
2 tablespoons chocolate sauce
4 scoops vanilla ice cream
chocolate shavings, for garnish
Instructions
Heat milk in a large glass cup or bowl until hot, but not boiling, about 1.5 - 2 minutes. Pour in Hot Chocolate mix and stir until well combined.
Pour 2 tablespoons chocolate sauce into a small shallow dish. Dip mugs in chocolate to coat the rim. Pour 1/2 of the hot chocolate into each mug. Drop two scoops of ice cream into each mug and sprinkle with chocolate shavings.
If you want more chocolate around the rim of the mugs, pour leftover sauce from dish into a squirt bottle and run along the rim of the mugs.
Serve immediately.
Nutrition Information:
Yield: 2 Serving Size: 1
Amount Per Serving: Calories: 755Total Fat: 25gSaturated Fat: 15gTrans Fat: 0gUnsaturated Fat: 8gCholesterol: 88mgSodium: 595mgCarbohydrates: 111gFiber: 4gSugar: 76gProtein: 22g




Once you've mixed your hot chocolate, you'll need to decorate the rim of the mugs with chocolate sauce. This part is fun. The kids love to help "top the mugs," as they say.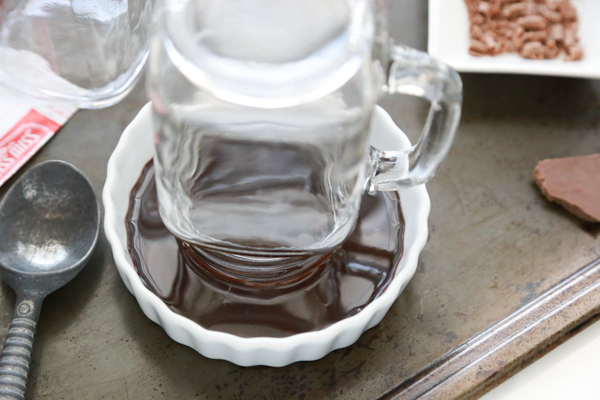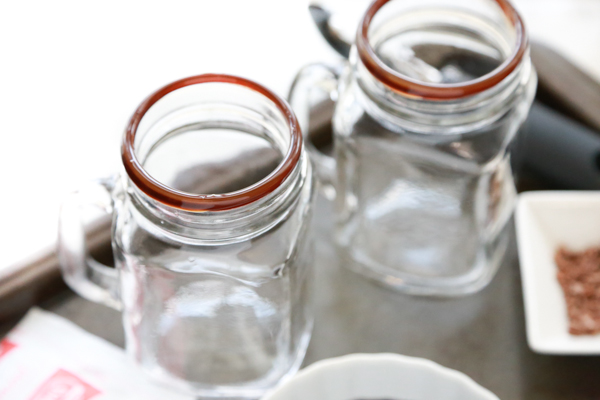 I love the way the chocolate sauce looks around the rim. You can always go heavier if you want, but I drizzle a little around the edges afterwards so I go a little light here.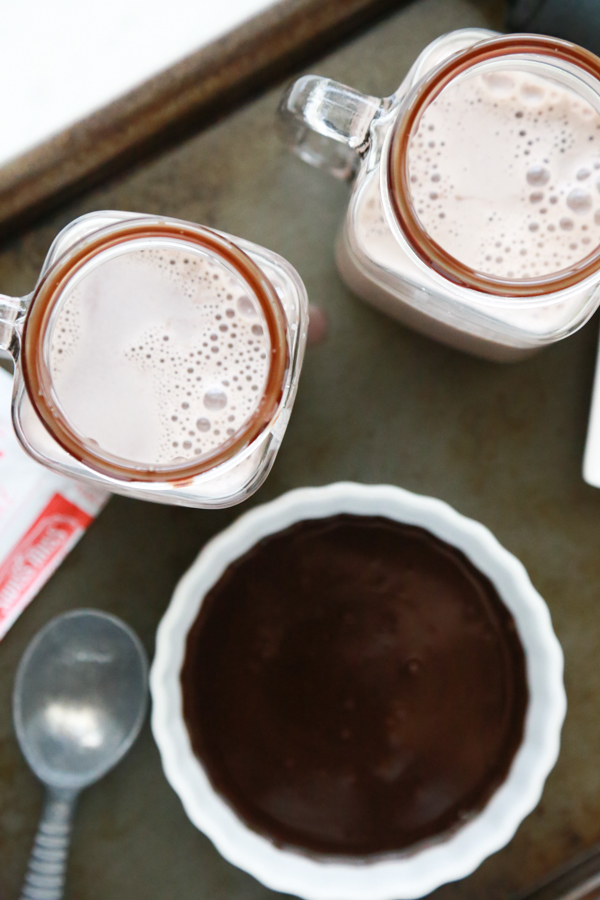 Pour the hot chocolate into the prepared mugs. The hot chocolate will make the sauce a little runny, but that's what we want. It looks cool dripping down the inside of the mug.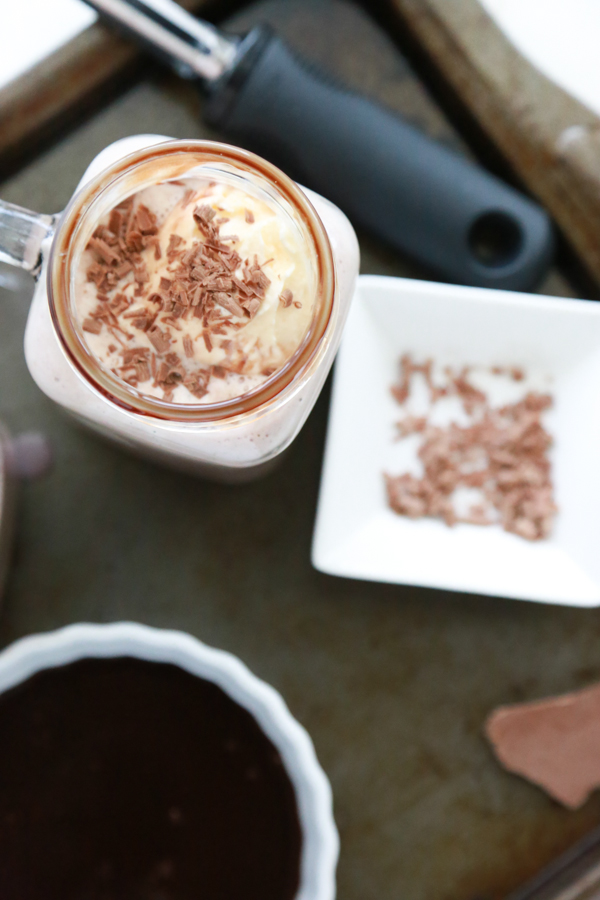 Go ahead and drop in two scoops of ice cream and sprinkle with some of the chocolate shavings. And if you like more chocolate, like I do, drizzle some more chocolate around the inside of the rim.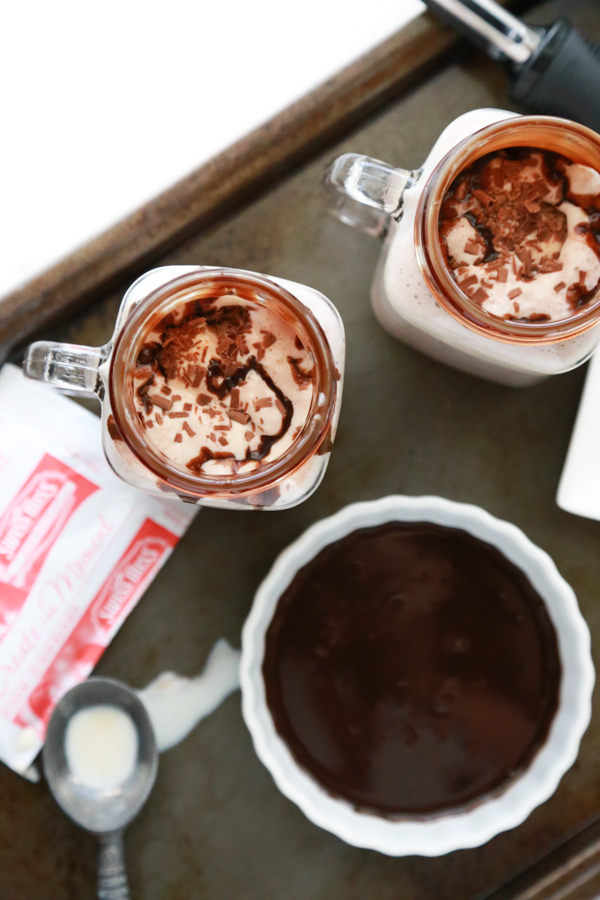 There are all kinds of occasions that I can think of where a Hot Chocolate Float is perfectly acceptable. Just think about it – birthday parties, NYE, holidays, etc. There really isn't a bad time to enjoy one. It's a Hot Chocolate Float after all!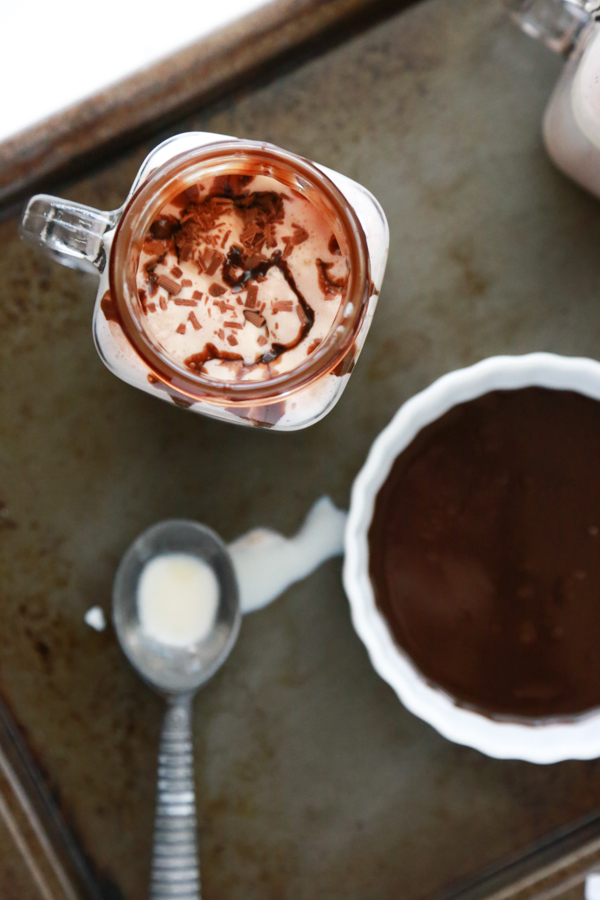 You can slurp it through a straw, eat it from a spoon, or drink it straight out of the mug. I prefer to drink it straight from the mug. Just be careful not to get chocolate on your nose.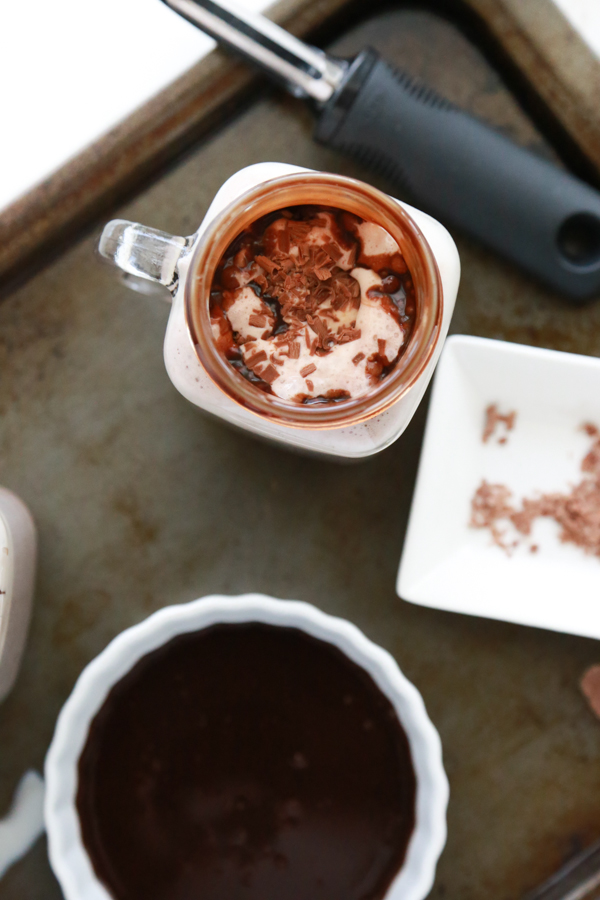 By turning your hot chocolate into a Hot Chocolate Float, you can enjoy it year round. That my friends, is pretty darn exciting.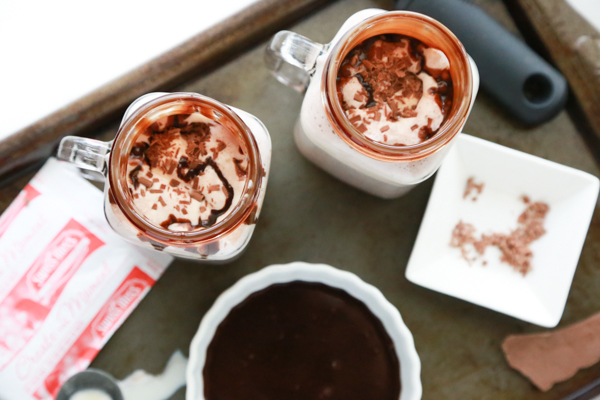 Need more drink recipes? Here are some other ideas: