I feel like all I'm doing lately is sharing calorie-rich treats but I just can't stop myself, y'all. These Shamrock Pretzel Pops for St. Patrick's Day are a great way to celebrate the holiday while getting that sweet & salty flavor profile that is simply irresistible.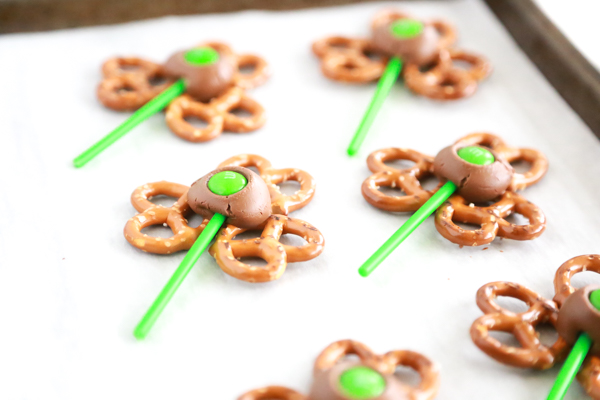 If you don't have a lot of time (talking to all you busy mamas out there), this is the PERFECT St. Patrick's Day treat for you. Just about 5 minutes is all you need so that you can enjoy these Shamrock Pretzel Pops!

Pretzel TwistsGet it now!
ROLO CandyGet it now!
Green M&M'sGet it now!
Lollipop SticksGet it now!
Parchment PaperGet it now!
So easy, right? I love how quick and easy it is to make these sweet & salty treats for St. Patrick's Day!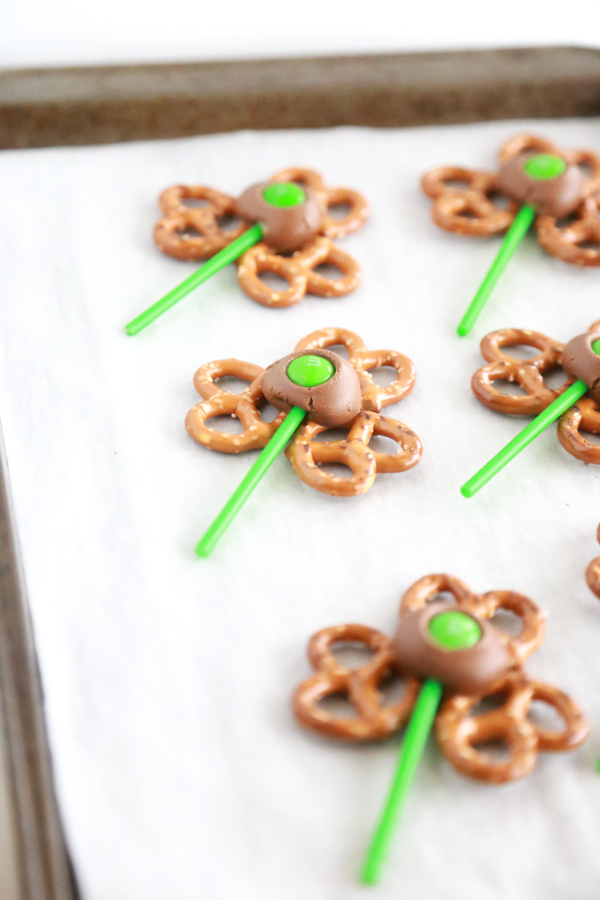 How to Make Shamrock Pretzel Pops
Scroll down for a free printable recipe card.
To create the shamrock look, arrange 3 pretzel twists on a parchment-lined baking sheet with the bottoms of the pretzel twists facing towards the center like the photo below. Place a Rolo candy on top in the middle of where the 3 pretzels come together.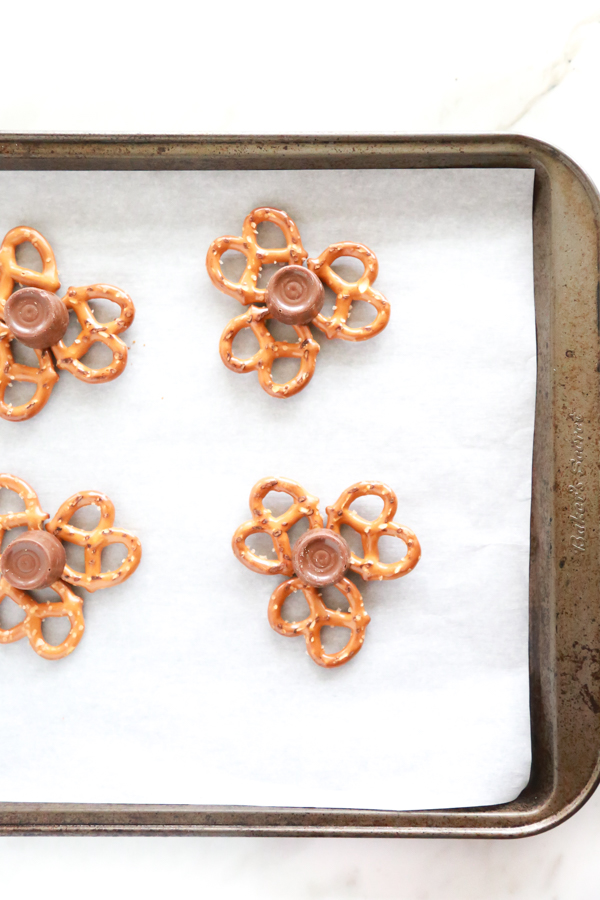 Put in the oven and bake for about 3 minutes or until the Rolo candy begins to melt.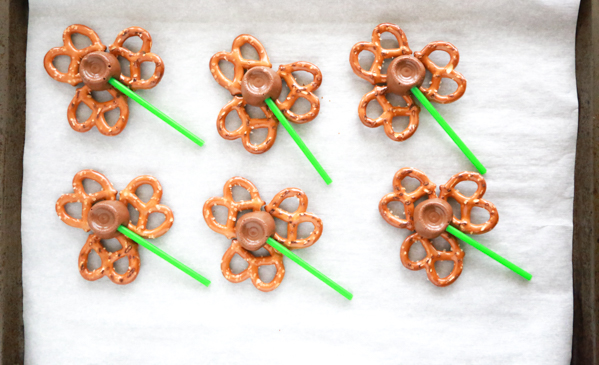 Remove from oven and push a lollipop stick through the melted Rolo candy and top with a green M&M. Carefully press the M&M down into the Rolo candy making sure to not touch the chocolate with your fingers since it will be hot.
Now you'll set the Shamrock Pretzel Pops aside and allow to cool and harden. Once they're cooled, serve and enjoy!
Shamrock Pretzel Pops Recipe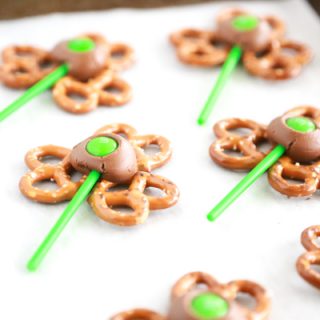 Shamrock Pretzel Pops for St. Patrick's Day
These little Shamrock Pretzel Pops made with pretzel twists, green M&M's and Rolos are a perfect treat for St. Patrick's Day.
Ingredients
36 pretzel twists
12 green M&M's
12 Rolos, unwrapped
Other Items Needed:
baking sheet
lollipop sticks
parchment paper
Instructions
Preheat oven to 350° F. Line a baking sheet with parchment paper. Assemble pretzels into a shamrock shape as shown in the photos.
Carefully place a Rolo candy in the center of each of the shamrocks. Very gently place the baking sheet into oven. Bake for about 3 minutes, or until the Rolo candy has begun to melt.
Carefully remove the baking sheet from the oven and gently insert a lollipop stick in through the bottom of the Rolo candy. Place a green M&M candy on top of the Rolo and gently press down. Repeat until finished.
Allow them to cool before removing from the baking sheet. Carefully peel them off of the parchment paper and serve.
Notes
It's important to add the lollipop stick and green M&M while the Rolos candy are still warm, as they will harden quickly once they cool down.
Nutrition Information:
Yield:

12
Serving Size:

1
Amount Per Serving:
Calories:

593
Total Fat:

14g
Saturated Fat:

7g
Trans Fat:

0g
Unsaturated Fat:

5g
Cholesterol:

7mg
Sodium:

1095mg
Carbohydrates:

107g
Fiber:

4g
Sugar:

37g
Protein:

11g
Don't forget to pin these to St. Patrick's Day board on Pinterest so that you can easily find it again. If you're not following me on Pinterest already, make sure to follow me because I'm always pinning the best stuff. Don't miss out.

Need more St. Patrick's Day inspiration? I've got you covered: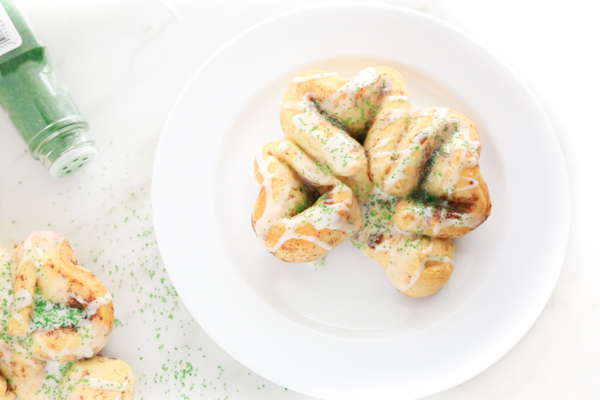 Easy St. Patrick's Day Pretzel Bites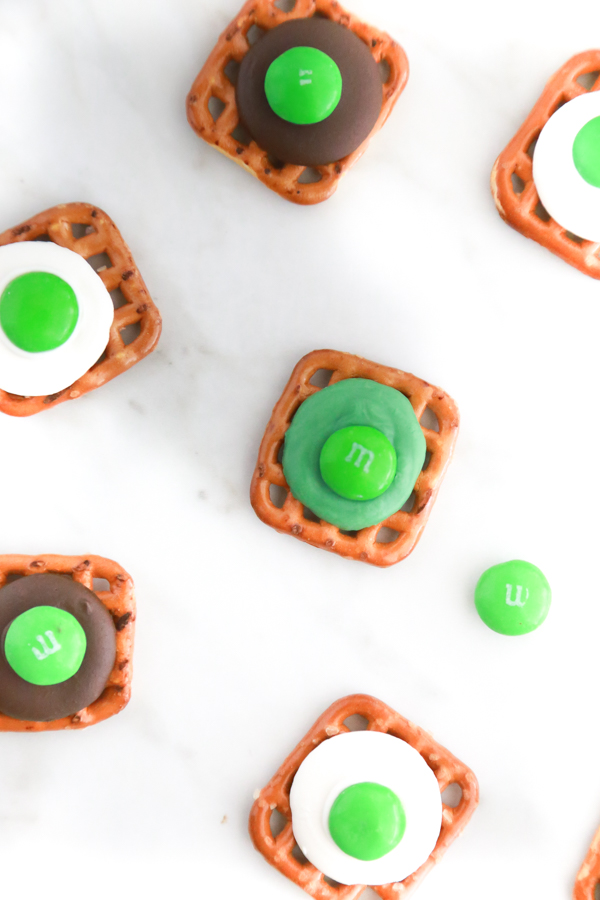 Teacher You Have a Heart of Gold Gift Tag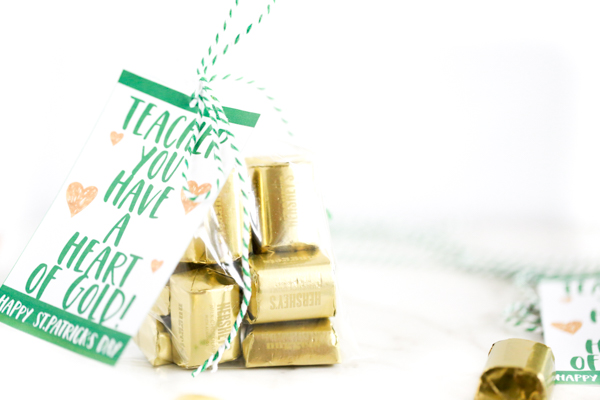 Edible Gold Oreos for St. Patrick's Day