Are you on-the-go a lot? Then an On-the-Go Snack Box is perfect for you. See how I use them for my family.
This is a partnered post. As always, all thoughts and opinions are my own.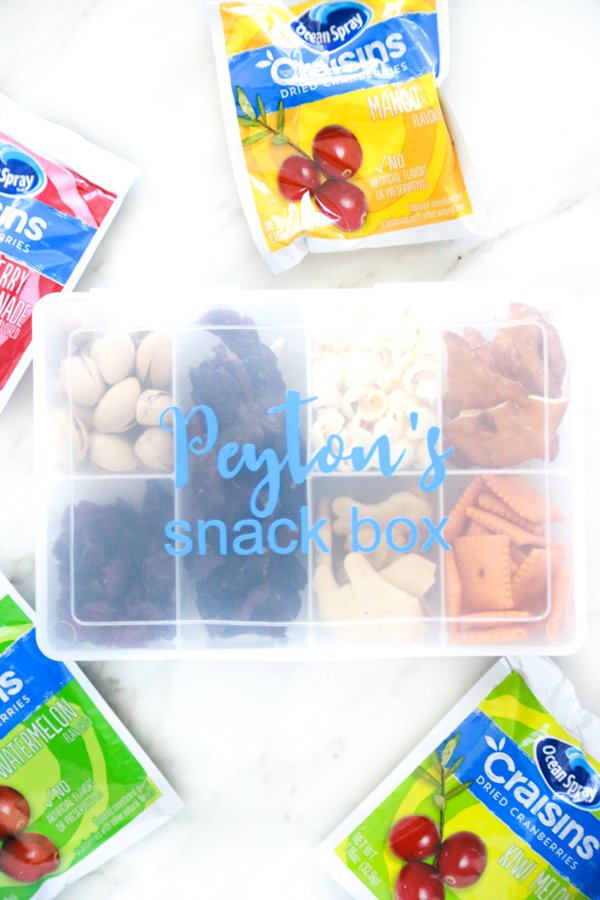 I learned early on in parenting that things can take a turn for the worst without a moment's notice. One minute we're all laughing and playing, then the next we're all crying and wanting to pull our hair out.
I still haven't nailed down the causes of these out of the blue meltdowns, but I have learned how to deal with them while we're on the go. The last thing I need (or want for that matter) is a bunch of maniacal children out in public for everyone to see.
I know some families who use some methods that are a little questionable in my opinion, and you may even think my method is questionable, but it's helped me out so much.
On-the-Go Snack Box
Yep, an on-the-go snack box. Having a snack box ready while we're on-the-go has helped me with those meltdowns while we're in the doctor's office or while I'm getting a pedicure.
I think most times kids just get bored and tired of doing nothing that giving them something to focus on, whether it be food, games, etc., brings them back to sanity during the middle of a meltdown.
Another perk of having an on-the-go snack box is that you save money from those impulse snack purchases!

Snack Box
Letter Stickers
Craisins Dried Cranberries
What to Put in an On-the-Go Snack Box
I use a small 7 x 4.75 inch 7-compartment organizer that I picked up at Walmart. I started out with the larger organizers but quickly found out that it was way too big and that the smaller size works so much better because there is less waste. (I like saving money, if you couldn't tell!)
I use the 7-compartment organizer and I like to have 7 different snacks to put into each compartment. I include sweet and savory, soft and crunchy, to offer different flavors and textures. I've found that offering a little bit of a bunch of items works best for my children.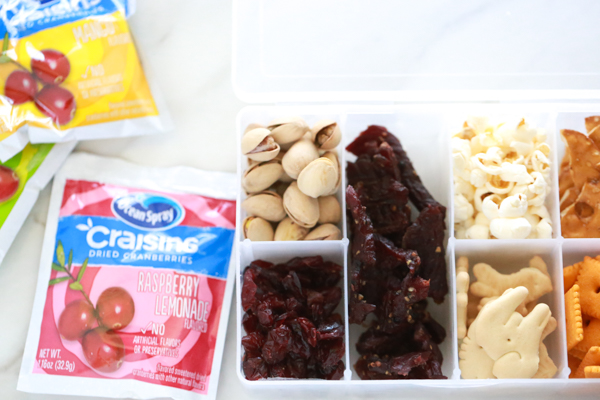 Since it's an on-the-go snack box, think of items that won't cause too much of a mess. Think gummies, Craisins®, crackers, nuts, and jerky. All of these items are perfect for on-the-go.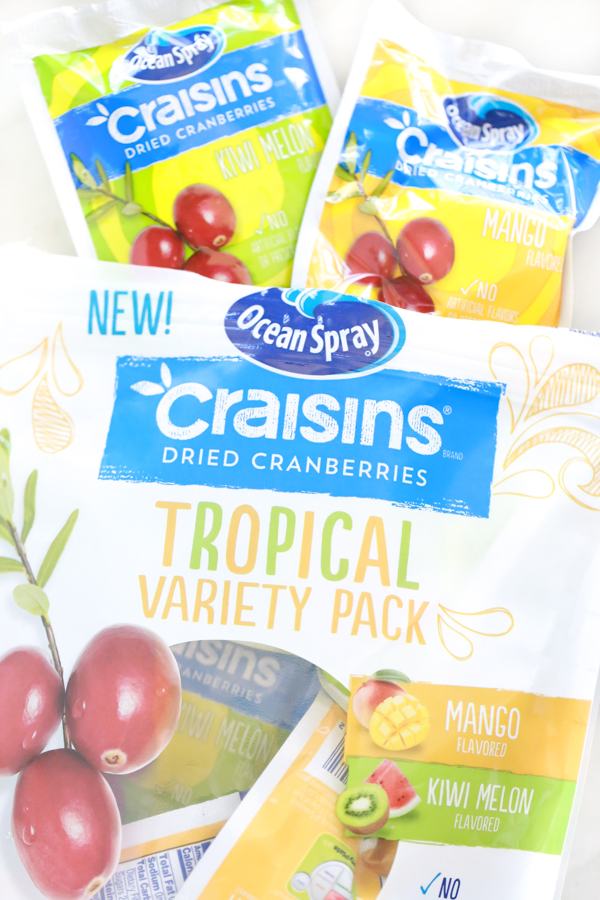 Put a little of each product into the organizer before you head out and place it in your purse or diaper bag.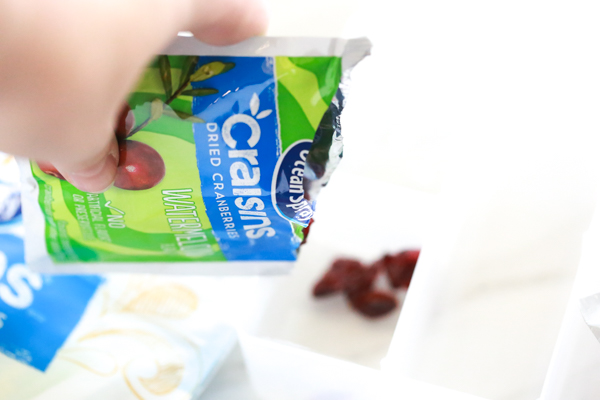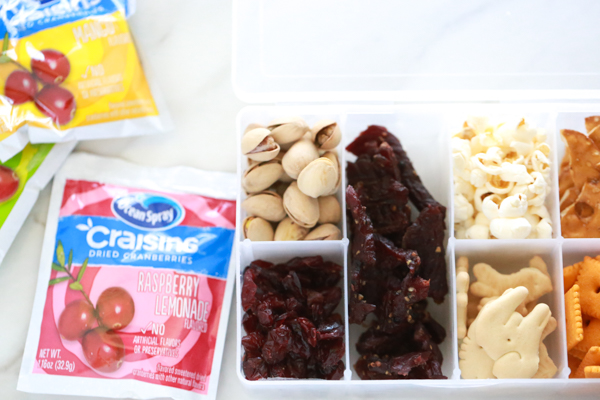 Finding things that your child likes is super important, but it's also important to make sure we're offering items that are wholesome. I like including Ocean Spray Flavored Craisins® as one of their sweet offerings because they have a great flavor that kids love AND contain no artificial colors, flavors or preservatives. And with new flavors like Raspberry Lemonade & Watermelon and Kiwi Melon & Mango, they don't get bored with the same flavors. Just one pouch contains 1/2 cup of fruit, which is 25% of your recommended daily fruit needs. Make sure you pick up the new flavors at Walmart next time you're there.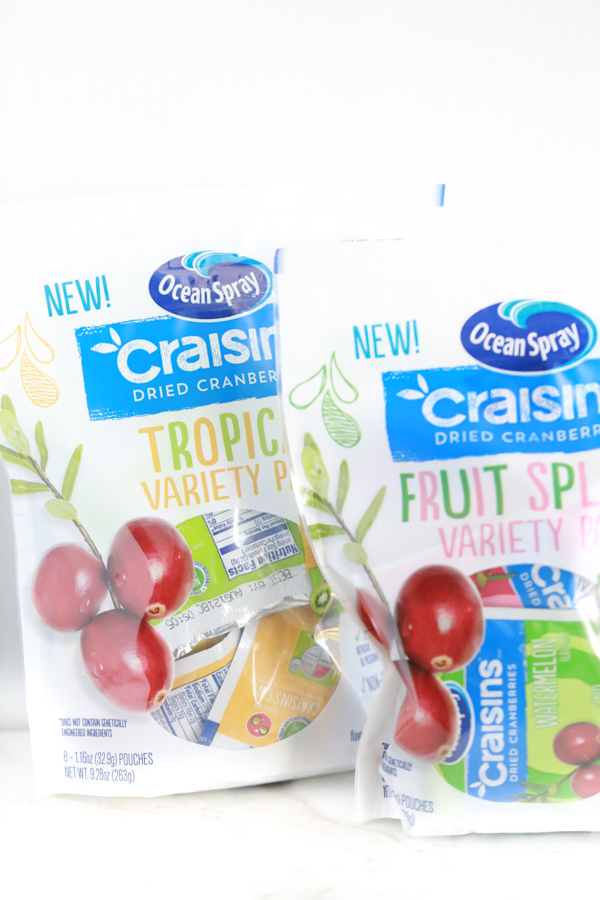 Personalizing an On-the-Go Snack Box
If you have a Silhouette or Cricut, personalizing your on-the-go snack box is super easy. Just design what you want and send it to your cutter and then apply it to the top of your snack box. If you don't have a cutting machine, you can use stickers and a Sharpie to personalize.
If you have multiple children like I do, personalizing the on-the-go snack box stops the "that's mine" argument.
Don't forget to pin this On-the-Go Snack Box so that you can find it again easily when you want to make one. Also, follow me on Pinterest if you're not already. I pin lots of yummy things.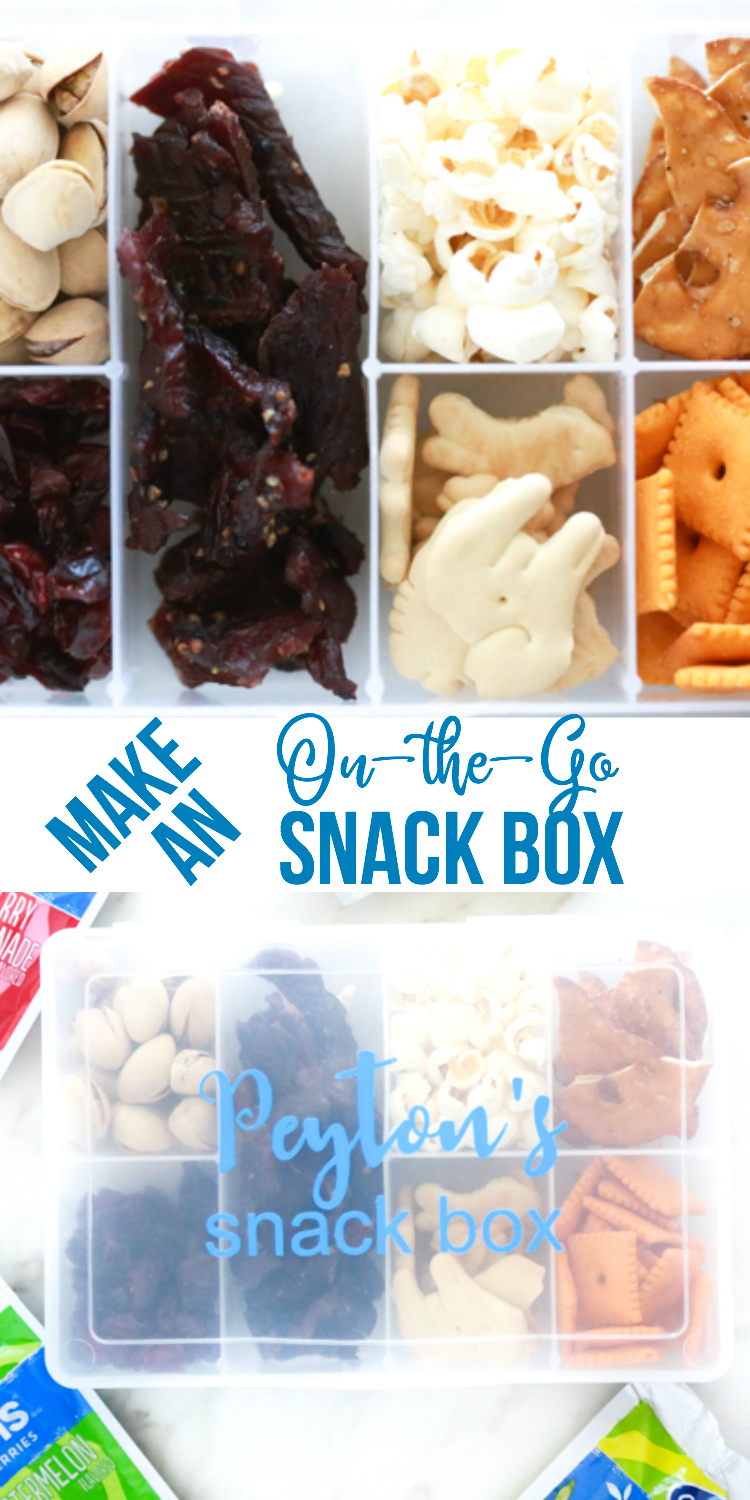 How to Organize Bento Supplies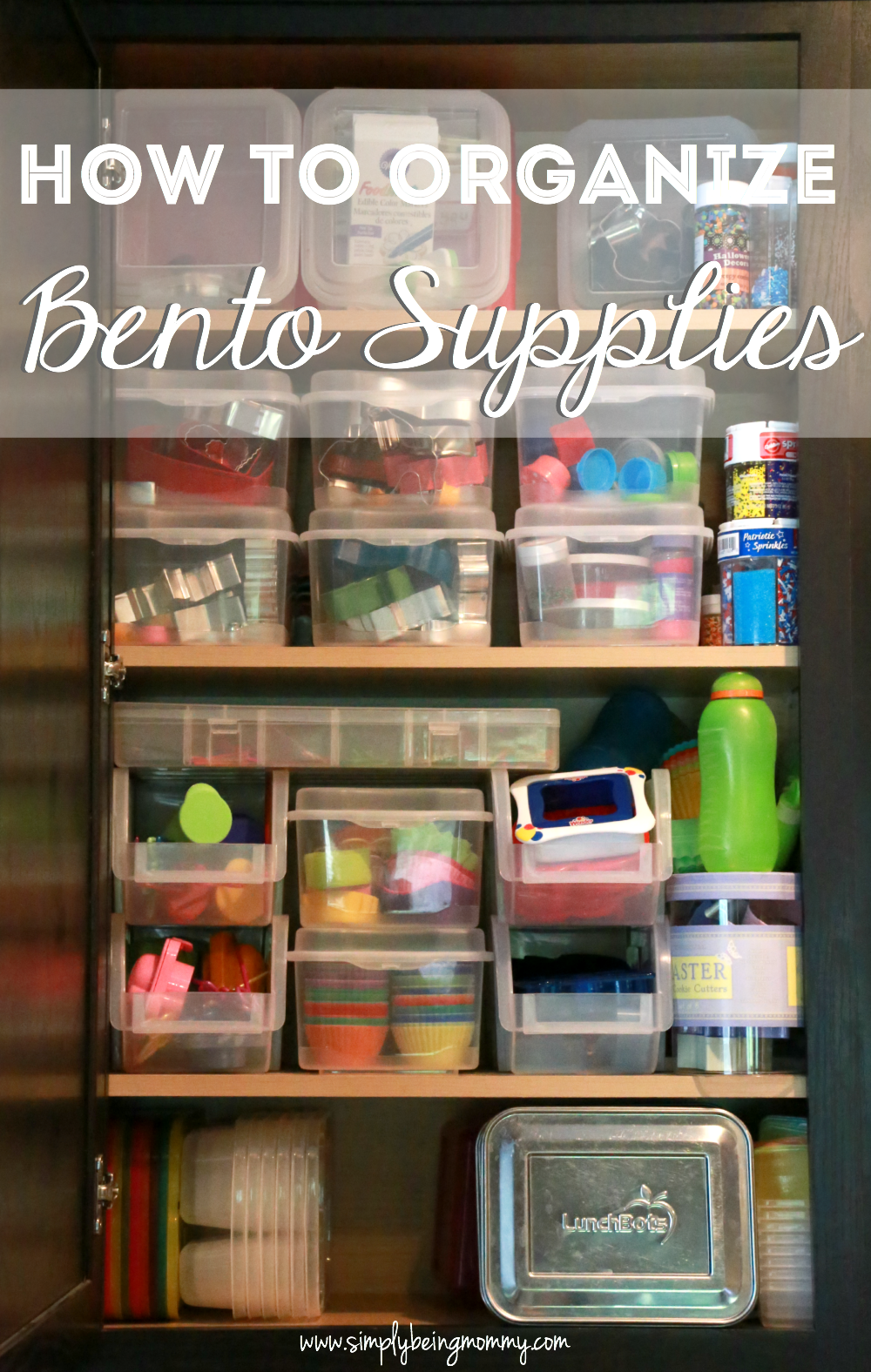 Bento Lunch Supplies & Accessories