For an easy classroom Valentine's, make these Easy Valentine's Day Bubble Favors with FREE printable.
On Valentine's Day, children all around the country will be celebrating with their classmates. Some children will bring in cards and candy, some cookies and cupcakes, and some may even bring in a big 'ole red cake.
But not my kiddos.
I know there will be plenty of sweet goodness to go around and instead of contributing to the overload of sugar, I often go for something a bit different. Last year we did pencils and this year we're doing BUBBLES! These Easy Valentine's Day Bubble Favors are so cute and fun.
Don't forget to pin these to your favorite Valentine's board on Pinterest so that you'll be able to find it again easily.

I got a Silhouette Cameo for Christmas this year and I've been anxiously awaiting to put it to work since it arrived on my doorstep. Except for the steep learning curve, I love this thing. It definitely makes crafting so much easier and saves my hands from all that cutting!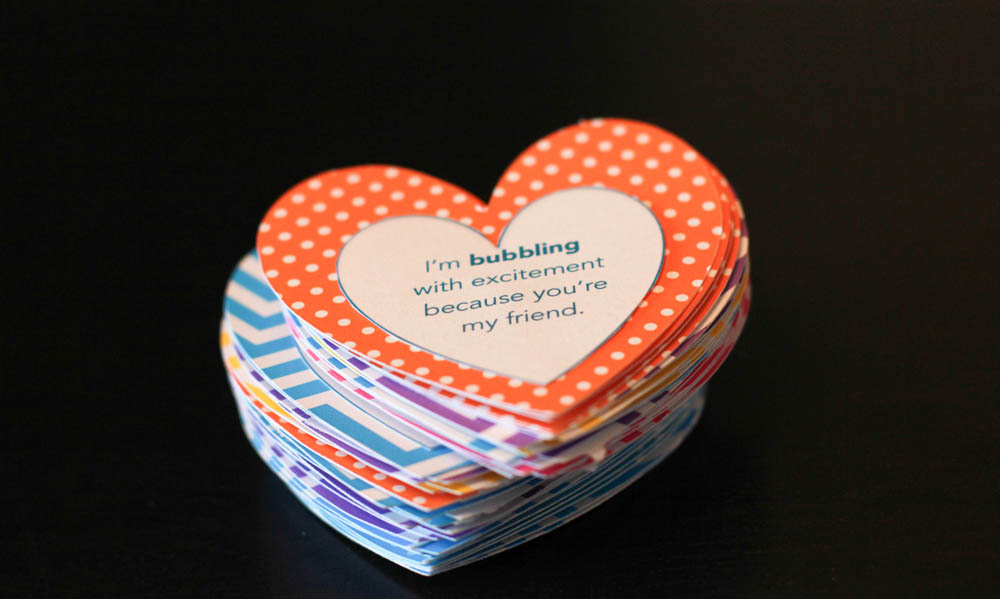 Please note: You do NOT have to have a Silhouette Cameo to be able to make these. It just makes cutting a bit easier.

Glue DotsGet it now!
Bubble WandsGet it now!
Hole PunchGet it now!
Baker's TwineGet it now!
SilhouetteGet it now!
Easy Valentine's Day Bubble Favors
Supplies Needed:
12 3″ Hearts (printed on card stock of your choosing)
12 2″ Hearts (print this free printable on card stock of your choosing)
12 medium or large Glue Dots (or you can use glue, double-sided tape or whatever else you have on hand)
12 small bottles of bubbles (can be found at Michael's in packages of 18)
bakers twine (in your color(s) of choice)
Directions:
With your hearts cut out and ready to go, you can begin to assemble these cute little Valentine's Day favors. Place the 3″ heart on a flat surface and place a Glue Dot (glue, double-sided tape, etc.) in the middle of the heart. Carefully place the 2″ heart on top of the 3″ heart and firmly press down.
Now that you have your layered heart assembled, use a hole punch and punch a hole towards the top on either side of the heart. You can either do one hole and have the tag hang off the bottle of bubbles, or do two holes and have the heart tag sort of hug the bottle of bubbles. I like both ways and did some of each.
The amount of twine you'll need for each one will depend on the method you choose and how you plan on tying it. For the one-hole method I used a 3-4″ piece of twine and the two-hole method I used a 5-6″ piece of twine. Loop the twine through the hole(s) on the heart and the opening at the top of the bubbles and tie. For ease, I simply tied the twine into a knot instead of a bow. Of course, you can do whatever you'd like.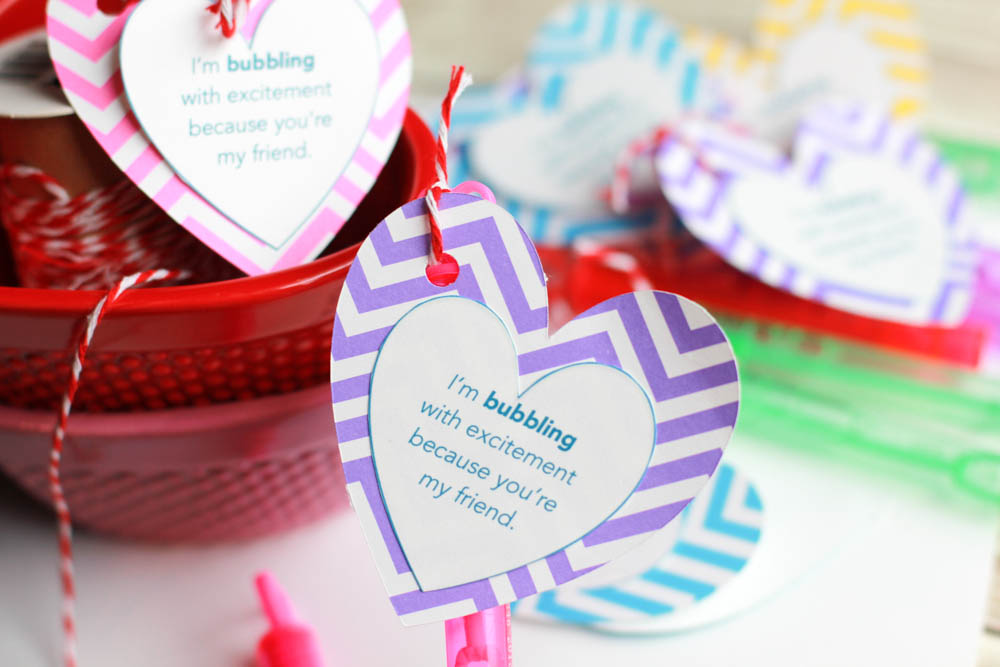 DIY Valentine's Day favor
This DIY Valentine's Day favor is super simple to make and a much better alternative than sugar-filled, calorie-laden treats. Now I don't mind a few treats here and there, but the amount of stuff that comes home after a Valentine's Day party at school is a bit obnoxious. That's why I love these fun, easy to make Valentine's Day treats.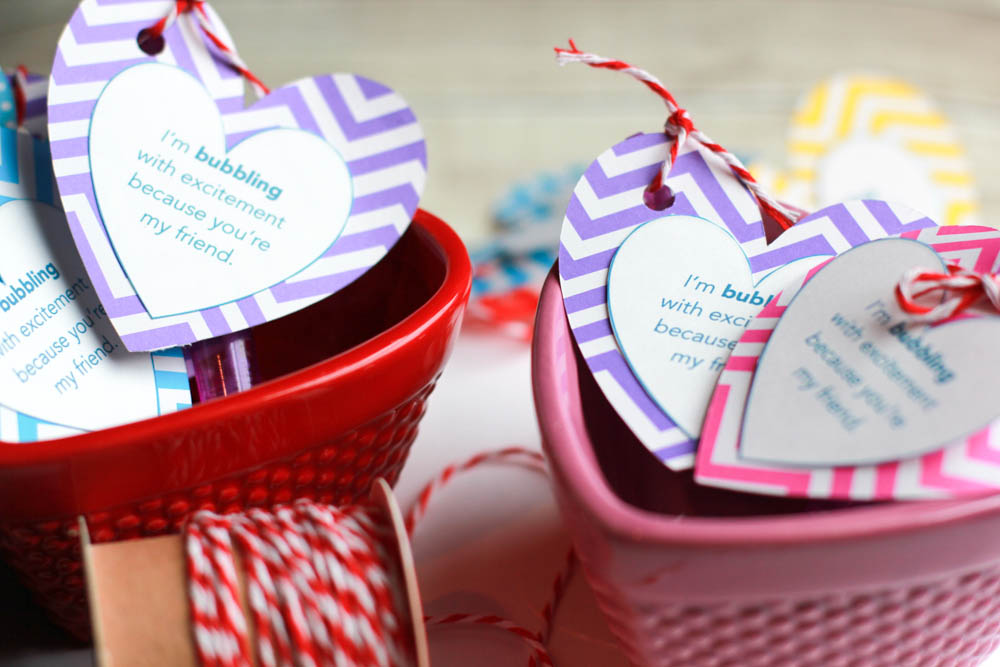 In addition to being incredibly adorable, these Valentine's Day favors where astonishingly inexpensive to make.  I already had the card stock, twine and Glue Dots at home, so the only expense for me was the bubbles. I got a 18-pack at Michael's for $2.99. Super cheap, right?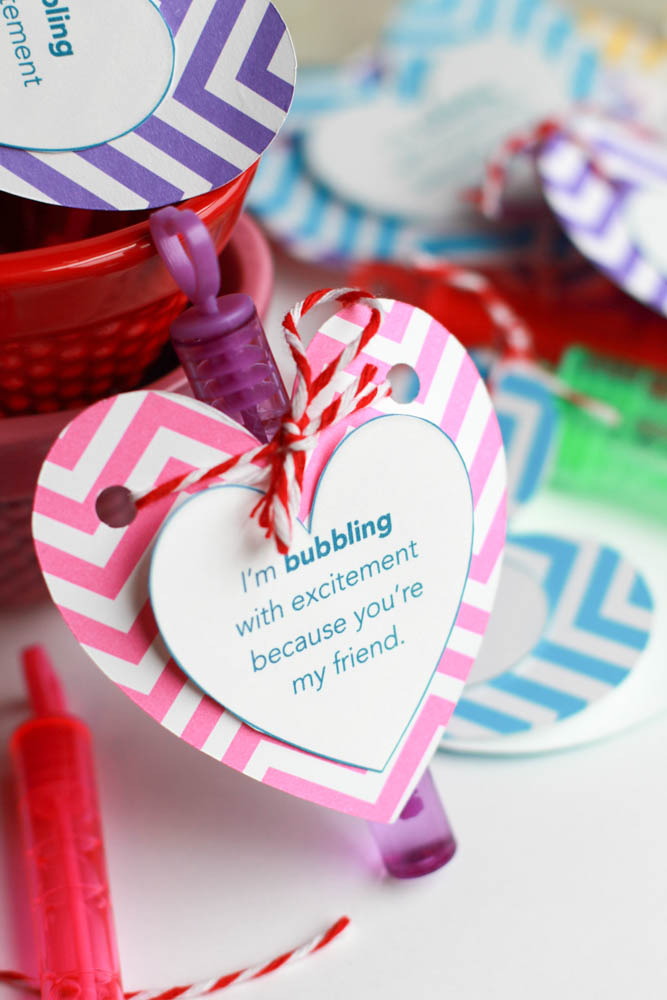 My kiddos are so excited to give these Easy Valentine's Day Bubble Favors to their classmates on Friday and I'm excited because my kiddos think I'm a cool mom! It's a win-win, y'all.
Do you do anything special for Valentine's Day?