With Valentine's Day quickly approaching, I've been getting my home ready for the holiday of love. I've started decorating already and love how this Easy Valentine's Day Tree Centerpiece turned out. In addition to decorating, I've been in the kitchen getting ready for Valentine's Day parties by experimenting with some Valentine's Day snack ideas!
With the help of fellow bloggers, I've compiled a list of Valentine's Day snack ideas that should be a hit this Valentine's Day!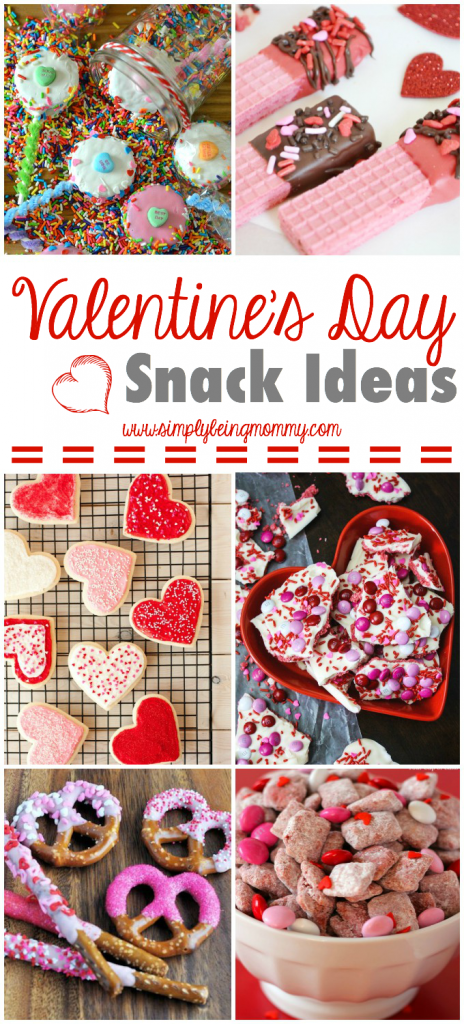 Valentine's Day Snack Ideas
Robot Snacks // Using store bought ingredients, you can make these adorable little Robot Snacks from Crafty Morning. Everything stays in it's original wrapper making it perfect for class parties.
Heart Apples // With just three ingredients that you probably already have at home, you can recreate these adorable Heart Apples from Creative Kids Snacks.
Valentine Snack Mix // Kids love snacking, right? And they don't always pick the best of options. Make this delicious and healthy Valentine Snack Mix from Cutting Tiny Bites.
Sweet and Salty Popcorn // Three ingredients is all it takes to recreate Mommy's Bundle Sweet and Salty Popcorn recipe!
Marshmallow Valentine's Treats // Kids love anything on a stick! Let them make their own Marshmallow Valentine's Treats with the sprinkles of their choice.
Strawberry Cheesecake Chocolate Bark // With fun Valentine's Day M & M's and sprinkles, this Strawberry Cheesecake Chocolate Bark from Parenting Chaos is sure to be a favorite on Valentine's Day.
Heart Rice Krispie Treats // Rice Krispie Treats are a favorite around my house. Cut them in the shape of hearts and drizzle with chocolate and they're even better!
Conversation Hearts Pretzel Bites // Three ingredients looks to be a reoccurring theme with Valentine's Day snack ideas! Conversation hearts, pretzels and Hershey's Kisses is all you need for these.
Chocolate Dipped Wafer Cookies // A super simple and fun Valentine's Day snack idea to make with the kiddos! Again, just three ingredients is all you need!
Dipped Pretzels // These dipped pretzels are so much fun. My kids and I make them for almost every occasion. All the colored sprinkles and candy melts make it so easy.
Oreo Cookie Pops // Just like its name suggests, you can make these adorable Oreo Cookie Pops for Valentine's Day. Perfect for little hands.
Valentine's Twinkies On a Stick // Super simple and super adorable. A great way to decorate a traditional Twinkie for Valentine's Day.
White Chocolate Bark Bites // These little heart-shaped White Chocolate Bark Bites are absolutely adorable. Add in the festive M & M's and sprinkles and you've got a perfect Valentine's Day snack idea fit for your little prince or princess.
Lofthouse Style Sugar Cookies // These cookies are absolutely gorgeous. I'm not sure I'd be able to eat one though. They're too pretty to eat.
Valentine's Donuts // Donuts hold a very special place in my heart. Especially when they're as pretty as these are.
Valentine's Bark // You guessed it. Just three ingredients is all it takes to make this Valentine's Day snack idea into a reality! And I kind of love that this recipe was written by a child. So adorable.
Red Velvet Whoopie Pies // Red Velvet anything is perfect for Valentine's Day. These heart-shaped whoopie pies just make it that much better.
Strawberry Fudge // If you're looking for Valentine's Day snack ideas with minimal ingredients, this one is for you. All you need is two ingredients to make this Strawberry Fudge.
Heart Shaped Rice Krispies Pops // Smaller heart-shaped Rice Krispies treats on a stick! A perfect recipe for having the kids help in the kitchen.
Heart S'mores // These chocolate covered graham crackers topped with a heart-shaped marshmallow are perfect for Valentine's Day. Simple, yet elegant.
All of these Valentine's Day snack ideas are perfect for the upcoming holiday! There's no excuse not to get in the kitchen and make some yummy goodies for those you love!
What's your favorite Valentine's Day treat?