This Pineapple Banana Orange Breakfast Smoothie is a PERFECT quick and easy breakfast recipe.
There are some mornings when I simply don't have the energy to prepare myself a healthy breakfast. Instead of gorging myself in heaps of cereal or frozen breakfast pastries, I'll usually just throw a few frozen ingredients into the blender and call it breakfast. That's why having my freezer stocked with fruit is the best thing I've ever done. Pineapple Banana Orange Breakfast Smoothie for the win, y'all!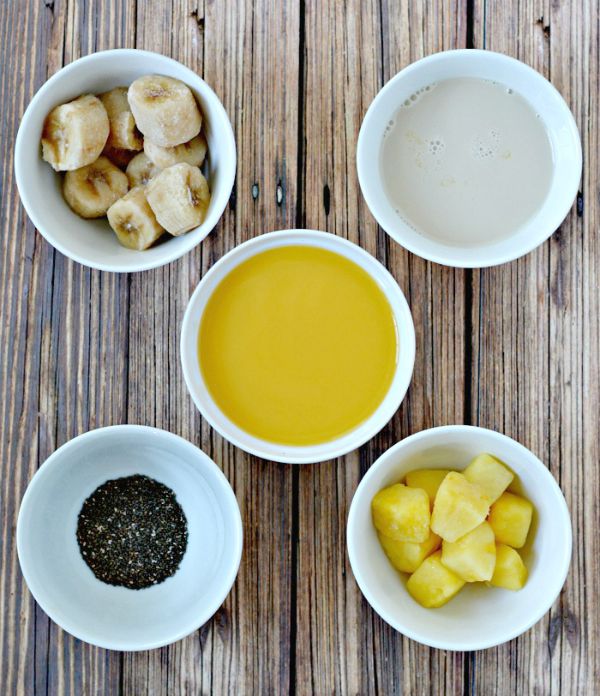 You could make this Pineapple Banana Orange Breakfast Smoothie with fresh fruit, but when using frozen fruit you will get a thicker texture and a smoothie that stays colder longer. And while I used almond milk, any milk will work. Chia seeds are great for adding fiber, protein, and Omega-3's to your diet, but if you want to skip them, that's totally fine. It doesn't change the flavor of the breakfast smoothie at all.
---
Ninja Kitchen System with Auto-iQ Boost
To get the BEST smoothie possible, you NEED a really good blender, y'all. I've personally been using the Ninja BlendMax Duo and I absolutely love using it in the kitchen for my smoothies. But what's really great about it is that I can use it for more than just smoothies. Although it makes the smoothest, most delicious smoothies, it serves multiple purposes because you can use it for so much more! Think soups, purees, juices, and crushed ice. Homemade snow cones are going to be perfect for these hot Texas summers! No more trips to the overpriced coffee shop when you can be your barista at home!
---
Pineapple Banana Orange Breakfast Smoothie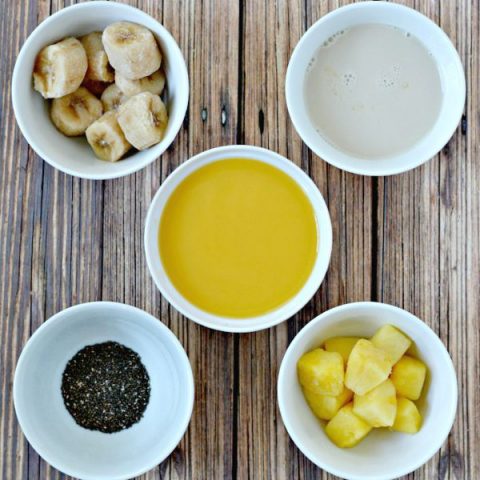 Pineapple Banana Orange Breakfast Smoothie
Pineapple Banana Orange Breakfast Smoothie - a delicious smoothie using frozen fruits.
Ingredients
3.5 ounces FROZEN bananas (about 8 – 1 inch slices)
3 ounces FROZEN pineapple chunks (about 10 – 1 inch chunks)
1 tablespoon Chia seeds
8 ounces orange juice
4 ounces vanilla almond milk
Instructions
Add all ingredients to a blender; blend on high until smooth. For a thicker smoothie, blend in 1/2 - 1 cup ice cubes until smooth.
Notes
Did you know that you can order your non-perishable items directly from Amazon and have them delivered right to your door? That means less trips to the grocery store with your kids in tow. I think in this situation, everyone is a winner! Give Amazon Pantry a try!
This Pineapple Banana Orange Breakfast Smoothie makes for a quick and easy breakfast that is packed with protein and fiber while still incredibly delicious!


If you're like me, skipping breakfast is easy. But it's not good for the body. As I'm getting older and paying careful attention to my health, I'm finding ways to ensure that I have a good breakfast. Breakfast smoothies work perfectly for that. I can easily change out ingredients for a new taste every day so that I don't get bored with the same smoothie day in and day out.
Do you drink smoothies for breakfast? What's your favorite smoothie?

Bacon & Cheese Hasselback Potatoes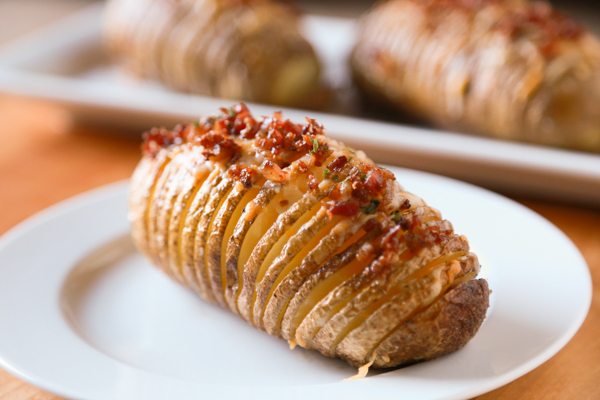 Easy Strawberry Mini Pudding Pops