One of my favorite appetizers is mozzarella sticks, so I decided to make my own Homemade Mozzarella Sticks to enjoy anytime I want to.
This is a partnered post with Lunchbox. As always, all thoughts and opinions are my own.
So everyone is talking about The Big Game and I'm all, lets watch the commercials and eat way too much food. Because y'all, I don't know a thing about football. Well, besides touchdowns and field goals. What I'm most interested in is the food and the commercials. But lets be honest, it's mostly the food.
Because Homemade Mozzarella Sticks, y'all.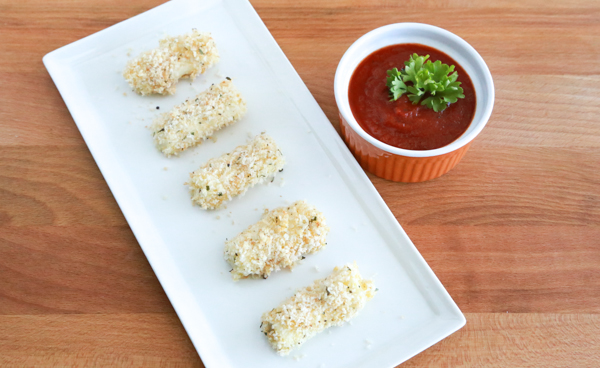 Oh my yum. Don't these look delicious? And it's such an easy recipe! Like, really easy.
How to Make Homemade Mozzarella Sticks
Here's how easy it is:
Cut the mozzarella string cheese into halves.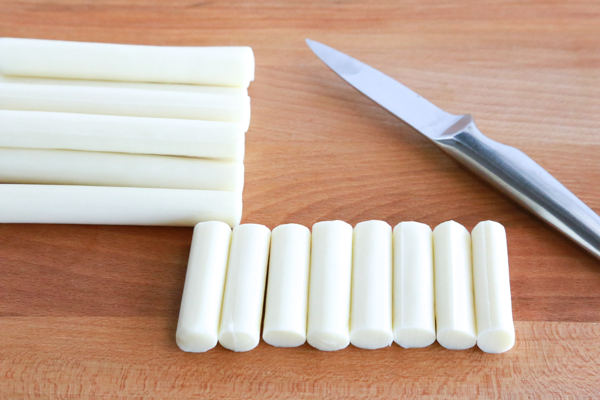 Then, dip into egg.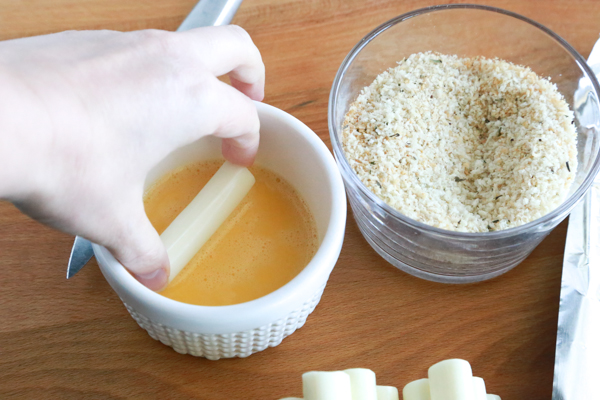 Next, dip into panko bread crumbs mixture. For a thicker breading, repeat the process. But they're absolutely fine with just one dip into each.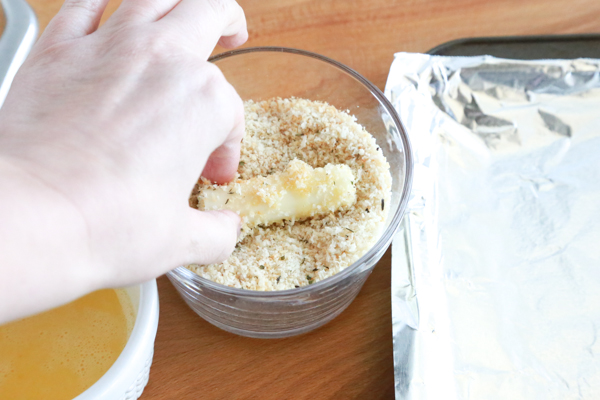 Then, place on a prepared baking sheet and bake in the oven.
See, I wasn't lying when I said these Homemade Mozzarella Sticks were easy to make. Now just wait until you try them – so good!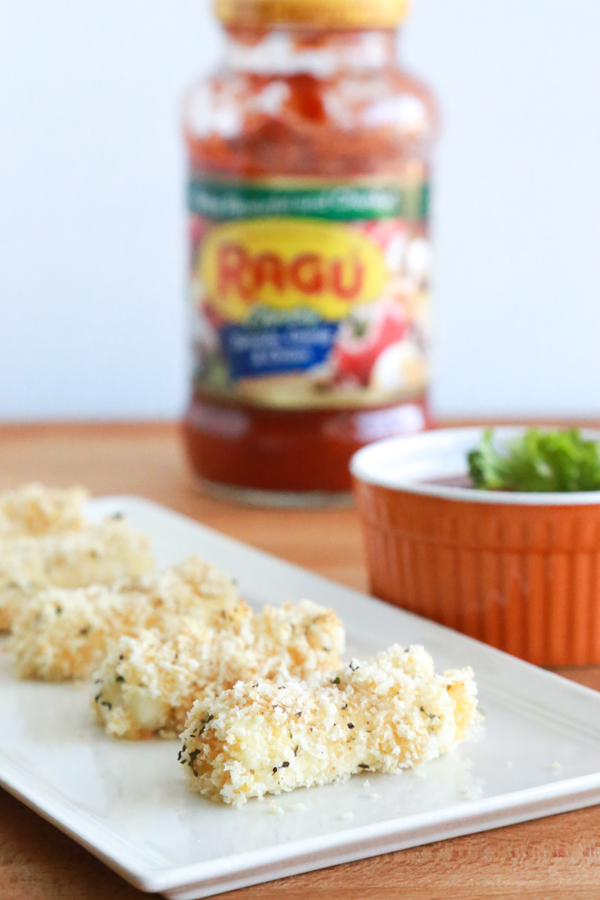 I love how light and airy the coating is on these mozzarella sticks. It's not overly thick so that you get a more balanced taste of coating AND cheese, rather than just the coating. That's how you know you have the PERFECT mozzarella sticks.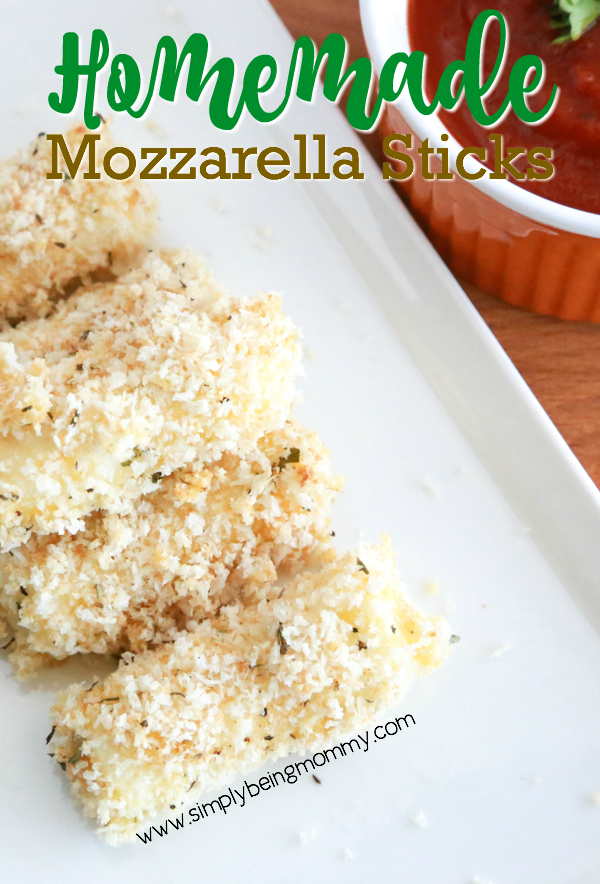 And I imagine that they're so much better than the fried variety you get at the restaurant (meaning that, maybe, you can eat just one more). I won't tell – I promise.
Dip them in your favorite sauce (I used Chunky Tomato, Garlic & Onion) and enjoy! I used Ragu Chunky Tomato, Garlic & Onion because it's full of tasty vegetables, contains two servings of veggies in every 1/2 cup of sauce, and contains 100% California Grown Tomatoes.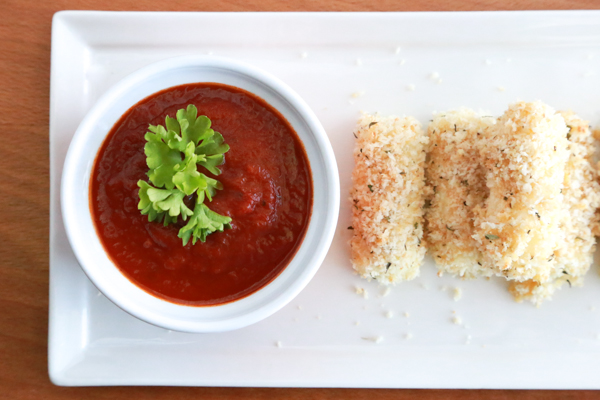 Warm melted cheese with a tasty panko bread crumb coating — it just doesn't get much better than that, folks!
Homemade Mozzarella Sticks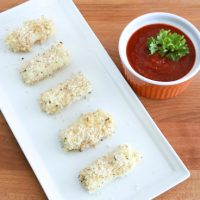 Homemade Mozzarella Sticks
Yield: 24

Prep Time: 20 minutes

Cook Time: 5 minutes

Total Time: 25 minutes
Ingredients
12 reduced-fat mozzarella string cheese
1 egg
1 cup panko bread crumbs
1/8 tsp dried basil
1/8 tsp dried oregano
1/8 tsp dried thyme
1/8 tsp dried parsley
1/8 tsp garlic powder
1/8 tsp onion powder
1/8 tsp freshly ground black pepper
1/2 cup Ragu Chunky Tomato, Garlic & Onion sauce (available at HEB), warmed
Instructions
Line a baking sheet with foil and spray lightly with nonstick cooking spray; set aside.
Remove string cheese from packaging, cut in half, and set aside.
In a small bowl, whisk egg until you see some bubbles; set aside. In a separate small bowl, combine all dried spices. Add panko bread crumbs and mix with spices until they are distributed evenly throughout. In a small skillet, heat panko bread crumb mixture over medium heat. Cook bread crumbs for about 5 minutes, or until lightly browned, stirring frequently. Remove from skillet and return to bowl; set aside.
Create an assembly line of cut string cheese, egg, and toasted panko bread crumbs. Dip one piece of string cheese in egg until coated and then dip immediately into the toasted panko bread crumbs making sure to coat completely. If you want, you can dip into the egg again, followed by the bread crumbs. Place on prepared baking sheet. Repeat with the remaining string cheese. Place on the baking sheet about 1-2 inches apart.
Preheat oven to 350 degrees F. Place coated string cheese into the freezer for about 20 minutes. Remove from freezer and place in heated oven and bake for about 5 minutes, or until completely heated through. Remove from oven and serve with warmed Ragu sauce.


Sounds simple, right? It's such an easy recipe and perfect for anytime you're entertaining or just want to enjoy homemade mozzarella sticks at home!
Don't forget to pin these Homemade Mozzarella Sticks to your favorite boards on Pinterest so that you don't lose it. And if we're not friends on Pinterest already, let's be friends.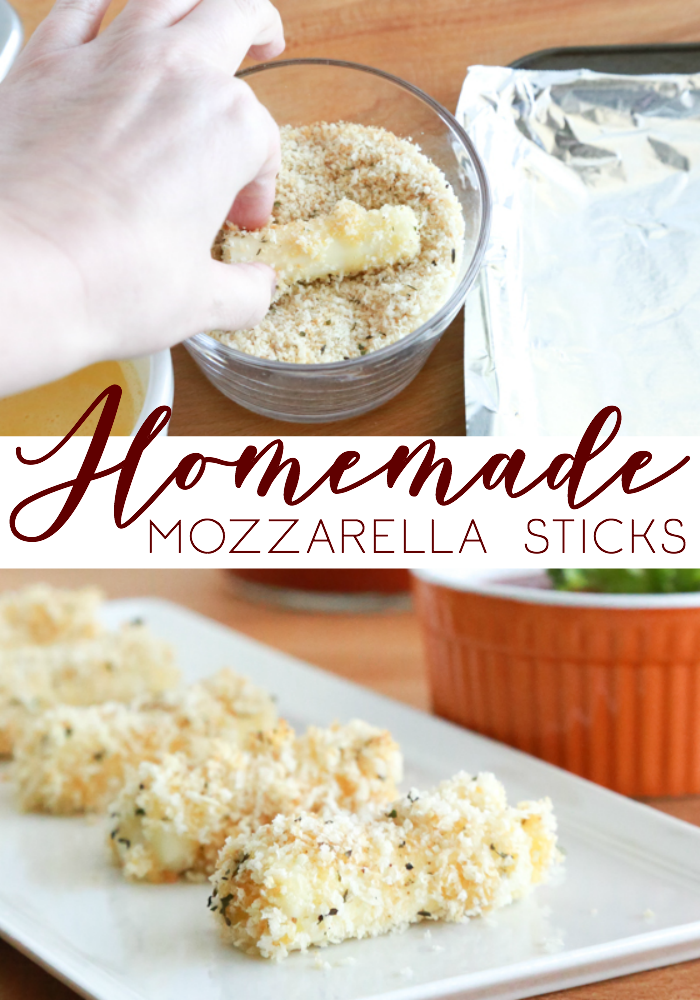 What's your favorite dish to serve while watching the Big Game?

Here are some other tasty dishes to serve while watching the game: