Apple picking season is upon us and I'm always looking for ways to use the season's harvest. With apples being one of my favorite fall fruits, I incorporate it throughout most of my fall cooking. A super simple way to use the season's harvest is to make a Lightened Up Chunky Apple Jam that can be canned and used throughout the year.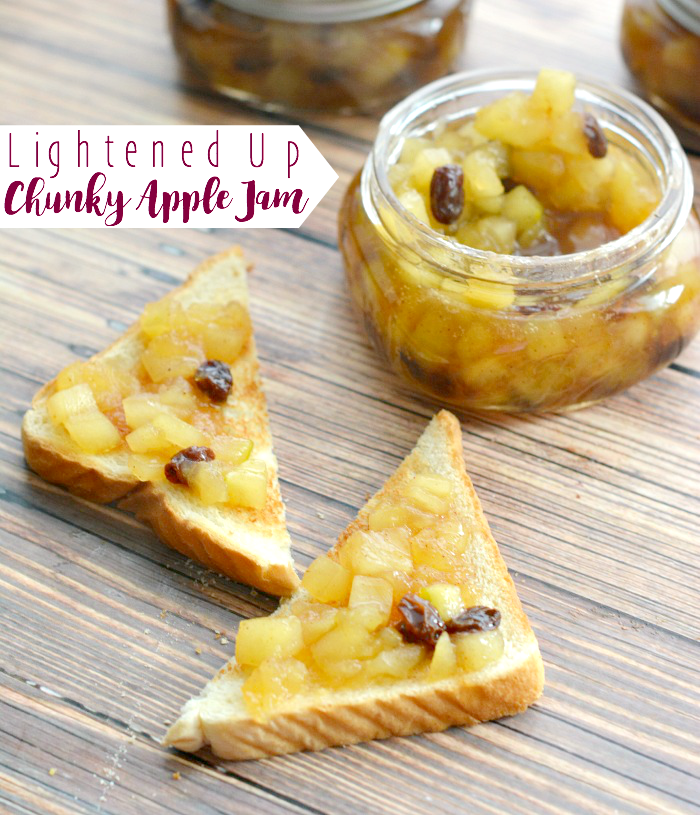 Lightened Up Chunky Apple Jam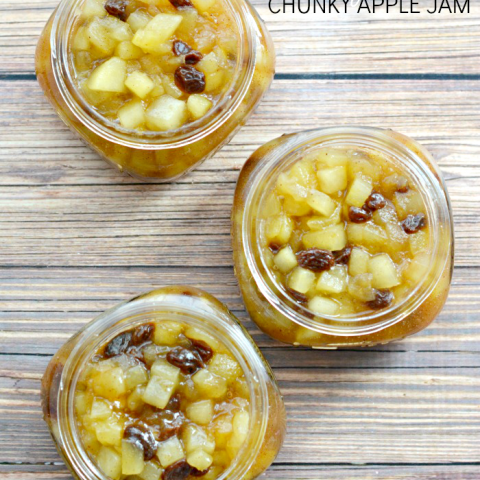 Lightened Up Chunky Apple Jam
Homemade jam isn't as hard to make as you might think. This Lightened Up Chunk Apple Jam is delicious and easy to make.
Ingredients
3 cups Granny Smith apples, peeled and finely diced
juice and zest of 1/2 a lemon
1-1/2 cups unsweetened apple juice
1/2 cup raisins
1/2 teaspoon ground cinnamon
1/8 teaspoon ground nutmeg
1/2 cup Truvia Baking Blend
Optional
Instructions
Heat jars and lids (not bands) in a water canner in simmering water until ready to use.
In a large skillet over medium heat, add apples, lemon juice and zest, and apple juice. Bring to a boil stirring occasionally until apples are tender.
Remove from heat and stir in pectin.
Return to heat and add raisins, cinnamon and nutmeg. Bring to a simmer and stir for 5 more minutes. Add Truvia baking blend, stir well and remove from heat.
Carefully spoon hot jam into hot jars leaving 1/4 inch headspace. Wipe rim, center lid on jar and apply band until fit is fingertip tight.
Refrigerate for use immediately or process the filled jars in a boiling water canner for 10 minutes. Remove jars and cool. Check lids for seal after 24 hours. Lid should not flex up and down when center is pressed.
Nutrition Information:
Yield:

3
Serving Size:

8 oz
Amount Per Serving:
Calories:

335
Total Fat:

1g
Saturated Fat:

0g
Trans Fat:

0g
Unsaturated Fat:

0g
Cholesterol:

0mg
Sodium:

92mg
Carbohydrates:

123g
Fiber:

6g
Sugar:

56g
Protein:

2g
The best part about this Lightened Up Chunky Apple Jam recipe is that it's incredibly easy to make. We all love the mix of chunky fruit, raisins and apple pie spices. You can spread it on toast, a bagel or breakfast bread your kids love for a quick morning breakfast.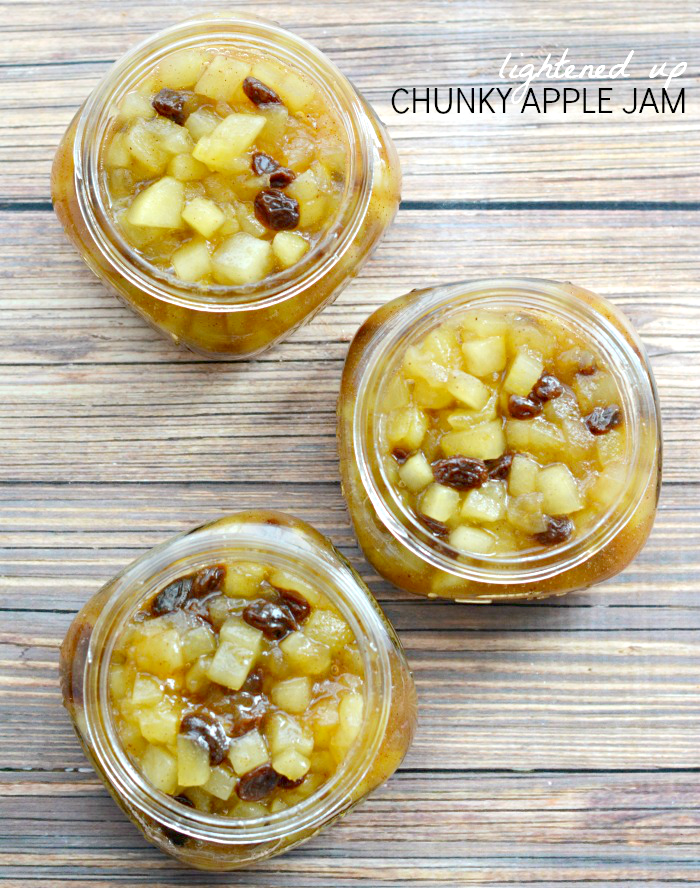 By using Truvia Baking Blend in this Lightened Up Chunky Apple Jam recipe, I was able to cut the calories without losing the texture or sweet taste we love in a great jam. Truvia Baking Blend combines Truvía® natural sweetener with sugar for use in our chunky apple jam recipe with 75% fewer calories than when using just sugar alone.
By canning the apple jam you can enjoy a homemade jam all school year long. You'll not only save time, but you'll save money too!
Do you make your own jams?
Need more breakfast suggestions? Try these: