With Valentine's Day right around the corner, I thought it only fitting that I share this recipe for Heart Shaped Frosted Brownies! You know — because — sweet tooth and all.
Don't be all judgy Mc Judgerson! 🙂

Since I've been doing fairly well with my resolutions, a little decadence (in moderation, of course) is absolutely fine. And, it's Valentine's Day. You have to indulge on Valentine' Day. That's what I keep telling myself anyway.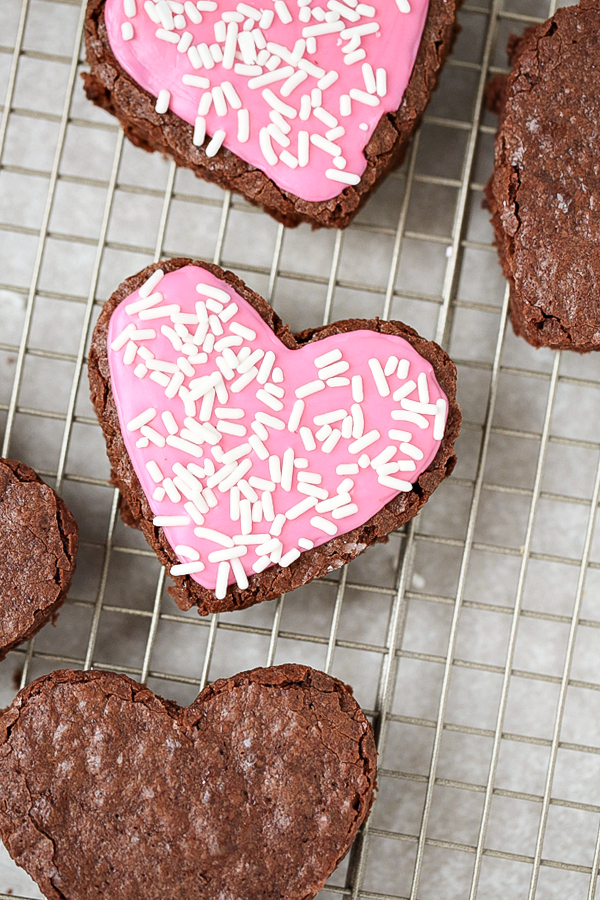 My husband and children absolutely love brownies so surprising them with these Heart Shaped Frosted Brownies on Valentine's Day is going to be a treat for us all. After all, seeing them happy and excited is good for the soul. Am I right, moms?
Let's get to the recipe!

Popsicle SticksGet it now!
Gel Food ColoringGet it now!
Powdered SugarGet it now!
Vanilla ExtractGet it now!
Cocoa PowderGet it now!
All Purpose FlourGet it now!
Granulated SugarGet it now!
Heart Shaped Frosted Brownies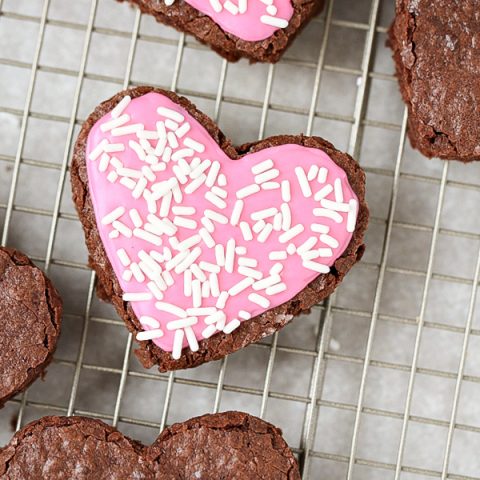 Heart Shaped Frosted Brownies
Ingredients
½ cup vegetable oil
1 cup sugar
1 teaspoon vanilla extract
1 cup cocoa powder
1 cup flour
½ teaspoon baking powder
¼ teaspoon salt
2 eggs
For Icing
2 cups powdered sugar
2-3 tablespoons milk
drop of gel food coloring of your choice
Special Equipment Needed:
food safe popsicle sticks
Instructions
Preheat your oven to 350 degrees F. Spray a walled cookie sheet with nonstick spray or line with parchment paper; set aside.
In a large bowl, mix together oil, sugar, and vanilla.
In a separate bowl, combine dry ingredients then stir into the first bowl.
Beat in eggs.
Pour into prepared baking sheet, and bake for 10-15 minutes or until poked toothpick comes out
clean. *These are thinner than regular brownies, so they take less time to cook.
When fully cooked, set aside to cool completely (around 30 minutes).
Once cooled, take a cookie cutter and cut out heart shapes, using the whole sheet of brownies. There will be some waste but you could turn those into brownie pops or something.
While the brownies are cooling, make your icing: combine 2 cups powdered sugar with 2-3 tablespoons of milk and a drop of gel food coloring of your choice. Whisk until smooth. Texture should be thick and not runny - you may need to add more powdered sugar or more milk to get desired texture.
Once icing is mixed together, scoop into ziplock bag and cut small corner off the tip.
With icing bag, squeeze out while drawing a heart shape close to the edges of your brownie. Wait a minute and fill in the heart.
Add sprinkles, insert popsicle sticks, and serve!
If you've been around here for a while, you already know that I love easy recipes. If you're new, well, I'm not a fan of long, drawn out recipes. I like simple and I like easy. These Heart Shaped Frosted Brownies are both simple and easy!
Need to order supplies? Get them delivered right to your doorstep when ordering on Amazon.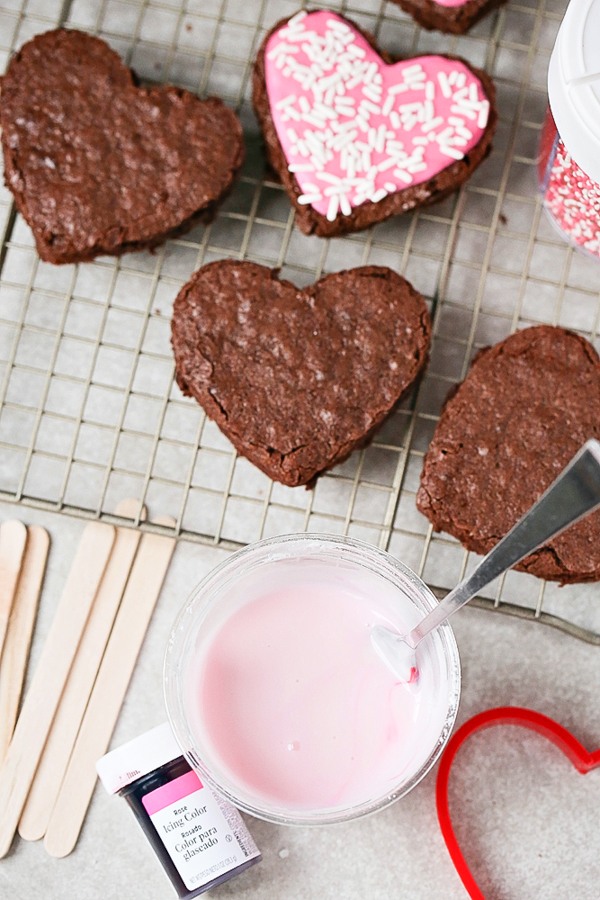 If you want to make them that much simpler, you can skip the icing step all together! I just think they look so much cuter when they're frosted and sprinkled.
Don't you?
I used pink food coloring, well, because Valentine's Day, but feel free to choose whatever color your little heart fancies.


Looking for more Valentine's Day goodies? I've got more delicious goodness in these posts: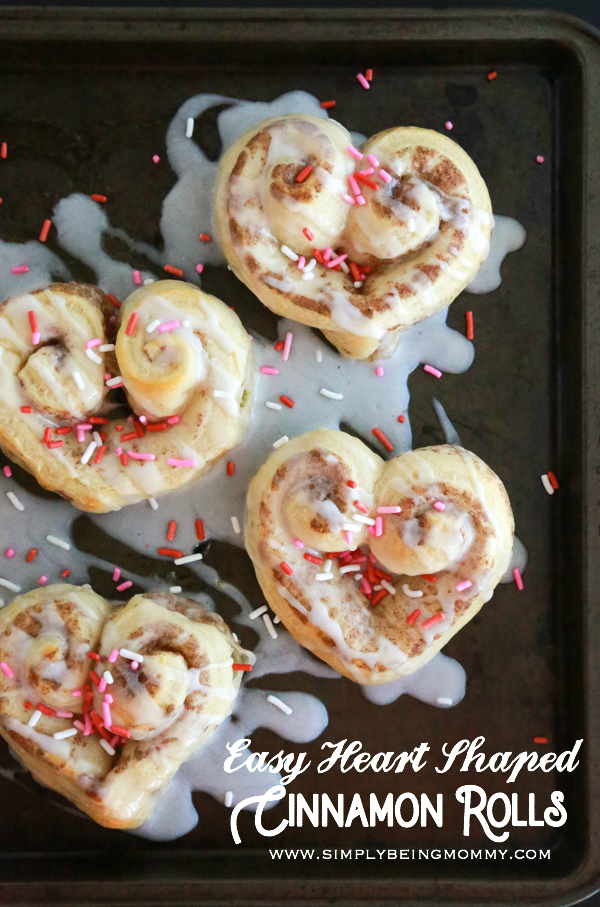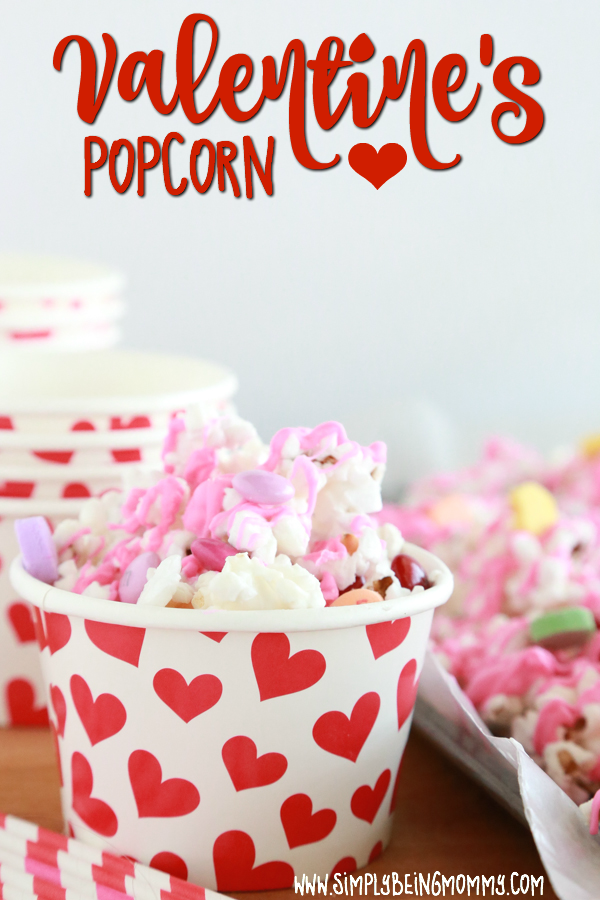 Valentine's Twinkies on a Stick