Sometimes I make dinner all fancy and stuff, and then other times I just throw some ingredients together and hope it tastes right. That's just the life of a mom, I guess. And then other times, I depend on others to help me out a little. Like with this Chicken Parmesan Pasta Bake from Betty Crocker. It landed in my inbox and I had to try it.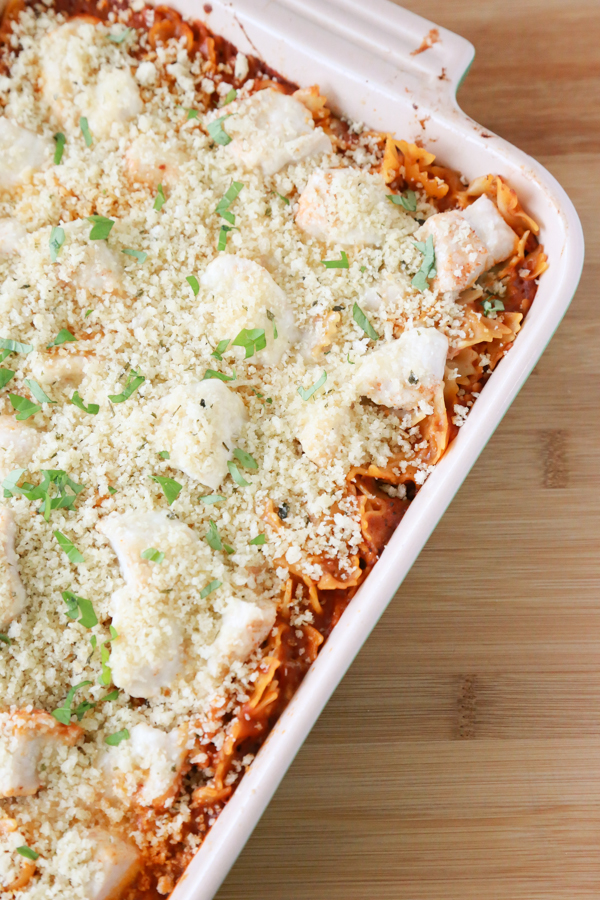 ---
Kitchen Gizmo 2 Sided Anti-Bacterial Cutting Board
Here's a tip, y'all: If you hate cooking with raw chicken as much as I do, because let's face it, raw chicken is kind of ewwww, this cutting board comes in extremely handy. Not only is it flexible, two-sided and so easy to use, it's scratch resistant which means it won't harbor any of that harmful stuff that sometimes comes with dealing with raw chicken. It has juice grooves on both sides so that the chicken juice stays contained, keeping the area around the cutting board clean. Less cleaning means more time for other things! It's also dishwasher safe but can also be cleaned just by pouring boiling water on it.
---
We eat a lot of chicken around here and most of the family adores carbs. Like way too much. This Chicken Parmesan Pasta Bake is lower in calories than your normal Chicken Parmesan, but it's still pretty caloric. Serve it with a veggie filled salad to help round out the meal.
Chicken Parmesan Pasta Bake
Chicken Parmesan Pasta Bake
Author:
Betty Crocker (with a few changes)
Ingredients
1 jar (25.5 oz) tomato basil pasta sauce
2 cups water
1 lb uncooked bow-tie pasta
1 lb boneless, skinless chicken breast, cut in 1-inch pieces
¼ teaspoon salt
¼ teaspoon pepper
1 cup (4 oz) shredded mozzarella cheese
¾ cup grated Parmesan cheese, divided
1 tablespoon butter
½ cup panko crispy bread crumbs
¼ cup thinly sliced fresh basil leaves
Instructions
Preheat oven to 425°F and prepare a 13x9-inch (3-quart) baking dish by spraying with cooking spray.
In large bowl, mix pasta sauce and water; stir in pasta. Pour mixture into baking prepared dish.
Rub chicken with salt and pepper. Place chicken in a single layer on top of pasta mixture in baking dish. Top with mozzarella cheese and ½ cup of the Parmesan cheese. Cover tightly with foil and bake for 40 to 45 minutes or until pasta is tender and most of sauce is absorbed. Remove foil and let stand 5 minutes.
Meanwhile, melt butter in skillet over medium heat. Add bread crumbs and stir to coat in butter. Cook for 1 to 3 minutes, stirring frequently, until toasted. Pour mixture into a medium bowl and stir in remaining ¼ cup Parmesan cheese. Sprinkle over baked pasta. Top with basil.
Notes
Toasting bread crumbs is an easy way to add crunch and flavor to this dish, but they cook quickly. Pay close attention to them, and stir frequently to prevent burning them.
I love easy recipes like this one that allows me to let the oven do most of the work. I like cooking for my family, but some days I need a break from slaving over the stove. It's days like those when recipes like this Chicken Parmesan Pasta Bake really comes in handy. Got ahead, pin it mom. Save it for later because you'll need it. And if you're not already, follow me on Pinterest.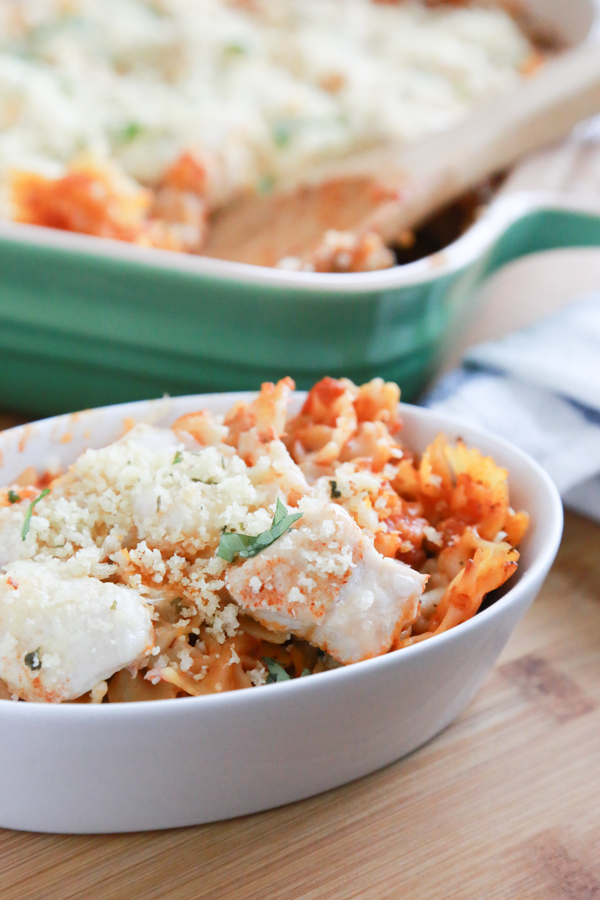 If you have kids at home that are learning to cook, this would be a great recipe to get them started on. It's not hard at all and the directions are really easy to follow.
The original recipe for this Chicken Parmesan Pasta Bake only called for half a box of pasta, but since I wanted it to be more filling with leftovers for lunch, I went ahead and put in the entire box. It was more than enough for my family of five, plus lunch the next day, and then some. You can greatly reduce the calorie count per serving by cutting back on the pasta, if you'd prefer to go that route.

Either way, this Chicken Parmesan Pasta Bake is pretty darn delicious, y'all. Give it a try and let me know how you like it below!
Looking for more easy recipes? Check out these tasty options: