With a new year comes new resolutions. For many, it's getting healthier. While getting healthier is still very high on my list of priorities, my resolution this year is to be able to spend more time with my family, while still on the road to wellness. That means lots of easy recipes that keep me in the family room, instead of the kitchen. Lets start the year off with this Easy Ravioli Bake recipe!
* This post may contain affiliate links. *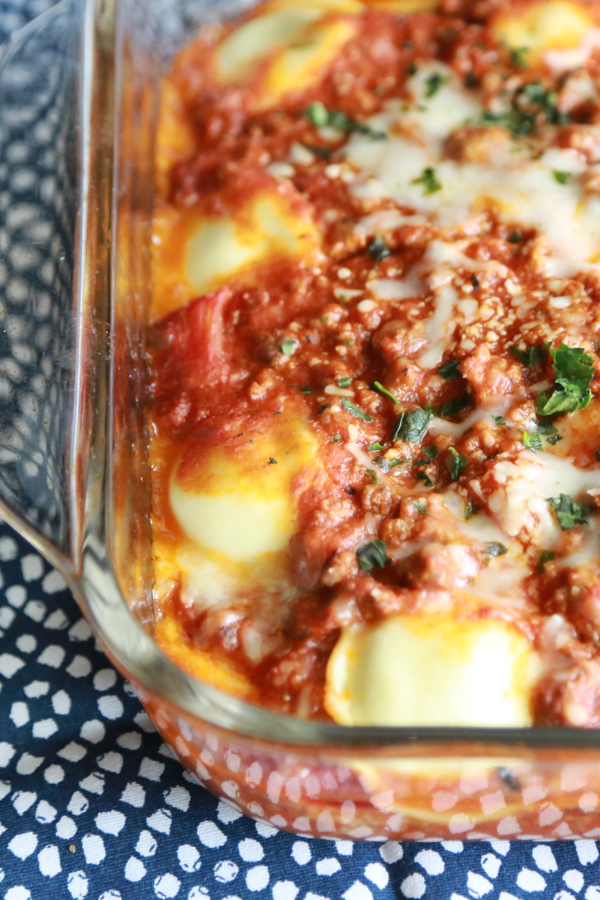 Now I'm not in any way saying this Easy Ravioli Bake is a healthy dish, but I am saying it's easy. When I serve this as a dinner for my family, I pair it with a green salad filled with veggies. It makes me feel a little less guilty.
All things in moderation, right?
Let's get to the recipe.
---
All-Clad Stainless Steel Tri-Ply Bonded Skillet with Lid
Pro Tip: For the longest I used skillets that came in those cheap cookware sets you can buy on discount around Christmas. It wasn't until I spent a little extra cash on a quality skillet that I noticed the difference in how well it cooked. Woah! It's totally different. Not only does a quality skillet provide an even cook throughout, the highly polished cooking surface on this All-Clad option offers stick resistance and easy maintenance. It's also oven and broiler-safe up to 600 degrees F and compatible with induction ovens. This option has a limited lifetime warranty and it's made in good 'ole USA. Plus, I can't find one cheaper than Amazon!
---
Easy Ravioli Bake
Easy Ravioli Bake
Ingredients
1.5 lbs ground beef
2 jars (24 oz) pasta sauce
1 teaspoon freshly ground black pepper
2 bags (18 oz) frozen cheese ravioli
2 cups shredded mozzarella cheese
2 tablespoons chopped fresh basil leaves
Instructions
Heat oven to 350 degrees F. Spray 13" x 9" baking dish with non-stick cooking spray; set aside.
In a large skillet, cook ground beef over medium-high heat, stirring frequently, until brown; drain. Stir in both jars of pasta sauce and pepper.
In prepared baking dish, spread 1 cup sauce mixture in baking dish. With frozen ravioli and cheese ready, place 1 layer of frozen ravioli evenly over sauce in baking dish. Top with one-third of the remaining sauce and one-third of the cheese. Repeat for a total of 3 layers.
Cover baking dish with foil and bake for 40 minutes. Carefully remove from oven and remove the foil; place in oven again and cook for another 5 minutes or until cheese is melted.
Remove from oven and garnish with chopped fresh basil leaves.
I served this last year at a gathering I had at the house and everyone absolutely loved it. It was the first dish to disappear. And with good reason. It tastes really good!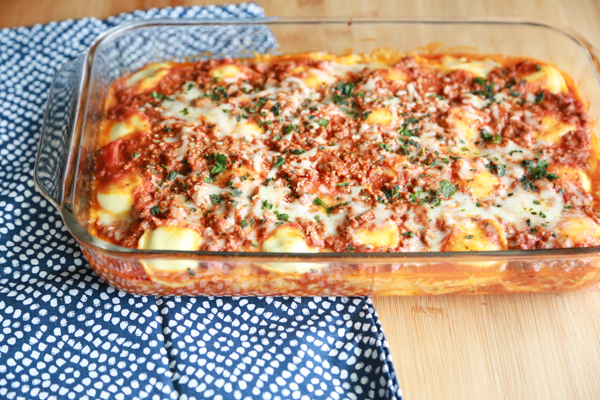 With only 6 ingredients and minimal prep time, this Easy Ravioli Bake recipe is the perfect solution for those busy evenings with the kids' homework, soccer practice, etc. The oven pretty much does all the work for you!
This is also one of those recipes where the kids could help out in the kitchen too. The layering process is easy, so allow them to help to speed up the prep time.
For me, easy recipes like this one are essential in my recipe arsenal. I need those easy recipes at least one night out of the week. So what if it's a little higher in calories than normal. Pair it with a light vegetable salad and workout a little harder the next day. If it gives me a little more time to spend with my family, I'm all for it.
Want more easy recipes? Try these: