This is a partnered post. As always, all thoughts and opinions stated herein are my own.
There are things I do and products I buy simply because that is what I remember my mom doing or buying as I was growing up. My mom didn't spend too much time in the kitchen because my dad did most of the cooking, but when it came to baking, I could often find her knee deep in flour and butter, electric mixer in hand. To this day, my dad does the majority of the cooking. But my mom, she does ALL the baking.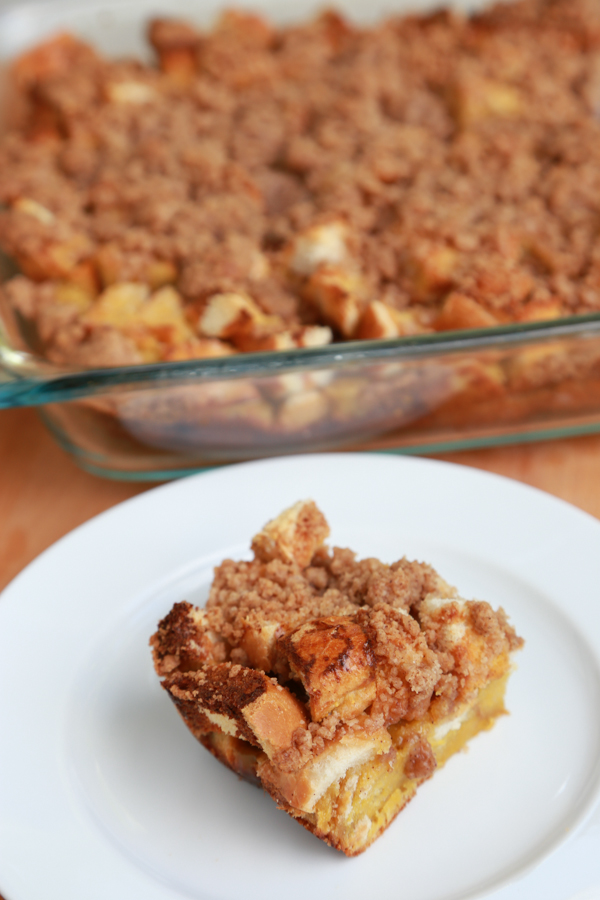 Now that I'm a mom and responsible for feeding three little mouths of my own, I find myself making dishes that I know my kids will love, just like my dad did when I was younger. One of my kid's favorites is my Overnight French Toast Bake. To be honest, it's kind of my favorite too because it's super simple to prepare the night before and pop in the oven on a lazy Saturday morning. Because in my house, Saturday mornings are made for lazy! After basketball season ends, anyway.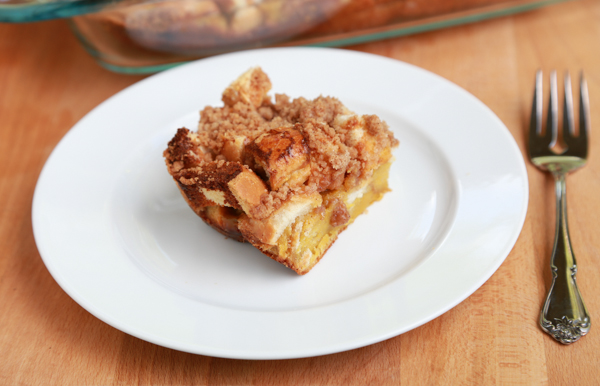 But sometimes y'all, I just get in a rut and find that I'm making the same recipes week after week. And quite frankly, I get bored with the same 'ole same 'ole. And if I'm getting bored by the meals I'm making, I'm sure the kids are getting bored, too.
Thankfully they're forgiving and understanding. Most of the time.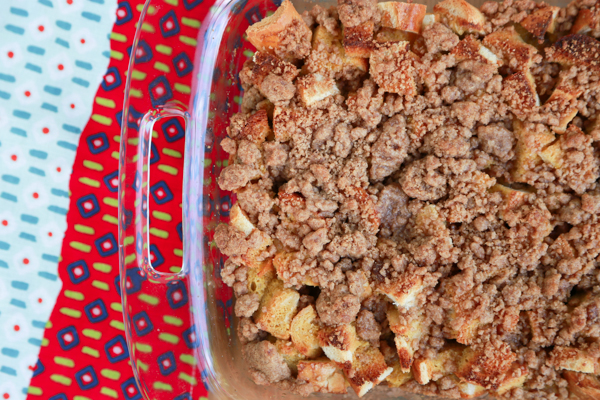 In my daily need to get stuck in the time suck known as Pinterest (because obviously I have soooo much extra time to waste), I stumbled on Ree Drummond's recipe for Cinnamon Baked French Toast. Can you believe this is the first time I've tried one of her recipes? I know. Tragic! But I've got the first one in the books and I'm sure more will follow.
Baked Cinnamon French Toast
Baked Cinnamon French Toast
Ingredients
French Toast
Butter, for greasing the pan
1 loaf French bread
8 eggs
2 cups milk
½ cup heavy cream
½ cup granulated sugar
½ cup brown sugar
2 tablespoons vanilla extract
Topping
½ cup all-purpose flour
½ cup firmly packed brown sugar
1 teaspoon ground cinnamon
¼ teaspoon salt
sprinkle of grated nutmeg
1 stick cold butter, cut into pieces
optional
Instructions
Rub a 9 x 13-inch baking pan with a stick of butter. Cut bread into bite-sized cubes and evenly distribute in the pan.
In a medium sized bowl combine eggs, milk, cream, sugar, and vanilla. Carefully pour evenly over the bread cubes. If you don't plan on cooking immediately, cover tightly and store in the refrigerator until ready to cook or overnight.
In a separate sealable bowl, mix flour, brown sugar, cinnamon, salt, and nutmeg. Add butter and cut into the dry mixture until mixture is crumbly. If you are cooking the Baked Cinnamon French Toast immediately, sprinkle on top. If not, cover tightly and store in the refrigerator.
When you're ready to indulge in deliciousness, preheat oven to 350 degrees. If you did the prepare ahead of time method, remove from refrigerator and sprinkle topping evenly over the top. Bake for 45 minutes.
Remove from oven and serve with fruit and syrup, if desired.
Totally drooling over here just thinking about the aroma that fills the house when I pop this Baked Cinnamon French Toast in the oven. Who needs Scentsy when you can have the real deal wafting through the house? If only I could bottle it up and sell it.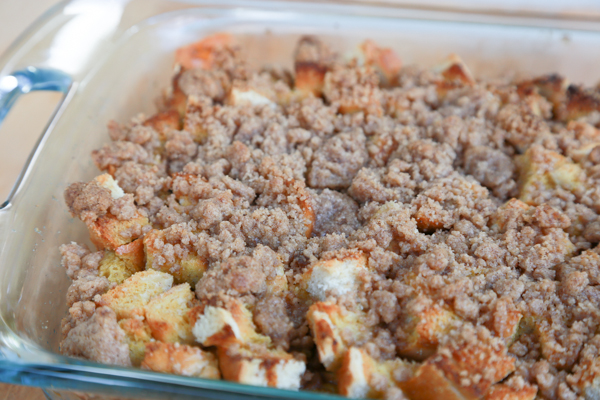 It's kind of hard to believe the same Pyrex®, a World Kitchen brand that my grandmothers and mother loved, is the same Pyrex that fills my kitchen cabinets today. The brand is celebrating its 100th birthday this year and is inviting you to join in the celebration. Celebrating their biggest and boldest anniversary to date, we are raising our measuring glasses to toast a kitchen icon that has continued to thrive decade after decade! Join in on social media using the #RaiseYourGlassSweeps hashtag.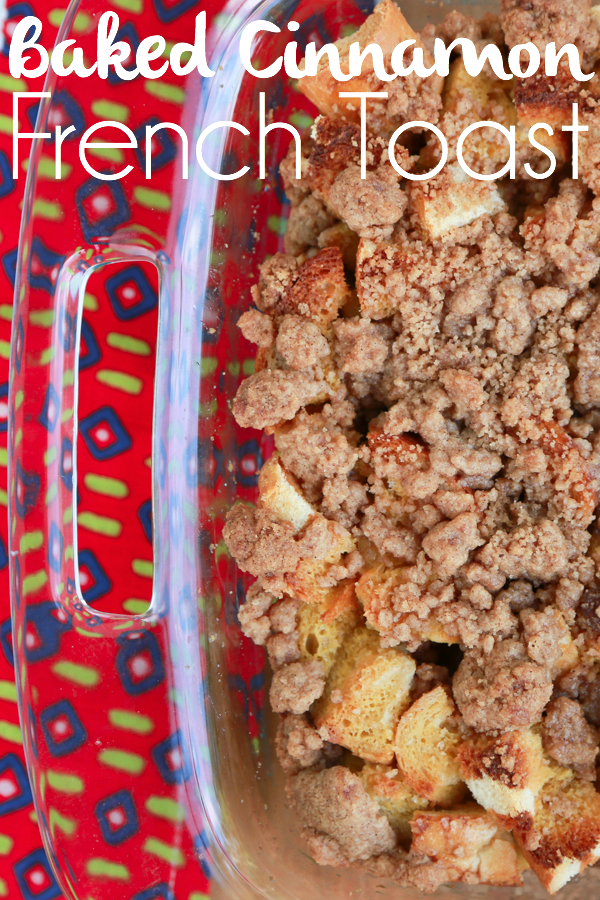 Pyrex is releasing two limited edition product lines to commemorate their 100th anniversary. In an ode to the popular "New Dots" collection of the 1960s, both of the 2015 lines will feature the familiar Pyrex dot motif in a variety of exciting colors. The first collection, "Centennial," will be released in red, white, and blue, while the second collection,"Vintage Future," features red, teal, and chartreuse products. There will also be a 100th anniversary pie plate, as well as 3 qt. portable bags. Both the "Centennial" and "Vintage Future" designs will be featured on 4-cup storage containers and Pyrex's classic 4-cup, 2-cup, and 1-cup measuring cups.
The Pyrex® 100 Days of Giveaways is sponsored by World Kitchen, LLC. There is no purchase necessary to enter. In order to participate, you must be a legal resident of the fifty United States or the District of Columbia and must be at least 18 years old at the time of entry. Entries will be accepted from March 22, 2015 at 10:00:00 a.m. ET until June 30, 2015 at 9:59:59 a.m. ET.
Disclosure: I have happily partnered with World Kitchen LLC to share the wonderful Pyrex® 100th Anniversary product line. All opinions are my own.