I'm all about finger foods, especially during football season. Whether you celebrate your favorite team by tailgating or homegating, these Ham BLT Bites are a touchdown!

You don't need any fancy equipment or any amazing cooking skills to make these adorable little Ham BLT Bites. All you need are the ingredients and some cute food picks! You can use a standard bamboo like I used, or you can use these SUPER CUTE FOOTBALL picks! Perfect for game day, right?
Game Day Football PicksBuy Now
Game Day Football PicksBuy Now
Game Day Football PicksBuy Now
Game Day Football PicksBuy Now
Bamboo Food PicksBuy Now
If you plan on serving these at a non-football event or party, I suggest the tied bamboo option. Simple, but elegant.
Ham BLT Bites
Ham BLT Bites
These deliciously cute Ham BLT Bites feature thick slices of ham, bacon, lettuce, tomato, and thick Texas toast!
Ingredients
2 slices Texas Toast
1 tablespoon butter
2 slices thick-sliced ham
3 slices thick cut bacon, cut in 1-2" pieces
lettuce cut in 1-2" pieces
9 grape tomatoes cut in half
Instructions
Butter bread and place under broiler until golden, or about 3 minutes. Once lightly toasted, cut each slice of bread into 9 pieces. If you want bigger pieces of bread for the bites, cut each into 6 pieces. If you cut bigger pieces, you'll need more slices of bread to get the 18 Ham BLT Bites.
Put all cut ingredients into separate bowls for easy assembly. You could get the kids to help out at this point, too! They'll think it's fun.
Begin threading ingredients onto plastic kabobs in this order: tomato, lettuce, bacon, ham, and then toast.
Serve and enjoy!
Y'all … these are so stinkin' easy to make. And the best part, you can customize them however you want. This would be a great time to get the kids in the kitchen to have them help.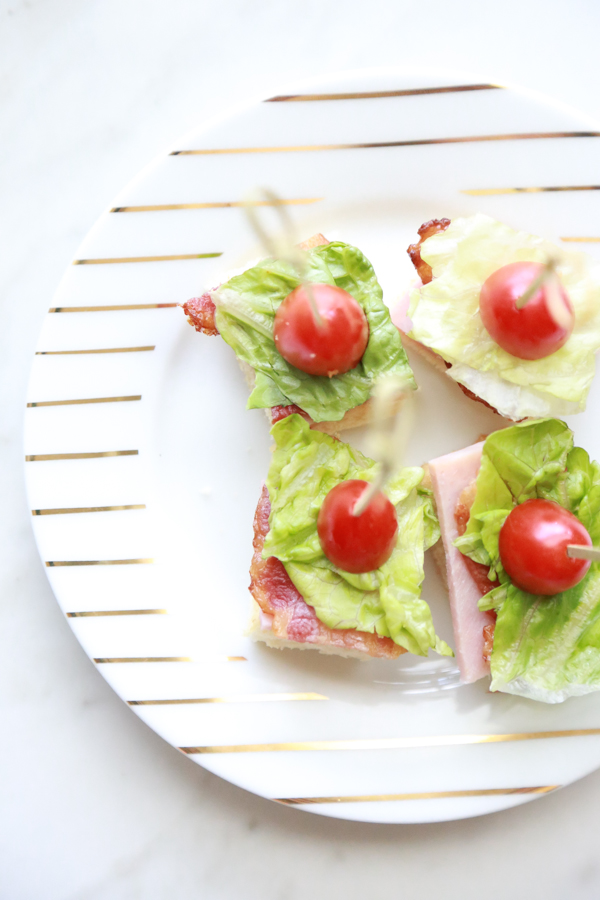 Anything on a stick just tastes better, doesn't it? And let's face it, it just looks tastier too.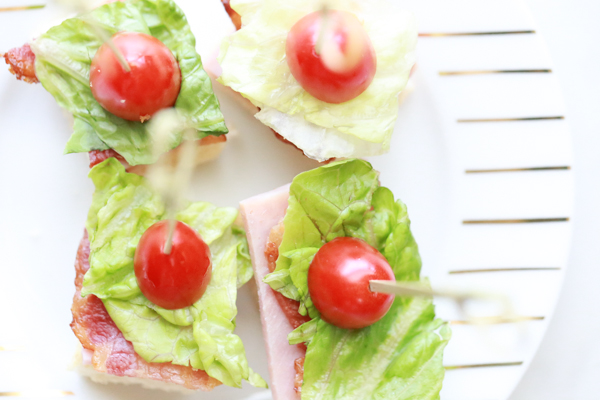 What else will you be serving along with these Ham BLT Bites?
Looking for other ideas for your game day celebrations? Check out these ideas for more inspiration: