Race over to Disney's California Adventure for Haul-O-Ween in Cars Land. All of Cars Land has been transformed for the holiday, and the perfectly punny decorations can't be missed. Lightning McQueen and the residents of Radiator Springs have gone all out decorating (with a little help from their pals at the Disneyland Resort).

We had so much fun exploring the holiday decorations, from the smallest details to the biggest installations! Radiator Springs is all new as Radiator Screams this Haul-O-Ween.
Haul-O-Ween in Cars Land
Photo Ops
From the moment you start your journey on Route 66 within Disney's California Adventure, you'll see Haul-O-Ween in Cars Land has arrived. Upon entrance into Cars Land, stop to take photos with Scary the Scare-Car. Disney PhotoPass Photographers are on hand to capture your spine chilling smiles. And with the new MaxPass, your photos are included!
Cars Land Residents Have Decorated Their Homes
Hippies like Halloween too, and Fillmore's transformed his tie-dye hangout into a ghoulishly great collection of ghostly folk art. I adored the Jack-Oil-Lanterns lining his yard. Those Disney imagineers leave no detail untouched. Sarge won't be outdone and has pump-kins of his own!
You really do need to stop and enjoy all of the puns and humor captured in Cars Land. I loved the "Escape to Hitch Mountain" movie posters! Considering this is the first year for a haunted Haul-O-Ween in Cars Land, this Disney fan was so impressed.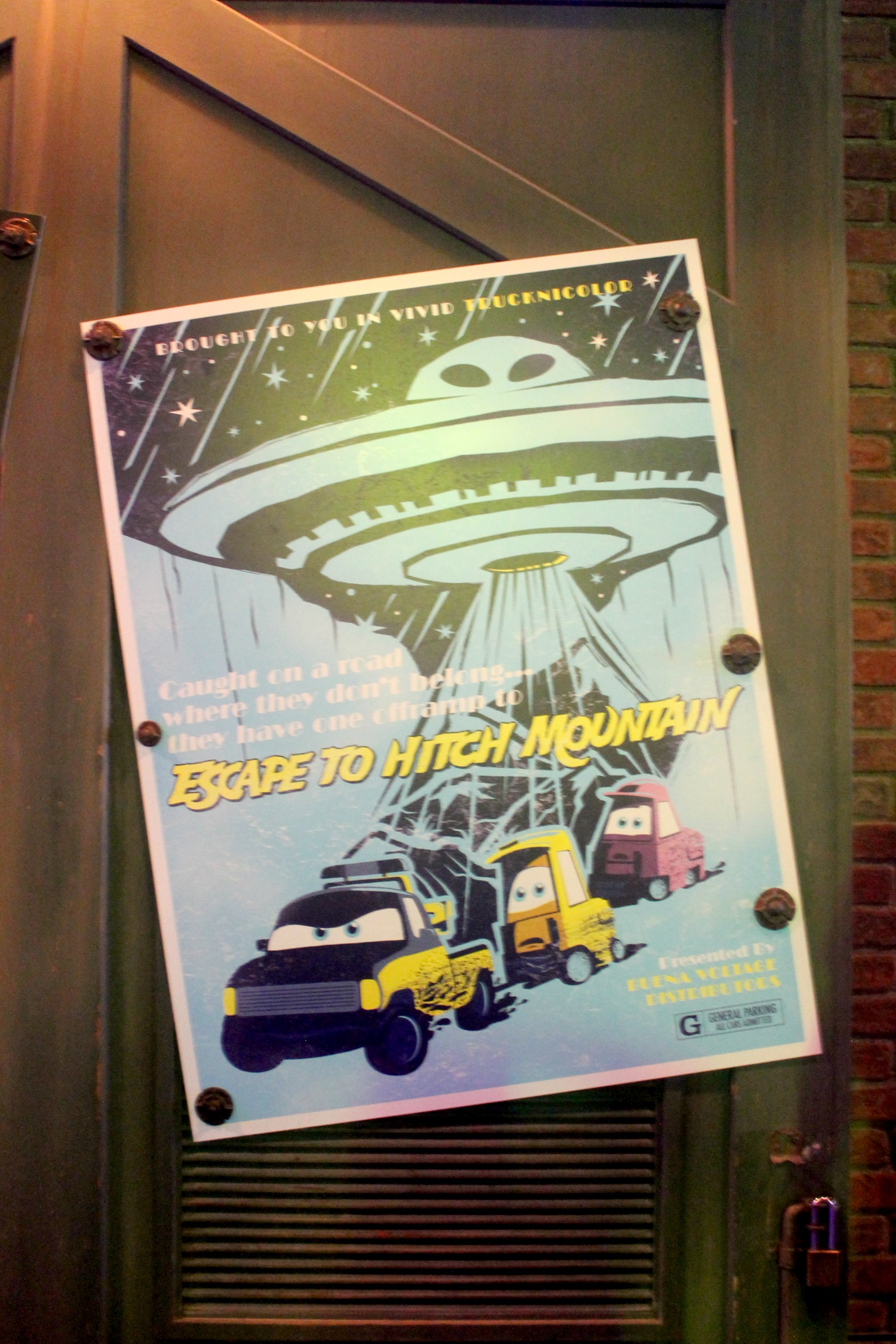 Themed Attractions – Mater's Graveyard Jam-BOO-ree and Luigi's Honkin' Haul-O-Ween
Not only are the buildings new for Halloween Time at the Disneyland Resort, rides have also been transformed. Spin over to Mater's Junkyard Jamboree, now Mater's Graveyard Jam-BOO-Ree, to experience new songs like the "Monster Truck Smash." There's a fun themed photo op outside the ride.
The cousins have transformed Luigi's Rollickin' Roadsters into Luigi's Honkin' Haul-O-Ween. The dance celebration twists guests to Italian festival songs like "Terror-antella."
Haul-O-Ween Food Offerings
The Cozy Cones aren't so welcoming anymore! Their frightful faces welcome you in and invite you to try some of the new themed food offerings, unique to Cars Land.
Themed Food Offerings at the Cozy Cone
Slow Burnin' Mac & Cheese – Comfort food turns creepy. This mac & cheese is served with a spicy red pepper cheese sauce and crushed chili-cheese puffs. Rather than a traditional cone, the Slow Burnin' Mac & Cheese comes rolling to guests in a black cauldron cone.
Spoke-y Cone Macaron – Candy Corn has never looked so good! Try this macaron filled with marshmallow buttercream and candy corn.
Junkyard JamBOOree Mix – Add some flair to your popcorn with the "nuts and bolts," Halloween candy topics like candy corn and colored M&M's.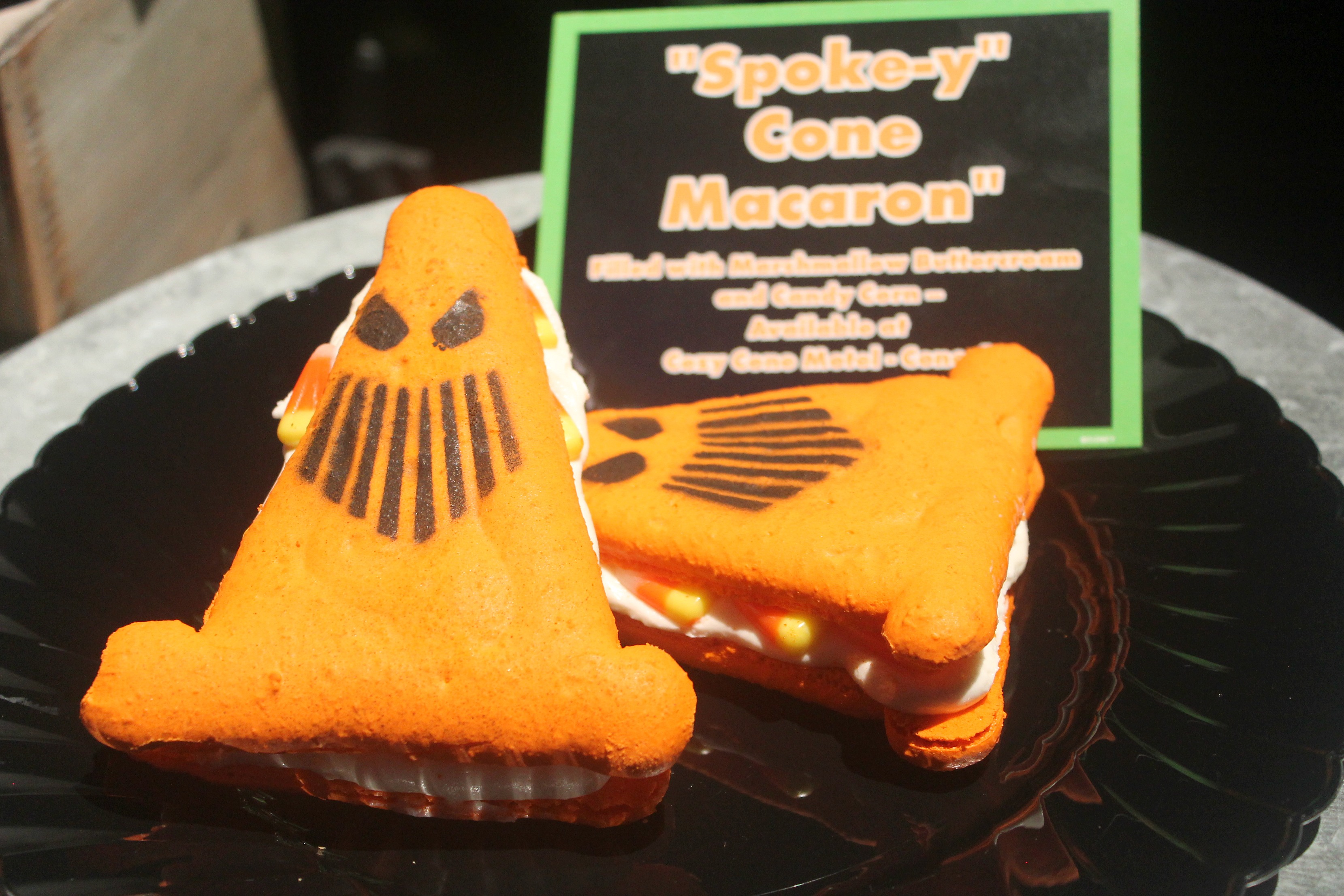 Flo's V-8 Cafe' has been covered by webs thanks to a Spider-Car out front. Inside you'll be tangled up in tasty dining options.
Themed Food Offerings at Flo's
Car-achhnid Pot Pie – The Spider Car has been in the kitchen at Flo's whipping up chicken pot pies with dried cranberries and butter-crust spiders.
Grape "Ghoul"- ant Shake
Mini Candy Corn Pie – Orange, yellow, and white are featured in this cream pie with vanilla, butterscotch, and white chocolate pudding.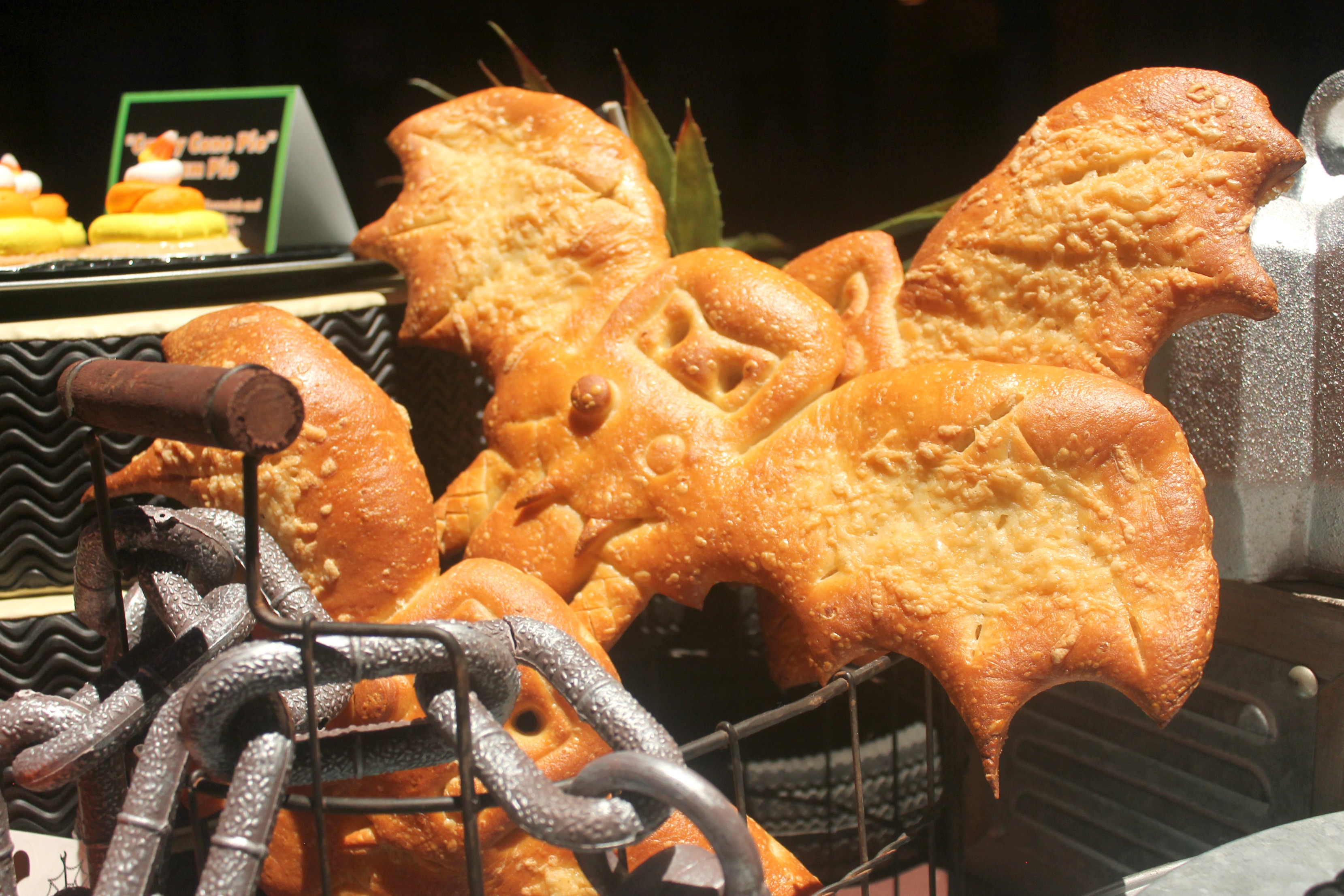 Cars in Car-stumes
As you walk down the street of Cars Land, you may come across some of the residents dressed up in costumes, or "car-stumes", of their own. Mater is dressed as a super hero, cape and all. Mater's a van-pire and DJ's a punk rocker with a super fun mohawk.
With its unique holiday food offerings, frightfully adorable decor, and fun photo opportunities, Haul-O-Ween in Cars Land is the best destination to spend Halloween this year!
Will you be rolling into the Disneyland Resort this holiday season?
Headed to Disneyland? Here are some articles to help you plan:
How to do Disneyland with Preschoolers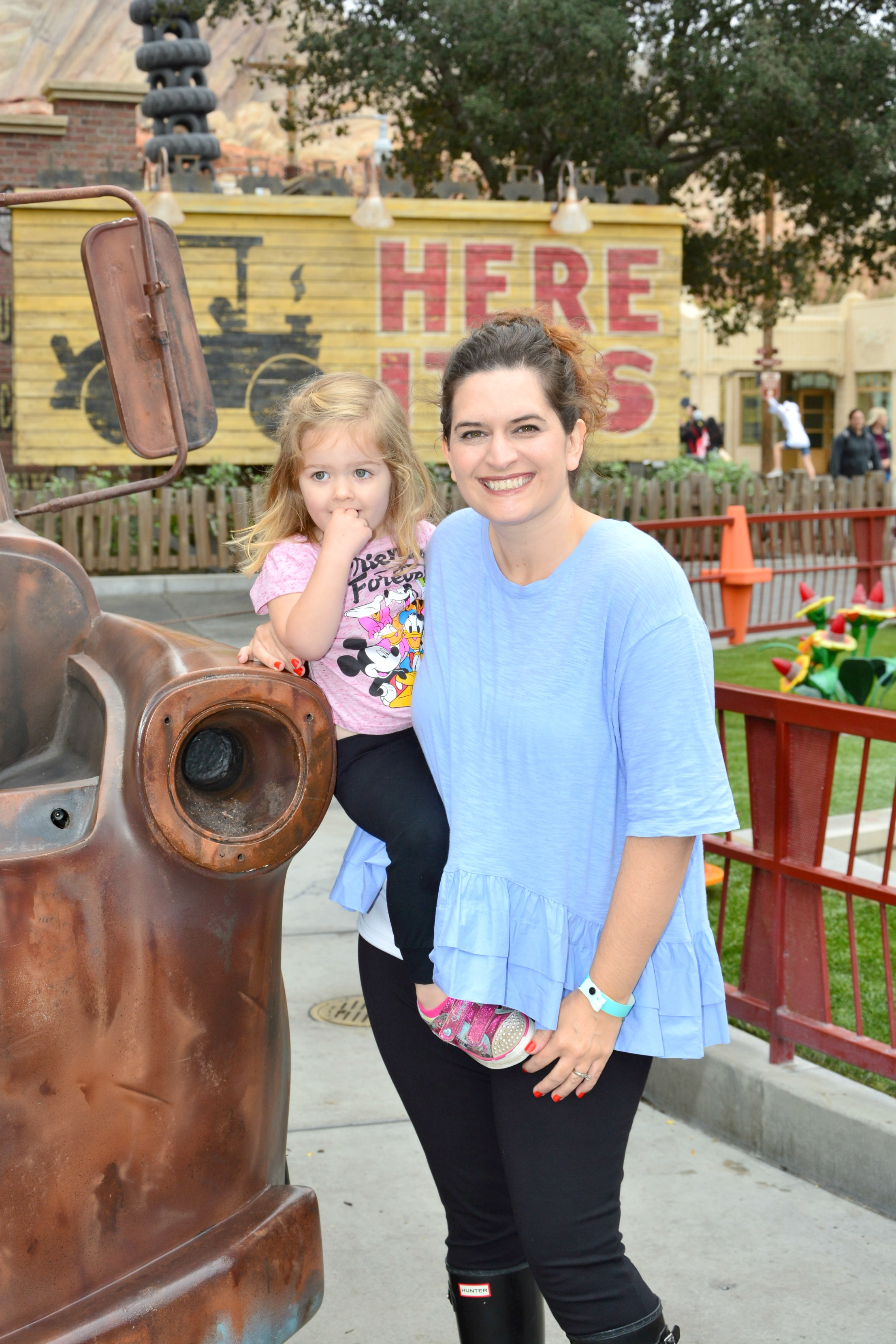 5 Tips for Bringing Baby to Disneyland