These are magical years with my little one. My daughter is days away from turning 3, and full of personality, spunk, and cuddles. One of our favorite things to do together is visit the Disneyland Resort. The Happiest Place on Earth is perfect for preschoolers with tons to see and do. Today, I'm sharing how to do Disneyland with Preschoolers.
You can check out all the fun on your social media platforms by using the hashtag #DisneyKids.

How to Do Disneyland with Preschoolers
– Packing Tips –

Snacks – When you do Disneyland with Preschoolers, snacks are a must. Pack snacks that hold up well in a diaper bag and that don't make too much of a mess. We tend to bring granola bars, gummy snacks, and crackers. There are also tons of Disney-themed snacks like Frozen Go-Gurts or individual servings of cheese available.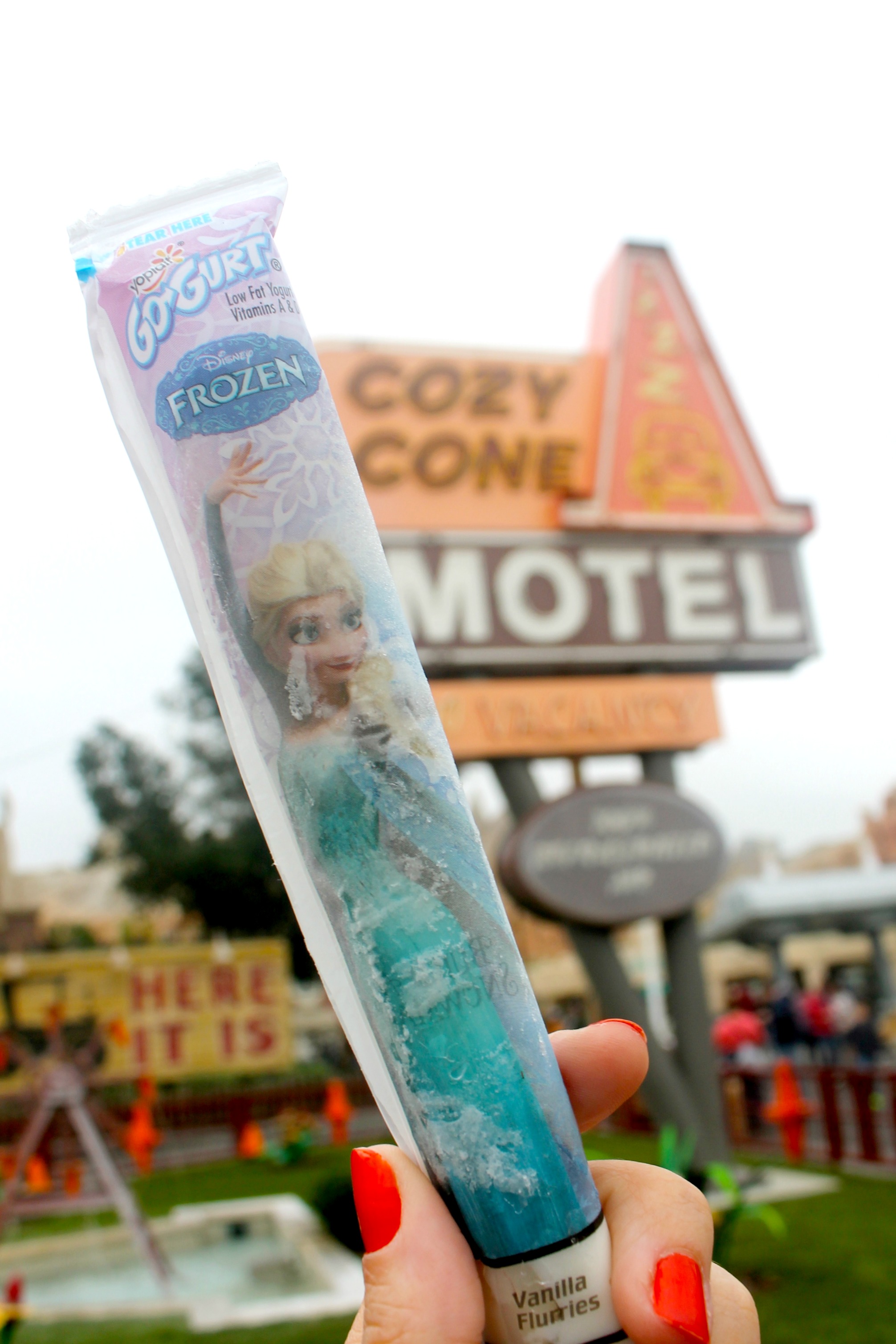 Clothes – The Disneyland Resort is perfect for play. Dress your preschooler in clothes appropriate for exploring and also resting. If you're planning to have your child wear a costume, bring a change of clothes regardless. Sometimes costumes have scratchy tulle or can just get in the way of play.
Just in Case – When you go to Disneyland with Preschoolers, don't forget to bring a Ziploc bag with a change of clothes. My potty-trained preschooler is pretty good, but I'd hate for a Disneyland trip to be ruined by not being prepared. Don't worry about things like band-aids and first aid supplies though. Mickey Mouse has you covered for minor scrapes or ouchies.
– Favorite Shows –

Now that she's got a little more attention span, we're taking advantage of the shows offered within the resort. Some of our favorites include:
Disney Jr. Live on Stage – This interactive puppet show features your favorites from Disney Jr. Help Mickey and his crew plan a special celebration for Minnie's birthday. You'll be treated to appearances from Doc McStuffins, Jake and the Neverland Pirates, and Sofia the First. Preschoolers can dance, clap, and sing along. They'll be delighted by bubbles and doubloons falling.
Frozen Live at the Hyperion If you're spending the day at Disney's California Adventure, your little Olaf will adore seeing the story of Frozen brought to the stage. Frozen Live at the Hyperion is approximately 45 minutes, but the longer show time didn't bother my preschooler.
– Rides & Attractions –
When you do Disneyland with Preschoolers, let your preschooler lead the way with rides. Some may be timid, but we are all about the rides. There are so many that it's hard to narrow it down — but I'll do my best! First off, download the Disneyland app so you can track wait times for rides. Keep an eye on your preschooler's mood to see if he/she can tolerate a longer wait.
Disneyland
All of Fantasyland – Dumbo, King Arthur's Carousel, the tea cups! Fantasyland is a preschooler's dream. My must do's are "it's a small world," the carousel, and the tea cups. I often make my ride decisions on ride length versus line length. Even if you wait a bit for "it's a small world," you'll be treated to 10 minutes of air-conditioned, indoor singing and dancing. The carousel is a quick wait also, so you can even ride multiple times.
If you're short on time, skip Peter Pan's Flight as it typically has a line. One other note, Snow's White Scary Adventure is aptly named. My kids adore it (especially touching the golden apple as you enter the ride for a special surprise), but it could be too scary for some.
Buzz Lightyear Astro Blasters – Defeat Zurg by shooting targets as you spin through the galaxy. You'll rack up points and have a blast.
Toon Town – Join Mickey, Minnie, and their pals at their home in Toon Town. Little ones can play in Goofy's backyard on the slides and tunnels. Mickey and Minnie's homes offer engaging and interactive places to play. Water fountains are always popular with kids, but when you step on the brass insignias the fountain plays music. There are hidden surprises all over! Set off explosives at the fireworks factory or listen to silly sounds as you drink from the water fountain.
Toon Town is our pick-me-up when my preschooler is in need of some free play.
Winnie the Pooh – With older kids also, the family has to split up occasionally. We'll send half of the family on Splash Mountain and the other half to Winnie the Pooh right across the way. My little "Hunny" loves this one. When you exit, greet the characters from the Hundred Acre Woods.
California Adventure
All of A Bugs Land – Perfect for preschoolers, crawl or scurry over to A Bugs Land. Heimlich's Chew Chew Train is adorable, but you can't go wrong with any of the rides. Added bonus: family restrooms.
Redwood Creek Challenge Trail – Redwood Creek serves the same purpose for us as Toon Town in Disneyland. The tunnels, rope bridges, and slides allow younger guests an opportunity to run and explore.
Ariel's Undersea Adventure – Life is the bubbles with this ride. The animatronics show how far ride technology has come through the years.
Cars Land – Welcome to Radiator Springs. The imagineers have recreated the main street of the town perfectly. Luigi's Rollickin' Roadsters and Mater's Junkyard Jamboree are my preschooler's favorite.
The signature ride in Cars Land is the Radiator Springs Racers, which my almost three-year-old isn't quite tall enough to ride yet. But it's a great time to talk about Rider Switch Pass. If you're traveling with a child who doesn't meet height requirements, ask the cast member at the ride entrance for a Rider Switch Pass. The adult staying behind with your preschooler can bypass the stand-by line once you get off. Bonus: the pass is good for up to three riders. So my big girls get to ride twice!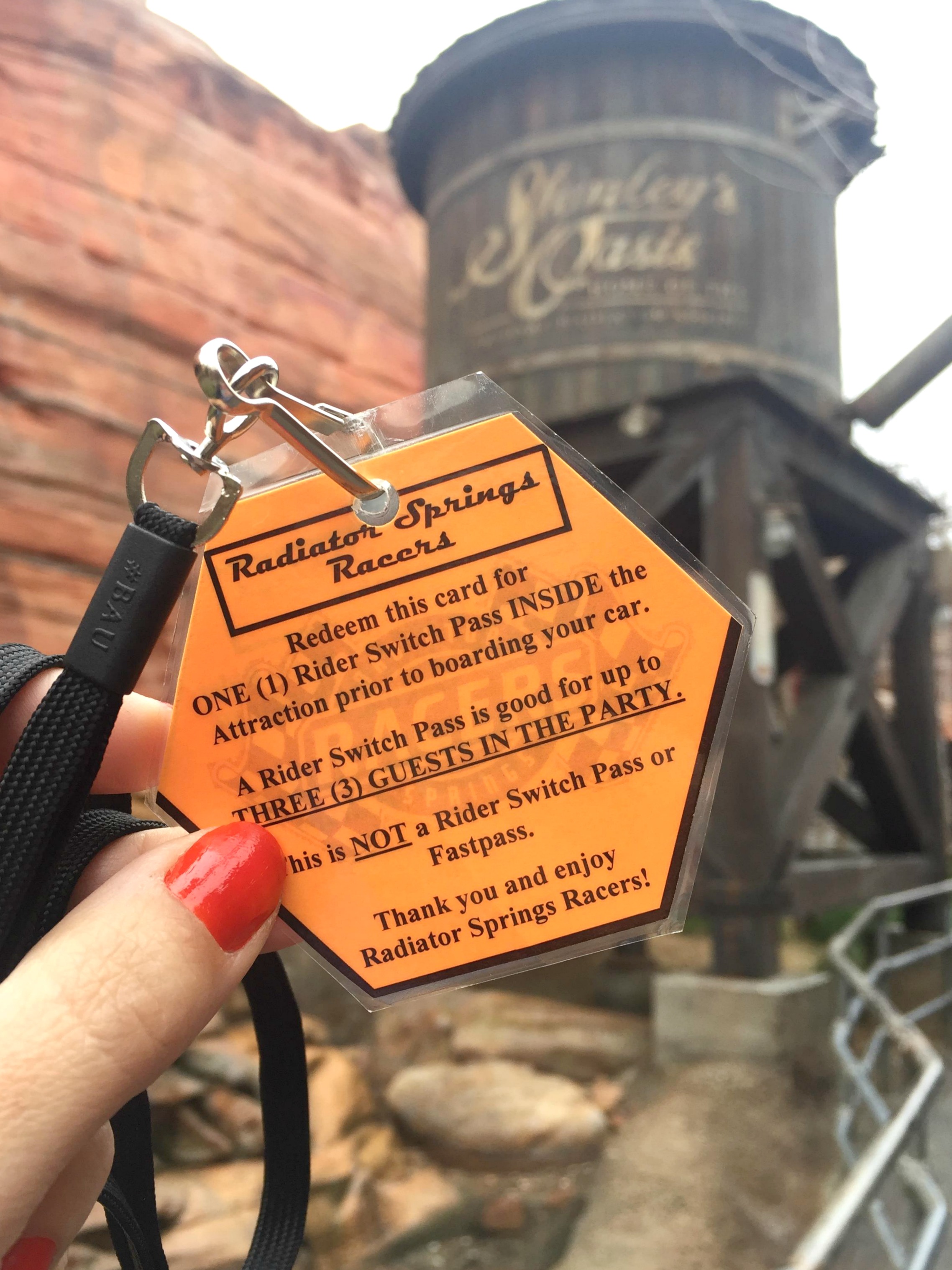 – Characters –
When going to Disneyland with Preschoolers, your child will either love them, or hate them. We are officially fans of character photo ops. It took a little while and some coaxing to get my preschooler to this point. Often she still prefers to have family members in the photos with her.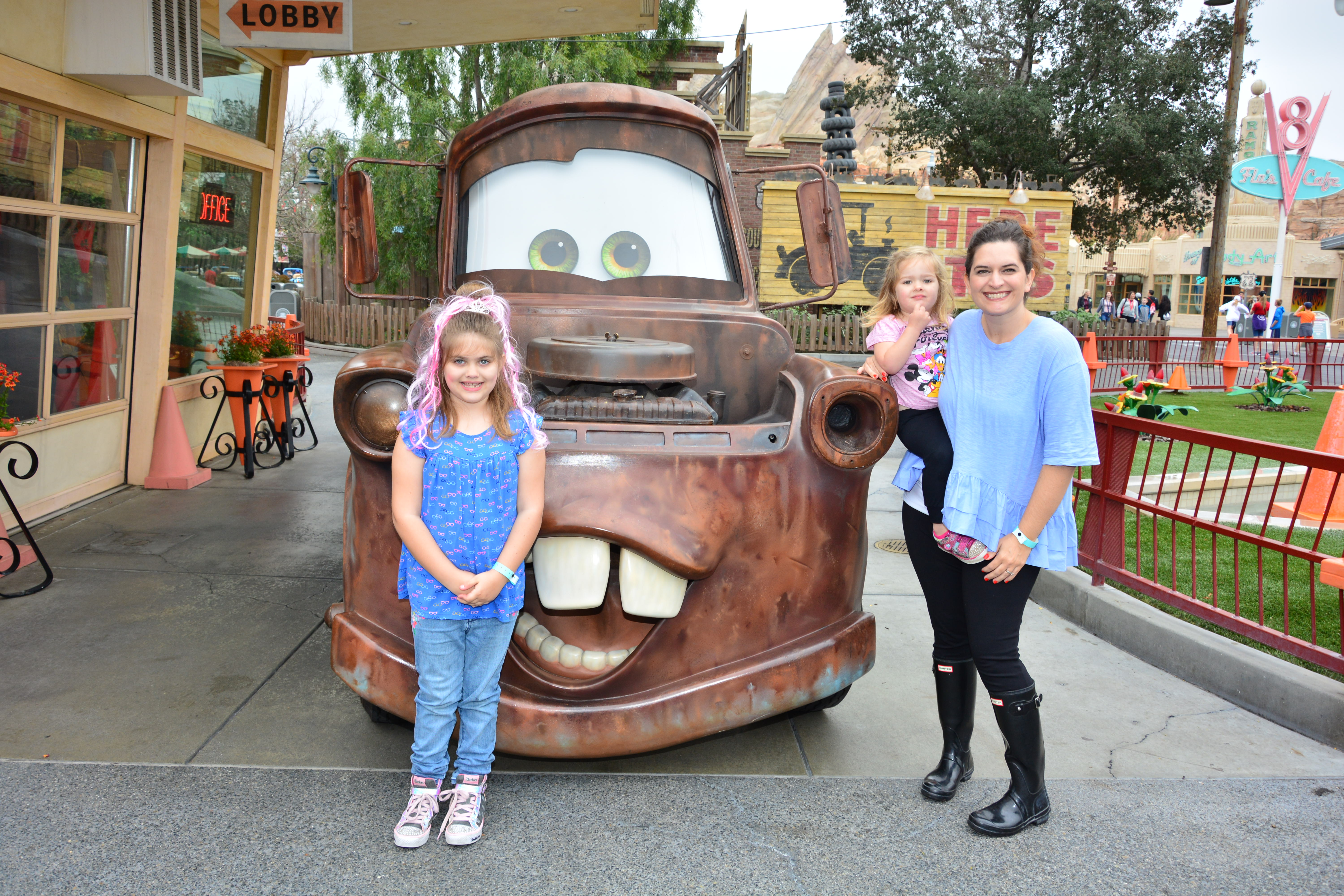 Her favorite pose with characters is to put her hand in her mouth. Like 110% of the time, that's her move.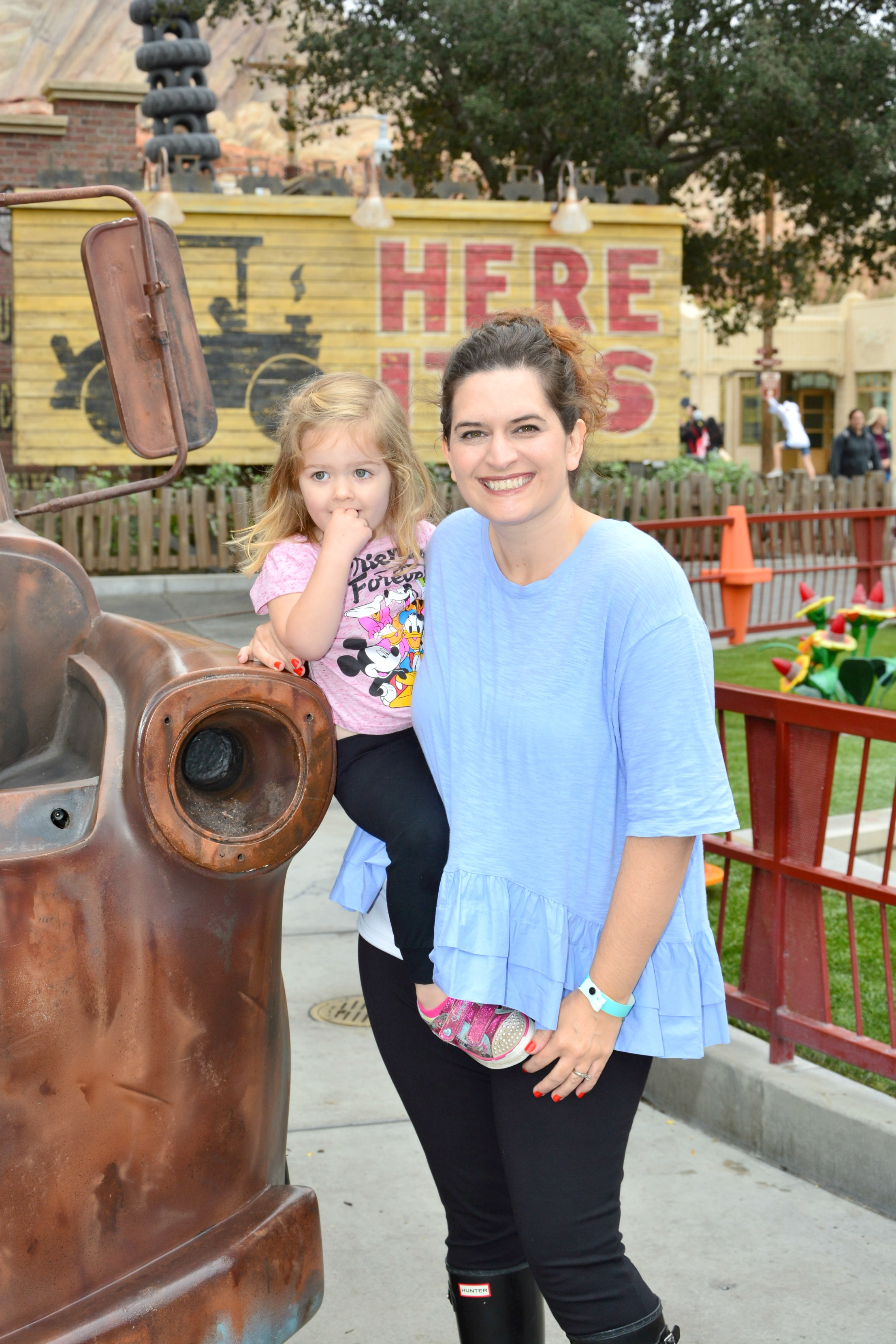 Use the Disneyland app to see which characters are out and where they are at in the park. Many characters roam, while others are stationed in one location. Mickey and Minnie can be found at the start of Main Street. Relatively new, you'll want to find your way over to Jungle Cruise to meet Moana.
Whatever lands you visit or parks you enjoy, the Disneyland Resort is a magical for preschoolers. I hope this has helped you in your planning for doing Disneyland with preschoolers. I'd love to hear your favorite things to do when you visit with your little one. Feel free to share below.
Here are more posts to help you plan your Disneyland vacation: