This shop has been compensated by Collective Bias, Inc. and its advertiser.All opinions are mine alone. #PowerOfDots #CollectiveBias
It's not hard to eat everything on your plate when it's Chicken Pot Pie Tater Tot Casserole. Filled with vegetables like a Chicken Pot Pie, and topped with tater tots like a Tater Tot Casserole, this Chicken Pot Pie Tater Tot Casserole is the best of both.
Don't forget to pin this to one of your favorite Pinterest boards so you'll be able to find it when you need it. If we're not friends on Pinterest, follow me for more yummy pins!

While I love fixing hearty and healthy meals, I'd be lying if I told you that's all we ate. I cut corners sometimes. I opt for the easy way out sometimes. I'm only human and do the best I can with what I have.
With that said, I feel like my Chicken Pot Pie Tater Tot Casserole is kind of like the middle ground between healthy and almost healthy.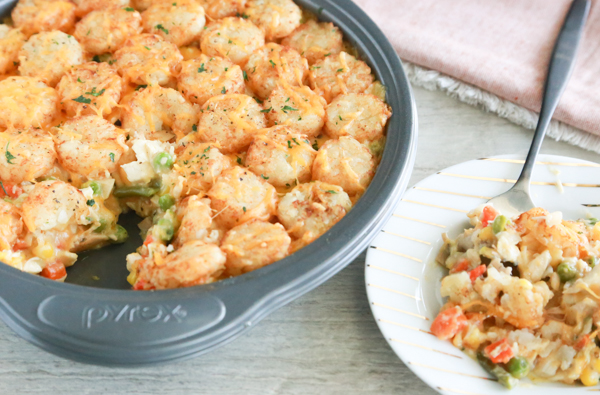 I know that probably doesn't make a lot of sense to you, but for me, it just means it's okay to feed to my family. And at the end of the day, that's all that matters.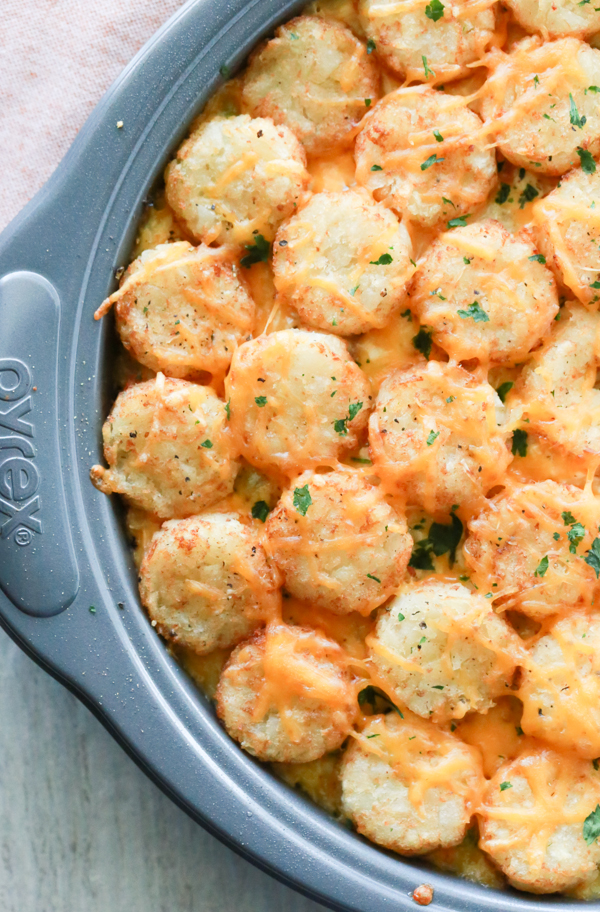 So, lets get to the recipe. I know that's why you're here anyway.

Kirkland Signature Canola Oil Cooking SprayGet it now!
Pyrex Advantage 9 Inch Round Cake PanGet it now!
Scotch-Brite Non-Scratch Scrub SpongeGet it now!
Stainless Steel Large Serving SpoonGet it now!
Chicken Pot Pie Tater Tot Casserole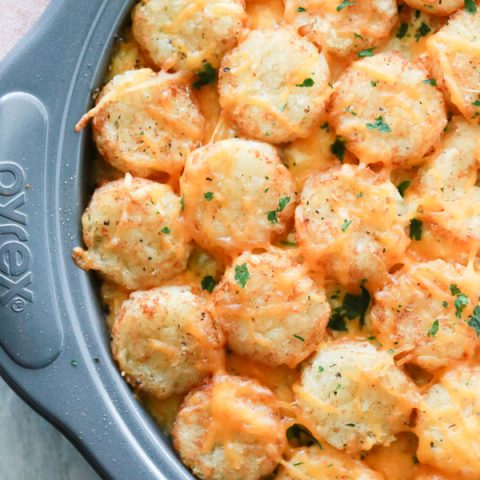 Chicken Pot Pie Tater Tot Casserole
When you combine the beloved chicken pot pie with tater tot casserole, you get this delicious Chicken Pot Pie Tater Tot Casserole.
Ingredients
2 cups shredded cooked chicken (I use a rotisserie chicken to save time)
1.5 cups cooked mixed veggies (corn, carrots, peas, and green beans)
10.5 oz can cream of chicken soup
1/4 milk
1 1/4 cup shredded mild cheddar, divided
1/2 teaspoon garlic powder
1/2 teaspoon dried thyme
1/2 teaspoon fresh-ground black pepper
pinch of salt
parsley, for topping
about 40 tater tot rounds
Instructions
Preheat oven to 425° F. Prepare a dish by spraying with cooking spray; set aside.
In a medium-sized bowl, add chicken, veggies, soup, milk, 1 cup of cheese, garlic powder, thyme, pepper, and salt and stir to combine. Spread evenly into prepared 9-inch round baking dish. Cover the top with tater tot rounds, starting on the outside and working your way in.
Bake for 20 minutes. Remove from oven and sprinkle the rest of the cheese over the top. Put back into the oven and cook for an additional 5 minutes, or until the tater tot rounds are golden and the filling is bubbling.
I always get a resounding "YEAH" when the family sees Chicken Pot Pie Tater Tot Casserole on the menu. And it's really a win-win because while they love it (I do too), it's an easy meal for me to throw together. And if you know me, you know I'm all about easy meals, y'all.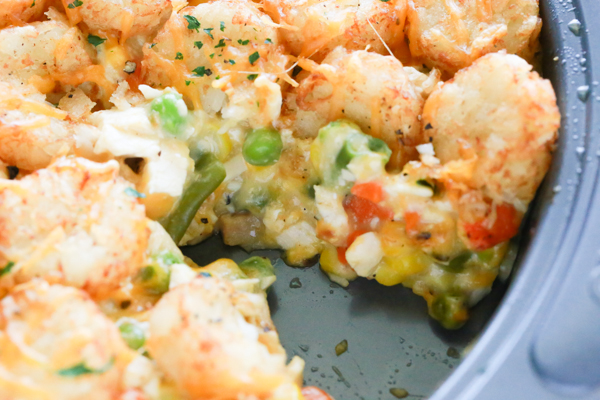 Not only am I all about easy meals, I'm all about easy clean-up. After my belly is full, I don't want to spend time in the kitchen cleaning up. And unfortunately, neither do my husband or children. But the dishes have to be done.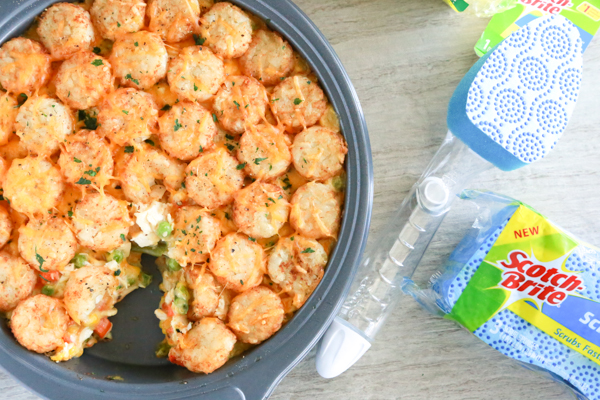 Easy Clean Up
To make clean-up easier on all of us, we use Scotch-Brite® Scrub Dots since they scrub fast and rinse clean. The Scrubbing Dots technology allow the sponges to rinse clean, while providing an easy way to scrub away kitchen messes fast. The Scotch-Brite® Heavy Duty Scrub Dots Sponge (Green) helps to eliminate baked-on messes. You can use it on pots, pans, and heavy duty cookware. Scotch-Brite® Non-Scratch Scrub Dots Sponge (Blue) safely cleans cookware without scratching. You can use it on non-stick cookware, counter tops, and cook tops.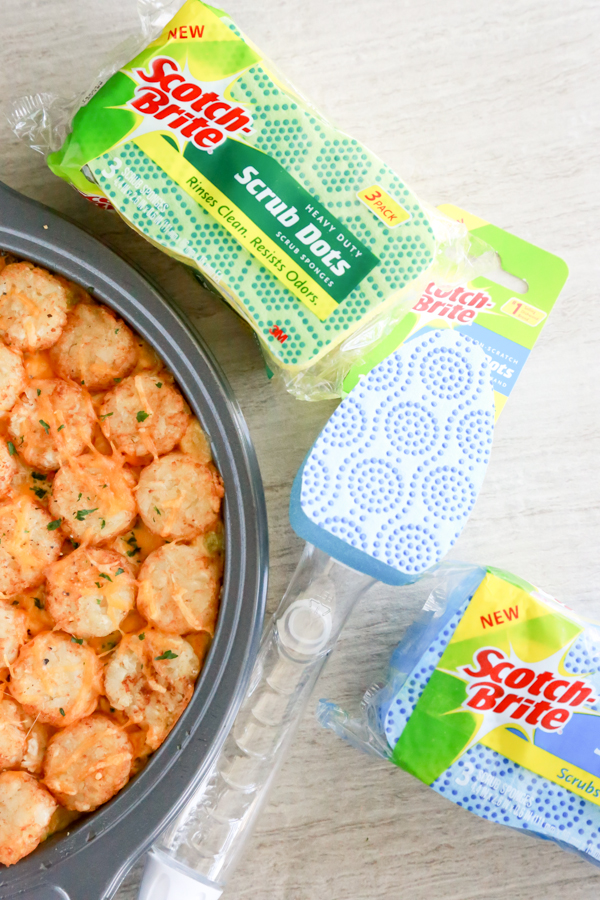 If you're looking for easier clean-up solution, pick up some Scotch-Brite® Scrub Dots Sponges and a Scotch-Brite® Non-Scratch Scrub Dots Dishwand at Kroger or other Kroger Banner Store.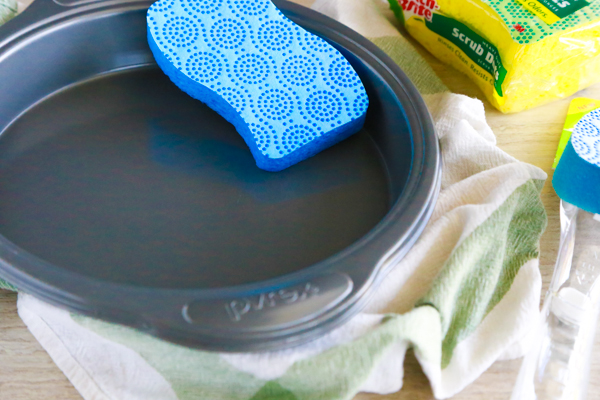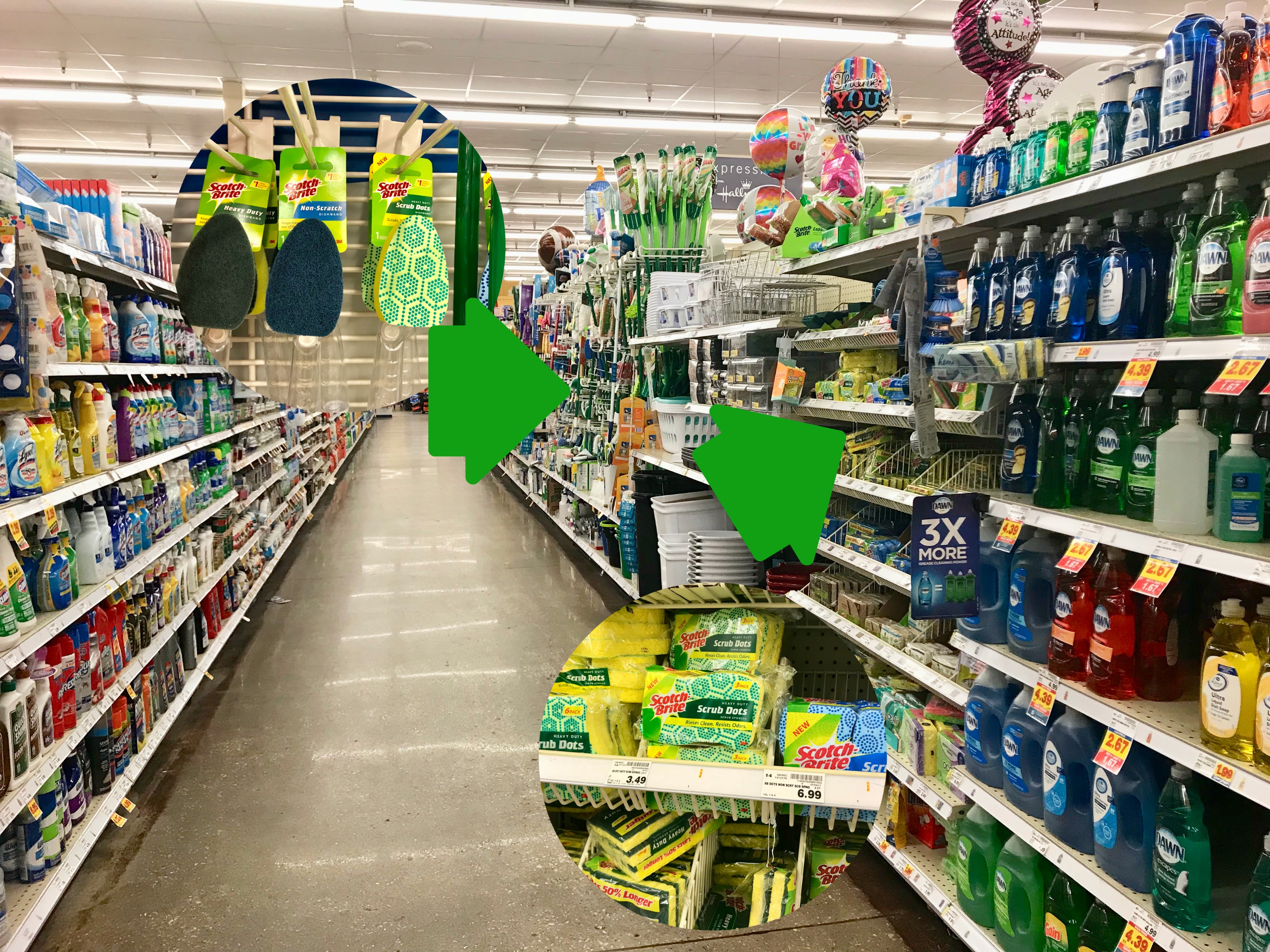 More Tater Tot Casseroles
Sloppy Joe Tater Tot Casserole